The World of Coca-Cola in Atlanta is Coke's attempt to share the brand's story with Coke lovers worldwide.
At the World of Coca‑Cola, visitors experience the world's most famous beverage in a dynamic multimedia attraction and get closer than ever before to the vault that houses its secret formula.
The museum offers a range of exhibits and interactive experiences that explore the company's heritage, advertising campaigns, and global impact.
Visitors see thousands of Coke artifacts from the last 100 years, witness the bottling process, and taste around 100 Coca-Cola beverages from around the world.
This article shares everything you must know before buying your World of Coca-Cola tickets.
Is World of Coca-Cola worth it?
World of Coca-Cola opened in 1990 in downtown Atlanta, Georgia, at 55 Martin Luther King Jr Drive.
When it closed down in 2007, around nine million visitors had stepped in, making it Atlanta's most visited indoor attraction.
The same year, the Coke Museum relocated to another site in Atlanta, blocks from where John Pemberton created the original Coca-Cola formula.
In 2009, Georgia Aquarium may have surpassed it and become the most popular attraction in Atlanta, but World of Coca-Cola Atlanta still gets around 1 million visitors annually.
So many visitors can't be wrong – so it is worth visiting.
Besides, don't you want to learn about the brand selling more than 2 billion cokes in more than 200 countries daily?
Watch the video below to know what to expect –
---
---
World of Coca Cola ticket prices
The World of Coca-Cola ticket costs $21 for all visitors aged 13 to 64 years.
Seniors 65 years and above get a small discount and pay $19, while kids get a heavy discount and pay only $16 for entry.
The biggest discount at WOCC is reserved for kids below three years who walk in for free.
World of Coca Cola tickets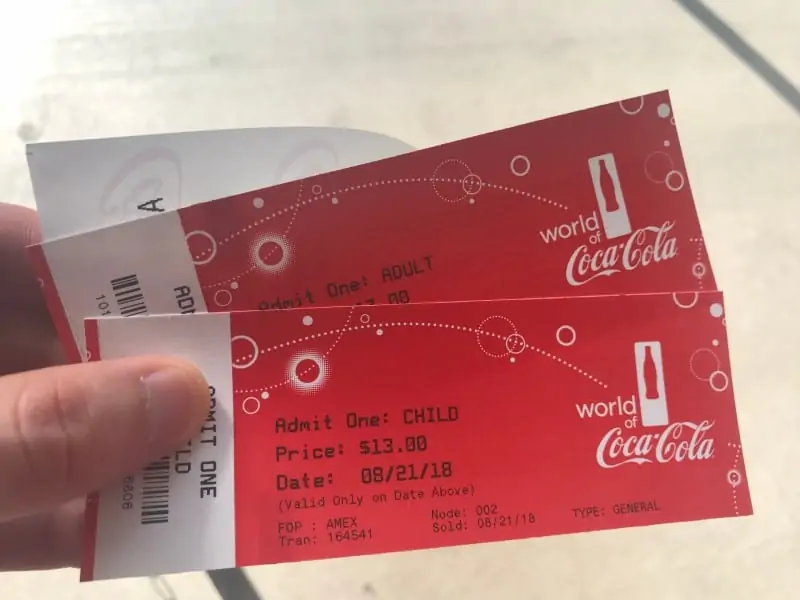 Purchasing your tickets for World of Coca-Cola online is a better experience for two reasons:
Don't wait in the ticket counter queue and waste your time and energy.
The daily capacity is limited, and tickets on-site are sold on a 'first-come, first-served basis. Booking your tickets online (and in advance) ensures a guaranteed entry.
The tickets get emailed to you. On the day of the visit, you can skip the line at the ticket counter and proceed directly to the check-in booth to scan your smartphone ticket.
This general admission World of Coca-Cola ticket gets you to access all the exhibits, films, and experiences.
Kids under three years get in free and don't need a ticket.
Ticket price
Adult ticket (13 to 64 years): $21
Child ticket (3 to 12): $16
Seniors ticket (65+ years): $19
Kids below three years walk in for free.
World of Coca-Cola with Atlanta CityPASS
If you are on holiday in Atlanta, the Atlanta City Pass is a smart choice for sightseeing.
It saves you 45% on tickets to the city's top 5 tourist attractions, including the World of Coca-Cola.
The Atlanta City Pass for adults (13+ years) costs $97, and for kids (3 to 12 years), it costs $75.
Infants up to two years do not require a ticket.
With your Atlanta CityPass, you get entry to:
World of Coco-Cola
Georgia Aquarium
Atlanta Zoo
Plus, admission to any two of the following attractions:
College Football Hall of Fame
Fernbank Museum of Natural History
National Center for Civil and Human Rights
The pass is valid for nine consecutive days after the first use.
---
---
Where is the World of Coca Cola
World of Coca‑Cola is next to the Georgia Aquarium at Pemberton Place in downtown Atlanta's Centennial Park District. Get Directions
Address: 121 Baker Street NW Atlanta, GA 30313 – 1807
The World of Coca-Cola is 1 km (.6 miles) from GWCC/CNN Center Station, which services the Blue and Green line trains.
You can walk the distance in around 10 minutes.
If you are closer to the Red or Gold line trains, get down at either Civic Center station or Peachtree Center station.
From both stations, in 10-12 minutes, you can walk to the World of Coca-Cola.
If you prefer a bus to the Coke Museum in Atlanta, board bus number 32 from either Civic Center MARTA bus station or Five Points MARTA station.
If you plan to take Atlanta Street Car, get down at the Centennial Olympic Park stop.
Driving to the World of Coca Cola
If you plan on driving to the World of Coca-Cola, fire up your Google map and follow the directions.
Parking for World of Coca-Cola is available at 126 Ivan Allen Jr Blvd NW Atlanta, GA 30313. Get Directions
Parking is available at the World of Coca‑Cola parking garage for $17 per vehicle.
---
---
World of Coca Cola hours
The World of Coca-Cola opens at 10 am throughout the year.
The museum closes at 6 pm from Sunday to Thursday, but it remains open till 7 pm on Fridays and Saturdays to cater to the weekend crowd.*
The last entry is always 2 hours before closure.
*Hours are subject to change.
| Day of the week | Opening hours |
| --- | --- |
| Monday | 10 am to 6 pm |
| Tuesday | 10 am to 6 pm |
| Wednesday | 10 am to 6 pm |
| Thursday | 10 am to 6 pm |
| Friday | 10 am to 7 pm |
| Saturday | 9 am to 7 pm |
| Sunday | 9 am to 6 pm |
The Atlanta attraction remains closed on Thanksgiving Day and Christmas Day.
---
---
Best time to visit World of Coca-Cola
It is best to visit the World of Coca-Cola at 10 am and spend around two hours exploring.
After you have gone through the exhibits, you will surely be hungry.
By noon you will be ready to walk to the nearby restaurants.
Some nearby restaurants are The Sun Dial Restaurant, Bar & View, Johnny Rockets, Alma Cocina Downtown, and Max's Coal Oven Pizzeria.
---
---
How long does World of Coca-Cola take
Visitors spend around two hours exploring all the exhibits in World of Coca-Cola Atlanta.
Learning about Coke's humble beginnings and how it evolved into an iconic brand is an enjoyable and educational experience for kids and adults.
If you are in a hurry, you can rush through the exhibits in an hour.
---
---
What to see at World of Coca-Cola
World of Coca-Cola Atlanta isn't just a Coke Museum, and it isn't a massive advertisement for the brand and its products.
It is a unique experience with many exciting things to do, including the regular World of Coca-Cola ticket.
The Loft
WOCC's Loft is home to around 200 historical artifacts representing more than 125 years of Coca-Cola memories.
More than 30 different countries are represented in the Loft, and items on display range from a Coca‑Cola syrup urn, dated 1896, to Coca‑Cola beach pants, dated 1970.
A World of Coca-Cola ambassador narrates exciting stories about these artifacts.
Coca-Cola Theater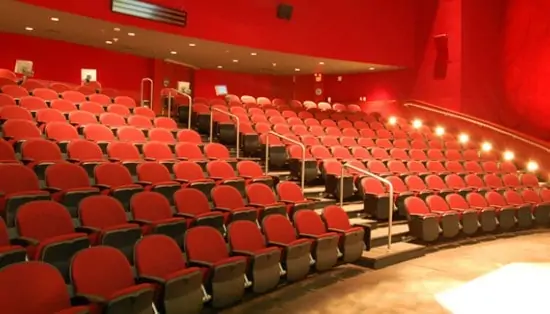 Visitors in this 220+ seater theatre see the 'Moments of Happiness' film.
Employees of the World of Coca-Cola lend their voices to this animated film about Coke's incredible journey.
Image: Worldofcoca-cola.com
Vault of the Secret Formula
You learn how the secret formula originated at the Vault of the Secret Formula.
You also learn how Coke's competitors tried to copy the success of Coca‑Cola and how the owners of Coca‑Cola managed to keep the formula a secret over the last 125 years.
This section of World of Coca-Cola allows you to get closer to the famous secret formula than ever!
This part of the experience has various interactive experiences such as the Virtual Taste Maker, Bubble-izer, etc.
Milestones of Refreshment
This section consists of ten galleries that explore the story of The Coca‑Cola Company in an exciting walk through history.
Some of the most special exhibits are a circa 1880s soda fountain, a 1939 delivery truck from Argentina, and the Coca‑Cola contour bottle.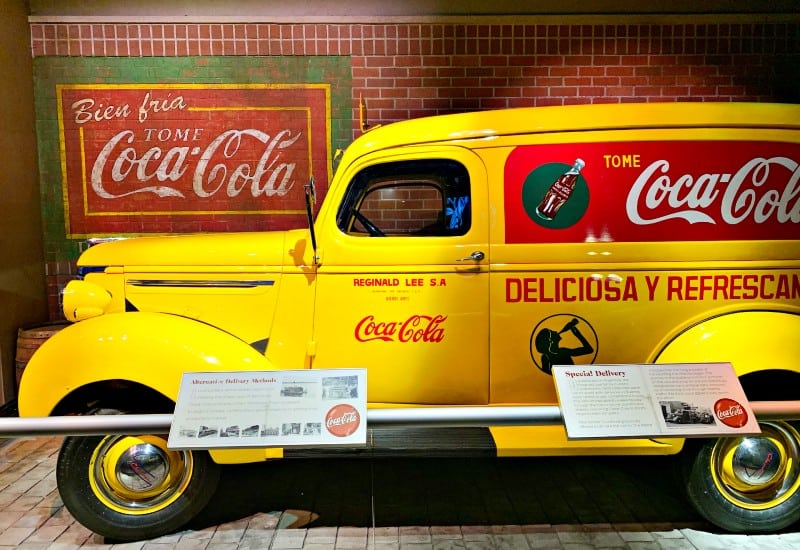 David Lee, a Buenos Aires, Argentina bottler, gifted the 1939 Chevrolet Delivery Truck.
Because of its massive size, the Coke Museum was built around the truck – making it the first exhibit at World of Coca-Cola.
Bottle Works
Bottle Works is a miniature version of the massive bottling plants Coca-Cola has all over the world.
It showcases some of the same equipment and processes to help visitors get a behind-the-scenes look at their bottling process.
The fully-functioning bottling plant produces an 8 oz. glass bottle of Coca-Cola for every guest.
Coca-Cola Polar Bear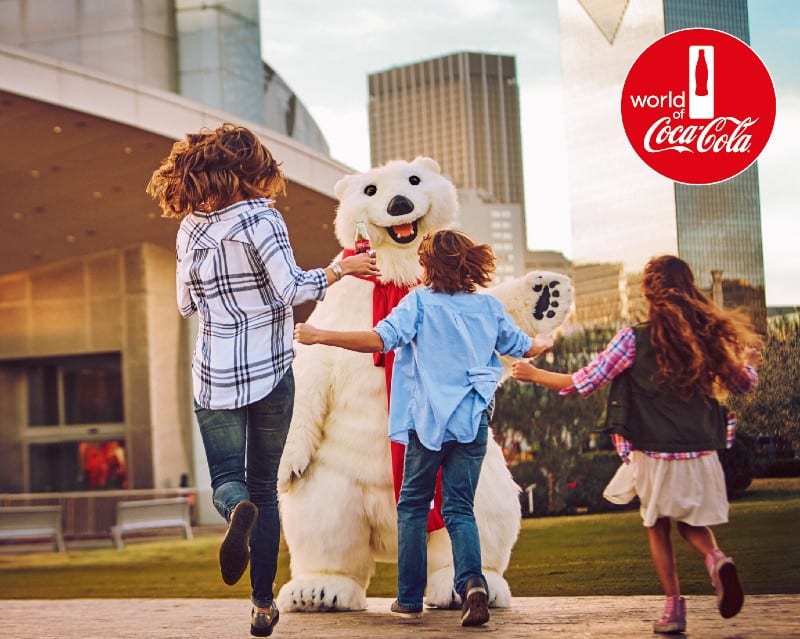 Coca‑Cola and the polar bear are inseparable.
The polar bear debuted in a Coca‑Cola print advertisement in France in 1922 and was the mainstay for the next seven decades.
The modern polar bear appeared in the "Always Coca‑Cola" campaign in 1993, in a television ad called "Northern Lights."
Since then, the polar bear has become one of the most famous symbols of Coca-Cola advertising.
Kids and adults love to meet and take photos with the Coca-Cola Polar Bear.
4D Theatre
The 4D Theatre at WOCC offers a multi-sensory movie experience.
After getting complimentary glasses, visitors travel worldwide in Search of the Secret Formula.
In the movie, an eccentric professor and his assistant try to uncover the formula for Coke's success, and midway through, the audience's seats also join in with special effects.
Coca‑Cola portrait wall
This exhibit is an interactive map of the world that comes to life when you walk up to it.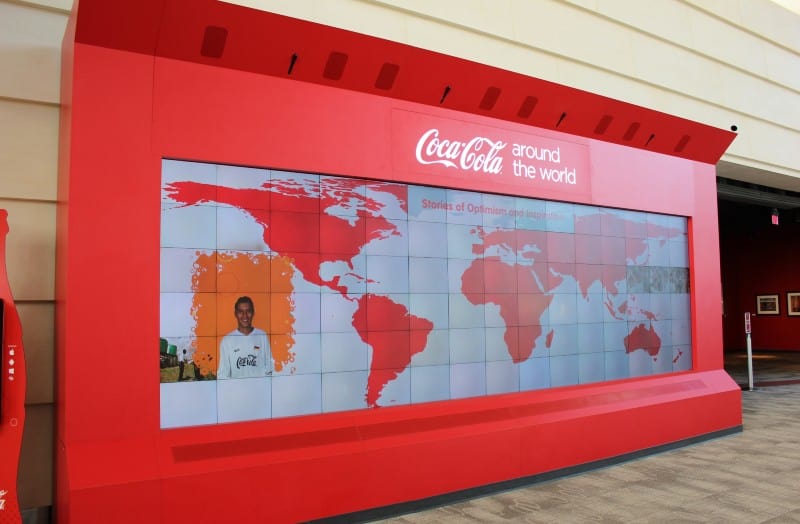 The Portrait Wall showcases how the Coca‑Cola system benefits people and communities worldwide.
You hear first-person accounts of various Coca‑Cola initiatives and how they are changing their world.
Pop-Culture Gallery
In this section, you see how Coca‑Cola fans have made the brand an icon of popular culture.
You will learn about why "It's the Real Thing" has stuck with the brand for such a long time.
You will also see a dozen original paintings featuring Coca‑Cola by several artists, such as Haddon Sundblom, the artist behind Sprite Boy and the Coca‑Cola Santa.
Here, you will also discover that Coke is responsible for how we visualize Santa Claus today.
Take advantage of the interactive experience called 'My Coke Art.'
World of Coca Cola's tasting room
The highlight for many visitors to the World of Coke is the Taste It! experience.
In this section of the Coke Museum, you can taste around 100 beverages from the Coca-Cola family of brands worldwide.
Visitors who have visited the World of Coca-Cola recommend two of the beverages –
Sparletta Sparberry: A raspberry cream soda available throughout central and southern Africa. It is delicious.
Beverly: An Italian aperitif that is intensely bitter.
Scent Discovery
Scent Discovery is World of Coca-Cola's latest exhibit.
A Coca-Cola Ambassador leads you during this experience, and you guess the origin of various scents.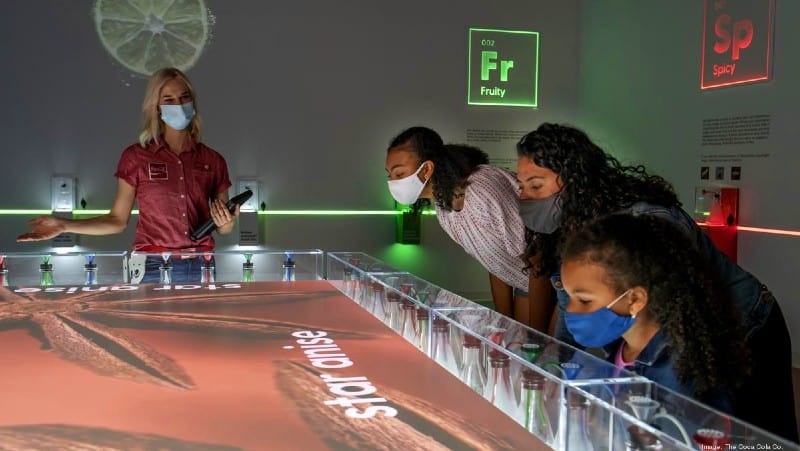 They will also help you learn the anatomy of smell – from reception to perception.
This session helps you discover which aroma profiles and Coca-Cola beverages may be your new favorites.
---
---
World of Coca Cola's gift shop
The gift shop at World of Coca-Cola has its entrance, and visitors don't need tickets to get in.
It opens daily at 10 am, and closing time varies according to the season.
Coca‑Cola Store Atlanta offers merchandise, keepsakes, apparel, accessories, and one-of-a-kind art pieces, many of which are unique to the store.
Sources

# Worldofcoca-cola.com
# Tripadvisor.com
# Discoveratlanta.com
# Coca-colacompany.com

The travel specialists at TheBetterVacation.com use only high-quality sources while researching & writing their articles. We make every attempt to keep our content current, reliable and trustworthy.
Popular attractions in Atlanta
# Georgia Aquarium
# Atlanta Zoo
# Medieval Times Georgia
# Illuminarium Atlanta
# College Football Hall of Fame
# Legoland Discovery Center
# Fun Spot America
# SeaQuest Stonecrest
# iFly Atlanta
# Margaret Mitchell House