If you are looking for good quality entertainment in Georgia, look no further than Fun Spot America in Atlanta.
A dizzying assortment of heart-pounding roller coasters, adrenaline-pumping thrills, and Georgia's first multi-level go-kart track transform the Peach State into the Screech State!
Fun Spot America Atlanta has over two dozen family activities, thrill rides, three mini-golf courses, and fast-paced go-kart tracks.
There is something for every family member at Fun Spot America so don't miss it!
What to expect at Fun Spot America
Grease your adrenaline engine and unleash your inner speed demon over Samson's twisty turns — Georgia's most severe go-kart track.
Samson is a park favorite for a reason. It has three corkscrew helixes, thrilling inclines, and over 1,800 feet of pure racing action.
After spending some time zipping around Samson like an F1 racer, take a ride on the Screaming Eagle Coaster.
Spin the Spider, pilot the Paratrooper chair-o-planes, get shaken up on the Scrambler, and cool down in the bumper boats.
Relax with a trip on the Ferris wheel or a traditional carousel, or watch the children enjoy some of the smaller rides.
---
---
Fun Spot America Atlanta's tickets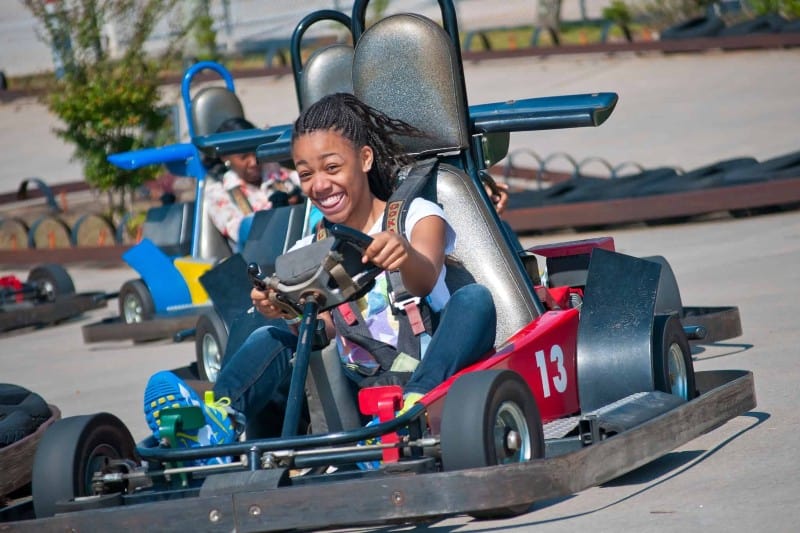 The general admission ticket to Fun Spot America in Atlanta gets you complete access to the park.
This ticket gets you free entry to all the rides, roller coasters, and go-karting tracks.
For a few of the experiences such as Miniature golf, Arcade games, Laser Tag, Batting Cages, Topgolf Swing Suite, you will have to pay as you go.
As soon as you purchase this ticket, it gets emailed to you.
When you show the ticket at one of the ticket windows at the main gate, you will receive a wristband that gives you access to all (included) rides.
You are allowed to leave the park and re-enter on the same day.
Visitors under the age of 18 must be accompanied by an adult (18 years or older).
Cost of the tickets
Fun Spot Single Day Pass (2+ years): $28.32
Note: Fun Spot America Atlanta rides are unsuitable for kids under 23 months.
---
---
How to reach
Fun Spot America Atlanta is located in Fayetteville, GA, just 8 miles (13 km) south of the Atlanta airport.
Its address is 1675 Hwy 85 North, Fayetteville, GA 30214, Atlanta. Get Directions
Opening hours
Fun Spot America in Atlanta is open from 12 pm to 8 pm on all days of the week.
The last entry is an hour before closure.
---
---
Height requirements
All rides and experiences at Fun Spot America in Atlanta have height requirements.
The height requirement gets relaxed on some rides when an adult accompanies the child.
Arieforce One Roller Coaster: Yet to be launched
Samson: 54 inches (137 cms) or 36 inches (91 cms) with an adult
Bumper Karts: 54 inches (137 cms) or 36 inches (91 cms) with an adult
Riptide: 48 inches (121 cms)
Bumper Boats: 46 inches (117 cms) or 36 inches (91 cms) with an adult
Screamin Swing: 48 inches (121 cms)
Screaming Eagle Coaster: 42 inches (107 cms)
Junior Track: 50 inches (127 cms) or 36 inches (91 cms) with an adult
Sprint Track: 54 inches (137 cms)
Road Course: 54 inches (137 cms)
Road Course Sprint: 54 inches (137 cms) or 36 inches (91 cms) with an adult
Spider: 44 inches (112 cms)
Drop Zone: 42 inches (107 cms)
Paratrooper: 46 inches (117 cms)
Ferris Wheel: 48 inches (117 cms) or with an adult
Scrambler: 44 inches (112 cms)
Kids rides
Kiddie Coaster: 36 inches (91 cms)
Frog Hopper: 36 inches (91 cms)
Swing Around: 36 inches (91 cms)
Carousel: 42 inches (107 cms) or 36 inches (91 cms) with an adult
Kiddie Carousel: 31 inches (79 cms)
Scooby Swing: Minimum of 31 inches (79 cms) and maximum height of 34 inches (86 cms)
Kiddie Ferris Wheel: Minimum of 31 inches (79 cms) and maximum height of 40 inches (102 cms)
Super Slide: 36 inches (91 cms)
Jeep Jamboree: Minimum of 31 inches (79 cms) and maximum height of 43 inches (109 cms)
Banana Squadron: Minimum of 31 inches (79 cms) and maximum height of 43 inches (109 cms)
Popular attractions in Atlanta
# Georgia Aquarium
# Atlanta Zoo
# World of Coca Cola
# Medieval Times Georgia
# Illuminarium Atlanta
# College Football Hall of Fame
# Legoland Discovery Center
# SeaQuest Stonecrest
# iFly Atlanta
# Margaret Mitchell House