A driving vacation in Australia won't be complete without a road trip to Tasmania.
Since the land is historic, has loads of heritage and tonnes of wildlife, self drive holidays in Tasmania are life changing getaways.
The fascinating natural beauty of Tasmania captures one's senses and keeps pulling you back again and again.
When on your all inclusive driving holiday in Tasmania, you will enjoy a relaxed island life with friendly people, good food, and even better wine.
Tasmania is the smallest state of Australia but with the greatest of geographical diversity.
Almost 40% of the land is National parks, thereby giving tourists lots to explore in Tasmania.
For ensuring a memorable self drive holiday in Tasmania all you have to do is research and prepare a good itinerary.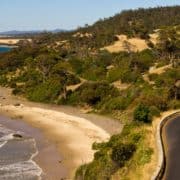 Self drive routes in Tasmania
A major part of planning a Tasmanian self drive holiday is identifying the route you will be driving.
Different tourists prefer different routes depending on what excites them most.
Since the routes decide your road trip itinerary, we suggest you first chalk out what you want to achieve with your road trip.
Here are our top five self driving holiday routes you can build an exciting itinerary around –
The Convict Trail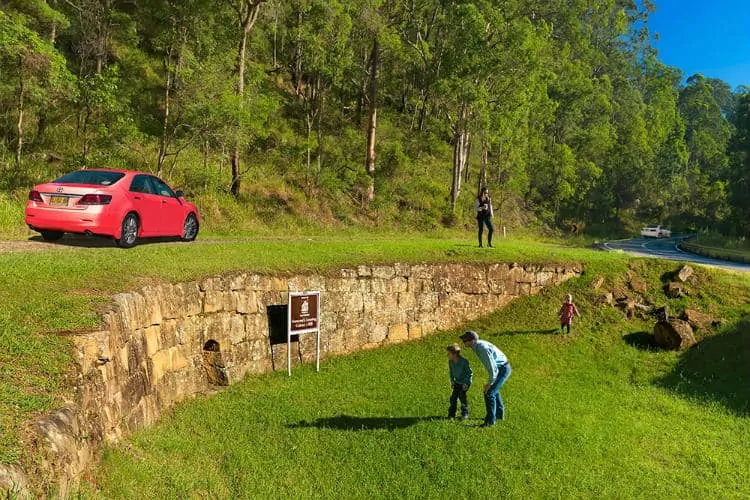 For a fulfilling self driving holiday in Tasmania you must take the Convict Trail.
As vicious as it sounds the convict trail is one of the most beautiful routes for scenic drives in Tasmania.
It connects the Tasman National Park to the Port Arthur Historic site and the Eaglehawk Neck to Richmond.
This fascinating self drive route will help you explore the rich history of Tasmania.
Recommended Reading: Self drive holidays in Austria
Coast to Coast Trail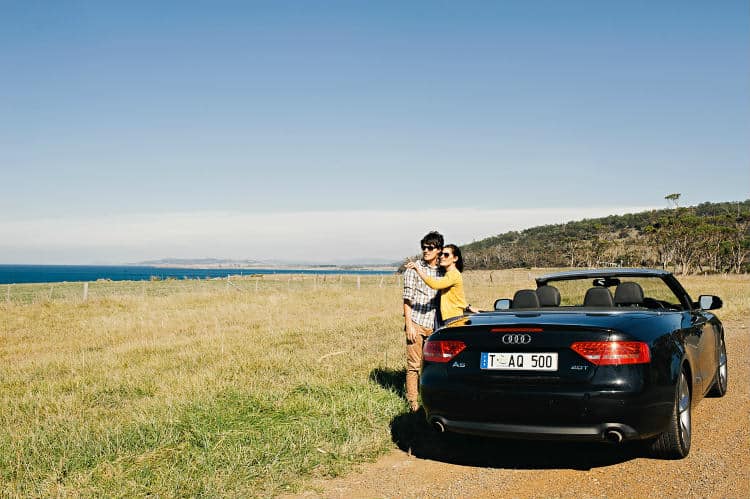 You can also choose the long Coast to Coast Trail for your motoring holidays in Tasmania.
All the way from Devonport to Launceston you will immerse yourself in the beauty of Tasmania.
From the enchanting national parks to the vineyards of Southern Tasmania, you will relish every frame of your car touring holiday.
Some tourists prefer to hike through parts of the Coast to Coast trail.
Along this fascinating route, there are amazing museums and beaches where you can stop by for some fun.
Don't miss out on Devil's Kitchen, the Remarkable Cave, the Blowhole and the Tasman Arch which fall on this route.
Cradle Country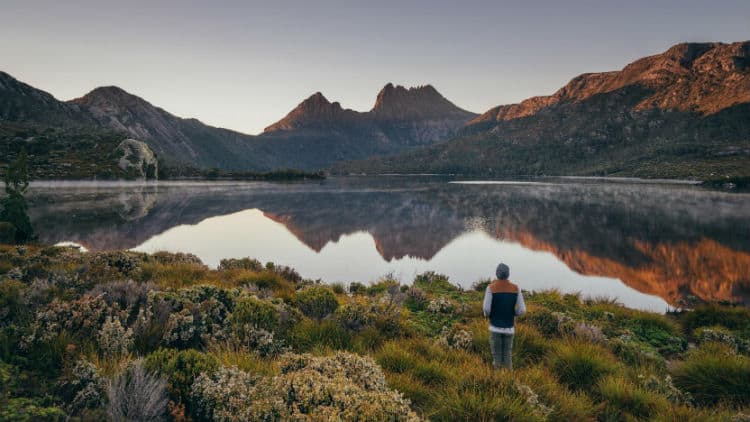 If you prefer easy driving compared to the rocky roads of The Convict Trail and Coast to Coast Trail, we recommend Cradle Country.
If you choose this route for your Tasmania self drive holidays, you will be driving through the agricultural hinterlands of the state.
On the way, stop by to understand the essence of Aboriginal culture and heritage at the Tiagarra Aboriginal Centre.
If you are traveling with kids, we recommend including the Devonport Maritime Museum in your road trip itinerary.
Also, drop by the Warrawee Forest Reserve to check out some platypus.
Great Eastern Drive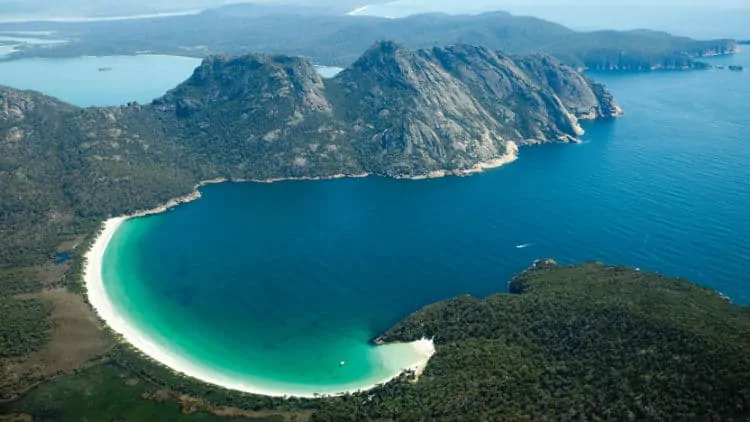 Great Eastern Drive of Tasmania is yet another self drive holiday route you can take to explore the wildlife and lovely beaches of Tasmania.
For self drive holiday seekers who love to stay outdoors, this route is a blessing.
There are plenty of camping locations for you to relax around the Raspins Beach.
If you love Golf, add a stop at the nine-hole Orford Golf Course to the self drive itinerary.
The famous Darlington Vineyard is also worth an addition to your road trip itinerary.
You can stop driving and take a long walk down the Spring Beach and the East Shelly Beach.
On the way, you are bound to spot native Tasmanian animals including the Tasmanian devil.
A trip to the Maria Island is a lesson in Tasmanian history.
You will see convict settlements including the small hamlets, the house of the religious instructors, the prison cells, hop kiln and miller's cottage.
Once you explore the island, you can return to the Tasmanian mainland in a ferry.
Recommended Reading: Self drive holidays in Quebec
Great Western Tiers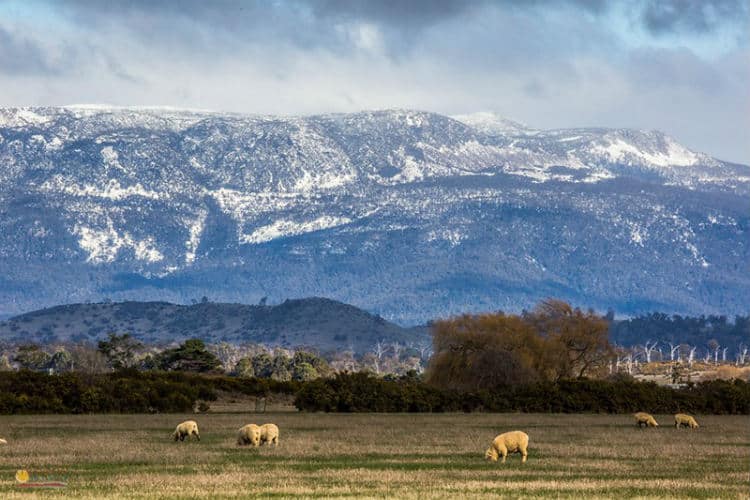 You can also take the amazing drive through the Great Western Tiers – down the historic towns of Carrick, Hagley and Hadspen.
On this Tasmanian self drive holiday route, you can't miss the colonial past of the place and the English architecture.
From Hagley you can drive to the old and quaint town of Westbury and witness the original Village Green.
At the Pearn's Steam World you can explore the Vintage Tractor Museum and enjoy the sights of vintage machinery.
If you love old world charm this is the best self drive route in Tasmania for you.
Tips for driving in Tasmania
At 950 Kms wide (600 Miles) Tasmania is not small.
If you are not careful, it is easy to get lost – especially since some parts of the state don't receive mobile network.
This is the reason it is imperative to have a physical map (and not rely on Google maps!) when you are on a self drive holiday in Tasmania.
Fuel stations may close at night or never open on Sundays. So, be sure to top up your fuel tank at every opportunity available.
Here are some tips for your self-drive holiday in Tasmania –
Driving laws in Tasmania
Driving in Tasmania is on the left-hand side of the road.
You must not overtake on the left-hand side and definitely not if there are solid white lines.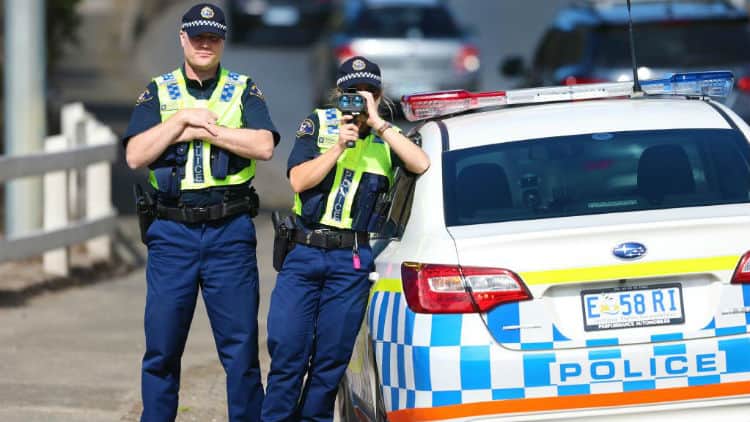 Speed limits in Tasmania vary depending on the region.
It is 50 km/h (31 Miles/h) in built-up areas, 100 km/h (62 Miles/h) on rural roads, and 110 km/h (68 Miles/h) on freeways.
If you don't see a signpost informing of the speed limit, it means the allowed speed on the road is 100km/h (62 Miles/h).
Tasmanian police are very strict and when you get a ticket, you are also told how much the fine is and where you must pay it.
If the fine is large, you can pay it in installments.
If you are driving a rented car, sometimes the Tasmanian police send the ticket to the car rental company.
In such cases, they will charge an administration fee to process the fine.
Seatbelt rules in Tasmania are straightforward – when the car is moving, everybody must wear seatbelts.
If you want to use mobile phone during your self drive holiday in Tasmania, use it with a hands-free kit. Else the Police can and will fine you.
Traffic lights followed in Tasmania is like the UK system, where it is illegal to turn left on a red light (unless indicated).
During your road trip in Tasmania, you won't incur any toll costs for there are no toll roads in this state.
The permissible limit for blood alcohol in Tasmania is 50mg per 100ml of blood.
Be aware that the police carry out random breath tests and if they catch you over the limit, you face a court appearance and a fine.
As always, we suggest you don't indulge in drunken driving during the self drive holidays in Tasmania.
Unlike many other touristy places, it is not illegal to use detection equipment to detect safety cameras installed.
In fact, there are many websites which tell you where all in Tasmania are the safety cameras installed.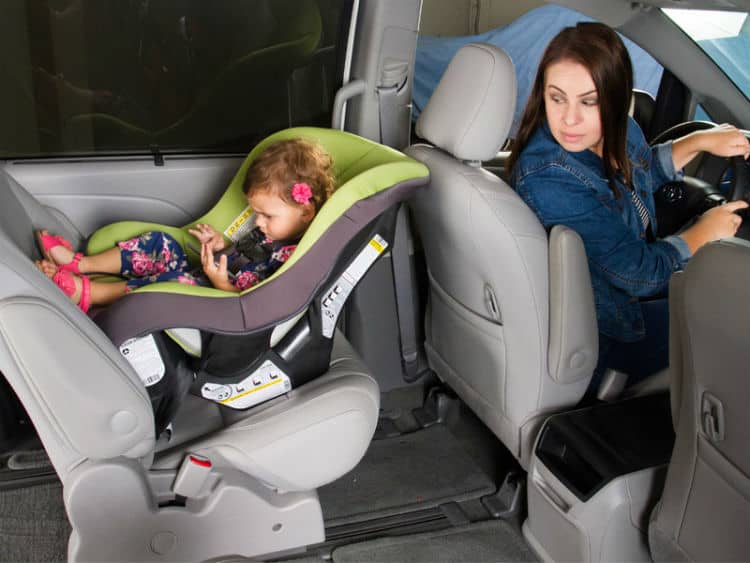 Child safety rules in Australia, which apply to children below seven years of age are quite complicated.
The same child safety rules are applicable in Tasmania as well. We have listed them below:
• Babies who aren't yet six months old must sit in a rear-facing car seat
• Kids who are between six months to four years can sit in a forward or a rear facing seat
• Kids up to four years old should not sit in the front seat unless the car is a two-seater
• Kids between four to seven years old must sit in a forward-facing seat
• Kids between four to seven years old can sit in the front seat only if the car is a two-seater
What to do in a road emergency in Tasmania
If you get involved in an accident and hurt someone, stay there and help. Yes, road trips can be eventful and sometimes not in a positive way.
Even if you didn't cause the accident, if you spot an accident on the road you are legally required to stop and help.
Leaving the spot where someone is hurt can see you spend up to 10 years in jail.
The best thing to do in such emergencies is to call up the police on 000 and while you wait for their arrival, provide first aid.
Don't worry, the law protects you from legal recrimination should something go wrong.
Driving laws to keep Tasmanian wildlife safe
Tasmania is wild. During your self-drive holiday in Tasmania, you will come across many wild animals crossing the road so be careful.
Some parts of the road where wild animals cross may be marked, and some not.
If you do hit a marsupial, you are legally required to stop and check whether they had any joeys in their pouches.
Recommended Reading: Self drive holidays in Europe
Best car hire deal in Tasmania
If you are starting your self drive holiday in Tasmania you have plenty of options for car rental companies in Hobart.
If yours is a fly drive holiday in Tasmania – that is if you are flying in and out of Tasmania – rent a car at Hobart Airport.
Car rental companies such as Hertz, Avis, Bargain, Budget, Eurocar, RedSpot, and Thrifty have counters at Hobart Airport.
These rental companies have the best of car models in the best of the condition.
Depending on your need you can either hire a 4-seater, an 8-seater or a 12-seater minibus.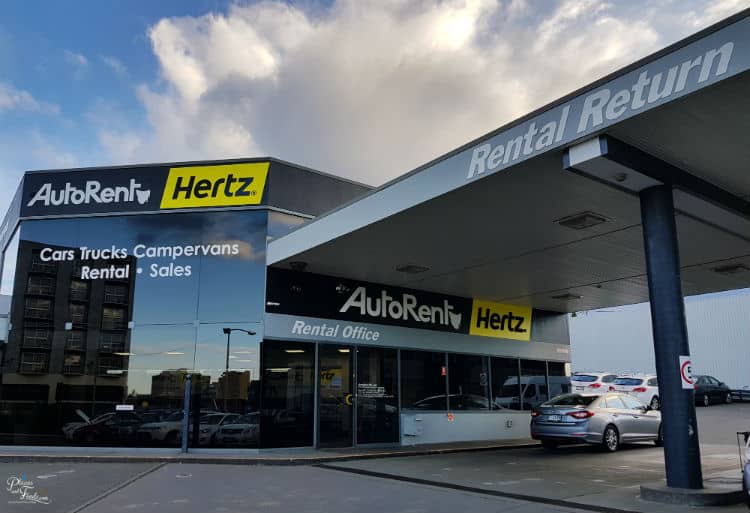 Different companies have a different set of rules and it helps to know them before you decide on your car hire company.
For example, different car rental companies have a different minimum age for renting out a car – some have it at 25 years, some at 21 years and some at 18 years.
Driving through the wildlife and hamlets of Tasmania is best experienced in a car you are comfortable with.
So, please don't penny-pinch when it comes to your car for the road trip.
Instead avail of the discounts they may have.
These hiring companies provide heavy discounts on both seasonal and non-seasonal tour packages.
Before you choose on your car for your touring holiday in Tasmania you need to be sure of a few things.
Decide on your itinerary, the route, timelines, the number of passengers on the trip and the amount of luggage.
Having all this information will help you identify the right car and the right car hire company.
These details will also help you negotiate the most attractive car hire package for your Tasmanian road trip.
Do I need International Driving Permit to drive in Tasmania?
You do not need International Driving Permit as long as your license is not expired and it is in English.
If your license is not in English you must carry an International Driving Permit or an accredited translation.
If your license was disqualified in Tasmania because of a previous misdemeanor, you can't use it to drive in the state.
You need to carry all essential documents during your road trip in Tasmania. The documents include your Passport, Visa, and Driver's License.
Recommended Reading: Self drive holidays in Italy
How to get an International Driving Permit (IDP)?
Visit the nearest National Automobile Club or AAA office in your country to get an International Driving Permit.
You must submit the following: a photocopy of your driver's license, two passport-sized photographs, and a small fee of USD 24. For an extra fee of USD 10, you can get the IDP shipped to your address.
You can also choose to apply for an IDP online.
It generally takes 2 to 10 days for your IDP to reach you so don't keep it for the last minute.