A walled city. A UNESCO World Heritage site. Breathtaking landscapes. Gorgeous mountains. Sparkling lakes. Lush parks and gardens. Spellbinding architecture. Rich French history. Vibrant culture.
All of this put together make up what we know as Quebec – in the Eastern part of Canada.
Self drive holidays in Quebec is a bucket list item and we suggest you don't just limit yourself to reading about it.
Quebec is a city seeped in old-world charm and natural beauty, neither of which can be savored on a rushed itinerary prepared by bus or coach tours.
Opt for driving vacations or fly drive holidays instead, and soak in the beauty of the province at your own pace.
Spend as much time as you want, doing what you want.
Since the Canadian roads are nice you can include as many cities as possible in your self drive holiday in Quebec.
If you have enough days, you can start your fly drive holiday from Ontario and include two of Eastern Canada's greatest cities Montréal and Québec City.
If you are short on time, your car tour can be planned within the Quebec province.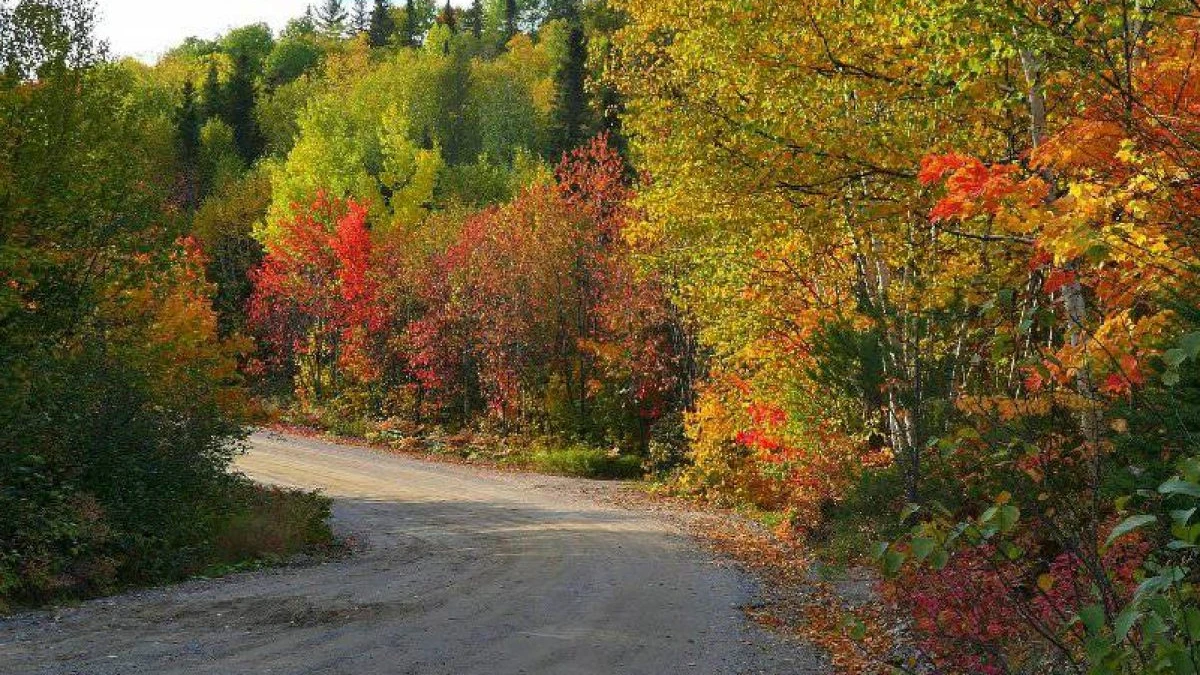 Best routes for self drive holidays in Quebec
Here are five of the best driving routes in Quebec.
The Fjord Route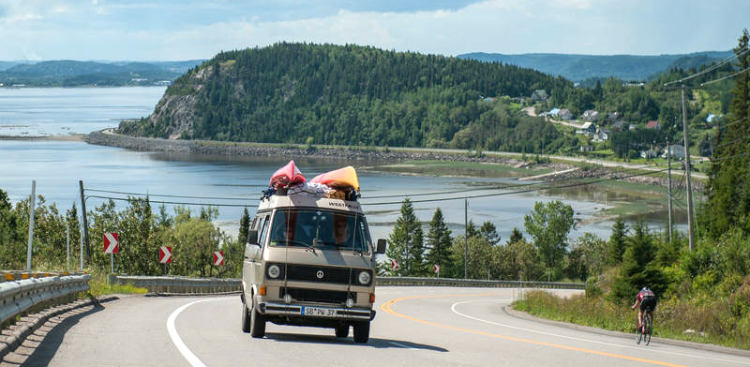 The Fjord Route, also known as Route du Fjord is a challenging route and usually takes one to two days by car to finish.
This 146 Kms (90.7 Miles) long route starts at Baie-Sainte-Catherine.
Along this route you will see the amazing Canadian wildlife in action.
Saguenay fjord, is a natural attraction which can't be missed for it is one of the longest in the world (235 km/146 miles long) and the is the only fjord in North America to be inhabited on both shores.
As you drive past on this route, you will witness the high cliffs and charming old villages in all their glory.
Along the Fjord Route you can stop over for some whale watching, biking, hiking and camping – the choice is yours.
The King's Road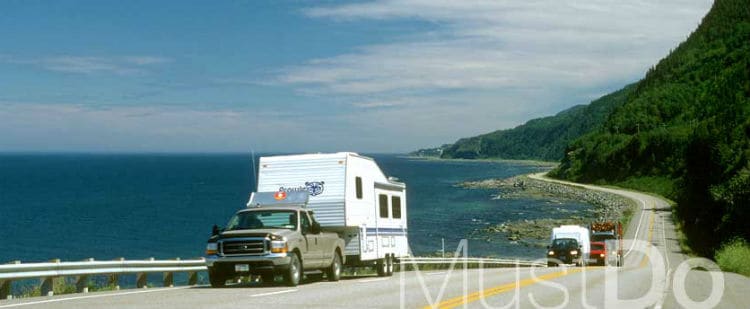 The King's Road connects the province's two biggest cities – Montreal and Quebec City.
It is just perfect for a self drive holiday because this route has numerous historical landmarks on the way and when you are not stopping at a tourist attraction you are enjoying the gorgeous scenery.
Considered as North America's first long routes, this road is dotted with beautiful villages – some of the best in the Quebec region.
On your this motoring holiday, you will also pass by old towns Repentigny and Trois-Rivières – such towns can be a nice stop to try the local attractions and Quebecois cuisine.
The King's Road runs along the St. Lawrence River and is a treat to drive on.
In fact, a lot of bikers and cyclists also prefer this route.
The total length of this route is 260 Kms (162 Miles) and depending on the pace of your driving holiday will take you one or two days to complete.
The Navigators' Route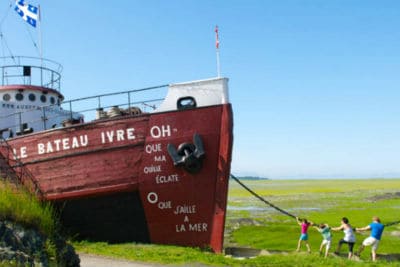 This 470 Kms (292 Miles) long Navigator's Route takes you through historic towns and maritime ports along the southern half of the Saint Lawrence River.
This perfect route for a self drive outing takes you through three different regions – Centre-du-Québec, Chaudière-Appalaches, and Bas-Saint-Laurent.
To continue to stay on the Navigator's Route all you have to do is follow the white ship wheel signs which mark the route.
Sail-shaped symbols help identify tourist attractions along the way – so keep an eye out.
Some of the popular activities along this motoring holiday route are – climbing atop the historic lighthouse, getting into the sea on a boat, kayaking etc.
The usual starting point for this beautiful Quebec route is Baie-du-Febvre but some drivers start from Quebec City to cut down time.
In four days time you will be able to finish this amazing self drive holiday package.
The Whale Route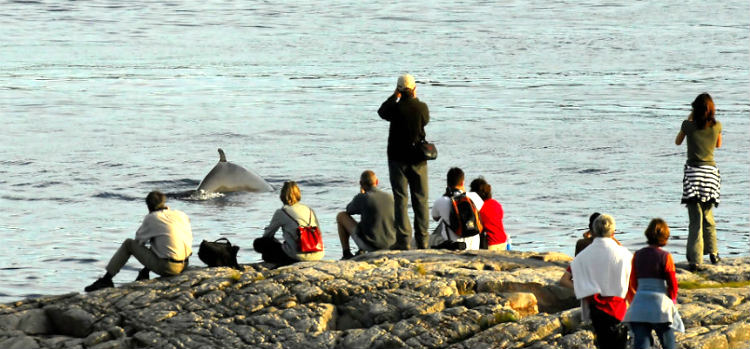 If you have four to seven days for your fly drive holiday and have kids who love watching whales, this is your best choice.
The Whale Route starts at Tadoussac and takes you through a journey difficult to describe – a journey full of beautiful views, old lighthouses, rusting shipwrecks, breathtaking wildlife, time in the sea, great Quebecois seafood cuisine etc.
On the Whale Route, you can stop at regular intervals to see all kinds of whales.
You will find more than thirteen different species of whales in this estuary and the gulf of the St. Lawrence and the guides will be able to identify them for you.
Do watch out for white whale marks along the Whale Route which alert you of the towns to stop at for whale watching along Quebec's eastern coast.
The Gaspesie Tour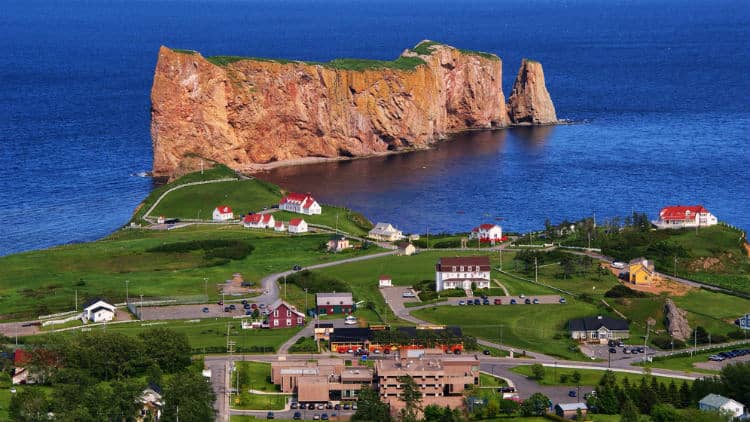 The Bas-Saint-Laurent – Gaspésie Tour is an amazing scenic drive that loops around Gaspé Peninsula.
If you are flying into Canada, depending on where your flight lands you can start your Gaspesie Tour either from Montreal or from Quebec City.
This 1230 Kms (765 Miles) long Quebec road trip route takes anywhere from eight to ten days to finish depending on how you like to pace your self drive holidays.
The route winds through Quebec's biggest cities all the way to its easternmost tip. The Gaspesie Tour's route also passes through
Quebec's wine regions, so factor in a day for some vineyard visits or wine tasting.
After passing through rural districts such as Rivière-du-Loup and Rimouski you will get to explore the huge Gaspe Peninsula.
Some of the things you and your family will love doing here are – exploring the outdoors, and getting into the water for whale watching, scuba diving, kayaking, fishing etc.
Don't miss the stunning Percé Rock along a seaside road.
If you don't have a lot of time on hands but still want to do a self drive holiday in Quebec, look for New France Route and The Wine Route.
Recommended Reading: Self drive holidays in Tasmania
Self drive holidays to see Quebec's fall colors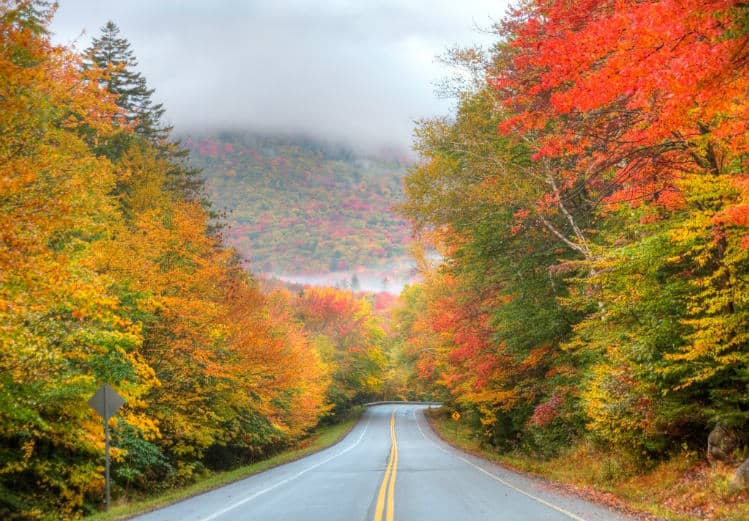 Quebec shines brightest in Fall, as the colorful beauty of changing leaves takes over the whole province.
Trees such as sugar maples, birch, and oak which mark the Quebec skyline turn into Michelangelos and Rembrandts during fall.
In fact each region of Quebec has its own beautiful palette of colors, so you go through a gamut of emotions as you drive through the whole province on a self drive holiday to see Quebec's fall colors.
In fact, some of the best color drives in Canada are in Quebec.
Countryside north of Vermont known as the Eastern townships is scattered with wineries, dairy farms, apple orchards, and ski mountains and makes for great autumn drives.
As if these weren't enough, to the North of Montréal you will find the Laurentians mountains with numerous beautiful villages.
During fall, Quebec organizes 13 nature-themed color festivals to showcase the beauty of autumn in their region.
Check out the dates of these color festivals in Quebec and include them in your self drive holidays so that you experience the best of Quebec's fall colors. List of fall festivals in Quebec.
To experience the various hues of the Quebecois autumn season, you also have the option of train journeys but we recommend road trips by car for the flexibility they offer. Best places to see fall foliage in Quebec
Best car hire deals in Quebec
Car tours in Quebec are common. Hence, it is not difficult to rent a car anywhere within the province of Quebec.
Rental deals can start from around 23 Canadian Dollars per day for a vehicle which accommodates two adults and two bags.
Rates go up to around 50 Canadian Dollars for an SUV that can comfortably carry five adults.
Before you hire a car for your motoring holiday across Quebec, do finalize five things – your itinerary, your route, your dates, the number of passengers and the number of bags.
Being aware of all this information will help you decide on the perfect car for your Quebec road trip and negotiate an attractive package deal.
To identify the best car deal, you can check car rental aggregators such as Kayak.com, Expedia.com etc or you can deal directly with the car rental companies in Canada such as Europcar, Budget, Hertz, Enterprise Car Rentals etc.
Some of these car rental companies also offer entire self drive holiday packages and useful tips to make the most of your holiday on wheels.
Recommended Reading: Self driving holidays in Austria
Rules to know before road trip in Quebec
If you are a Canadian on a self drive holiday in Quebec, you won't have any issues.
If you are from USA and are on a fly drive holiday in the French-speaking province of Quebec the rules are pretty like your country.
However, if you are from Europe or rest of the World there is some amount of learning which you can't afford to miss.
Not adhering to these Quebec-specific traffic/driving rules can land you in serious trouble.
Drivers from Europe and the USA can drive around Canada with their country's driver's license if the duration of their road trip holiday is less than three months.
However, their license should be valid in their country.
It is to be noted that during your motoring holiday in Quebec you will find all the road signs to be in French.
However, internationally familiar pictograms will be used which will help you understand.
If you are used to signages in USA and Europe, you will not find a lot of advance signages in Quebec.
Using the phone while in a car is a strict no in Quebec with fines reaching upwards of $100.
No speaking, no texting – even if the car is stationary at the traffic lights.
Drinking and driving is allowed if within a stipulated limit – maximum tolerated blood alcohol level is 0.05 grams per liter.
This is the same amount limits as is imposed in USA and Europe.
Depending on the road you will be driving on during your motoring vacation, you will have to follow different speed limits.
For instance, on divided highways it is 100 Kms/Hr, on rural roads it is 90 Kms/Hr and inside the cities the speed limit is 50 Kms/Hr.
This is an important rule you must be aware of and must follow while driving around in Quebec.
If a school bus is stopped with red lights flashing, traffic in both directions must come to a halt.
If the bus is on a divided highway, then only the traffic on the same side of the highway must stop.
Is International Driving Permit required?
The good news is, you do not need an international driving permit to drive in Quebec.
The rule states that for tourists on self drive holidays and others, the driving license issued by their country of residence is sufficient.
However, the driving license must be valid. Also, it must authorize you to drive the type of vehicle that you are renting for your car trips.
Your original driving license will be valid in Quebec for the first six months of your stay.
If for any reason your stay exceeds the specified time limit, you will need an international driving permit.
Sources

# Freedomdestinations.co.uk
# Canadiansky.co.uk
# Audleytravel.com
# Discover-the-world.com

The travel specialists at TheBetterVacation.com use only high-quality sources while researching & writing their articles. We make every attempt to keep our content current, reliable and trustworthy.
Recommended Reading
1. Self driving holidays in Europe
2. Self drive holidays in Italy