Self drive holidays in Italy are a rewarding experience.
Long winding road, beautiful roadside greenery, a quaint village, a picturesque bristo – you will see all at once on your Italian road trip.
There are two kinds of self-driving holidays possible in Italy.
The first type is known as a fly drive holiday – where you fly into Italy, rent a car and go around the country.
The second type of self drive holiday is where you drive into Italy in your car.
Whatever you choose, the warm Italian weather, scrumptious food and the hospitable people will ensure you have a journey of a lifetime.
For a motoring holiday in Italy will help you understand and appreciate the varied countryside and culture of the country.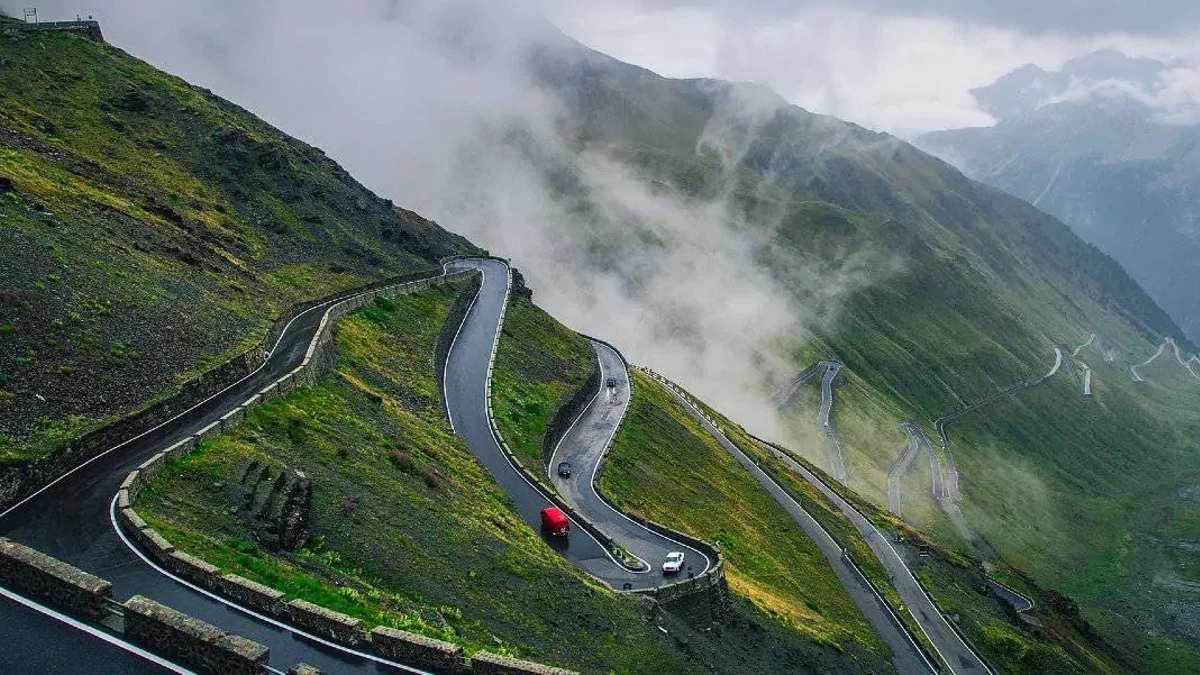 Best driving routes in Italy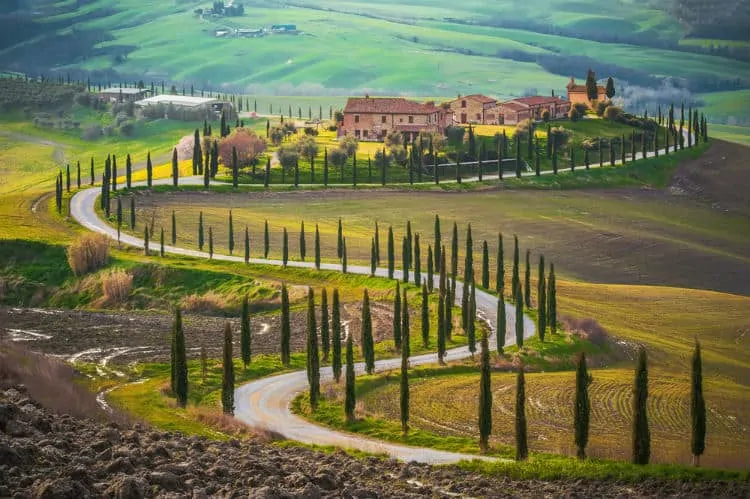 Italy has some of the best driving routes for road trips in Europe.
One of the most fascinating routes is through Tuscany hills.
The tour starts at San Gimignano where you can witness the marvels of the historic town and its high stone wall.
From there you can rent a car and drive down to Siena.
At Siena you can witness the charm of the restored essence of history in the cathedrals and castles.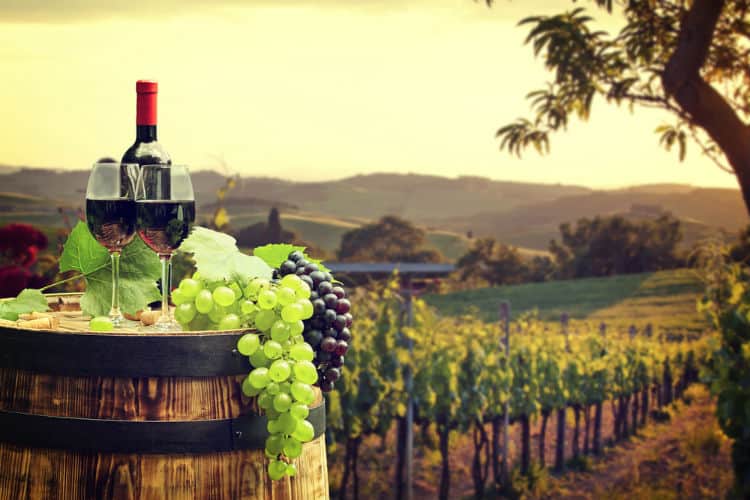 Once you have taken in the sights of Siena, you head out to the famous Chianti Wine Region.
After enjoying fine wine tasting under the Tuscan sun you can drive around town.
Don't miss out on the beautiful vineyards and the lovely little hamlets.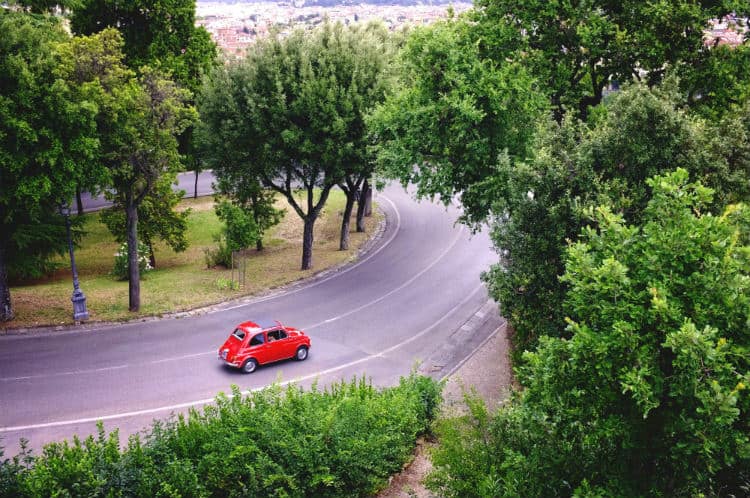 Once you have seen enough of the wine region, you can drive towards the beautiful city of Florence, the capital of Tuscany.
On your way enjoy the views of river Arno.
Don't miss out on the T-bone steak for dinner – One of Florence's culinary specialties is the bistecca alla fiorentina or Florence T-bone steak. Return to Siena again.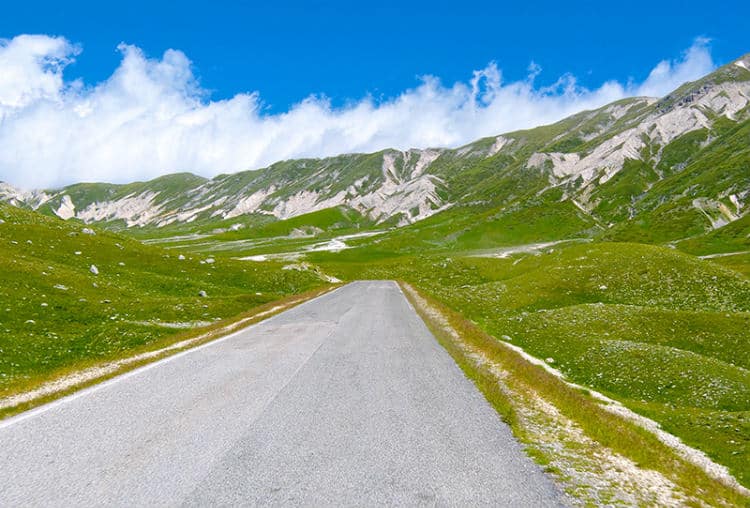 You can also choose another road trip route in Italy – by driving towards greener south of Italy.
You will pass the beautiful Apennine Mountains and enter Umbria.
The moment you are in Umbria, you will get lost in the mystifying tiny towns such as Assisi and Perugia.
A road trip in Italy is a once in a life time opportunity to explore a country as beautiful and untouched as Italy.
The food and scenic beauty on this road trip route in Italy is so amazing that you will fight the urge to settle down in some Italian town on the way.
How to enter Italy for your road trip
If you enter Italy through the North (from Germany or Austria) you will pass through the mountainous path connecting the Brenner Pass.
This path will lead you through the beauty of South Tyrol too.
The food awesome in this region, so don't miss it.
On this route, you will also enjoy amazing views of Alpine mountains.
If you are driving to Italy from France or Switzerland, you will enter the Aosta valley.
The valley offers you a magnificent view of snow-capped mountains and lush green forests.
You can also make it a fly drive Italian holiday by flying into the country.
There are regular scheduled flights from most cities to major Italian tourist spots.
This is a quick and easy way to start your motoring holiday in Italy.
If it is going to be a fly-drive holiday in Italy, you must land at Milan.
At the Milan airport, you can rent a car and drive down to the coast of Liguria which is also known as the Italian Riviera.
As you drive past Lake Maggiore and Piedmont and enjoy your time at the Langhe wine district you can make your next plans.
Tips to plan itinerary for road trip in Italy
You cannot have it all, at one go, when you plan to have a road trip down the Italian valleys and towns.
Make up a broad plan first and then combine, shorten or alter it till it suits your taste.
Planning the perfect itinerary for a self-driving vacation in Italy will take time, but the effort will be worth it.
Drawing up a good road trip itinerary is the only way to ensure you and your family enjoy an amazing self-drive holiday in Italy.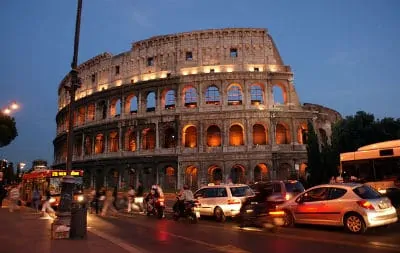 You should know that the traffic in Italian cities such as Rome, Milan, Naples, Venice, Turin etc is crazy. Roads in these Italian cities are crowded and the traffic moves fast – not the ideal combination for road trip. Besides the parking fees at these tourist destinations are costly. Therefore, it makes sense to visit these major cities by train.
Yet, renting a car continues to be a better decision while visiting smaller towns.
If you have kids, they will love this car-now-train-later arrangement for your Italian self drive holiday.
Recommended Reading: Self drive holidays in Quebec
How to get the best car hire deal in Italy
Self drive holidays are common in Italy because of which hiring a car is usually a smooth process.
There are many car hire deals to suit every need. Hiring a car is as easy as visiting one of the popular car rental companies such as Avis, Alamo, Budget, Hertz etc.
If don't prefer any particular car hire service but are cost conscious, we recommend exploring at car hire aggregators such as AutoEurope, Drive Away, Rental Cars, SkyScanner etc.
Different companies have a different set of rules and it helps to know them before you decide on your car hire company.
For instance, some car rental companies have no cancellation fee while some others do.
Look for attractive deals or offers, which should help reduce your travel costs on your self drive holiday in Italy.
Before you hire a car for your touring holiday across Italy decide on your itinerary, route to be taken, timelines, the number of passengers on the trip and the amount of luggage.
Having all this information will help you identify the right car, the right car hire company and negotiate the most attractive car hire package for your Italian road trip.
The most popular car rental spots in Italy are: Milan Centrale Rail Station, Rome Fiumicino Airport, Florence Peretola Airport, Genoa Principe Central Rail Station, Rome Termini Rail Station, Rome Termini Rail Station etc.
Do I need International Driving Permit to drive in Italy?
If you have EU driving license you don't need the International Driving Permit in Italy.
If you do not have an EU driving license you can use your home country driving license along with an international driving permit.
These two documents are good enough to take you through your self drive holidays in Italy.
The car rental company will only ask for your driver's license and not the international driving permit when you rent the car.
But the papers come in handy if your stopped during your touring holiday of Italy.
Recommended Reading: Self drive holidays in Tasmania
How to get an International Driving Permit (IDP)?
To get an International Driving Permit visit any National Automobile Club or AAA offices in your country. Or apply for your IDP online .
You must fill an application form and submit it with a photocopy of your driver's license, two passport-sized photographs, and a small fee of USD 24.
Shipping your IDP to your address will cost you the standard international shipping cost of USD 10.
It generally takes 2 to 10 days for your IDP to reach you so don't keep it for the last minute.
Tips for road trip in Italy during Winter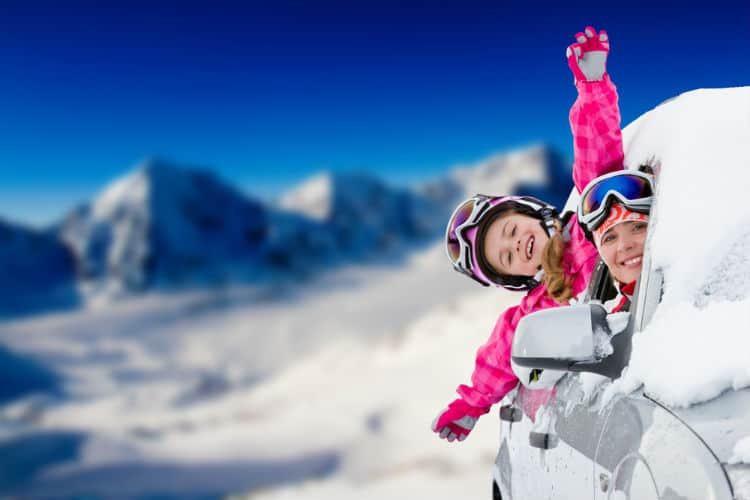 The Italian winter is a perfect time for a motoring holiday across the country.
During these months, the tourist attractions, the hotels and the eating joints are not crowded – and cost less.
Yet, the scenic drives remain the same, if not more beautiful.
If you are traveling in Italy during winter, you should include coastal areas like Sicily and Sardinia in your itinerary.
The weather in these cities is more conducive for a holiday than in others, during winter.
If you feel like witnessing some snow dust, drive south towards the hills of Tuscany and Umbria.
If you don't like rain as much as the others, avoid November – that's when Italy gets most of its rainfall.
Since winter follows the rains, you can expect clear sky and crisp weather during your winter car tour in Italy.
Italian road trips in winter also means smaller budgets. The lower hotel prices and car rental prices can help you cover more cities and towns in your budget.
Source
# Trailfinders.com
# Wexas.com
# Audleytravel.com

The travel specialists at TheBetterVacation.com use only high-quality sources while researching & writing their articles. We make every attempt to keep our content current, reliable and trustworthy.
Recommended Reading
1. Self drive holidays in Europe
2. Self drive holidays in Austria