You have either decided to get married or are already married – whatever it is, your honeymoon must be a special experience. Deciding on just the right Romantic honeymoon destination and package is an important decision and it is good to see that you are doing the right research. Our comprehensive list of the best Romantic honeymoon destinations ever will help you and your spouse bring down the list of Romantic honeymoon destinations you want to visit to two or three…after that it is a coin toss away. 🙂
Most romantic honeymoon destinations in the World 2017
Romantic honeymoon destination #1: Santorini, Greece
Santorini is the most romantic getaway for anybody looking for a great Romantic honeymoon destination. After all, where can a couple enjoy pristine clear waters while sitting on an active volcano in the middle of a sea? The very idea is romantic, isn't it? Besides being one of the finest Romantic honeymoon destinations this location is also a wedding destination. Amongst the romance seeking travelers it is believed that you haven't really had a honeymoon holiday if you haven't once kissed beneath Santorini's famous sunset. Situated about 200 km southeast of Greece's mainland, this group of islands has a population of less than 20 thousand. All inclusive deals are available during certain times of the year, so keep an eye out.
Best restaurants for honeymoon travelers: Terra Nera, Metaxy Mas Tavern, Lolita's Gelato
Popular honeymoon attractions in Santorini: Fira, Oia, Kamari, Perissa, Imerovigli, Akrotiri
Romantic honeymoon destination #2: Maui, Hawaii
If you want the most romantic of Romantic honeymoon destinations with the best of service in the resorts this is the place to come to after your wedding. This Romantic honeymoon destination is also known for the adventure activities, which prevail both in and outside of the hotels. There is scuba-diving, snorkeling, zip lining, mountain biking, surfing for the more adventurous honeymooners and for the not so adventurous there is always wine tasting, fine dining, museums and golf. This vacation spot has both – the top dining experiences and then the not so top ones. In short, at Maui your honeymoon holiday will depend on your idea of it. Since all resorts are sea-facing, it is best to get a suite which a view even if it costs a bit extra. Look for all inclusive deals or packages to save cost because Maui can be costly at times.
Best restaurants for honeymoon travelers: Ululani's Shave Ice, Ululani's Hawaiian Shave Ice, Mama's Fish House
Popular honeymoon attractions in Maui: Lahaina, Kihei, Ka'anapali, Wailea, Wailuku, Kahului
Recommended Reading: Best African honeymoons
Romantic honeymoon destination #3: Venice, Italy
Venice is the kind of Romantic honeymoon destination where you will love to get lost – with your spouse of course. If you have other ideas we won't try to stop you though. The lovely canals and the gondolas on them seem as if they were built with honeymoons in mind. The beauty of Venice is that you don't need to plan your day – every spot of Venice you go to you will find beauty, history, romance and happiness. Don't miss the specialty of the place – the Venetian cuisine. Do remember that the spreads here are very large so be really hungry before you venture out for lunch. Both baroque music and modern opera have their origins in Venice so don't miss them during your honeymoon.
Best restaurants for honeymoon travelers: Dal Moro's – Fresh Pasta To, Ristorante Alle Corone, Riviera
Popular honeymoon attractions in Venice: Grand Canal, Saint Mark's Basilica, La Fenice Opera House, Musica A Palazzo, San Giorgio Maggiore
Romantic honeymoon destination #4: Kauai, United States
With more than 60 beaches in this Romantic honeymoon destination your holiday really needs to be long. The good aspect of a vacation to this place is that Kauai isn't commercially exploited so you will feel at home and relaxed. If you need to go on your honeymoon with your children, this can be a great location. There is a lot of water sports, snorkeling, surfing, etc. If you are a nature-loving honeymooner you can also spend time with turtles, whales and the ever-loving dolphins. Ask for a suite that's sea facing and is affordable, there is no point holidaying in Kauai if you weren't staring at the beautiful sea.
Best restaurants for honeymoon travelers: Pink's Creamery, Hee Fat General Store, Hukilau Lanai
Popular honeymoon attractions in Kauai: Kapaa, Princeville, Poipu, Koloa, Lihue, Hanalei
Romantic honeymoon destination #5: Crete, Greece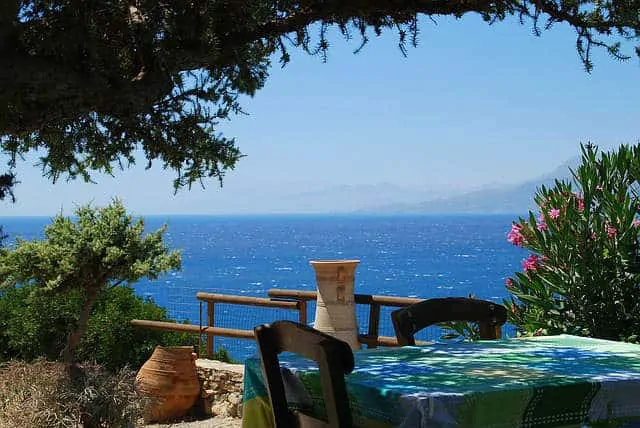 Crete is as Greek as Greece can be. It is artistic, pristine, sun-drenched, rugged, sandy and everything else in between. All of this makes it the perfect Romantic honeymoon destination, with children or without children. If you find this as the best fit for your honeymoon that's great because you will also be able to trek through Europe's longest gorge with your spouse. If visiting the cave where Zeus was born is your idea of a romance, don't let go of Crete. Get an all-inclusive deal now and see if they can squeeze in a suite in the same deal. The amazing beaches are a non-ending calling for the travelers – once you come here on your honeymoon, chances are you will end up here once again with your children. This is also your destination if you prefer a traditional honeymoon, for the people of Crete love traditions.
Best restaurants for honeymoon travelers: There are no particular restaurants we will like to recommend in Crete.
Popular honeymoon attractions in Crete: Chania, Rethymnon, Hersonissos, Heraklion, Agios Nikolaos, Malia
Recommended Reading: Best European honeymoons
Romantic honeymoon destination #6: Bora Bora, French Polynesia
Bora Bora may be a small island but this Romantic honeymoon destination is very high on romance quotient as well as activity quotient. If you would love to have adventure activities in your honeymoon, this is the place to choose. There is 4×4 safari, diving in the underwater park, shark feedings, hiking, parasailing etc. Compared to other beach destinations, the cost of these activities is much affordable here. If you find intimate midnight dinner on the beach affordable you can go for it. You can also request your travel agent to plan this midnight beach dinner in your all inclusive package costs…and book your spot on the beach. Do note that this Romantic honeymoon destination is for all people – those who can afford five stars and those who can afford only mid-range hotels.
Best restaurants for honeymoon travelers: La Villa Mahana, Lagoon Restaurant by Jean-Georges, Restaurant ST JAMES
Popular honeymoon attractions in Bora Bora: Mount Otemanu, Bora Bora Lagoonarium, Matira Beach, Leopard Rays Trench, Tupitipiti Point, White Valley
Romantic honeymoon destination #7: Maldives
When it comes to stunning white sand beaches and underwater experiences nothing can beat this Romantic honeymoon destination. If you are a beach person and always dreamt of having a honeymoon holidays on the beach, Maldives is for you – beaches don't get any better than this. There are at least 1200 beaches in the 1200 islands that form the country of Maldives. Maldives is so amazing a holiday destination that more than a million people end up here to enjoy its romance. The richness of the underwater experience in this romantic Romantic honeymoon destination just can't be explained in mere words – you need to experience and spot it yourself. To top it, the water is at room temperature, which means…you feel it on your skin.
Best restaurants for honeymoon travelers: Thila, Sea Fire Salt.Sky, Family Room
Popular honeymoon attractions in Maldives: Male, Hulhimale, Maafushi Island, Alimatha Island, Maldive Victory
Romantic honeymoon destination #8: Florence, Italy
Like Bora Bora, Florence is also a small Romantic honeymoon destination – just that Bora Bora would host you on a beach holiday while Florence is a riverside small town. It was here that Renaissance started and hence if you want to remember your honeymoon holiday as an art extravaganza this is the destination you should go for. The best of World-class art is available here at Florence and all this art can only make your experience beautiful. Florence is also known for its food and wine – so be ready to clink a few glasses with your spouse on this honeymoon vacation. While tourism is well entrenched in Florence, it is sometimes difficult to get all include affordable packages for this destination….so plan ahead of time. Here is an idea to make your honeymoon special – Stand over the Arno river and see the sunset. There is no particular spot to take…any place on the bridge will be fine to see the marvels of Florence.
Best restaurants for honeymoon travelers: Marco Ottaviano Il Gelato, The Book Pub, Salumeria Verdi
Popular honeymoon attractions in Florence: Piazzale Michelangelo, Piazza della Signoria, Accademia Gallery, Piazza del Duomo, Basilica di Santa Croce,
Romantic honeymoon destination #9: Martinique, France
For your honeymoon holidays you can also decide on a destination where two cultures meet & marry – Martinique. This affordable Caribbean vacation spot has a layer of France around it which is bound to make your honeymoon vacation an exotic one. The specialty of this destination is the black sand beaches – not seen in other parts of the World. This vacation spot is known for its never-ending summer – it is always just the right temperature for a holiday. If your spouse is outdoorsy, it will be a good idea to get in touch with a travel agent and get an all inclusive deal for this place is full of outdoor activities.
Best restaurants for honeymoon travelers: LE WILLKAT, Al Casanova, Le Mabouya
Popular honeymoon attractions in Martinique: Trois-llets, Fort-de-France, Sainte-Anne, Le Diamant, Sainte-Luce, Les Anses, d'Arlet
Romantic honeymoon destination #10: Tahiti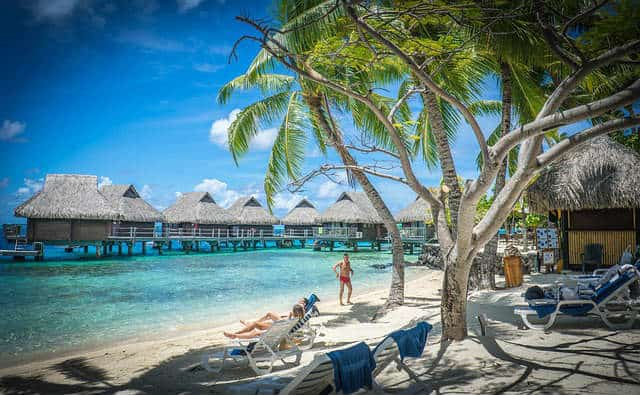 If you are looking for a Romantic honeymoon destination with romantic ambience, a colorful culture and loads of honeymoon spots to visit then look no further than Tahiti. This place's music scene is amazing so if you love shaking a leg or love great foot taping music, just go for it. The food is great, the drink is excellent, the ambience is romantic…what else can one expect to follow your already special wedding. French Polynesia itself is so pretty that we don't need to explain how beautiful Tahiti is, what with greenery all around, its beautiful black-sand beaches, pristine water etc. During some parts of the year hotels and resorts offer affordable deals which can fit any pocket, so plan ahead.
Best restaurants for honeymoon travelers: Le Grillardin, La Plage de Maui, Chez Aro
Popular honeymoon attractions in Martinique: Aremiti Ferry, Museum of Tahiti and the Islands, Paofai Gardens, The Water Gardens of Vaipahi, Faarumai Waterfalls