Sky100 Hong Kong is the highest observation deck in the city.
It is located 393 meters (1290 feet) high on the 100th floor of the International Commerce Centre, the tallest building in Hong Kong.
Sky100 observatory offers 360-degree views of Hong Kong skyline and its famous Victoria Harbour.
In this article, we explain everything you must know before visiting this Hong Kong Lookout.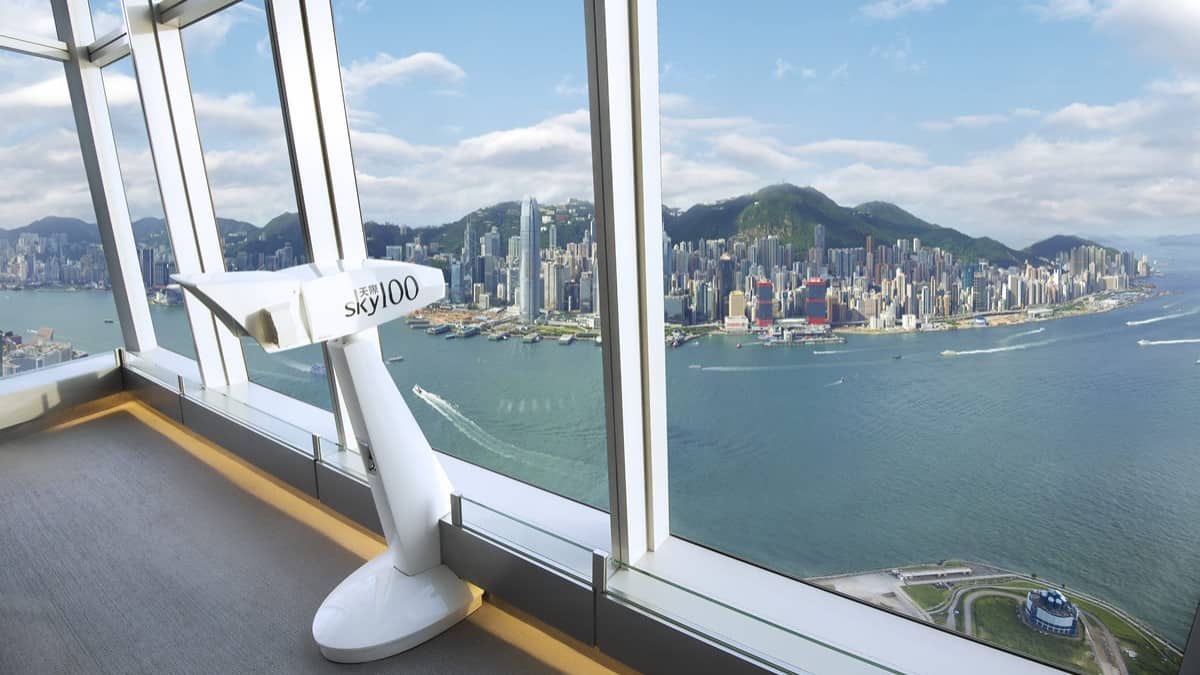 How to reach Sky100
You can find your way to Sky100 easily with the city's well-developed transport system.
Sky100's location
Sky100 Hong Kong is right in the heart of the city, with easy access via both public and private transport.
Sky100's address: 100/F, International Commerce Centre, 1 Austin Road West, Kowloon, Hong Kong
Reaching by Train
Two types of trains run across the city –
High-Speed Rail
The High-Speed Rail of Hong Kong connects 44 destinations in the Mainland to Hong Kong West Kowloon.
Sky100 Hong Kong deck is just 10 minutes from the Hong Kong West Kowloon Station.
Once you get off at Kowloon Station, take the Exit M and walk over the footbridge which connects ELEMENTS Metal Zone and continue following the directions to Sky100.
By MTR
Sky100 Hong Kong Observation deck is right above the Kowloon Station on the Tung Chung Line.
Once you get down, take Exit C to reach the ICC tower.
Getting to Sky100 by bus
There are several public bus routes with stops at the Sky100 Hong Kong Observation Deck.
You can get to the Observatory from all the districts of the city.
No matter which bus you are traveling in, your final stop will be the MTR Kowloon Station Bus Terminus.
From the Bus Terminus, a brisk 5 minutes walk can get you to Sky100.
If you are traveling from within Kowloon, you can board the bus with route numbers 8, 11, 215X, 215P, or 203E.
But if you are traveling from New Territories, you must board the buses with route number 261B, 270P, 281A or 296D.
To Sky100 by mini bus
Another alternative is to take a Mini Bus to the Sky100 Hong Kong Observation Deck.
There are several stops throughout Kowloon from where you can board the minibus.
To reach the ICC Tower, you must get down at the MTR Kowloon Station Bus Terminus.
The buses you can catch are 26, 74, 74S, or 77M.
Sky100 by Taxi
Taxi is the easiest way to find your way to the Sky100 Tower.
Ask the driver to drop you at Sky100 or International Commerce Centre.
A ten-minute ride to your destination would cost you about HKD 35.
If the taxi goes through a tunnel, you must pay the tunnel fare in addition to the charges.
From Shenzhen International Airport, China
To get to Sky100 Tower from Shenzhen International Airport in mainland China, you need to ride the China Coach.
At the end of an hour-long convenient trip, you will get dropped at the MTR Kowloon Station China Coach Terminus.
---
---
Sky100's entrance
The Sky100's entrance is from inside the Elements Mall in Hong Kong.
Elements Mall follows the theme of five Chinese elements – Wood, Water, Fire, Earth, and Metal.
To find the entrance of Sky100, you must reach the 2nd floor of Metal Zone at ELEMENTS, and then follow the path shown below.
Keep following the signs, till you see this Sky100 entrance shown below –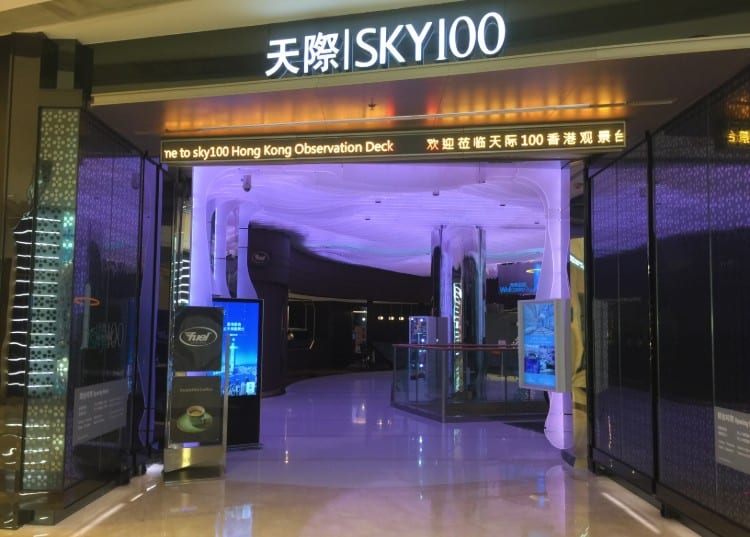 ---
---
Sky100 opening hours
Sky100 in Hong Kong is open all through the year.
From Sunday to Thursday, the Observatory opens at 10 am and closes at 9 pm. The last entry is at 8:30 pm.
On Friday and Saturday, the opening time remains the same, but they close at 11.30 pm. The last entry is at 11 pm.
---
---
Best time to visit Sky100
If you are looking for a quiet time and want to avoid crowds, visit the Sky100 Tower between 10 am to 11.30 am.
If you can't make it to Hong Kong's Observatory in the morning, the next best time to visit is between 7.30 pm to 9 pm (on Friday and Saturday till 10.30 pm).
Sunset, the best time to visit
Sunset is also a great time to visit any observatory, and Sky100 is no different.
That's why it is most crowded just an hour before sunset.
Besides stunning sunset views, you also get to enjoy Hong Kong's skyline during the day and at night.
It is best to arrive an hour earlier and give yourself enough time to reach the top of the observation area.
Depending on the time of the year, the sunset times in Hong Kong vary.
---
---
Where to buy Sky100 tickets
You can buy the tickets from Sky100 Hong Kong Observation Deck's ticket center on 1/F floor, but we don't recommend that.
Depending on the time of the day and season, you may have to wait in a ticketing counter queue.
We suggest you buy Sky100 tickets online, much in advance.
On the day of your visit, show the e-tickets in your email at the Ticket Centre and walk-in.
---
---
Sky100 Hong Kong ticket price
Depending on where you buy them from, Sky100 ticket prices vary.
When you buy Sky100 Hong Kong tickets on the day of your visit, at the venue, the ticket prices are costliest –
Adult ticket (12+ years): HK$ 188
Child ticket (3 to 11 years): HK$128
Seniors ticket (65+ years): HK$ 128
However, when you buy them online from the official website, you get a 10% discount.
And you end up paying –
Adult ticket (12+ years): HK$ 169
Child ticket (3 to 11 years): HK$115
Seniors ticket (65+ years): HK$ 115
However, you get the cheapest Sky100 Hong Kong ticket prices from Klook, the most popular travel website in Asia.
This low pricing is because of the massive discounts they give to attract tourists like yourself.
Sky100 tickets on Klook cost:
Adult ticket (12+ years): HK$ 135
Child ticket (3 to 11 years): HK$100
Seniors ticket (65+ years): HK$ 100
Sky100 ticket discounts
Kids below three years of age get the best Sky100 discounts – they can enter for free.
Children from 3 to 11 years and seniors above 65+ get more than 30% discount on the price of the adult ticket.
---
---
Sky100 Hong Kong tickets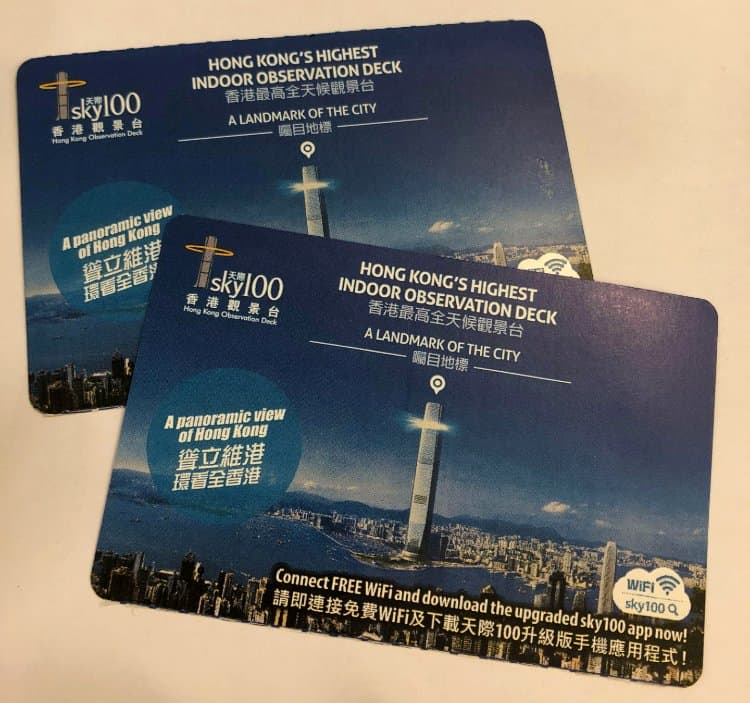 The online Sky100 entry ticket recommended below gets you full access to everything there is to see at the only indoor observation deck in Hong Kong.
It is valid for a single entry for up to 30 days after your purchase.
Immediately after purchase, the Sky100 tickets get emailed to you, and on the day of your visit, you can show them on your mobile and walk-in.
There is no need to take print outs.
Sky100 Hong Kong tickets come in many flavors.
You can book a visit to the Sky100 observatory, or you can buy the combo ticket which also includes a dining experience at The Ritz Carlton's Cafe100.
Cafe100 is a Parisian inspired cafe on the 101st floor, offering captivating views of Hong Kong and beyond.
Sky100 ticket price
Adult ticket (12+ years): HK$ 135
Child ticket (3 to 11 years): HK$100
Seniors ticket (65+ years): HK$ 100
*To know prices of the various Ritz Carlton dining options, click on the link below.
---
---
What to see at Sky100
Before you get to Sky100 observatory and see the exhibits, you may pass through one or more of the ICC Tower's floors.
We detail them below before we explain what you can expect to see on the 100th floor.
First Upper Ground floor
You will find the tourist information center on the first upper ground floor of the ICC tower.
On this floor, visitors will also see a widescreen display featuring breathtaking panoramic views.
Upper Ground Floor
At the upper ground floor of the International Commerce Center, you will find the ticket center.
However, we recommend you buy your tickets online to save time and get a 10% discount on ticket prices.
In here, you can also have a look at the live views from the sky100 observation deck.
Second Floor
If you are coming from the Metal Zone of Elements Mall, it is on this floor that you see the Sky100 entrance.
Visitors can also get to the International Commerce Center' second floor by the escalators next to the Ticket Center.
Elevators on this floor lead up to the 100th floor.
3D Projection Exhibition
On a structure which goes up to 6 feet, a 360-degree stereoscopic projection is superimposed.
This projection takes you a decade behind and shows the evolution of Hong Kong in six significant aspects.
Time Tunnel
Time Tunnel is a 6-meter long tunnel which depicts the transformation of Hong Kong.
Time Travel has lighting effects paired with ink-painting video projections, which shows the beautiful journey of Hong Kong.
Sky100 Elevators
These high-speed elevators take you up to 100th floor within 60 seconds.
This blood-pumping ride leads you to the observation deck of ICC tower.
These Sky100 elevators also have lights and an LCD monitor which shows the clouds.
100th Floor Observation Deck
The star attraction of Sky100 Tower is its 100th-floor observation deck.
At the Observatory, you get to see and use the following –
1. Miniature replica of Hong Kong
This is the first thing you see once you step out of the high-speed elevator. This replica is made with exceptional detail and lets you see Hong Kong in a new light.
2. Tools to explore Hong Kong Skyline
To get the best out of your Sky100 observation deck experience, you can use the numerous tools available.
LightBox Displays: These unique LightBox displays in front of the windows help you identify all the significant buildings and landmarks of Hong Kong.
High-end Telescopes: The innovative high-end telescopes mounted in the Sky100 observation deck help visitors see the entire Kowloon Peninsula. These telescopes have four different built-in viewing modes, which lets you have terrific views regardless of the weather or time.
3. 360 Virtual Reality Experience
Apart from the stunning views of Hong Kong skyline, you can also get life-like VR experience at the deck.
There are two experiences you can choose from:
Sky-high Climate (Day)
Sky-high fireworks and Light Show (Night)
You can add these experiences to your Hong Kong journey at just HK$ 30 per person.
4. Interactive Story Wall
This is a 28-meters (92 feet) long wall which details 100 fascinating stories with the help of text, videos, and several exhibits.
This wall has gained popularity over time as it narrates local tales and anecdotes about Hong Kong.
A few of these stories are not known to even the locals.
The stories and tales explore and elaborate on the changing cityscape, traditional craftsmanship, and particular customs of the place.
5. The Skypost
The Souvenir Shop has the highest postbox in Hong Kong as it is on the 100th floor.
You can send postcards to your near ones while you are still on the deck watch the skyline of Hong Kong.
---
---
What is visible from Sky100
On a sunny day, you can get stunning 360-degree views from Sky100.
Your line of sight can start from the Quarry Bay to Causeway Bay then to Wan Chai and Admiralty to Central to Sheung Wan and finally to Kennedy Town.
You can also look across the Victoria Harbour of Hong Kong Island, Hong Kong airport, Tsing Ma Bridge, and Kowloon all the way to the New Territories.
You will also be amazed by the views of the South China Sea and other outlying islands.
If the weather is not cloudy, you may even get to see Tai Mo Shan, the highest Peak of Hong Kong.
---
---
Café 100 by Ritz Carlton
Cafe 100 by The Ritz Carlton is a restaurant in the same building.
It offers a fantastic post-visit dining experience to the tourists who go up Sky100.
At the height of 393 meters (1290 feet) above sea level, Cafe100 maintains its high standards of service.
Located on the west side of the deck, Cafe 100 offers breathtaking views of the boundless sea with captivating sunsets.
Since it only has a seating capacity of 40 guests, it makes sense to reserve your table in advance.
---
---
Victoria Peak vs Sky100
If you want to experience entire Hong Kong from above, Victoria Peak and the Sky100 are the best options.
More about Victoria Peak
Victoria Peak is a 552 m (1,811 ft) high hill in Hong Kong, known by many names such as Mount Austin, The Peak, etc.
The Peak gets a lot of tourists who come for attractions such as The Peak Tram, Peak Tower, Sky Terrace 428, Madame Tussauds Hong Kong, etc.
Even though both Sky100 and The Peak give you a bird's eye view of Hong Kong, they differ from each other in several ways.
At The Peak, you can experience a fantastic Tram journey, Nature at its best, an Observatory and lots of fun activities.
At Sky100, you get a more urban experience fuelled by technology, for instance, the lightning-fast elevator which takes you to the 100th floor of the ICC tower in less than a minute.
Victoria Peak or Sky100: Do not choose between Sky100 and The Peak. Both offer a completely different experience, which is why it is a must to visit them both.
Find out more about Victoria Peak tickets and Sky100 tickets.
Sources

# Sky100.com.hk
# Wikipedia.org
# Royalplaza.com.hk
# Tripadvisor.com

The travel specialists at TheBetterVacation.com use only high-quality sources while researching & writing their articles. We make every attempt to keep our content current, reliable and trustworthy.
Popular attractions in Hong Kong
# Victoria Peak
# Ngong Ping 360
# The Peak Tram
# Hong Kong Wheel