The Hong Kong Observation Wheel is a 60-meter (197 feet) tall Ferris wheel in Hong Kong.
It is quite popular with both the locals and visiting tourists, especially those with kids.
In this article, we explain everything you need to know before visiting the Hong Kong Wheel.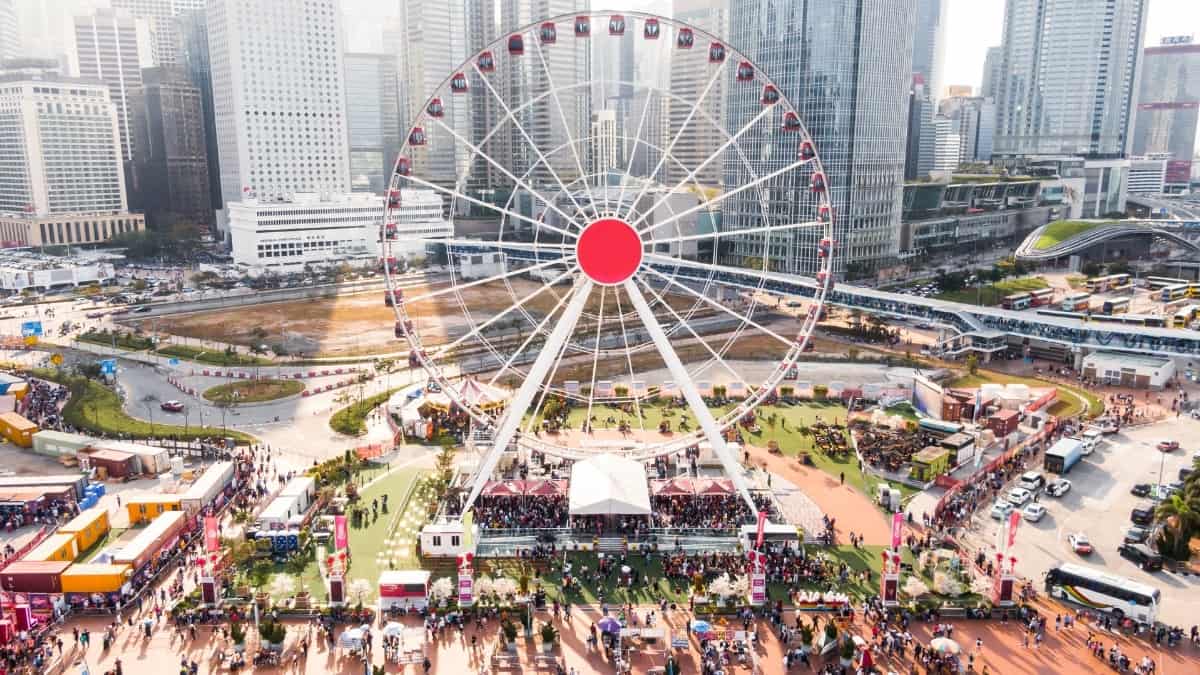 What to expect
This majestic Ferris Wheel is Hong Kong's answer to the British capital's London Eye.
This Wheel takes you high up from where you can see the busy yet mesmerizing city of Hong Kong.
At this height, you can enjoy the view of Victoria Harbour, Hong Kong Island, and the top of Tsim Sha Tsui.
The HK Wheel offers breathtaking views both during the day and at night.
The Central Ferris Wheel has 48 gondolas and one unique VIP gondola, which can accommodate eight passengers comfortably.
During the ride, you must share the gondola with other visitors.
In around 20 minutes, the HK WHeel spins three times, and for the duration of the ride, you must remain seated.
---
---
Hong Kong Wheel's location
The Hong Kong Eye is in the famous Central Harbourfront and is easily accessible from all corners of Hong Kong.
Address of HK Wheel
Hong Kong Observation Wheel and AIA Vitality Park
33 Man Kwong Street, Central, Hong Kong.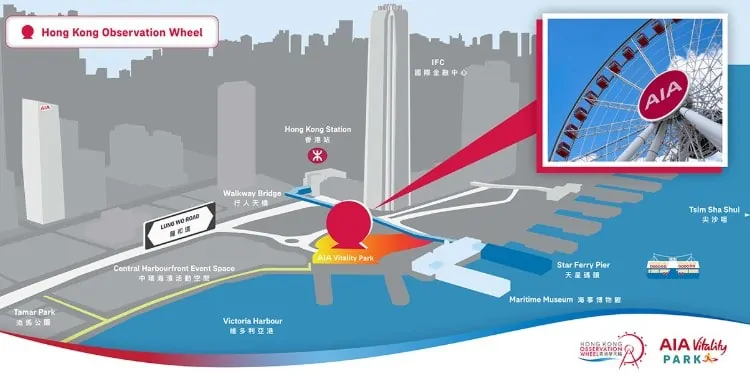 ---
---
How to reach HK Observation wheel
The public transport system of Hong Kong is the best way to reach HK Observation Wheel.
By MTR
If you are in urbanized areas of Hong Kong Island, Kowloon, and the New Territories, one of the best ways to reach the HK Wheel is the Mass Transit Railway (MTR).
If you are coming by the Red (Tsuen Wan Line) or Blue line (Island Line), you must get down at the Central Station and take Exit A.
The Hong Kong Wheel is 800 meters (half a mile) walk from Exit A, and it takes approximately 10 minutes. Get Directions
If you are coming by the Orange Line (Tung Chung Line) or Green Line (Airport Express), you must get down at Hong Kong Station and take Exit A2.
The Hong Kong Wheel is 550 meters (.3 Miles) walk from the Hong Kong Station's Exit A2, and it takes approximately 7 minutes. Get Directions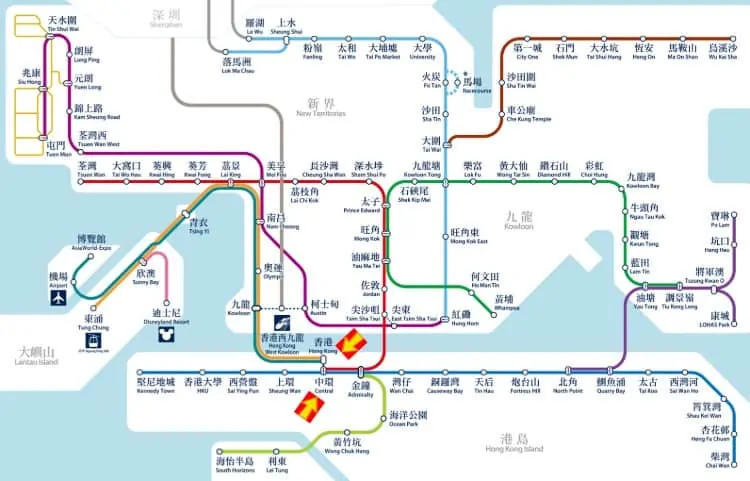 By Bus
To ride the bus to the Hong Kong Wheel, get onto any bus heading towards the Central Bus Terminus Exchange Square.
Once you get down at the Bus terminus, a brisk 7 minutes walk can get you to the HK Wheel. Get Directions
By Taxi
For a tourist, the easiest way to get from your hotel to the Hong Kong Wheel is via a Taxi.
Taxi drivers usually know where the Hong Kong Wheel is, but in case they aren't able to understand you, show them this Chinese text:
中環海濱摩天輪
It means: Central Waterfront Ferris Wheel.
If you are driving to the Hong Kong Ferris Wheel yourself, park the car at IFC Mall, City Hall.
---
---
Hong Kong Wheel opening hours
The iconic Hong Kong Ferris Wheel opens at 11 am and closes at 11 pm all through the year.
The attraction is open seven days a week, and the final ride of the day starts at 10.30 pm.
---
---
Best time to visit Hong Kong Wheel
The best time to visit Hong Kong's Ferris Wheel depends on what you want out of your visit.
If you want to avoid the crowd, you must book a ticket before 4 pm.
Sunset is a great time to be in the HK Wheel's Gondola, and that's why it is the most popular time for tourists to walk in.
Tourists who want to see Hong Kong's sunset views must time their trip with the sun going down. Hong Kong's sunset times
If you want to catch Symphony of Lights, the famous laser show, across the Harbour, you must be on the Hong Kong Wheel by 8 pm.
The show starts at eight sharp and lasts for 10 minutes.
Tip: The other two vantage points to watch the Symphony of Lights are Tsim Sha Tsui Promenade outside the Hong Kong Cultural Centre and Golden Bauhinia Square.
---
---
HK Observation wheel tickets
There are two significant advantages of booking your Hong Kong Wheel tickets online through Klook –
1. You skip the lines at the ticketing office
2. You get your preferred time slot
Most importantly, you can show the ticket in your email and board the Ferris Wheel. No need to take printouts.
Ticket Price
Adult ticket (12 to 64 years): HK$ 22
Child ticket (3 to 11 years): HK$ 11
Seniors ticket (65+ years): HK$ 11
Disabled visitors: HK$ 11
---
---
Attractions near Hong Kong Ferris wheel
You can find something for everyone near the HK Wheel.
There are several attractions near the Central Wheel appropriate for every age group.
Carousel
It is one of the new additions to the entertainment options around the Ferris Wheel.
On the Carousel, you get to hop on the delicately hand-painted horses and have a spin.
You can buy tickets from the onsite box office, and one ride costs HK$ 30.
AIA Vitality Park
Hong Kong Observation Wheel is in AIA Vitality Park, and various exciting events take place in the park all through the year.
You can take advantage of a number of 'free' wellness activities like yoga, kickboxing, dance, etc., happening around.
While you indulge in the activities, you also get to enjoy stunning views of Victoria Harbour.
Apart from the health and fitness sessions, the park also hosts several arts, entertainment, and community activities.
Happy Cow
Before or after going up on the Observation Wheel, you can grab some delicious frozen desserts at Happy Cow™.
These desserts are crafted in Hong Kong and are dairy-free, soy-free, egg-free, and gluten-free.
ColorChacha
You can enjoy many HK local treats at ColorChacha.
You can grab a photogenic guava juice and several other treats like fish balls and Siu Mai.
---
---
Restrictions at Hong Kong Ferris wheel
1. You are not permitted to carry any food and beverages on the Wheel's boarding deck and on the Wheel itself.
2. Smoking cigarettes, cigars, pipes, electronic cigarettes, etc., on the HK Wheel and its premises, is not allowed.
3. You can not take any pets or animals on the Wheel. Only guide dogs and other kinds of service animals (with valid identification) are allowed.
4. You are not allowed to carry any large luggage, baby strollers, or other bulky items on the HK Observation Wheel. You can store these in the luggage/baby stroller storage area.
5. Commercial filming without the permission of HKOW's management is not allowed.
6. It is strictly prohibited to fly drones within the premises without the permission of HKOW's management.
7. The authorities reserve the right to refuse entry to anyone deemed inappropriately dressed. The dress code of the Hong Kong Ferris wheel is casual.
Sources

# Hkow.hk
# Wikipedia.org
# In.hotels.com
# Tripadvisor.com

The travel specialists at TheBetterVacation.com use only high-quality sources while researching & writing their articles. We make every attempt to keep our content current, reliable and trustworthy.
Popular attractions in Hong Kong
# Victoria Peak
# Peak Tram
# Ngong Ping 360
# Sky100