The Northshore Zipline is situated on the island of Maui, offering an amazing experience for those seeking a thrilling escape amongst the natural wonders of Hawaii.
The zipline tour offers an exciting opportunity to take off through the skies and experience the island's beauty from a unique perspective.
It provides an unforgettable experience with beautiful landscapes, lush greenery, and stunning ocean views.
With each zip, you'll discover the island's hidden treasures from a perspective that not many people have the chance to experience.
Whether you're a thrill-seeker or a nature enthusiast, this zipline promises an exciting journey that combines the excitement and beauty of Maui's environment.
This article covers everything you must know before booking tickets for the Northshore Zipline in Maui.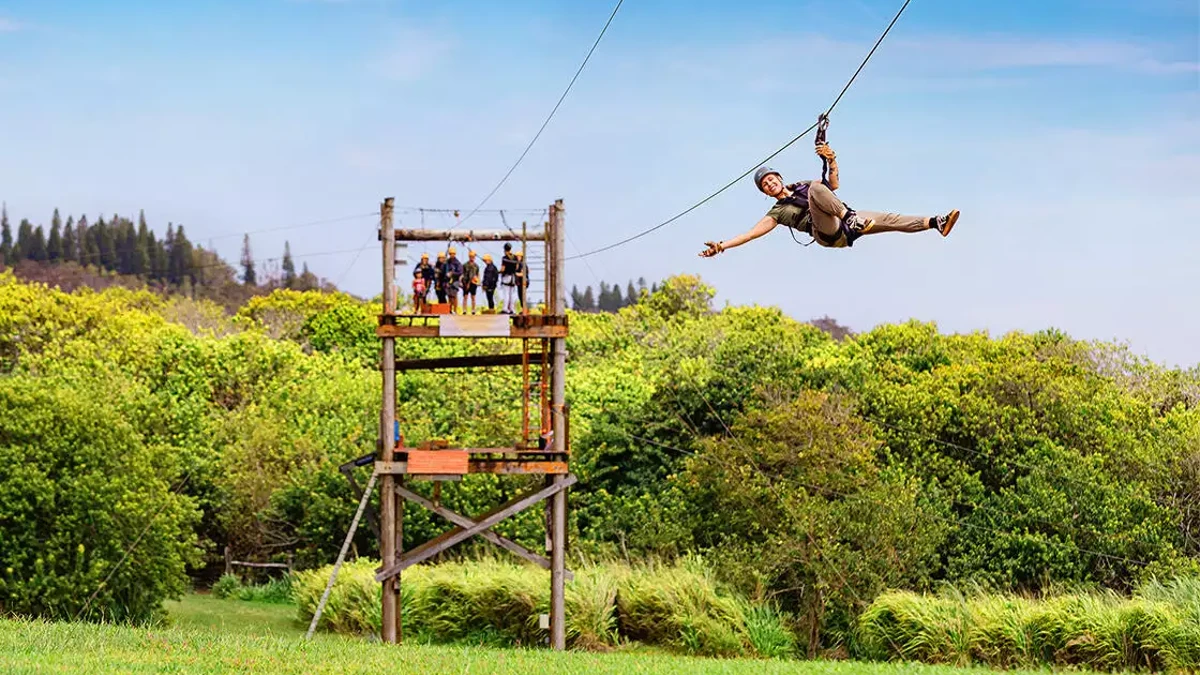 What to expect at Northshore Zipline in Maui
Go on an exciting and engaging adventure as you take the Northshore Zipline Tour in Maui.
The tour includes multiple zipline routes, scenic hikes, and interactive elements that provide a comprehensive and engaging adventure.
A series of zip lines will take you over valleys, forests, and even above sparkling streams.
Feel the adrenaline rush as you move effortlessly along the zip line, surrounded by stunning natural beauty.
Witness the breathtaking landscapes of Maui's Northshore, the lush rainforests, waterfalls, and panoramic ocean views at every turn.
You'll be led by knowledgeable guides throughout the tour, providing insights into the local ecology, history, and culture.
Learn about the island's diverse flora, fauna, and geological wonders that make Maui's North Shore truly remarkable.
The guides will provide thorough instructions on zipline usage, equipment, and proper techniques. You'll be briefed on safety procedures before each flight.
Whether you're seeking a solo adventure, a family outing, or a group activity, this tour offers something for everyone.
---
---
Where to book tickets
Tickets for Northshore Zipline in Maui can be purchased online or at the attraction.
Online ticket prices tend to be cheaper than tickets at the attraction.
When you buy online, you can avoid the long queues at the ticket counters.
Because the Sunset Cruise in Waikiki sells a limited number of tickets due to their high demand, booking early helps avoid last-minute disappointments.
When you book early, you also get your preferred time slot.
How do online tickets work
Visit the Northshore zipline tour Maui ticket booking page, select your preferred date, time slot, and number of tickets, and buy the tickets right away.
After making the purchase, you will receive the tickets in your email.
Ticket printouts are not required.
You can join the experience by showing the e-ticket on your smartphone.
Northshore Zipline in Maui ticket prices
Tickets for the 7-Line Maui Zipline Tour on the North Shore are priced at US$163 for visitors aged 13 and above.
For children aged between five and 12, the tickets cost US$132, while those under the age of five are not permitted to enter.
Tickets for the 8 Lines Jungle Zipline Tour on Maui – Eco Tour are priced at US$159 for visitors aged 16 and above.
For children aged between six and 15, the tickets cost US$80, while those under the age of six are not permitted to enter.
7-Line Maui Zipline Tour tickets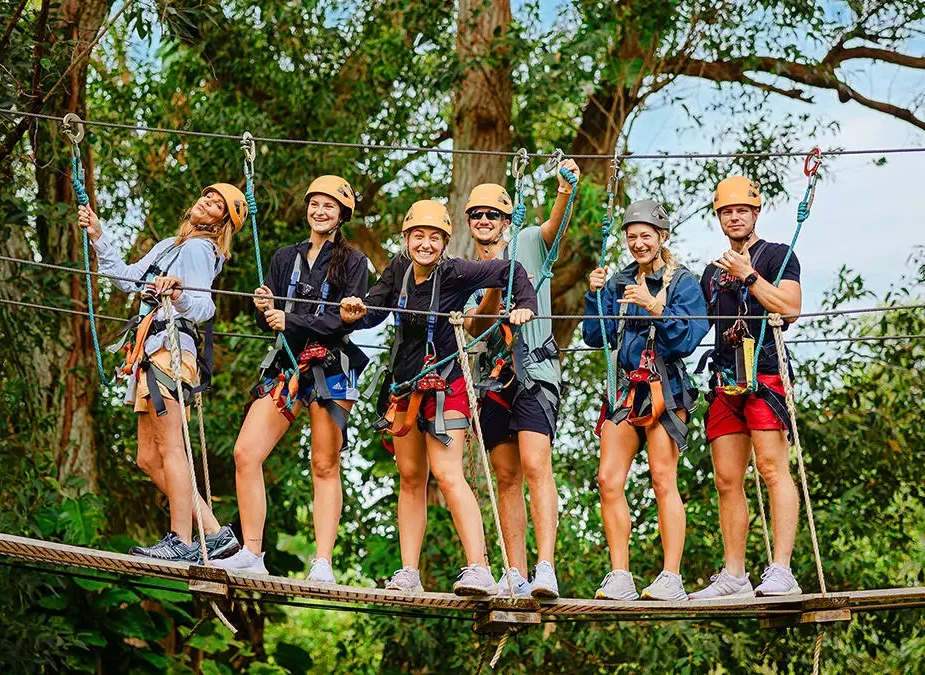 Maui's North Shore zipline adventure is an exciting way to see the island from a new perspective.
Soar above the treetops, cross a high-altitude suspension bridge, and glide along several zip lines of varying lengths.
Experience several zipline attractions, each of which winds through and above the area's eucalyptus forest.
Along the way, you'll enjoy stunning ocean views, learn about the island's unique wildlife, culture, and history, and have a great time with your family and friends.
You'll also have the opportunity to visit the new museum at Camp Maui, dedicated to the men and women who served there.
The experienced guides will ensure that you have a safe and fun experience.
Ticket Prices
Adult Ticket (13+ years): US$163
Child Ticket (up to 12 years): US$132
8-Line Maui Zipline Tour tickets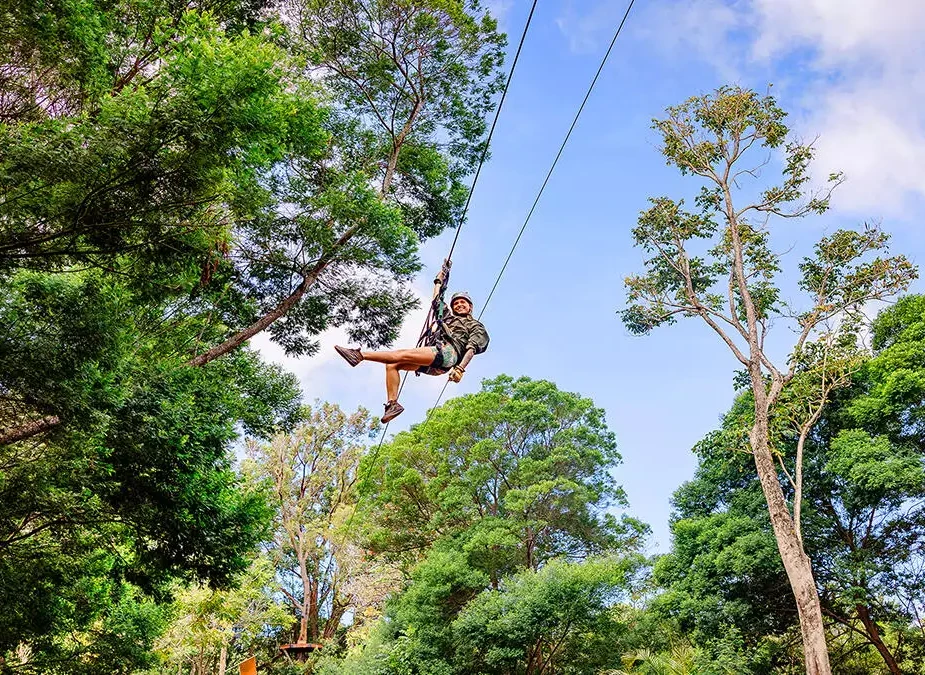 Experience the thrill of ziplining through a diverse tropical landscape on an 8-line course in Haiku, Maui.
Fly through the treetops and admire various local flowers, palm trees, and other plant life.
Cross a rope bridge over a stream and experience the excitement of ziplining in a unique setting.
This tour is an excellent activity to include during your day trip to Maui Island.
Ticket Prices
Adult Ticket (16+ years): US$159
Child Ticket (up to 15 years): US$80
Save time and money! Explore Helicopter Tours in Hawaii and witness volcanoes, lush mountains, waterfalls, and pristine beaches from the sky. This bird's eye experience is an opportunity to enjoy the thrill of your life. You might even land in the middle of a desert, winery, or snow!
---
---
How to reach Northshore Zipline
The meeting point for the Northshore zipline tour in Maui depends on your selected tour option.
Do check the booking page to know the exact meeting location before arriving.
Northshore Zipline Tour timings
The Northshore zipline tour in Maui operates between 8 am to 5 pm from Monday to Saturday throughout the year.
The tour does not operate on Sundays.
How long does the tour take
The Northshore zipline tour lasts between 2 to 3 hours. This includes safety briefings, equipment fitting, walking between zipline platforms, and enjoying the zipline flights.
Best time to go on Northshore Zipline Tour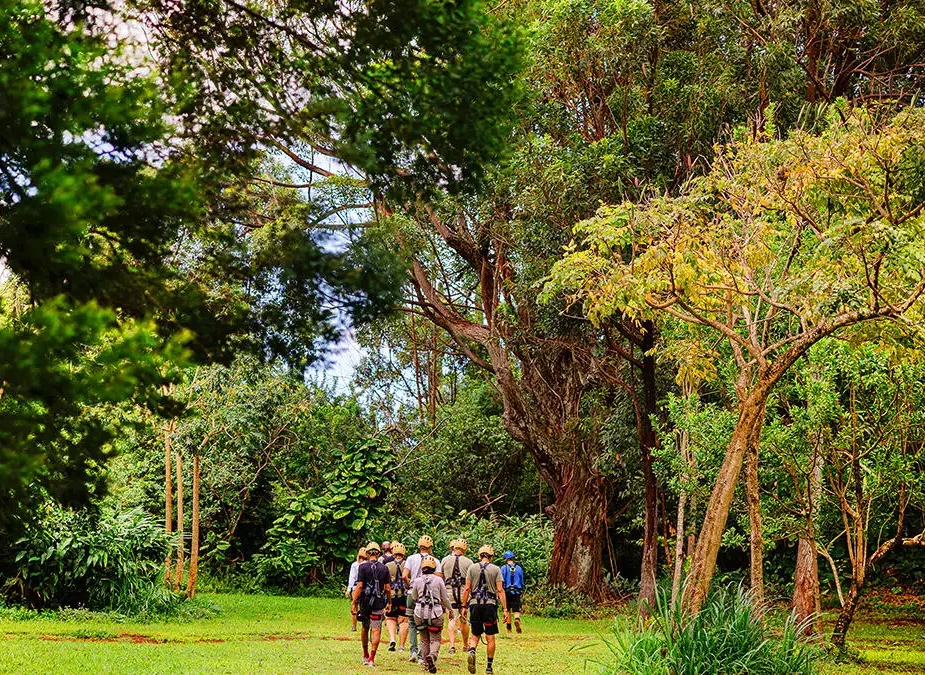 The best time to go on the Northshore Zipline tour in Maui is at 8 am, as the weather is often cooler, and the lighting can enhance the views.
Morning tours can provide a refreshing start to the day, and you'll have a chance to witness the sunrise.
Late afternoon tours, at 4 pm, can offer a pleasant way to relax while enjoying the beautiful sunset.
If you prefer a less crowded experience, consider avoiding holidays and summer (May to August) vacation periods, as this is a peak tourist season in Hawaii.
The dry season (April to October) is generally considered the best time to visit Maui, including for ziplining. The weather is typically drier, with less rainfall and more sunshine.
Northshore Zipline Maui reviews
Here are some Tripadvisor reviews for the Northshore Zipline tour in Maui to help you plan your trip.
Fun ziplining tour with beautiful views
Fun ziplining tour on the north coast. The staff was very friendly and helpful. If you've gone ziplining before, this tour was mild/moderate, perfect for all ages and first-timers. Good family experience for us.
Friendly staff
This is a great zipline experience with an amazing and friendly staff. They made sure we had a spectacular time and felt safe. We came as a group of 7, some first-timers that were a bit nervous, but the guides were considerate and took the time to make everyone feel at ease. I highly recommend this zip line tour. Mahalo to all of the staff!!
Highly recommended for families
I had an amazing experience! The guides were friendly and helpful, especially with my eight-year-old daughter. The views were beautiful. The check-in process was smooth, and the photos at the end were easy to navigate. I wish they would send you the full photo library, as I just remembered that I needed to scan the QR code before I left, just in case I wanted to purchase more. I recommend North Shore Zipline again.
---
---
FAQs about the Northshore Zipline Tour in Maui
Here are some frequently asked questions about the Northshore Zipline tour in Maui.
What is the Northshore Zipline Tour?
The Northshore Zipline Tour is an adventure activity that allows participants to soar through the air on a series of ziplines while enjoying stunning views of Maui's North Shore region.
What is included in the Northshore Zipline tour in Maui?
The zipline tours include safety equipment, guides, zipline flights, and often additional amenities such as refreshments or transportation to and from the zipline site.
What should I wear and bring for the Northshore Zipline tour in Maui?
You must wear comfortable clothing and closed-toe shoes. It is also recommended to bring sunscreen, insect repellent, and a camera.
Is ziplining safe in Maui?
Zipline tours in Maui are considered safe when operated by reputable providers. Guides ensure that participants are properly harnessed and provide safety instructions.
Can I bring my camera or phone to the Northshore Zipline tour in Maui?
Many tours allow participants to bring cameras or phones, but they usually need to be securely attached. Some tours also provide photographers who capture your experience.
What happens to the Northshore Zipline tour in Maui in case of bad weather?
Weather conditions can sometimes affect ziplining. The tour operators may reschedule or provide refunds in the case of adverse weather. 
Is the Northshore Zipline tour in Maui physically demanding?
Ziplining can involve moderate physical activity, including short hikes between zipline platforms. Participants should have a reasonable level of mobility and fitness.
Popular attractions in Hawaii