The Alhambra Castle in Granada is what remains of the Muslim rule in Spain.
This Moorish complex of many buildings gets 2.7 million visitors every year and is the second most visited attraction in Spain.
No wonder the best Alhambra Castle tickets sell out fast, and visitors are left clamoring for entry tickets at the eleventh hour.
In this article, we share everything you need to know about booking an Alhambra tour at the last minute.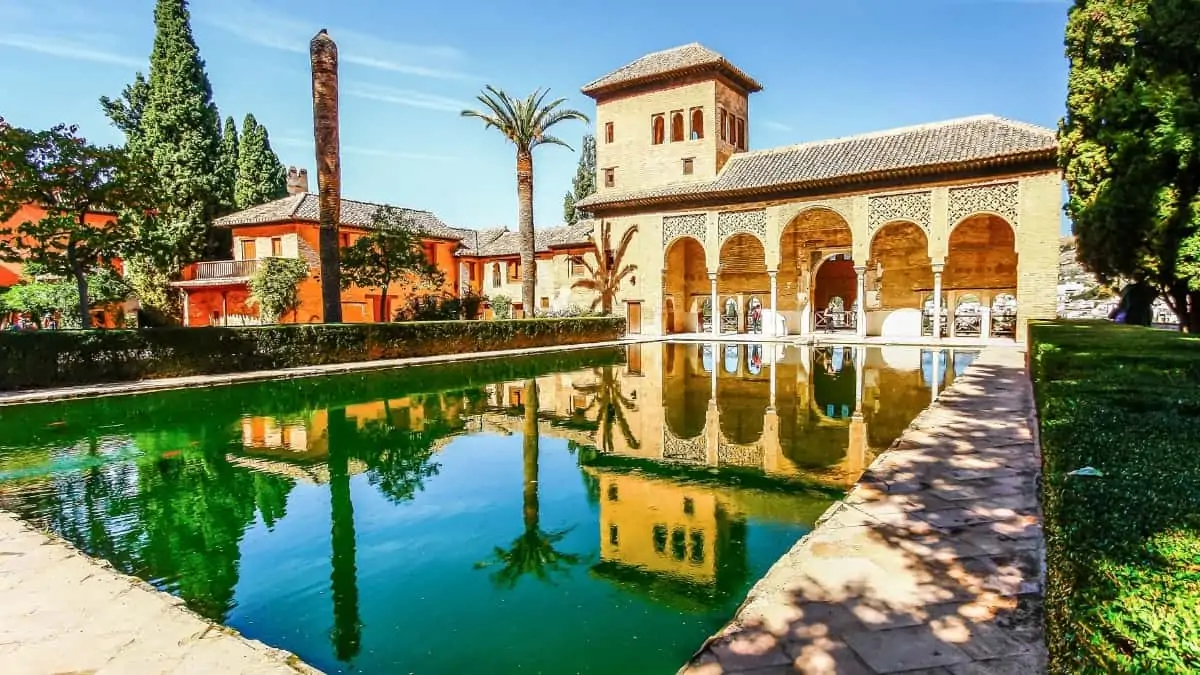 Crowd at Alhambra
Almost every one of the 2.7 Million visitors the city of Granada gets in a year ends up visiting the Castle.
That's about around 12,000 visitors during peak summer months and approximately 3000 during non-peak season.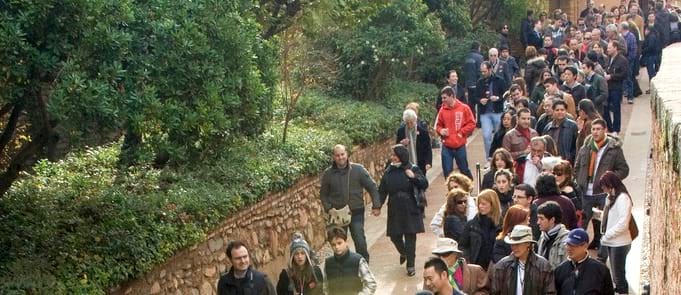 Since Alhambra is 2.5 Kms (1.5 Miles) from the center of Granada City, many locals also join in on weekends and holidays.
As if that wasn't enough, tourists also reach Alhambra from cities such as Malaga, Seville, Madrid, Cordoba, etc., from the Andalusia province of Spain.
---
---
Why the demand for last-minute tickets
The Alhambra ticket office (both online and at the venue) sells only 6,500 Alhambra Palace tickets every day.
That's why they get over very soon – most of them are bought online and in advance.
In fact, during the peak summer months, Alhambra Palace tickets sell out 90 days in advance.
How does this impact visitors
This massive demand for Alhambra tickets affects tourists in four ways –
1. Some of the tourists who take a chance and go all the way up, usually end up disappointed because the tickets at the venue also sell out
2. Visitors NOT on budget holidays book the costlier guided tours or the private tours
3. Some end up booking not so popular Alhambra Palace entry tickets, which don't allow access to all parts of the attraction
4. Tourists who are aware end up exploring the free areas of the Palace complex
---
---
Alhambra's new ticketing system
Alhambra keeps an eye on tourists' issues because of the massive demand for its tickets and continuously tweaks its systems.
On March 1, 2020, they launched their new system for selling tickets.
The three significant modifications are:
1. More tickets are now available for users to purchase online
2. Visitors can now purchase Alhambra tickets one year in advance, so it makes sense to plan ahead
3. Same-day General Alhambra tickets are now available, which you can buy up to two hours before the allocated time for the entrance to the Nasrid Palaces.
Important: While visiting Alhambra, please carry your passport. It is the only form of identification accepted at the venue.
---
---
How to get last-minute entry to Alhambra
If you have put off buying Alhambra tickets to the last minute and are now stranded, don't worry – you aren't alone.

Here are five tips and tricks to score a last-minute entry into this 13th century Castle –
Buy a not-so-known Alhambra entry ticket
Besides the most popular General Alhambra ticket, which gets sold out the fastest, there are many other ticket types.
These don't give you complete access to the Castle, but they are a sure-shot way to enter the monument if there are no General Alhambra tickets available.
Alhambra Gardens tickets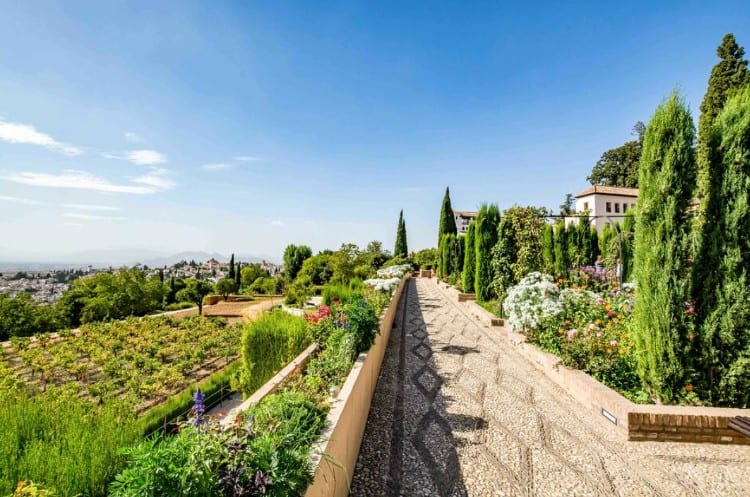 These tickets get you to access all parts of Alhambra Castle except the Nasrid Palaces.
They are also known as 'Alhambra and Generalife tickets.'
One of the advantages of this ticket is that you don't need to stick to a schedule while exploring Alhambra because the Nasrid Palaces, which have a timed entry, aren't included.
Rating: 4.2 / 5
Duration: 2.5 hours
Tour timings: 10.30 am and 3 pm
Tour Guide: Yes
Audio Guide: Yes
Hotel Pickup: Available on request
Meeting point: La Mimbre Restaurant, Granada. Get Directions
Without hotel transfer
Adult ticket (12+ years): 35 Euros
Youth ticket (6 to 11 years): 18 Euros
Child ticket (2 to 5 years): Free entry
Infant ticket (up to 1 year): Free entry
With hotel transfers
Adult ticket (12+ years): 54 Euros
Youth ticket (6 to 11 years): 27 Euros
Child ticket (2 to 5 years): 27 Euros
Infant ticket (up to 1 year): 15 Euros
Book a guided tour of Alhambra
Guided tours are always available as an excellent last minute option to enter Alhambra because tour operators such as GetYourGuide, Tiqets, Viator, Tripadvisor, etc. buy these tickets in advance and package it for the tourists.
Guided tours give you Skip the Line access to all areas of the Alhambra Castle.
A local guide leads you through the fortress (the Alcazaba), the Nasrid Palaces, and the Generalife's Palace and Gardens.
Rating: 4.8 / 5
Duration: 3 hours
Tour timings: 4.30 pm
Tour Guide: Yes
Audio Guide: Yes
Meeting point: At the Polinario Café Bar entrance (next to the Alhambra ticket office), lookout for a guide wearing GetYourGuide attire and holding a red flag. Get Directions
Adult ticket (12+ years): 42 Euros
Child ticket (6 to 11 years): 21 Euros
Infant ticket (up to 5 years): Free entry
Visit Alhambra Palace at night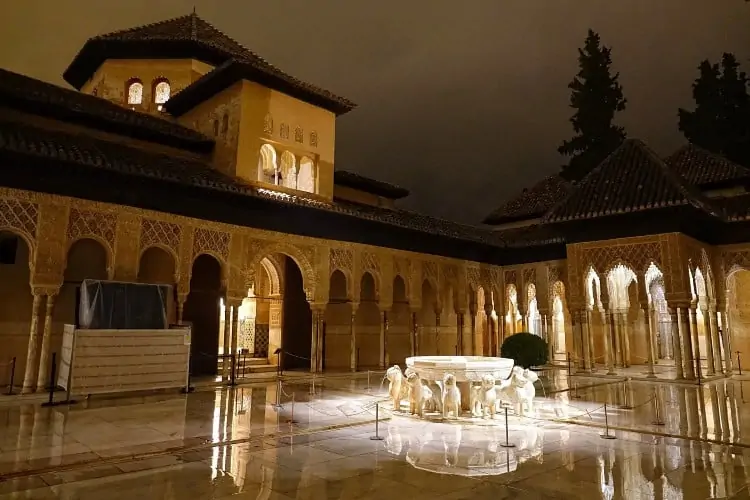 Most tourists prefer to visit Alhambra during day time, and that's why the day tickets sell out fast.
The Alhambra night entry tickets are almost always available on the same day, and these tours usually start at 9.30 pm.
You have two options –
Alhambra, Nasrid Palaces at night
This tour helps you discover the incredible Alhambra of Granada, illuminated by night.
You get to visit the Nasrid Palaces, Towers, Charles V Palace enjoy the stunning architecture and decor.
This two-hour tour does not include access to the Generalife Gardens (the retreat Palace of the Kinds) and Alcazaba (the Military part of the Fort).
Adult ticket (13+ years): 49 Euros
Child ticket (3 to 12 years): 29 Euros
Infant ticket (up to 2 years): Free entry
Alhambra and Generalife at night
During this two-hour guided tour, you get to explore the peaceful Alhambra Fortress and gardens of Generalife at night.
You also visit the Palace of Carlos V, and the Puerta de la Justicia but Nasrid Palaces and Alcazaba are not part of this tour.
The highlight of this last minute tour is the panoramic views of an illuminated Granada, which you get to see.
Adult ticket (12+ years): 35 Euros
Child ticket (3 to 11 years): 25 Euros
Infant ticket (up to 2 years): Free entry
Recommended Reading
1. Alhambra tours from Seville
2. Alhambra tours from Malaga
---
---
Book combo tour experience
Tour operators love to combine two attractions or activities in one combo ticket because they can sell more.
And tourists love these combo tours because it helps them save 15-20% of ticket cost compared to what they would pay if they had bought them individually.
Combo tours are a great way to secure an Alhambra Castle entry at the eleventh hour.
Here are a few popular combo tours, which also include access to the Moorish attraction.
Alhambra, Nasrid Palaces and Albaicín
This tour starts with skip-the-line entry to Alhambra, after which you break for lunch.
Then you visit Albaicín, Granada's old neighborhood, and walk along its narrow, cobbled streets, all the while admiring fantastic views of the Moorish fortress.
Adult ticket (12+ years): 75 Euros
Child ticket (3 to 11 years): 50 Euros
Infant ticket (up to 2 years): 25 Euros
Alhambra ticket and Arabian bath
This ticket gives you access to all areas of Alhambra – Nasrid Palaces, Alcazaba Fortress, and Generalife.
Later you move on to a traditional 90-minute Arabian bath treatment at Granada's opulent Hammam Al Andalus.
Adult ticket (12+ years): 78 Euros
Child ticket (5 to 11 years): 57 Euros
Alhambra guided tour and Flamenco show
This tour is a six-hour trip which starts at 9.15 am from your hotel because the tickets include transfers.
First, an official tour guide takes you around the Alhambra Castle, after which you walk around for half an hour exploring the Albayzín district.
The last part of this tour is at a Sacromonte cave for a dose of Andalucian culture as you watch a Flamenco show while sipping a drink.
Adult ticket (12+ years): 85 Euros
Child ticket (3 to 11 years): 60 Euros
Infant ticket (up to 2 years): 6 Euros
Alhambra Castle and e-Bike tour
This popular tour is a brilliant option if all Alhambra tickets are sold out.
During this five-hour experience, you first discover the neighborhoods of Albaicin and the Sacromonte quarter on a guided e-bike tour.
Later, you enter Alhambra to experience all the areas open to the public.
Adult ticket (12+ years): 75 Euros
Child ticket (up to 11 years): Free entry
---
---
Buy a Granada Card
Granada Card is also known as Granada Tourist Pass (Bono Turistico in Spanish) and costs 40 Euros.
Like all discount passes, the Granada Card helps you get free entry to numerous places in the city, one of which is the Alhambra Castle.
Some of the other attractions this Card gets you free access to are Monasterio de Cartuja, Catedral de Granada, Capilla Real, Monasterio de San Jeronimo etc.
---
---
Buy canceled Alhambra tickets
Since Alhambra castle tickets get booked much in advance – sometimes even as ahead as 90 days, there are high chances of cancellations.
However, this is a risky approach.
We recommend this only if you are in Granda for a few days so that if you don't get any canceled tickets on the first attempt, you can try the next day again.
If you are keen to try this approach, visit the official website at midnight and try booking.
---
---
See the free parts of Alhambra Castle
If none of the above suggestions work for you because of budget or time constraints, here is our last recommendation – visit Alhambra Castle areas, which are free to enter.
The attractions in Alhambra are divided into paid and non-paid areas.
The three parts of Alhambra which need entry tickets are the Nasrid Palaces (the Kings residences), Alcazaba (military buildings and towers), and the Generalife (relaxing Palaces and gardens).
Many tourists don't know this, but there are many attractions at Fortress complex that are free. We list them below –
Gate of Justice
Pomegranates Gate
The Alhambra Forest
Carlos V Palace
Plaza de Los Aljibes
Gate of Wine
Plaza de Los Aljibes
Church of Santa María de La Encarnación
Gate of the Carriages
Cuesta de Gomérez
Gate of Bib-Rambla
Hamma
Carmen de los Mártires
Crimson Towers
Museum of Fine Arts
Museum of the Alhambra
If you want someone to guide you around these free areas of Alhambra, we recommend this guided tour, which costs 18 Euros per person.
---
---
Last minute Alhambra tickets – online or offline?
Visitors can buy same-day tickets from Alhambra's ticket office in the Access Pavillion and gain access to the Alcazaba, Nasrid Palaces, and the Generalife.
However, we won't recommend it.
Why online tickets are better
Here is why we always recommend you buy Alhambra tickets online and in advance –
1. Since many tourists visit Alhambra, the lines are the ticket counter are always long.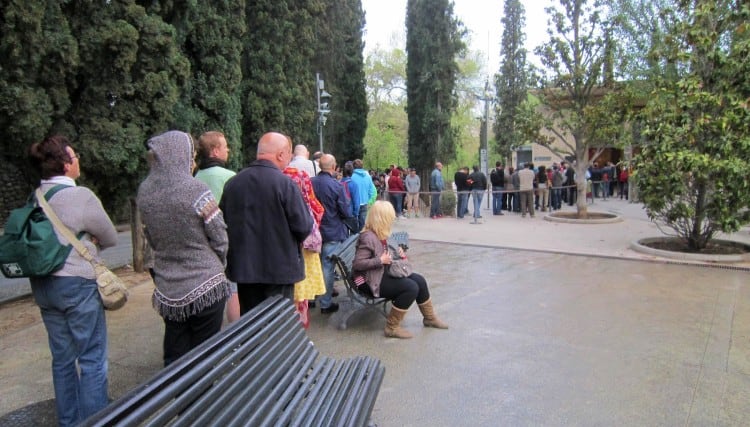 2. With around 6500 tourists visiting daily, the tickets dry up soon. You don't want to reach the Castle and find out that the ticket you wanted to buy is sold out.
3. Entry to Nasrid Palaces is timed and restricted to 300 people per half hour. When you buy tickets at the venue on crowded days (which is every day!), you may get a time slot further away into the day, because of which you will have to wait longer for your turn.
4. You miss the grand entry into Alhambra via the Gate of Justice because you must reach the ticket counters, which are at another entrance – the Access Pavillion.
5. When you buy tickets at the venue, you also waste time getting from the ticket counters to the attractions within the complex.
For instance, from the Alhambra ticket counters, you must walk:
20 minutes to get to the Alcazaba
17 minutes to reach Nasrid Palaces
15 minutes to get to the Generalife
If you already have your entry tickets when you reach Alhambra, you can enter through the Gate of Justice, which is part of Alcazaba itself.
---
---
Printing last minute Alhambra ticket
Buying your Alhambra castle ticket at the last minute and worried about how to take the printout?
Don't worry.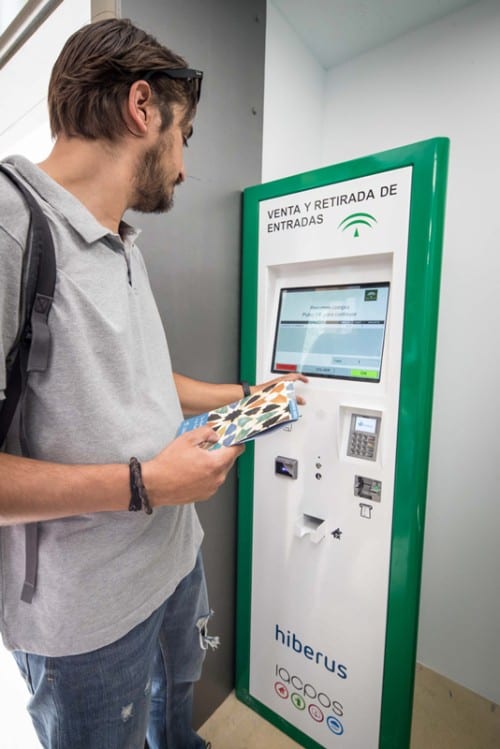 When you book your tickets online, you get an email confirmation with a QR code.
You can scan this code from your mobile at the Alhambra entrance and walk-in.
If you aren't carrying your mobile, you can print your tickets at the ATMs in the ticket offices at the Generalife and the Estafeta (Visitor Information Point) near Charles V's Palace.
Image: Alhambra-patronato.es
Popular attractions in Granada
# Alhambra Castle
# Generalife
# Nasrid Palaces
# Jardines de Zoraya