Jardines de Zoraya is a restaurant in the heart of Granada's historical Albaizín district, offering daily Flamenco shows and excellent local cuisine.
It is one of Granada's top-rated Flamenco performances.
The Andalucia region is known as the birthplace of Flamenco, and it is only natural to experience it at least once during your vacation in Granada.
This article explains everything you must know before booking your table at Jardines de Zoraya for an evening of Flamenco music and dance.
Top Flamenco Shows Tickets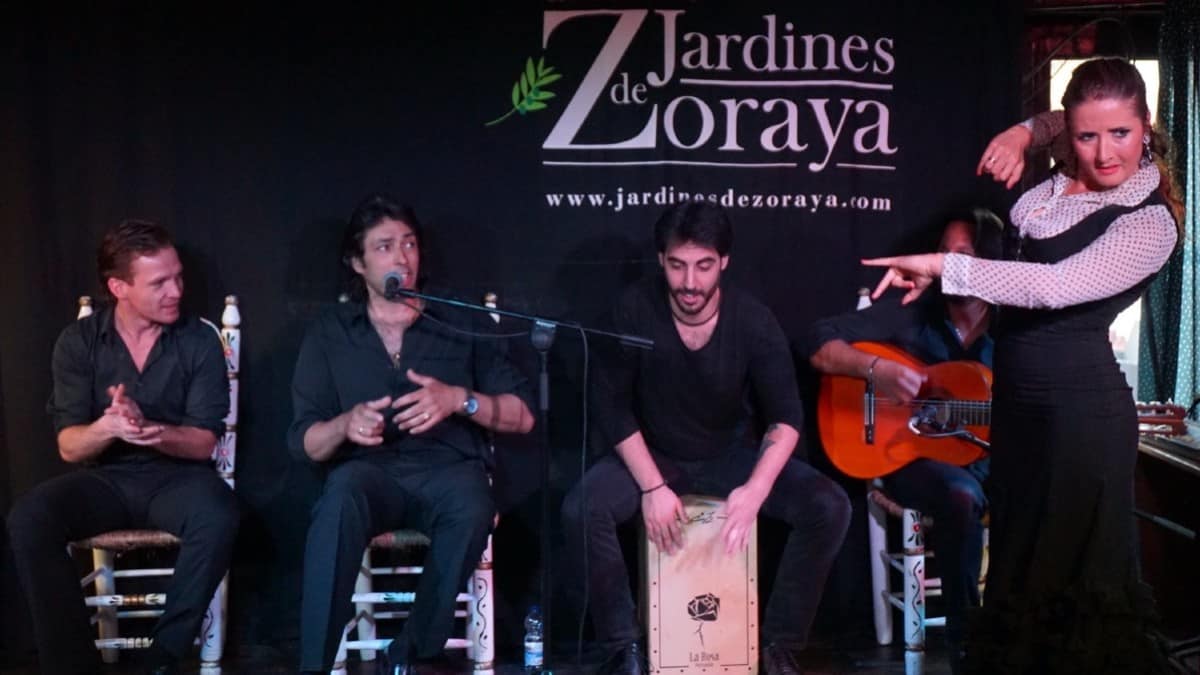 What to expect
Los Jardines de Zoraya combines nightly Flamenco performances with a full-service restaurant to offer a unique experience possible only in Granada.
You can choose to see only the Flamenco performance or also dine at the restaurant.
The daily performances are orchestrated by five to six local artists (guitarists, dancers, and singers) and last about an hour.
The restaurant offering 'tablao flamenco' ends up creating a rustic Spanish feel.
The fruit trees, aromatic plants, and the sound of water flowing from the fountain in the middle of the beautiful outdoor garden, even as you watch the performance, make it seem magical.
---
---
How to reach Jardines de Zoraya
There are many ways to get to this venue of amazing Flamenco shows.
Where is Jardines de Zoraya?
Jardines de Zoraya is in the heart of Albayzin neighborhood in Granada and just a few minutes walk from the Mirador de San Nicolas.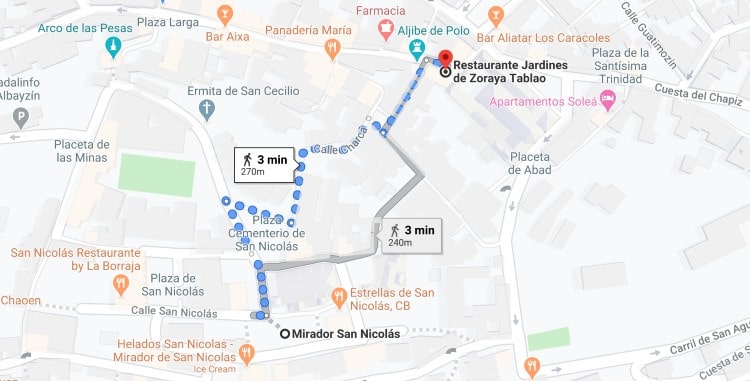 This part of the city is known for its narrow streets and quaint houses on the hills facing the Alhambra.
Some tourists visit Jardines de Zoraya after they explore Alhambra Castle.
They have to walk 1.5 kms (1 Mile) downhill to reach the Flamenco restaurant.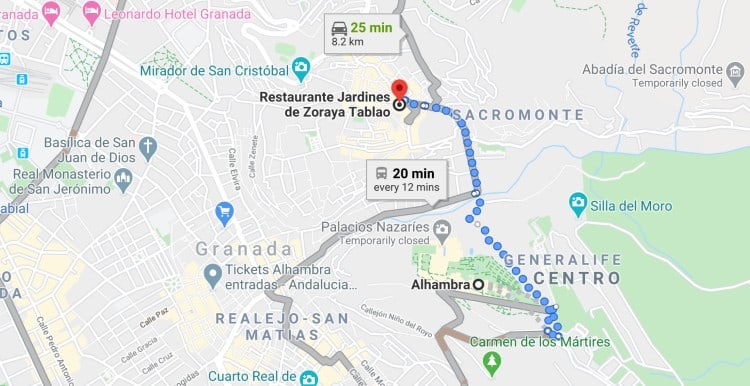 Jardines de Zoraya by bus
Buses C31 and C32 (route map) can get you to Jardines de Zoraya. The nearest stop is Placeta del Abad.
From the bus stop the restaurant is 150 meters, and it is a brisk 2-minute walk.
By Granada's tourist train
Granada has a tourist train that goes around the city, helping tourists explore Alhambra, Albaycín, Cathedral, etc.
This train has been specially designed for the city and can get inside the narrow lanes of Albaycín.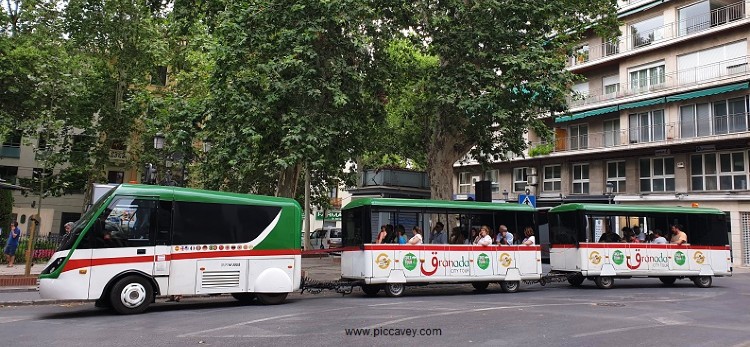 You can use this tourist train to get to Jardines de Zoraya.
On both the daytime 'Green route' and the nighttime 'Red route', you must get down at Bus Stop No. 5, which is at Mirador de San Nicolas. Find Out More
Parking at Jardines de Zoraya
There is no parking at this restaurant in Albaycín and since it is a crowded area you can't park your car on the road.
However, there are ample parking slots if you take the car up to Parking San Cristóbal on Carretera de Murcia road.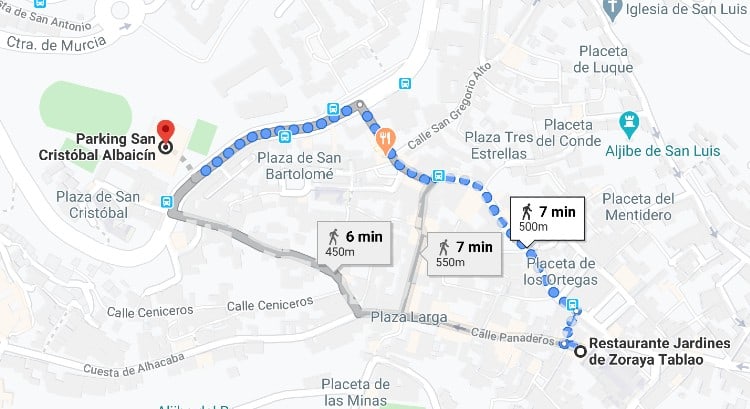 ---
---
Flamenco shows at Jardines de Zoraya
At Jardines de Zoraya, two things come together amazingly to create the perfect evening in Granada – the restaurant & their Flamenco shows.
The best of local artists with international recognition congregate every evening for a few hours of passionate Flamenco.
Tourists are known to go through unexplainable emotions as they watch the unforgettable spectacle.
About Jardines de Zoraya tickets
Here are a few things you must know about Jardines de Zoraya Flamenco tickets before you make the purchase –
1. The tables' allocation happens by the order in which visitors book the tickets. The sooner you book your ticket, the better tables you get.
2. If you are late for your booking (or if you are trying to book a same-day Flamenco show ticket), don't worry so much because there are high tables in the areas farthest from the stage, which helps everyone get excellent views of the performance.
3. All Shows happen in the same room where you will have your dinner. In summer, if the weather is conducive, you can enjoy dinner on the terrace.
4. Since Flamenco shows are family-friendly, kids are welcome to join. They even get massive discounts on their Show tickets and also get a specialized kid's dinner menu.
Visitors can choose from two types of Jardines de Zoraya Flamenco tickets.
We explain them below –
Flamenco show without dinner
This Jardines de Zoraya ticket is a fantastic opportunity to experience a magical Flamenco Show in the heart of Granada's historical Albaycín.
Every day there are two shows – at 8 pm and 10.30 pm and both are an hour long.
You must arrive at least 15 minutes before the start of the show.
Flamenco ticket price
General ticket (8+ years): 25 Euros
Child ticket (up to 7 years): Free entry
Flamenco show and dinner
If you prefer a rather elaborate Flamenco experience, we recommend you opt for Jardines de Zoraya's dinner plus Flamenco show combination.
The 3-course dinner is set in a gorgeous lounge, decorated in a traditional Andalusian style. You can select the menu once you reach the venue.
While booking your ticket, you must choose from either the 6.30 pm or the 9 pm ticket.
When you book the 6.30 pm ticket, your dinner starts at 7 pm, and you watch the 8 pm Flamenco show.
If you opt for the 9 pm Jardines de Zoraya Flamenco show ticket, your dinner gets served at 9.45, and the show starts at 10.30 pm.
Flamenco plus dinner ticket price
Adult ticket (17+ years): 54 Euros
Youth ticket (8 to 16 years): 35 Euros
Child ticket (up to 7 years): 10 Euros
---
---
Jardines de Zoraya's menu
You can visit this Granada restaurant for lunch or dinner, with or without Flamenco show tickets.
Jardines de Zoraya offers Mediterranean cuisine made with local produce.
A wide variety of other cuisines, including local dishes from Granada and Spain are also available.
Both non-vegetarians and vegetarians have plenty of options.
Watch the video to understand what to expect in terms of food:
Check out Jardines de Zoraya's menus (Courtesy: TheFork)
A la carte Menu | Chef's Menu | Zoraya Garden's menu | Drink's menu
The entire indoor space of Jardines de Zoraya is non-smoking. However, visitors are allowed to smoke on the outdoor terrace.
---
---
Jardines de Zoraya on Tripadvisor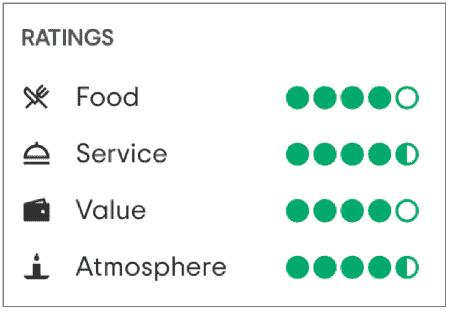 Jardines de Zoraya is a 'Certificate of Excellence' winner on Tripadvisor continuously for the last four years.

At 4.5 out of 5, it is a highly rated restaurant and attraction.
Besides being famous for its Flamenco Shows, Jardines de Zoraya is also considered one of Granada's best Steakhouses.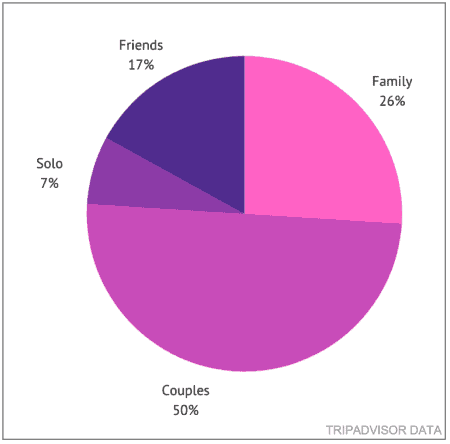 Fifty percent of the tourists who book a Flamenco show at Jardines de Zoraya are couples.
This unique style of Spanish music and dance is also popular with families and groups of friends.
Jardines de Zoraya reviews
We have selected two Tripadvisor reviews to give you a sense of what the visitors loved during their Flamenco experience at Jardines de Zoraya.
1. Wonderful setting, great service, amazing show
The food was very good, tasty, and fresh. The service was excellent. All the staff we very attentive and our waiter was brilliant. Making us feel at home, recommending great dishes when we asked, extremely good service.
The Flamenco show itself was excellent. The room for the show is very intimate, and it helps reflect the passion and emotion of the flamenco performers. – Neilsby, United Kingdom
2. Fantastic night
The food was excellent, the Flamenco show was mesmerizing, I can't claim to know much about this art form, but the dancers seemed to give it everything they had, the musicians were excellent, and the singer was so good I had to buy his CD afterward (no hard sell!). – Benet M, United Kingdom
Sources

# Jardinesdezoraya.com
# Tripadvisor.com
# Flamenco.one

The travel specialists at TheBetterVacation.com use only high-quality sources while researching & writing their articles. We make every attempt to keep our content current, reliable and trustworthy.
Popular attractions in Granada
# Alhambra Castle
# Generalife
# Nasrid Palaces