Netherlands enjoys a typical European climate, which helps stock its natural water bodies with lots of fish all through the year.
The geographical makeup of Netherland and the colder winters and warmer summers provide the best of fishing opportunities to enthusiasts from all over the World.
Netherlands is one of the most watery countries in the world, because most of the country is below sea level.
This ensures, good number of rivers, deltas, wetlands, polders etc where lots of fishing and angling is possible.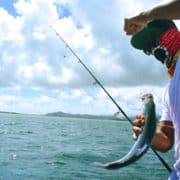 Types of fish in Netherlands
Netherlands has everything for everybody.
If you are willing to invest time and energy on an adventurous fishing tour, you can lure in huge Pikes, Perch, Carps and Seabass.
Or if you want to take it easy and angle from the comforts of your chair, you can go for Bream, Common Roach or the Tench.
If you are the fishing person who loves to go after marine fish, the 500 Kms plus coastline of Netherlands won't disappoint you.
There are plenty of spots such as Zeeland Delta, Wadden islands, port of Rotterdam etc from where you can angle for fish such as Sole, Seabass, Dab, Whiting, Garfish etc.
Getting a fishing license in Netherlands
Before you can fish in Netherlands you need to buy a license, combined with a permit for the area where you plan to go on your fishing holiday.
This combined license/permit can be bought from most fish gear shops in Netherlands.
If you are travelling to Holland from another country, you can always purchase this fishing license online.
This fishing license is called VISpas and there are various types.
VISpas acts as proof of your membership of the fishing club of Holland.
With the VISpas, the membership holder is also given a booklet which lists fishing waters where he/she is allowed to fish.
A standard VISpas permits fishing with two rods and all permissible bait.
Children under the age of 15 are allowed fishing without an angling license if they are accompanied by a permit holder.
Permissible and restricted baits in Netherlands
The Dutch have certain rules around the bait used during fishing. The baits which are allowed and encouraged are –
• Potato, bread, dough, cheese, seeds, and corn
• Worms and prawns
• Insects and larvae (maggots)
• Imitations (maximum size limit of 25mm)
If you intend to fish with any other bait in Dutch waters, or with multiple rods you need a separate fishing permit.
Between April 1 and the last Saturday of May, there are additional restrictions on bait usage. The below-given list of items is prohibited during this period.
• Real Worms
• Imitation worms
• Live or dead bait fish
• Chunk(s) of fish (irrespective of its size)
Night fishing in Netherlands
The Dutch indulge in night fishing for three months in a year – from 1 June to 31 August.
During rest of the year, angling is not allowed from two hours after sunset until one hour before sunrise.
Night fishing rules don't apply to all water bodies – so please look at your fishing permit for further information.
For instance, on Lake IJsselmeer and the open harbors night fishing is not allowed anytime during the year.
Dos and donts of fishing in Netherlands
Certain species of fish are protected by Netherlands' endangered species laws.
It is illegal to fish the following species: Brook lamprey, Spotted bleak, Bitterling, Minnow, Sheatfish, Bullhead, Lampern, Stone loach, Large and small Gudgeon, Sturgeon, Catfish, and Houting.
Since one can't control what kind of fish will land up in your hook if you catch one of these species by mistake you are expected to release it back in the water.
If you can't identify the species it is better to release it back in the water immediately than break the law unknowingly.
There are lots of online resources such as Fishinginholland.nl, Angloinfo.com, Anglersworld.tv, Adayfishing.com etc which you can check out for more dos and don'ts.
Fishing destinations in Netherlands
Fishing in Amsterdam
Amsterdam, with its canals, is an amazing fishing spot. These canals play host to all kinds of fish imaginable.
This is best suited for weekend fishing trips.
Three of our recommended spots are IJ, the North Sea Canal (behind central station, and the canals which run through the city center.
The fish you are most likely to find here are Zander and Perch.
Fishing in Wadden islands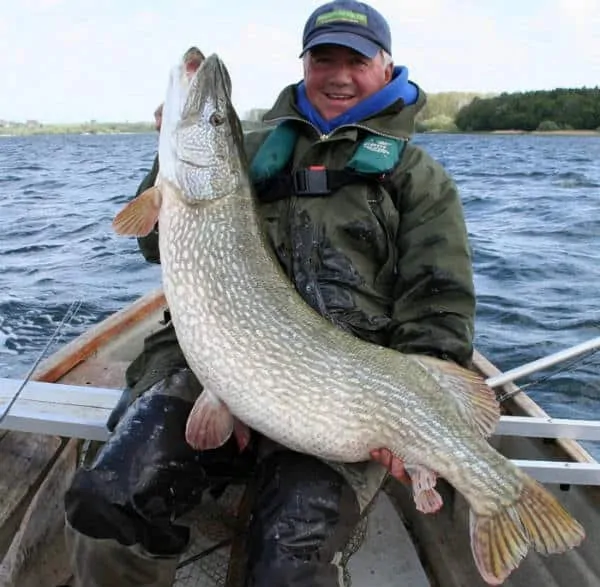 Some of the Wadden islands along the Dutch coast make for a great fishing expedition.
Islands such as Texel, Ameland, Schiermonnikoog, Vlieland, and Terschelling stand out among the rest. If you love peace while fishing, this is your spot.
You can catch Bass, Mullets etc.
You can decide to relax and fish from the shoreline or be a little adventurous and get into the water.
Recommended Reading: First time traveler? Check out our tips
Fishing in Zaan region
Zaan region is close to Amsterdam (just North of the city) and is perhaps the most popular polder fishing spot.
In this region, you can fish Bream, Roach, Carps, Zanders etc.
This place also offers great views what with lots of windmills, old Dutch houses, warehouses etc not to mention the open air museum of Dutch history.
Because it is just a short drive away from Amsterdam, this also doubles up as a daylong fishing trip destination.
If you prefer a carp fishing holiday, Amsterdam ends up being a top choice.
Fishing in Rhine-Meuse-Scheldt delta
The Rhine-Meuse-Scheldt delta is an amazing spot for anglers of all skill levels.
The rivers Rhine, Waal and Maas come together ensuring a nice harvest for any angler willing to spend time.
As for the water bodies, you can choose between Haringvliet, Volkerak and Hollands Diep be sure to catch lots of Perch, Pikes, Carps, Roach and Breams.
Thanks to the variety of fish available, this spot ends up being a great escape for anglers.
Fishing in Green Heart
Green Heart is a thinly populated region between the major cities of Amsterdam, Gouda and Utrecht.
This region is full of pastures and polder ditches and each ditch is stocked full of fish.
You are sure to find a lot of Pike, Rudd, Tench, Polder Carps, Bream etc.
Best time to try Green Heart will be during the springtime and summer when the waters in the polder ditches are shallow.
Fishing in Groningen province
Groningen is a vibrant student city with historical buildings and hence makes for great fishing holidays in Netherlands.
All the water bodies in this province have been included in the VISpas list of waters you can fish in so you don't have to worry about finding the right fishing spot.
To top it, there are all kinds of water bodies for variety – polders, canals, lakes, ponds etc.
Fishing in river Ijssel
Gelderse Ijssel is one of the largest rivers in Netherlands (the largest being Rhine) and ends up as the perfect place to angle.
You can find all kinds of fish in this river, especially Barbel, River Carps, Catfish, Bream, Ide and Roach.
All along this river, you will find groynes (defined as a low wall or sturdy timber barrier built out into the sea from a beach to check erosion and drifting) from where you can throw your bait right into the water.
Many escape to river Ijssel for their carp fishing holiday.
Fishing in Lauwersmeer
Lauwersmeer is a man-made lake in the north of Netherlands, at the border of the provinces of Groningen and Friesland.
The lake is 2,000 hectares of water and all of it is open to sport fishing.
You can opt to sit on the shore and throw in your bait or you can take the help of a fishing guide and venture into the water.
Lovers of fishing are known to have caught Pikes and Zanders measuring a meter in these waters.
Other fish you can catch here are Carps, Bream, Common roach, Ides and Sea Trouts.
Fishing in Drenthe
Huge nature preservation projects and fish migration facilities in Drenthe have created ideal fishing conditions for anglers.
The water here is full of fish such as Ide, Dace, Sea Trout etc.
Even though there is not a lot of water area, the variety of water bodies makes it an ideal spot for fly fishing.
Fishing in Friesland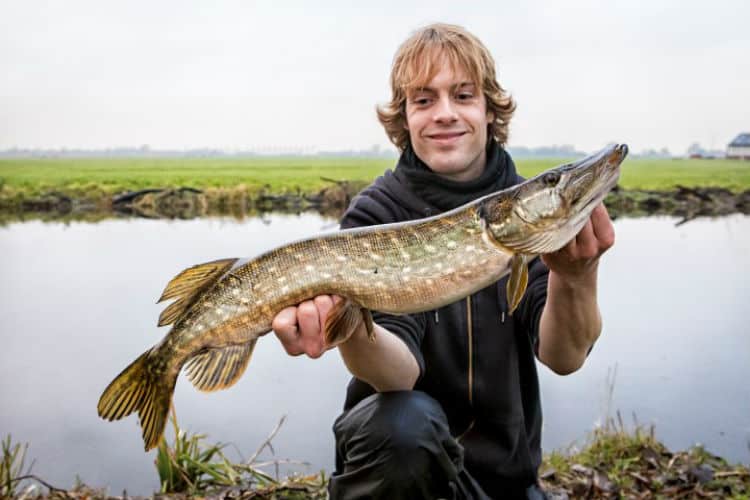 Frisia or Friesland, situated in the Northwest of Netherlands is one of the most beautiful provinces for angling.
No wonder then that more than 100K anglers from all over the world land in Friesland every year for the beautiful fishing spots it offers.
Friesland has many lakes and canals, which make for great spot fishing.
Angling is allowed only in navigable waters.
The fish you can expect in aplenty are: Rudd, Pike, Tench etc.
Fishing in river Meuse and artificial lake Maasplassen
The river Meuse passes through Limburg, the southern most province of Netherlands.
Right alongside is the Maasplassen lake, and you can fish in both the water bodies if you have VISpas.
Lack of navigation in these waters ensures folks who love to take their boats inside are also free to do so.
Be sure to find large Perch, Pikes, huge Carps and lots of Catfish in these waters.
If a carp fishing holiday is on your mind, look no further than river Meuse and artificial lake Maasplassen.
Fishing in Polders of Northern Netherlands
North Holland is a province in the northwest of the Netherlands.
Thanks to its watery polders and holiday park accommodations located near the water bodies Noord-Holland ends up being a great fishing holiday spot in Netherlands.
Polder fishing is an art.
Some say it is even an acquired taste so if you want to fall in love with fishing in the polders, this is the place to visit.
Expect to find Pike, Common Rudd, Tench, Carp etc in these waters.
Fishing in the Randmerens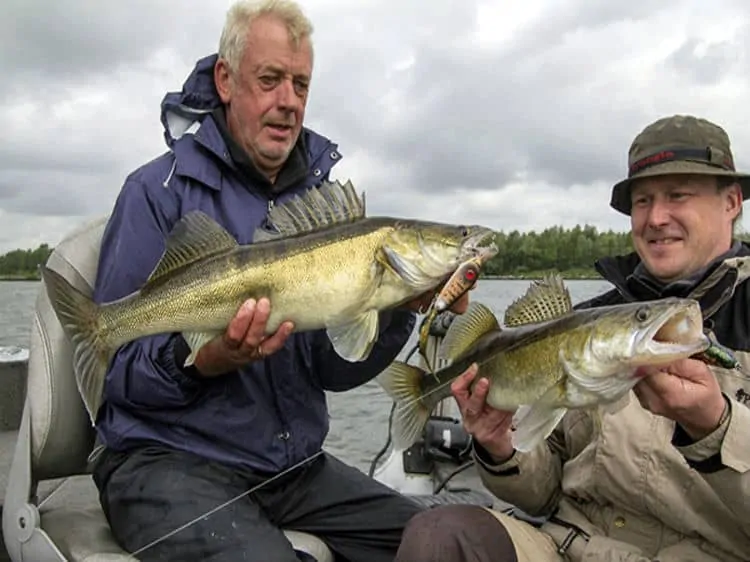 If you love big fish or if you want to break your own record you must try fishing in Randmerens, which are a string of shallow lakes in the heart of Holland.
These lakes have huge fish, which can go up to the length of a meter and thus ending up as your trophies.
In here, you can try casting with artificial bait, you can try trolling, or you can go fly-fishing with a streamer.
This fishing destination is a great escape from the daily routine.
Fishing in Nether Rhine and Lek River
Nether Rhine-Lek is a large river in Netherlands which because of the stock and size of fish has become the fishing hangout where most fishing folks set their records.
During summer you can fish from the groynes (or the boulders around them) and in the winter you go a bit deeper.
This 110 Kms of fishing paradise boasts of Zanders, Ides, Pikes and Carp.
In fact, there is so much carp in this river that Nether Rhine is one of the top preferences for people planning carp fishing holidays.
Fishing in river Vecht (Overijssel)
If you love wilderness you will love the fishing spots on the shores of river Vecht.
These shores are beautiful, woody and far away from any civilization, making it a perfect fishing holiday in Holland.
To top it, there are various camping sites on the shores where you can stay during your break.
At Vecht, you can catch Bream, Rudd, Ides, Roach, Pikes, Zanders, Perch, and Asps.
Fishing in Rotterdam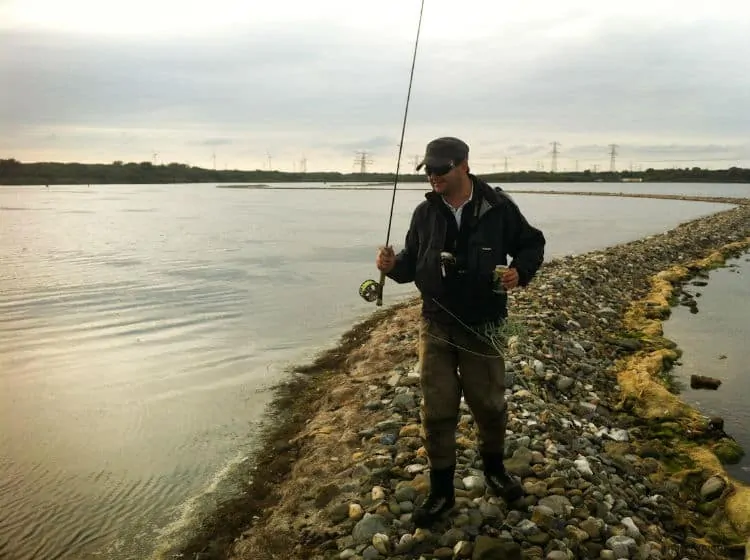 If you love a nice beautiful skyline while you fish, Rotterdam is the best place to plan your fishing holiday in Netherlands.
With its world-famous architecture, bridges, cruising ships etc it makes for a great view while you wait for your fish with your bait inside river Nieuwe Maas.
With lots of side harbours, river Nieuwe Maas is one of the best street fishing destinations in the whole of Europe.
In fact, the international street fishing event Gunki Iron Tournament is conducted in Rotterdam every year.
Fish you are likely to catch here are: Zander, Perch, Asp, Pike, Catfish, Ide, Flounder etc.
Do note that to fish in the side harbours and still waters in the city, you will need VISpas of HSV Groot Rotterdam.
Fishing in river Waal
River Waal is wild and yet it offers its share of a fine fishing experience.
There are various kinds of fish available in this river – Pike, Perch, Catfish, Asp, Zanders, Barbels, Ides etc.
You don't need to buy any extra permits to angle in the Waal.
Fishing in Rotterdam Seaport
If a little bit of noise doesn't affect your concentration while fishing, the Rotterdam Seaport area is just right for you.
Drive your car as close to the water as possible, and plonk yourself on your chair to catch Seabass, Common Sole, Mullet, Twaite Shad, etc as container ships, tankers and cruise ships pass by.
If Rotterdam seaport is on your radar, you can plan your fishing holidays in Netherlands any time of the year.
Fishing in Zeeland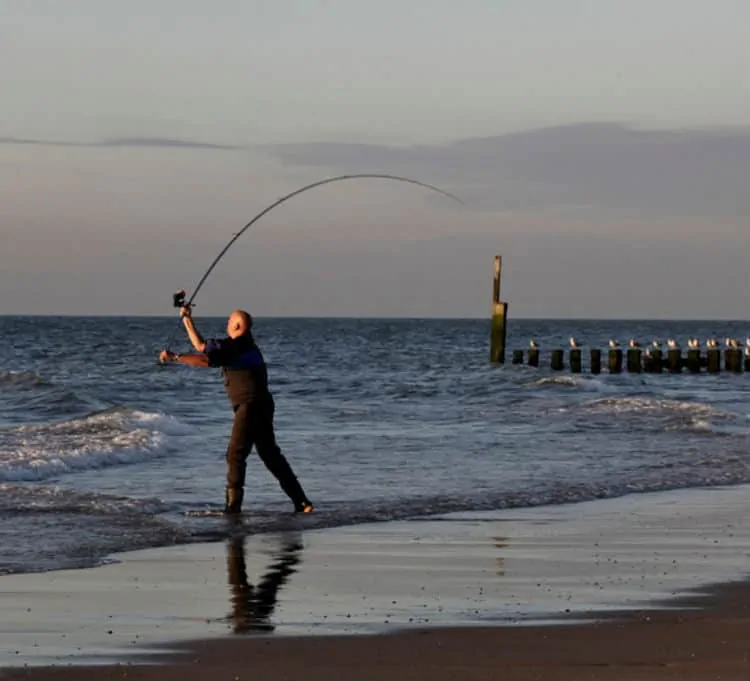 Zeeland is just right for sea anglers.
The fishing enthusiast has three options here – to fish from the beach, from the dikes or to take a boat and go into the waters. Zeeland offers a variety of fish for sportsmen – all kinds of flatfish, Garfish, Seabass, North Sea sharks etc.
Since this province is already a tourist destination welcoming thousands of Belgians and German every year, Zeeland can be your long fishing holiday as well.
Sources

# Topparken.com
# Bungalowparkzuiderzee.com
# Succesholidayparcs.com
# Fishermanholidays.com

The travel specialists at TheBetterVacation.com use only high-quality sources while researching & writing their articles. We make every attempt to keep our content current, reliable and trustworthy.
Recommended Reading
1. World's most UNUSUAL hotels are in Netherlands
2. Best places for Christmas holidays with family