Planning a family holiday and unable able to decide between Darwin and Cairns? Well, we won't blame you.
Both Darwin and Cairns are amazing cities for a holiday and it is difficult to choose one over the other. Some even call it the Darwin vs Cairns war!
In fact, people have this confusion even when they want to move – what will it be? Cairns or Darwin?
If you are a regular traveler the choice is easier – visit Cairns first and plan in Darwin for a few months later. Or vice versa.
But if you aren't sure when your next vacation is going to be, you may want plan your family (or couple) holiday in the best location.
Even travel experts have a differing opinion on which is the better holiday destination for families – Cairns or Darwin?
Both Cairns and Darwin are more Australian than most of the cities in Australia.
They are more laid-back and have a tropical holiday atmosphere which is hard to beat.
We love both the cities so much that we would recommend you try both in one go – they are only couple of hours of flight apart.
Continue reading to know what you can expect in Darwin and what is in store for you in Carins.
But, before deciding do include your family – both the elderly and the children.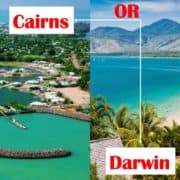 Darwin, Australia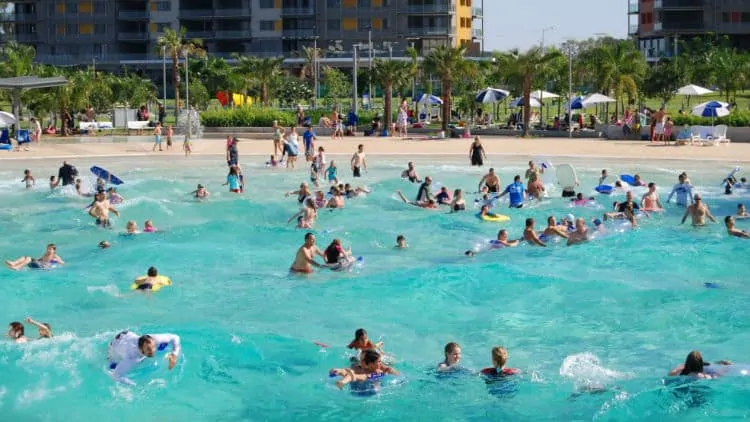 If you and your family love nature and a relaxed setting for your holiday you just can't miss Darwin.
Situated at the Timor Sea, it is a perfect melting pot. People from more than 50 nations live in Darwin in peace.
There are Museums for adults and children alike.
There are art galleries to suit every taste and restaurants with street seating to give you the holiday feel. And then there is nature.
UNESCO World Heritage-listed Kakadu National Park and Litchfield National park are a few hours drive from Darwin. Your kids will have fun for sure.
As an elderly, if you want to take it easy all you need to do is hop onto a tinny (small boat) and go fishing with your beer.
If you love history, you will love the World War II exhibition via multimedia, which is available in the city.
If you also love music, we recommend you plan your Darwin holiday in August when the wonderful annual festival of music, theatre, and art is conducted.
Things to see in Darwin: The Ghan, Litchfield National Park, Tiwi Islands, Mindil Beach Markets, Arnhem Islands, Katherine, Savannah Way, Darwin's Waterfront, Darwin's Art Precincts
Places near Darwin: Kakadu National Park, Alice Springs, Red Center
Some of the top restaurants in Darwin: Hom Café, Aqua, Loong Fong Seafood Restaurant, Four Birds, Hanuman Restaurant, Cool Spot Café
Cairns, Australia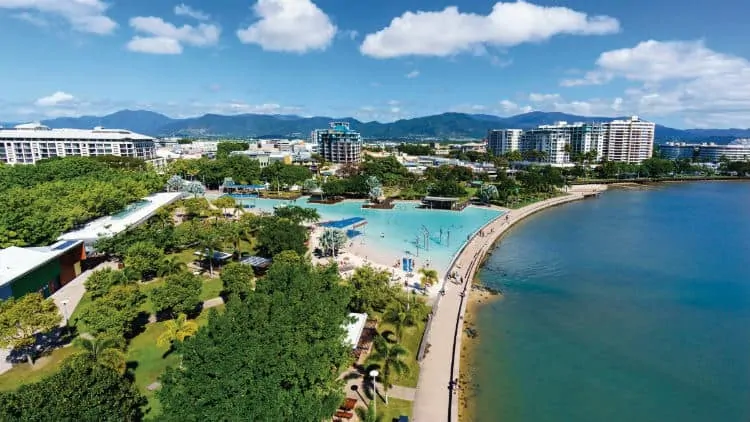 Not long ago, Cairns was a swamp but over the years it has geared towards tourism and a great tourism place at that.
There are many resorts, travel experts, tour guides, souvenir shops and tourists. All these make Cairns the happening place it is.
Cairns has a lot of hotels and hostels so the people on holiday can stay comfy whatever be their budget.
The thing that stands out about Cairns (pronounced by locals as 'Cans') is its infectious holiday feel.
In Cairns people aren't in a hurry, there is no reason to get angry or upset, for there are no schedules to stick to. It is only you and yourself.
The whole town of Cairns is full of nightclubs, bars, eating joints and cafes to make life of a tourist as much fun.
You may have to take a bus ride to visit a beach, but beach alone isn't holiday, right?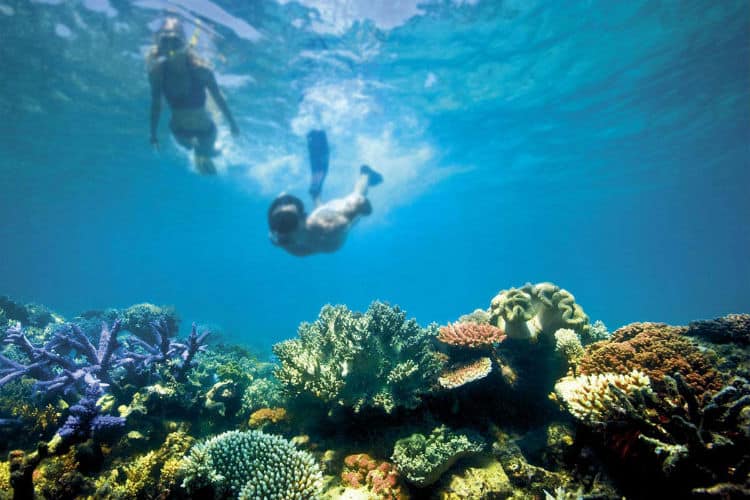 Right next to Cairns is the Great Barrier Reef, one of the natural wonders of the World.
In fact, for most of the people who land in Cairns the first activity is a visit to the Great Barrier Reef.
If you plan it well, this marine miracle can keep you busy for a few days.
The Great Barrier Reef can be explored by numerous means – by helicopter, submarine, boat or by scuba diving.
Don't miss out on the Daintree Rainforest which your kids just can't miss. If you love driving, don't miss the Great Tropical Drive.
Things to see in Darwin: The great tropical drive, Mission Beach, The Daintree Rainforest, Port Douglas, Kuranda
Places near Darwin: Great Barrier Reef, Whitsunday Islands, The Daintree Forest
Some of the top restaurants in Darwin: 181 The Esplanade, Cairns Plaza Hotel, Hides Hotel.
Cost of holiday in Cairns vs cost of holiday in Darwin
Your holiday in Darwin will be slightly costlier than your holiday in Cairns.
For example restaurants in Darwin are approximately 15% costlier than restaurants in Cairns. Cairns vs Darwin – detailed cost analysis
What do you think – will it be a Darwin family vacation or will it be a Cairns family vacation this time?
Or will it be both, over a period?
Recommended Reading
1. Self drive holidays in Tasmania
2. Golf holidays in Australia