India is a land of cultural diversity, various religions, countless languages, spiritualty, yoga, food to die for and not to forget Kamasutra.
If are going to travel to India for the first time, or you have already reached India on your maiden visit, get ready to be dazzled.
Never seen before colors, never-before tastes, smells, the unique traditions, customs, city roads with fast moving BMWs and slow moving bullock carts – all of this will be thrown at you the moment you get off your airplane. So, be ready for a big surprise.
India is vast…beyond your imagination. It is mother nature's most beautiful, charming and notorious child whose next move you can never predict.
India is addictive and if you want to know the real India, you need to get out and explore its small cities as well as big ones.
Since you are visiting for the first time, it's quite natural for you to come with a desire to see entire India in one visit but trust me sire, it will take you more than few lives to visit and understand this incredible country.
Plan smartly and remember India is not going anywhere you can visit over and over again.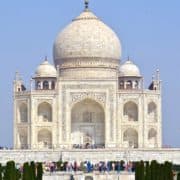 Tourist Checklist for India
For first time visitors, travelling to India can be a major culture shock.
To ensure that your first trip to India becomes a memory you would like to cherish, please follow my checklist for first time traveler to India –
Get your documents right
All foreign visitors must possess a valid travel document in the form a National passport and a valid tourist visa issued by Government of India.
You can apply online for tourist visa.
US citizens can get tourist visa for a maximum ten years.
India is an addictive country and we strongly recommend going for a multi-entry visa, so you don't have to worry for a few visits to India.
Book in Advance
Booking your accommodation and transport is a wise thing to do on your first visit to India.
It will save you lot more time and money which you can later spend on food and gifts for your loved ones back home.
Don't plan too much
On your first visit to India avoid doing a lot of things in little time.
It will create a lot more hustle bustle and you will go back without experiencing the real India.
People who have been to India before you also advice to take it slow…watch the country unfold itself.
Pack appropriately
India offers both a cold climate and a really hot one.
So depending on your plan, pack the right amount and the right kind of clothes for your first time India visit.
Be prepared to get sick
You need to be aware that chances are very high that you may get sick, especially since this is your first trip to India.
Come with your usual medicines handy.
India trip itinerary
The sixth most important item you need to plan for your first trip to India is your itinerary.
This is very important because travel in India can tire you.
Unlike travelling in USA or Europe, you can't do a new city every two days.
Plan your itinerary well so you don't go back from your India trip hating this amazingly colorful country.
Depending on the length of your first visit to India, we recommend the following itineraries:
For a seven day visit to India
If your first trip to India is seven days long, I would say that you very little time to even get a glimpse of India.
Therefore, you need to plan these seven days really carefully so that you can get the unique texture and spirit of the place.
Here are some small tips to make your short trip a memorable vacation to the largest democracy in the World:
1. Your itinerary should consist of only the "Golden Tringle" – Golden triangle is the triangle formed between Delhi, Agra and Jaipur. Delhi, the capital of India; Agra, home of the Taj Mahal; Pink city of Jaipur in Rajasthan. If you take this trip, you will have seen the better part of North India.
3. I also recommend visiting nearby villages or small cities to get the real sense of India
4. Try the street food of Delhi. The best place will be Old Delhi.
5. Smile to everyone. Indians love it when you smile at them.
For a fifteen day visit to India
Fifteen days is a good enough period to spend in India on your first visit.
In this time you can visit some very beautiful places in both urban and rural India – and both in South and North of India.
I suggest you should start with the snow peaked mountains of Himalaya in North to backwaters of Kerala.
Here are a few of our tips and ideas for your fifteen day visit to the most colorful country in the World:
1. Go to Varanasi, the holy city of India – Spirituality, ancient Indian traditions, rituals of life and death can be seen everywhere in this unique city. From a roadside vendor to a sage sitting on the ghats, everybody in this city is a philosopher. When in Varanasi don't forget to attend Ganges aarti, it is a spectacular way to offer your prayers and seek blessings from Goddess Ganges.
2. Himachal Pradesh- home of Dalai Lama and Tibetan community. You will fall in love with its amazingly gorgeous landscapes, extremely humble people and serene environment.
3. Uttrakhand- This place is the source of sacred River Ganges which is attracting pilgrims across the world for hundreds of years.
4. Madurai, the temple city of India. If Indian temples attract you do visit Madurai.
5. House boats in Kerala – one night's stay in a houseboat in Kerala is a definite must on your first visit to India.
6. Since you going to be in India for fifteen days, don't forget to take care of your health. Check our tips to eat well and stay healthy in India
For a thirty day visit to India
Now we are talking!
One month is the ideal time for your first trip to India.
I strongly recommend you go slow – the slower you travel in India, the better memories you will carry.
You don't want your travel to India to be a whirlwind…do you?
Even if you go slow, you will be able to see India from Rajasthan in the West to Assam in the East, and from Jammu & Kashmir in the north to Kerala in the south.
In fact, you will also meet a lot of vibrant, humble and extremely colorful people.
This is the real fun.
Again some tips for making your stay in India a pleasant one:
1. Stay in a budget hotel or in a hostel if you will, but at least once try the Indian luxury in one of the finest five star hotels of India – even if it is only for one day.
2. Try out different modes of travel – air, trains, roads, cars etc. This will give you a very varied India travelling experience.
3. Don't be so conscious about your personal space, that's the one thing you won't get much in India.
4. India is a country of lots of smells and tastes, and germs too. Have a robust medical insurance in place.
5. Head towards south my boy! There is a lot of things to see and watch in South India. Amazing architecture, heritage, food, scenery, people, in short everything.
6. Kerala is the state you must visit. Its lush green environment, magnificent wooden architecture, mouth-watering cuisine is so tempting that you can't afford to miss it.
7. On your first visit to India don't spend much time in metro cities even if you are here for one month, leave them for your next visit.
8. Since you are here for a long enough period, do visit the Taj Mahal, Akshardham Temple (the largest in India), Konark (13th century massive temple), Gokarna (beautiful beach in Goa), Thrissur Puram (Kerala's biggest temple festival), Khajuraho (temple with erotic sculptures), the Golden temple, the Ganges river, Kaziranga National park (to see some Rhinos), and Madurai, the soul of Tamil Nadu.
Recommended Reading
1. Safety tips for women traveling solo in India
2. Tips for tourists to stay healthy in India