It isn't easy being a solo woman traveler.
Congratulations, on making the tough decision.
Having said that, let us assure you that you are in safe hands – don't worry – we present to you the top 25 safety tips for women traveling solo in India.
People everywhere are kind and generous towards women, however there are certain risks involved with being a woman and traveling alone.
We recommend that as a solitary traveling woman you fear enough to be cautious and careful, and yet not enough that you abandon your traveling plans.
In this article we attempt to share with your our top 25 safety tips for women traveling solo in India.
Life is all about risks, and those that have taken the risk within the boundaries of reason have had great memories of India to take back home.
All you have to do is use these effective and useful tips for women traveling alone in India.
In fact, these tips for solo traveling ladies will come in handy in most developing countries.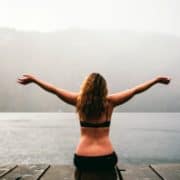 Precautions for women traveling alone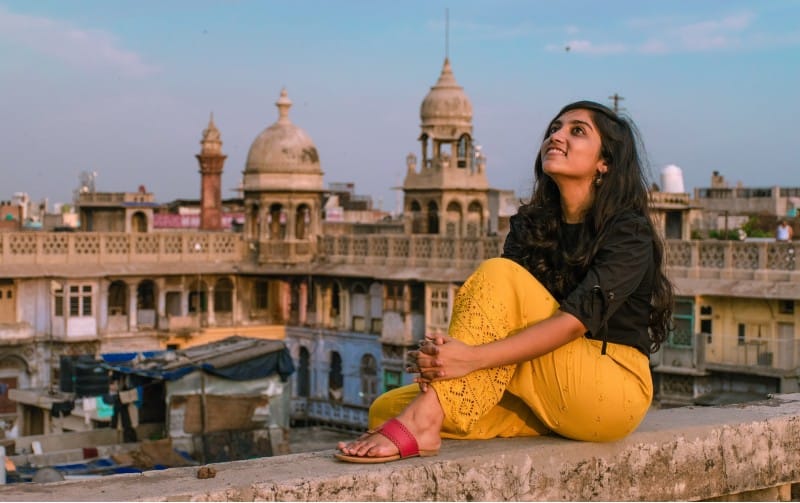 Presenting some tips to be kept in mind by women traveling alone within India.
Do note that these tips are applicable anywhere in India – starting from Kashmir, Delhi, Agra, Mumbai, Kolkata, Bangalore, Chennai to Kanyakumari.
Some of these tips may be applicable for men traveling alone as well.
So just because you are a man and landed on this page, don't ignore.
Carry on reading our tips for women traveling alone in India.
Always carry a scarf
Always carry a long scarf with you. It will save you from sun, dust and unwanted attention. This tip is applicable both for women and men.
Plan travel in advance
Book your accommodation in advance to avoid getting conned by local agents. And book from trusted travel websites.
If you are going to take a public transport, make your choice carefully. If it's a long journey, go via train and make your reservation in advance.
While public State buses are more reliable, the private buses are more comfortable.
Ensure the vehicle is NOT empty
If you are traveling via bus, never board an empty bus or a less crowded one.
Same holds true for an empty train compartment.
Wait for people to get it, and then you step forward.
Don't accept food & drinks from strangers
Whether you are traveling (by bus/car/train/flight) or just staying at your chosen accommodation during your holiday, don't ever eat or drink anything offered by strangers.
You don't need to be rude. Just say that you aren't hungry or feel like drinking.
Politely refuse.
Raise an alarm
If you are sensing that someone is trying to do something unusual with you or trying to harass you, raise your voice and let people know about the individual.
Creating a fuss in public transportation will shame the guy and you will get the co-passengers' support.
Carrying a whistle for that immediate need to raise an alarm, isn't a bad idea.
Get out of any situation immediately
When you will go to the market or for shopping you may face rude comments, groping and brushing against your body.
Apply the same trick – create a fuss, gather crowd and explain it to the people.
However, don't linger on. Once the man has moved away, get back to your place as quickly as you can.
Recommended Reading: Safe and cheap Asian countries
Don't shop in a hurry
Be patient while shopping. Don't buy anything on face value from the local market.
Someone trying to fool you will always try to rush you.
The more patience you display the better bargains you will get.
Don't step out in the dark
Don't walk alone at night unless you are sure and your local guides have confirmed that the place is known for its nightlife.
Walking alone late in the night on lonely stretches equals inviting trouble.
Don't blindly trust strangers
Being friendly with locals is good but don't blindly trust them. It can cost you dearly.
Do maintain a distance from strangers you meet on your travel.
You can get closer to your hotel staff because you need them and their help daily.
Keep your self defence ready
Keep a self-defence weapon with you at all the time.
A pepper spray and a whistle are best. A small knife won't hurt either. Pun intended.
Recommended Reading: Ten best travel movies for inspiration
Dress in India as Indians do
Though what do you want to wear is entirely your choice but dressing up a bit carefully won't harm you.
Since you are/will be traveling alone in India, which happens to be a conservative country, I would recommend you to dress modestly.
Dressing in Indian clothes may even get you admiration and respect.
Know where you are going
Always have a plan on where you are going.
Wandering aimlessly works well when you are in a group but during solo travel, for your own safety you should know when you will be where.
Read the local newspaper daily
Do check on the newspaper for ten minutes in the morning to know if there are going to be any protests or processions.
If you are aware of the troublesome spots you can avoid them and stay out of danger.
We would also advise you to check with your hotel's receptionist every day if there are any problem areas you need to avoid.
Get back early
Be back at your hotel before 8.30 pm everyday, unless you are in the company of people you trust.
Even then, we wouldn't recommend staying out later than 10.30 pm.
If you have decided to stay late, make sure you have a transport back home.
Walking home late in the night is reason for stress and potential grief.
During night travel keep a friend updated
Once you sit in the Cab or Auto call up some friend of yours (if you don't have any, make a pretend call) and mention the cab or auto's number and the approximate time of arrival at the destination.
When the driver hears you mention his vehicle details, he is obligated to drop you at the destination unharmed.
If you are alone in a cab or a auto and the driver wants to take his friend along, politely refuse.
If he doesn't agree, get off and find another cab or auto.
Learn to lie a bit
While traveling alone, don't think twice before lying.
Use it strategically to ward of undue attention. As a woman, you may be approached by the locals wanting to impress you.
Wear a ring on your finger, so they think you are married.
If they don't notice, let them know that you are waiting for your boyfriend or husband.
This would keep you safe from the 'Romeos'.
Keep your Passport safe
Always keep your passport in your backpack and deep inside.
Since you may need your ID card at many places, keep your driver's license handy so that you can whip it out as and when asked for.
Learn a bit of Hindi
We strongly recommend learning key phrases in Hindi to let others know that you are a pro at solo travel in India.
Just enough words in the local language to ward off a curious bystander and keep you away from danger.
Keep your loved ones informed
Keep your loved ones informed about your whereabouts all the time.
A close friend in India or wherever you are from needs to be updated about your whereabouts at regular intervals.
Maybe once a day just a single sentence update with your current location should do the trick of keeping you safe.
Make use of women-only facilities
Women are respected in India, and hence many travelers before you have found traveling solo in India easy.
They just knew what NOT to do and what to do.
Most public transport has spaces just for women – utilize them.
Even in restaurants, there are "Family Section" which are reserved spots for women and their families.
The food when served in this section is a bit costly, but you can avoid anti-social elements and feel safer.
Know that India is mostly conservative
In India it is important to watch how you relate to men.
Being a conservative society, many grown up Indian men have never interacted with women and when a solo traveler speaks to them affectionately they start receiving wrong signals.
While on a solo trip in India, there is no harm in being curt and up to the point with strangers.
Always book the upper berth
While traveling by Indian railways, always book the upper berth.
When you use IRCTC website to book your railway tickets, you will get an option to choose your berth – it is that easy.
An upper berth will keep your bags safe during the day, and will keep you from harm during the night.
Not to mention, the privacy you get in an upper berth.
Call 100 for Police help
If you get in trouble, call 100 for police support. In Delhi, you should call 1091 – the women helpline number.
Most of all, be brave and don't give in.
Almost all big cities and tourist destinations have special squads for women safety and help is usually fast.
Get a comprehensive travel insurance
This is not a safety tip but advice.
If something has to go wrong, it will go wrong despite all the precautions mentioned above.
This is why we strongly recommend that you take a nice travel insurance policy before your solo trip to India all alone.
Nothing should and nothing will happen, but we all should be ready for that one bad day at travel.
Keep all these tips in your mind while traveling alone in India because I don't want your experience in India to become an unpleasant one.
India is an amazingly beautiful country and in order to cherish its beauty, unique culture, mouth-watering food and a lot of attractions, you must be careful and well informed.
Recommended Reading
1. Avoid getting robbed on a holiday
2. Tips for first time travelers