To tell you the truth, all cruise holidays can be cheap – if only you follow our recommendations to avoid hidden costs.
Seriously, cruising is not at all expensive.
In fact, going on a cruise holiday works out cheaper because it helps you stretch your proverbial dollar and gets you more for less.
Once you are on a cruise, your accommodation, food and entertainment is already paid for. You just need to hang around there.
Research shows that cruise holidays can help you save as much as one third of your holiday budget.
So, the short and long answer is "No, cruising is not expensive."
Though, it can become an expensive affair if you aren't careful about the hidden costs in a cruise holiday.
These hidden costs are generally optional in nature and hence don't get covered in your all inclusive package deal which you would have negotiated.
A major reason for these hidden costs is the new business model of the cruises, where a low upfront fee ensures you come aboard, and then they make most of the profit by providing additional services in the ship.
Below we list ten hidden costs, which have the potential of making cruising expensive.
Avoiding these hidden costs is answer to your question of – How to have a cheap cruise holiday.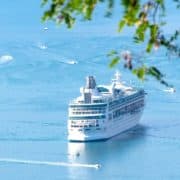 1. Avoid the Shore Excursions offered by the cruise liner
In whichever port the cruise ship halts, the cruise liners offer shore excursions which cost over and above the all inclusive package you bought.
The cruise liner will keep a markup over what the tour operators are selling these shore trips for – and this is one of their major sources of income.
If you want to keep your cruise cheap, we strongly recommend getting off the cruise ship and touring the shore on your own.
When you are on your own, you can decide to do this shore excursion for free or at a nominal cost by contacting the tour operator yourself.
2. When on your cruise, don't get on Internet
Internet on the ship was bound to be costly.
On an average, a cruise ships charge around half a dollar per minute for a very slow Internet connection.
You can decide to connect to your laptop or use the desktop available at the Internet Center.
The Internet rates in cruise ships will remain the same.
Considering how much we like to remain in touch, this is a huge hidden cost which can turn a cheap cruise to a costly one.
We strongly recommend to use the Internet only at the ports where the ship stops, so you can use it for free.
Besides, why would you want to be connected with rest of the world when you are on a vacation unless it's absolutely important?
3. Understand the tipping rules better
Tipping is a huge hidden cost we don't consider while booking and budgeting for our cruise.
Common sense tells us that one traveler should spend at least ten dollars tipping per day in a ship – considering so many crew members will be touching your life within a ship daily.
You can't seem cheap while tipping. But you can should be aware that in some cases – in some spas and in some restaurants on ships, the service charge is already considered.
This means you don't necessarily have to tip in such places.
In some cruises, such as Australian and British, tipping is already added in the all-inclusive package.
So, you don't have to keep on tipping during your cruise.
4. Avoid the onboard souvenir shop
It is important to purchase souvenirs of your cruise holiday and it is this need, which the cruise liners tap and make extra money onboard.
The starting price of any souvenir in a cruise ship will not be less than $5 – this is not cheap at all.
That's why before buying, ask yourself if you really need to.
In fact, we strongly recommend that you don't visit the souvenir shop at all.
If at all you want to buy something, we suggest you wait for the last part of the cruise when the souvenir shops will set up bargain tables.
Or better still, look for souvenirs at the shore.
5. Avoid the temptation for alternative dining
Since most of the cruise ship holidays are all inclusive deals, you are going to get free food – buffet or a la carte.
But with time the cruise ships have become experts at coming up with hidden costs to usurp the unsuspecting cruise holiday patron.
To this effect, almost all cruise liners have specialty restaurants or chef's tables or special dishes which are very tempting but also very costly.
We strongly recommend that you stay away from these because these were created to tempt you to part with your dollars.
The free food, which you will get as part of your all inclusive package itself will be of awesome quality, so please ignore the sales pitches for alternative dining.
6. Avoid the Cruise's photographers and photos
Most of the cruises have their photographers who keep roaming around and clicking photos.
These are then displayed in a gallery and can be bought – in various sizes for a huge premium.
Once you have seen the photos, it is difficult to let it go.
We strongly recommend that you don't visit the gallery at all. Rely on your own photos and let the photographer know so in advance.
This is a sure-fire way of keeping the cost of your cruise down.
7. Get two cameras & lots of camera Accessories
A cruise holiday is an important holiday and you want to retain the memories in the form of photographs or videos.
Bring two cameras and a lot of batteries and anything else you may require to capture your cruise memories.
Cameras and camera accessories on a cruise can be costly – sometimes double the cost – a huge hidden cost to stay away from.
8. Bring enough clothes and avoid doing your laundry
As in the case of resorts, the cruise ships also try to make money through laundry services.
That's why washing and ironing a shirt may cost you as much as $3 or $5 – a huge hidden cost in any cruise ship you choose for your holiday.
To keep your cruise holiday cheap, we strongly suggest two things – staying away from the laundry and bringing enough clothes to last you the whole cruise.
You also have the choice of bringing some washing soap/detergent and washing your necessities and drying them in our room itself.
9. Avoid the spa treatments. Get them on the shore
The Spa treatments can be tempting and prohibitive at the same time.
The cost of a massage or a spa treatment in a cruise ship will be as costly as a high-end, five star spa on land, so tread carefully.
You may also be approached by hard-selling agents of the Spas, who may try to sell you packages.
Do note that these agents often work on commission, so they don't let go of you so easily.
If you want to keep your cruise holiday cheap, we recommend that you stand your ground and refuse.
Of course, keep an eye out for any discount days in the Spa which generally happens on the day the cruise starts or the day the cruise ends.
10. Cut down on your alcohol intake
Unless you are traveling by luxury cruise liners, alcohol and other beverages don't get included in your all inclusive package and hence they form a major chunk of the hidden cost in any traveler's cruise budget.
We know it is a difficult task, but to keep your costs low, drink less.
If that is not an option, do note that some of the cruise liners offer beer, soda or juice packages.
Make a mental calculation and if it works out economical, go for it.
Another way cruise ships make money is by giving you a drink in their souvenir cups/glasses.
Refuse them right away – you may end up saving a few dollars more.
If you are a wine drinker, we suggest you order a bottle and save whatever remains for the next night – this will work out cheaper than ordering by glass every night.
Sources

# Cruisehive.com
# Cruisecritic.com.au
# Tripsavvy.com
# Shebuystravel.com

The travel specialists at TheBetterVacation.com use only high-quality sources while researching & writing their articles. We make every attempt to keep our content current, reliable and trustworthy.
Recommended Reading
1. Best time to go on Alaska cruise
2. Most family friendly cruises
3. Best cruises ships for families with toddlers, teenagers