Galveston in Texas was once a commercial port but catered mainly to cruises.
From some of the top cruises in the world to more affordable cruises, Galveston has something to offer all lovers of the sea.
Galveston also offers 50 km (31 Miles) of relaxing beaches, mouth-watering seafood restaurants, kid and adult entertainment, spectacular downtown shopping, and the country's best concentration of Victorian architecture.
What more do you expect from a homeport?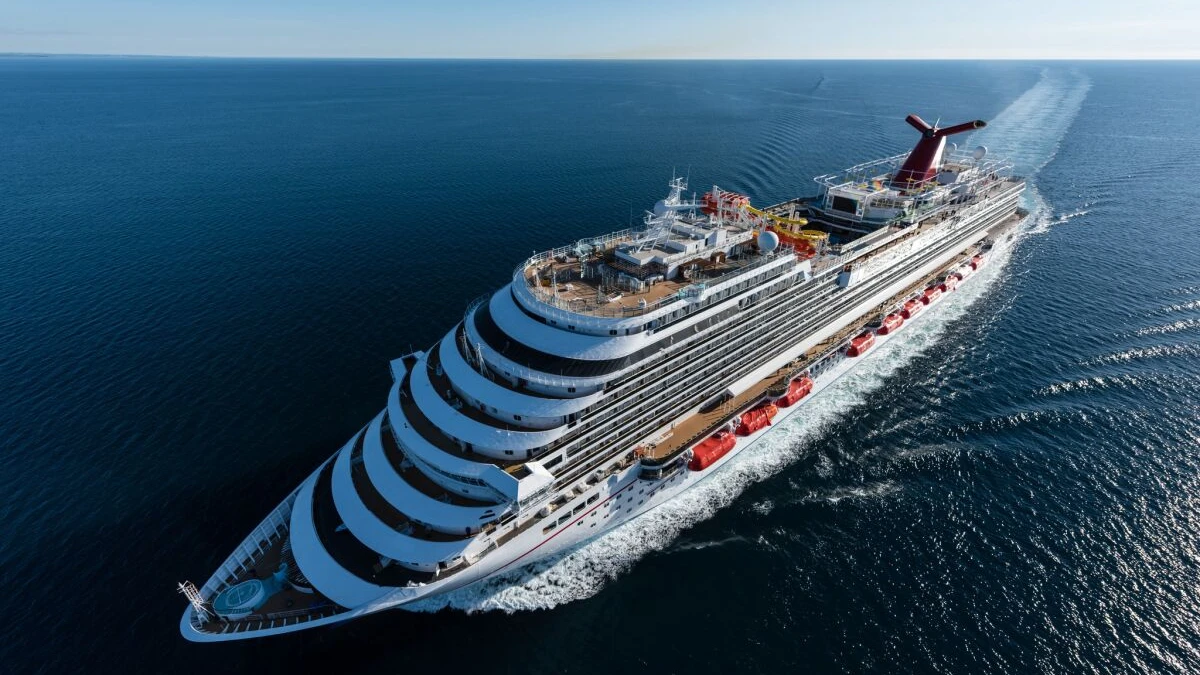 Carnival cruise destinations from Galveston
Carnival cruises from Galveston go to an exciting array of destinations.
Most of the Carnival cruises which take off from Galveston for Mexico dock at either of the three locations – Costa Maya, Cozumel or Progreso.
Jamaica is the most popular country in the Western Caribbean for Carnival cruises, with three docking stations – Falmouth, Montego Bay, and Ocho Rios.
The other Carnival cruise destinations in the Western Caribbean are Belize, Colon in Panama, Grand Cayman, and Isla Roatan in Honduras.
On the Eastern Caribbean side, the Bahamas is quite popular amongst cruisers. The two stopovers in the Bahamas are at Nassau and Freeport.
The other destinations in this region are Dominica and Key West Florida.
Some of the finest destinations for cruises leaving Galveston are in the Southern Caribbean—Aruba, Barbados, Bonaire, Curacao, Grenada, and St Maarten, to name a few.
Best Carnival Cruises from Galveston
Carnival Cruise Lines operates seven cruises leaving from Galveston.
1. Carnival Vista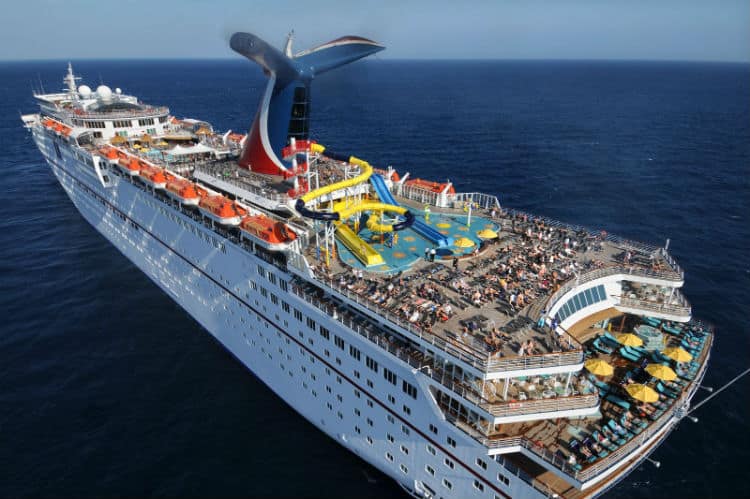 Carnival Vista is the newest and biggest cruise ship in the Carnival fleet and one of the most unique.
Do yourself a favor and book one of these cruises leaving from Galveston.
Regarding accommodation, steer clear of the staples and book a Family Harbor cabin or a Havana suite.
Cruise packages for the entire Family Harbor rooms include free breakfast, all-day lounge access, and special facilities for children.
The Havana accommodation category offers all-inclusive adult cruises and private pools, bars, and rainfall showers.
If you have time to leave your room's luxury, indulge your taste-buds in the seven on-board restaurants serving everything from pizza to exotic cuisines.
Pack your cruise itinerary with diverse entertainment like children's clubs, retreats for adults, water parks, an IMAX theatre, a library inspired by Dr. Seuss, and a suspended bike course.
The Carnival accommodates 3,934 passengers and 1,450 crew members.
Size of Ship: Extra Large
Price of Tickets: Low
Overall Rating: 4.05
Health Rating: 4.0
Best cruise from Galveston for: Families with children, large groups
2. Carnival Breeze
Of the cruises leaving from Galveston, the Carnival Breeze would fall into the cheap cruises category.
However, it keeps quality high.
Accommodating 3,690 passengers, this Carnival Cruise Lines ship offers something for every cruiser.
There are many entertainment options to keep children and young adults busy all da, while their parents can relax in an adults-only environment.
Cruise packages include an outdoor sports arena, mini golf, an outdoor water park, and free programs for children.
There is a special retreat, a luxurious spa, and half a dozen bars for adults. There are seven onboard restaurants and a variety of nightly entertainment shows.
The crew-to-guest ratio on even a ship as large as this is 1 to 3, so personalized service is never compromised.
All cabins have flat-screen TVs, mini-bars, and room service.
Size of Ship: Extra Large
Price of Tickets: Low
Overall Rating: 3.95
Health Rating: 5.0
Best cruise from Galveston for: Groups, Families with children
3. Carnival Liberty
With a comedy club, a seaside theatre, a sports bar, and live stage performances—the Carnival Liberty packs a lot of punch while remaining one of the most affordable cruises that depart from Galveston.
1,160 crew members cater to 2,974 guests, which ensures personalized service as part of all cruise deals.
All-inclusive cruise packages come with complimentary access to restaurants and bars.
However, guests can also eat at the two central dining rooms on payment of an extra fee. Guy's Burger Joint is popular among cruisers.
There are separate entertainment and relaxation areas for children and adults, ensuring a cruise itinerary that satisfies the entire family.
Size of Ship: Large
Price of Tickets: Low
Overall Rating: 3.85
Health Rating: 4.50
Best cruise from Galveston for: Groups, Families with children
4. Carnival Freedom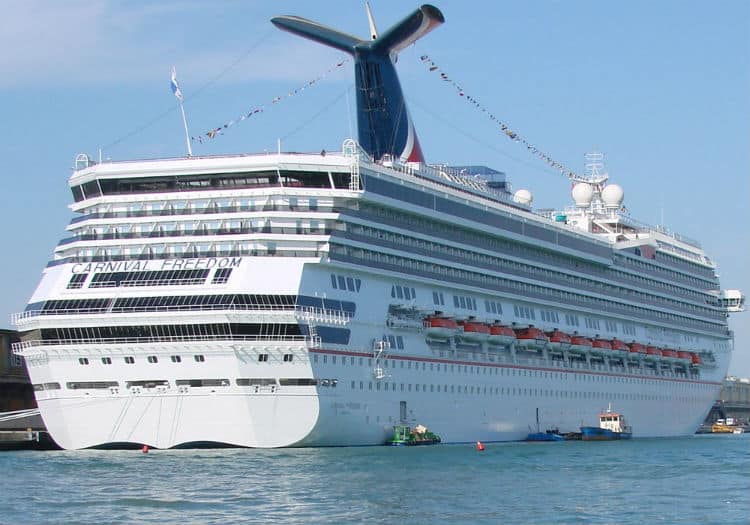 This Carnival ship has room for almost 3,000 passengers and has all the 'Fun Ship 2.0' amenities.
The most attractive thing about these cruises leaving Galveston is their affordable prices.
There are as many as four swimming pools, which doesn't let the cruisers feel too claustrophobic.
In addition, there is a mini-golf course, an adults-only spa, and age-appropriate programs for children.
Carnival Freedom's cruise packages include dining at the popular Guy's Burger Joint and many other restaurants.
Accommodation is varied, from affordable to luxurious.
While booking your cruise deal, opt for the sea view suite for a memorable cruise holiday.
The Freedom is ideal for 2-day cruises and 3-day cruises.
Size of Ship: Large
Price of Tickets: Low
Overall Rating: 3.85
Health Rating: 4.50
Best cruise from Galveston for: Groups, Families with children
Recommended Reading: Carnival cruises from New Orleans, Louisiana
5. Carnival Valor
Want to sail away to the lovely, sunny Caribbean isles? Look no further. Book yourself one of the all-inclusive cruises on the Carnival Valor.
One of the most affordable cruises starting from Galveston, this Carnival Cruise Line ship is large (accommodates almost 3,000 passengers) yet offers a commendable 3 to 1 guest-to-crew ratio.
It comes with the 'Fun Ship 2.0' attractions like the Lido Deck and the Bluelguana Tequila Bar.
Kids will have a packed cruise itinerary, which can include several visits to the Cherry on Top candy store. Adults can enjoy comedy shows, nightclubs, and various bars.
Apart from the standard rooms, there are expensive suites with private Jacuzzis.
Size of Ship: Large
Price of Tickets: Low
Overall Rating: 3.80
Health Rating: 4.50
Best cruise from Galveston for: Groups, Families with children
6. Carnival Sunshine
Carnival Sunshine was earlier known as the Carnival Destiny. However, in 2013, this cruise leaving Galveston changed its name and underwent renovation.
This 3,002-passenger cruise ship was the first member of the Carnival fleet to be equipped with the 'Fun Ship 2.0' amenities.
After another upgrade in 2016, Carnival Sunshine has almost all the trademark entertainment options available under the flagship brand.
Your cruise itinerary will include visits to the many restaurants, sports bars, mini golf courses, and water parks.
When you are tired of spending too much time with the kids, retreat to the Cloud 9 Sea or the Serenity, and come out rejuvenated.
Size of Ship: Large
Price of Tickets: Low
Overall Rating: 3.65
Health Rating: 4.00
Best cruise from Galveston for: Groups, Families with children
7. Carnival Dream
The Carnival Dream is a dream come true for families looking for affordable cruises starting from Galveston.
This Carnival Cruise Lines ship comes equipped with Fun Ship amenities, making these cruises attractive to travelers looking for value for money.
The Punchliner Comedy Club is one of the biggest draws, but it's not the only one. There are live performances every night and movies screened beside the swimming pool.
Try out the spa or the adults-only areas for some peace and quiet.
Cruise deals are aimed at families, so there is also child-appropriate entertainment.
Various youth clubs, children's programs, and a water park exist.
Accommodation is largely aimed at the budget crowd, though bigger suites are also available.
This 3,646-passenger ship has four restaurants and an equal number of bars.
Size of Ship: Large
Price of Tickets: Low
Overall Rating: 3.6
Health Rating: 3.5
Best cruise from Galveston for: Groups, Families with children
Pre-cruise holiday in Galveston
Most tourists add a 2-day vacation in Galveston Island to their cruise holiday. Some plan it for after their carnival cruise holiday.
The best part about Galveston is that the attractions and other amenities cruisers seek are close to the harbor.
Since most Carnival cruises depart from Galveston between 4 and 5 pm, tourists take a half-day, one-and-half-day, or two-and-a-half-day vacation before boarding their cruise.
If you are driving into Galveston, check in at a hotel that offers port shuttle services and free parking, and you are all set up for your pre-cruise vacation.
Here are a few things you can do in Galveston before your cruise:
1. Check out the Broadway Beauties – Bishop's Palace, Moody Mansion, and Ashton Villa
2. Wet your feet at Stewart Beach, Galveston's best family beach park
3. Visit the Galveston Island Historic Pleasure Pier amusement park
4. Drench yourself at the Schlitterbahn Galveston Island Waterpark
5. If you have kids, try the Bryan Museum, Texas Seaport Museum, and the interactive pirate museum 'Pirates! Legends of the Gulf Coast
Sources

# Portofgalveston.com
# Cruisehive.com
# Tripadvisor.com
# Visitgalveston.com

The travel specialists at TheBetterVacation.com use only high-quality sources while researching & writing their articles. We make every attempt to keep our content current, reliable and trustworthy.
Recommended Reading
1. Best cruises from Tampa
2. Best cruises from Miami
3. Best cruises from Port Canaveral
4. Best cruises from New Orleans