Blame it on Julia Roberts' movie Eat, Pray, Love or something else, now everybody wants to have a session at a life-changing meditation vacation in health and wellness retreat.
Businessmen, couples who want to re-ignite love, creative guys who want better output – all kinds of people are heading towards affordable meditation retreats all around.
This trend has already caught on in USA and Europe and is catching up in other countries as well.
Meditation retreats also referred to as health and wellness retreats, or wellness and spa retreats, or Yoga retreats.
All these different names doesn't mean there is much difference between them – they are all wellness retreats where you can take wellness vacations and detox yourself.
Some of these are affordable wellness retreats but most are luxury wellness retreats, do a double check on prices before booking your holiday.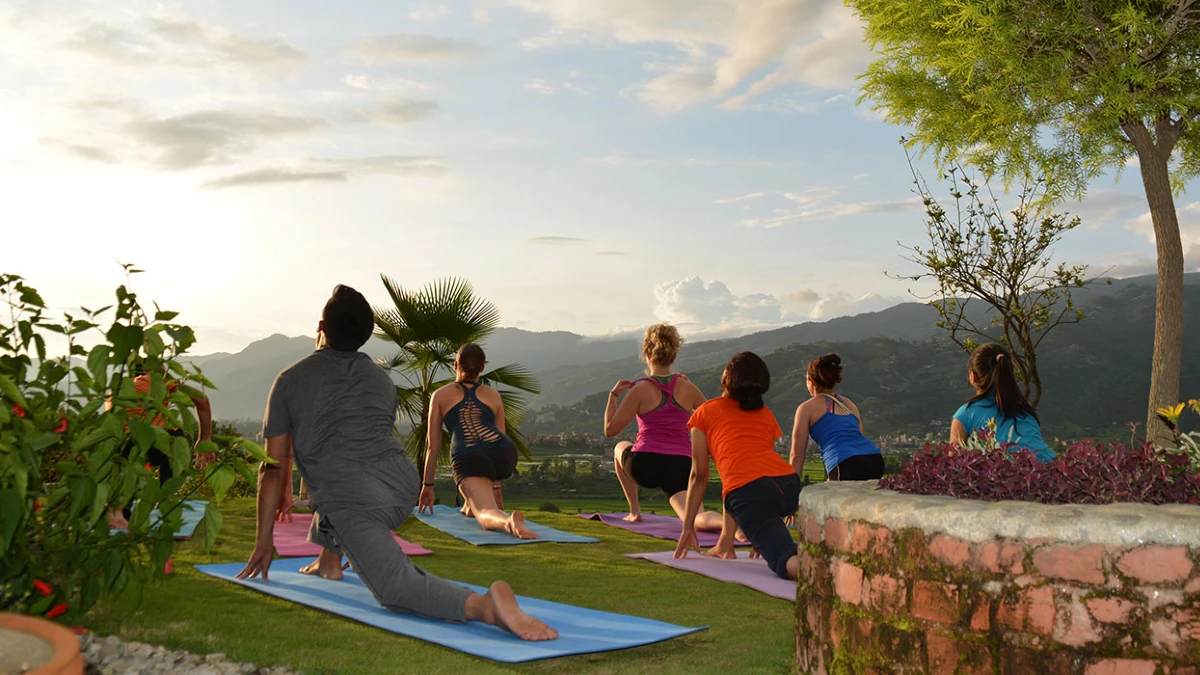 Vipassana Meditation Retreats
These are meditation retreats based on the foundation of Vipassana – meaning, retreats which help you "see things as they really are" for that's what Vipassana means.
Vipassana is a pre-Buddhist meditation technique that was popularized by Gautama Buddha more than 2,500 years ago.
As part of any Vipassana meditation, one has to observe one's breathing and then observe the body and these retreats have specialist gurus who help do just that.
There are various health and wellness retreats which follow the Vipassana meditation method and can help provide you a very positive wellness holiday.
Here are some of the best affordable Vipassana Meditation Retreats –
Dhamma Dhaja, Punjab, India
Dhamma Dhaja Vipassana Meditation center is near the Shivalik Mountain range and is situated in Punjab, India.
The first course at this meditation center is 10-days long. Once that's done, on your subsequent visits you can sign up for short courses of up to 1, 2 or 3 days. This is a very affordable retreat and works well for all kinds of budgets.
The objective of all these courses is to unfold the full potential of the student's life.
Dhamma Pattana, Mumbai, India
Dhamma Pattana – Mumbai, a meditation retreat par excellence, is built on a hill in Mumbai's northern suburbs. With a high placement, it offers excellent views of the Gorao beach.
This Vipassana meditation center is equipped with state of the art facilities and handles a lot of spiritual seekers every week. If you are struggling to cope with the stress of the corporate world, this retreat is a must visit.
Buddhist Meditation Retreats
Buddhist meditation retreats help you understand the ways of the Buddha.
You start off as a beginner expanding and experiencing Buddhism beyond the books you may have read and work your way to an advanced course.
These retreats are intensive and expect a lot of sacrifice from you and these advanced meditation courses can last anywhere from a few weeks to even three years.
You are more likely to find the Buddhist Meditation retreats in Asia, especially Tibet.
Here are some of the best affordable Buddhist Meditation Retreats –
Tushita, Dharamsala, India
Tushita Buddhist retreat is in Dharamsala, the seat in exile of His Holiness the 14th Dalai Lama.
It is a center for the practice of Buddhism from the Tibetan Mahayana tradition.
The hilly location gives it the serenity to make it a very effective Buddhist meditation retreat. Tushita is also a very affordable retreat.
Amaravati Retreat Center
Amaravati Retreat Center, is a Theravada Buddhist monastery situated at the eastern end of the Chiltern Hills in southeast England.
The monastery which also doubles up as a Buddhist meditation retreat is inspired by the teachings of the late Ajahn Chah, a Thai monk.
The objective of this retreat is to help develop mindfulness, to share spiritual teachings, and to contribute to the ecosystem.
Shambhala Mountain Center
Shambhala Mountain Center is situated in the Colorado Rockies and helps folks in paths of personal health, deepened awareness and transformation. They offer more than 100 different meditation programs per year. The accommodations at this retreat cut across all budgets – from luxury to affordable.
Spiritual Meditation Retreats
The definition of spirituality will vary from person to person so various kinds of wellness retreats fall under this category.
From the ones that provide intensive Reiki to the ones which just have a huge white hall where everybody meditates for at least 12 hours in a day – all of these fall under the spiritual meditation retreat category.
These spiritual meditation retreats have lots and lots of restrictions such as no mobile, no internet etc.
They also mean altering your food habits for the duration of your stay at the meditation retreat. Check out this slide show on meditation retreats on Travel & Leisure.
Here are some of the best affordable Spiritual Meditation Retreats –
Ashtanga Vinyasa Yoga Centre, Kerala and Karnataka, India
Ashtanga Vinyasa Yoga Centre has two centers – in Mysore, Karnataka and Varkala, Kerala – in India.
This center has a wide variety of spiritual retreat programs which aim to help in the spiritual development of the participants. The best classes are the ones held on the beautiful Varkala beach.
The highlight of this retreat is the three-week intensive course on Pranayama which is based on the power of breathing. This is an affordable wellness retreat, and hence attracts a lot of travelers from all over the world.
Siddhayatan Tirth & Spiritual Retreat
Siddhayatan Tirth & Spiritual Retreat is in Windom, Texas.
The objective of this spiritual meditation retreat is to help you become happier and healthier. Using spiritual techniques they aim to teach you to heal yourself, purify your mind, body and soul, and break away all that is holding you back.
Recommended Reading: Travel tips for first time travelers
Transcendental Meditation Retreats

Transcendental Meditation is the 15-20 minutes meditation anybody can do wherever they are.
The person sits down and closes their eyes so that the mind settles down and experiences a state of restful alertness.
Idea is to get into this state multiple times in a day and end up eliminating stress.
There are plenty of resorts that position themselves as Transcendental meditation retreats because it doesn't require a long commitment or expertise.
Again, these kinds of retreats are quite popular in USA and Europe and if you live in USA or in any European country, you will definitely find one within 1000 kms of your location.
Here are some of the best affordable Transcendental Meditation Retreats –
Transcendental Meditation's Home
Maharishi Mahesh Yogi is known as the father of Transcendental Meditation for he introduced it to the world more than 50 years ago.
Transcendental Meditation's Home, in Delhi, India is inspired by his teachings.
You can attend a free introductory talk and learn everything about Transcendental Meditation before you jump in.
The Meditation Trust
The Meditation Trust is a wellness retreat based out of Birchington, Kent, England which believes that Transcendental Meditation is the simplest and yet the most powerful and natural approach to meditation.
They run regular courses on various subjects some of which are personally taken by the Colin and Sue Beckley, founders of the Meditation Trust.
Silent Meditation Retreats
This has bit of an overlap with Vipassana meditation retreats, which also has silent meditation as one of its parts.
Silent meditation means not talking to anybody for long periods and to ensure that happens one has to meditate for at least 12 hours a day.
This is a very difficult type of meditation to follow.
Such retreats are small and cater to a niche clientele only.
Before you jump into a gruelling silent meditation holiday do read this first-hand account of how James Allworth's ten-day vacation at a silent meditation retreat was.
Here are some of the best affordable Silent Meditation Retreats –
Hridaya Silent Meditation Retreat, Mazunte, Mexico
Hridaya Silent Meditation Retreat is an affordable silent meditation retreat. T
heir best package is their unique 10-day immersion experience which integrates both meditation and yoga techniques.
The primary focus is on self-enquiry meditation so that when you leave the resort you know more about yourself.
This resort does not expect you to have any previous yoga or meditation experience for their programs are designed for beginners and advanced meditators alike.
Bali Silent Retreat, Bali
Bali Silent Retreat is both a yoga and silent meditation retreat.
This retreat is surrounded on the sides by Mt. Batu Karu, has lush rice fields, hot springs, and wild jungle all around making it a very peaceful silent meditation center.
This resort believes in practicing the 'Art of Nothing.'
Recommended Reading: Eating well and staying healthy in India
Meditation Spa Retreats

These are generally detox retreats where you can meditate and at the same time rejuvenate using the modern or ancient spa treatments.
This is of the less serious nature and most times gets mixed up with commercial or luxury retreats.
Some of the meditation spa retreats are known to mix both spa and meditation well and thus earn the label of a luxury meditation resort.
When it comes to luxury meditation resorts we strongly recommend wellness houses in India. For instance, Ananda in the Himalayas, in Uttranchal, India is an amazing luxury resort you should not miss.
As for best affordable Meditation Spa Retreats, here are two of our recommendations –
The Sattva, Rishikesh, India
The Sattva is an affordable health retreat. This spa retreat is 20 minutes outside of Rishikesh, India and helps in withdrawal from all kinds of stress.
The objective of this wellness retreat is to help the travelers in the discovery of Self.
Niraamaya Spa Retreat, Kovalam, India
Niraamaya Spa Retreat is a fine meditation spa retreat in Kovalam, Kerala, India.
This retreat offers timeless therapeutic traditions from across the world including Ayurveda to all its patrons.
Not to mention, authentic Thai and Western relaxation techniques and traditional Asian therapies like reflexology etc.
If you want to rejuvenate your body, mind, and soul this affordable retreat is second to none.
Sources

# Byrdie.com
# Bookretreats.com
# Vacayou.com
# Outlookindia.com

The travel specialists at TheBetterVacation.com use only high-quality sources while researching & writing their articles. We make every attempt to keep our content current, reliable and trustworthy.
Recommended Reading: Best spiritual retreats in the World