Woodland Park Zoo is one of the oldest zoos in the United States and receives more than 1.5 million visitors annually.
Seattle's most popular wildlife attraction spans 92 acres and houses more than 1,100 animals from different habitats and geographic locations.
In this article, we share everything you must know before buying Woodland Park Zoo tickets.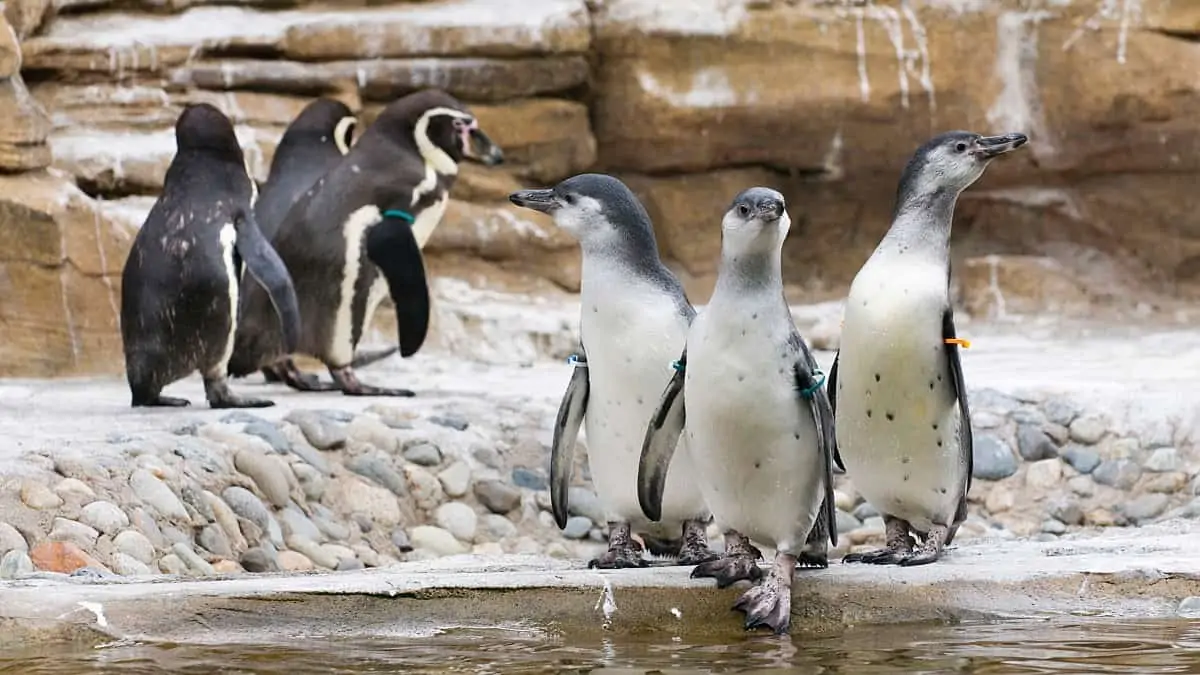 How to reach Woodland Park Zoo
Woodland Park Zoo is in the Phinney Ridge neighborhood of Seattle, Washington, about 10.5 km (6.5 miles) from the Downtown.
To get to Seattle's finest wildlife attraction, you can take North or South bound Metro Bus #5 to Phinney Avenue North and North 55th Street.
If you plan to drive to the zoo, it is best to fire up your Google Map and follow the directions.
Woodland Park Zoo parking
The Woodland Park Zoo has five parking lots – Otter, Bear, Penguin, Hippo, and Flamingo and the rates depend on the parking space's distance from the entrance.
Visitors parking in Otter, Bear & Penguin lots pay a higher rate of $6 for the first two hours and $2 for each additional hour.
The cost of parking in the Hippo & Flamingo lots further from the entrance is $4 for the day.
---
---
Woodland Park Zoo entrances
Woodland Park Zoo is at 5500 Phinney Ave. N., Seattle, WA 98103 and has two entrances.
West entrance
Admission to the zoo is through Woodland Park Zoo's West entrance only.
Access to the West Entrance is available through the Otter parking lot.
Visitors can access the Otter parking lot through the Penguin lot on Phinney Avenue North or the Bear parking lot on North 59th Street (see map below).
There are three separate lines at the West entrance – for ticket holders, for visitors without tickets (leading to ticket counters), and zoo members.
South Entrance
The South Entrance is located on N. 50th Street and accessed by the Hippo parking lot, near the African Savanna exhibit.
Right now, because of the Covid protocol, visitors can't get into the zoo from the South entrance.
Once the visitors have explored the zoo, they can exit from the West entrance, South entrance, or North gate (near the Historic Carousel).
---
---
Woodland Park Zoo hours
All through the year, Woodland Park Zoo opens at 9.30 am.
During the peak months of May to September, the zoo closes at 6 pm, and from October to April, it closes at 4 pm.
The last entry is one hour before closure.
The wildlife attraction remains closed on Christmas.
---
---
Best time to visit Woodland Park Zoo
The best time to visit Woodland Park Zoo in Seattle is around 11 am.
As the day gets warmer, the animals get more active and easier to spot in their enclosures.
When you start at 11 am, you can plan a lunch break in between to re-energize.
Weekends and public holidays see a higher turnout than weekdays.
If possible, choose a weekday for your visit to avoid crowds and queues.
---
---
How long does Woodland Park Zoo take
Woodland Park Zoo Seattle is spread over a large area, and families with kids tend to take around four hours to explore its animal exhibits, shows, and rides.
If you step into a restaurant in the zoo for lunch, you need one more hour.
If you are a group of adults, you can walk past all animal exhibits and experiences in 90 minutes.
---
---
Woodland Park Zoo tickets
Visitors can purchase their Woodland Park Zoo tickets online or at the zoo.
On-site ticket purchases are risky because only a limited number of tickets get sold from the zoo's ticket counters every day.
During peak seasons, you will also have to stand in long lines.
We strongly recommend you purchase your tickets online in advance of your visit.
Woodland Park Zoo reservations are timed, which means you must reach the zoo at the time mentioned on your ticket.
Timed ticket holders must enter at the West Gate located at 5500 Phinney Avenue North.
---
---
Woodland Park Zoo with CityPass
Seattle CityPass is a fantastic way to save as much as 45% on your ticket costs to five of the city's top attractions.
With the CityPass, you can visit Space Needle and Seattle Aquarium, and choose three more attractions out of –
Woodland Park Zoo
Argosy Cruises Harbor Tour
Museum of Pop Culture (MoPOP)
Chihuly Garden and Glass
Pacific Science Center
Cost of Seattle CityPass
Adult Pass (13+ years): $109
Child Pass (5 to 12 years): $84
Infants (up to 4 years): Free entry
---
---
Woodland Park Zoo animals
Woodland Park Zoo's 92 acres is divided into many bioclimatic zones, featuring different natural habitats.
This ensures that the 1100 animals of the Seattle zoo lead their lives as if they lived in the wild.
African Savanna
The African Savanna enclosure displays remarkable species of animals such as Lions, Giraffes, Hippos, etc., that live on these shrinking wild grasslands.
In here, visitors also see Zebras, Patas Monkey, and Ostrich.
Assam Rhino Reserve
Here, guests come face to face with the greater one-horned rhinoceros, one of the world's most illegally traded animals.
Here, visitors can also learn about the conservation efforts put in by the zoo.
In this exhibit, also look out for the Asian Brown Tortoise and Demoiselle Crane.
Australasia
The animals that inhabit the Australasia habitat include pouched mammals such as Wallabies and Wallaroos, the raucous Kookaburra, colorful parrots, and stately Emus.
At the Willawong Station, visitors can purchase a seed stick to feed small parrot species from Australia.
Don't miss the Snow Leopard's enclosure in Australasia.
Butterfly Garden
Butterfly Garden is home to around 500 free-flying butterflies representing at least 15 species native to North America.
Visitors love to walk around even as the beautiful butterflies fly freely.
Kids love to learn about the life cycle of butterflies.
At Pollinator Patio, adults can learn how to attract beautiful butterflies and other pollinators to their backyard.
The Butterfly Garden remains closed during winter.
Humboldt Penguins
Woodland Park Zoo is home to Humboldt Penguins, which come from Peru's hot, arid coastal regions.
The penguins' exhibit has a rocky coast with incredible underwater viewing through massive glass windows.
Living North West Trail
At this exhibit, visitors discover the wildlife of the great Northwest and learn how all humans are connected to nature.
Besides seeing animals such as the Gray Wolves, River Otters, Grizzly Bears, Porcupine, etc, you also learn about the conservation successes so far and the challenges up ahead.
Temperate Forest
Temperate forests are full of life, and that's what this exhibit at Woodland Park Zoo aims to achieve.
In the Temperate Forest, visitors see Red Pandas, Asian Cranes, Maned Wolves, etc.
Chilean Flamingos and Temperate Wetlands are also part of this enclosure.
Bug World
The Bug World is part of Temperate forests and houses the smaller life that crawls around us.
Besides seeing colorful beetles, hairy tarantulas, stinging scorpions, and a host of other creatures, visitors also learn about their life cycles and how they contribute to nature.
Family Farm
At the Family Farm and Animal Contact area, younger kids learn about the role farms play in our daily lives.
The excited kids love interacting with barn animals such as cows, goats, chickens, pigs, donkeys, etc.
Trail of Adaptations
In the Trail of Adaptations, visitors can see unique animals with fascinating lifestyles.
Here, you get to see animals such as Meerkats, Indian Flying Fox, Komodo Dragon, Sloth, Tamandua, etc.
Tropical Asia
The dense tropical forests of Asia hold some of the world's most endangered species.
The Trail of Vines is home to Orangutans, Siamangs, and Tapirs, while the Banyan Wilds houses Tigers, Sloth Bears, Asian Small-clawed Otters, and many birds.
Tropical Rainforest
The Tropical Rain Forest zone of Woodland Park Zoo mimics the forests of both South America and Africa.
Some of the animals you can see in the outdoor enclosures include Lemurs, Gorillas, Colobus Monkeys, and Jaguars.
The indoor Tropical Rain Forest dome showcases South American birds, Ocelots, Snakes, Poison Dart Frogs, etc.
Watch Videos: In the Animal Spotlight Series, zookeepers share everything about your favorite animals, such as Tigers, Giraffes, Red Pandas, etc.
---
---
Zoomazium – indoor nature play space
Zoomazium is an indoor attraction with fun, interactive nature-themed areas devoted to play and learning.
Even though the Zoomazium is designed for kids up to eight years, all are welcome to join in.
The building has functional spaces for exploratory play, a stage for theatrical demonstrations, storytelling, puppet shows, and video presentations, and a Project Place for guided learning.
Kids especially love exploring the mountain cave, crossing the rope bridge, discovering what's beneath the savanna water hole, and climbing a 6 meter (20 feet) tree.
---
---
Animal carousel
Woodland Park Zoo's carousel was first constructed in 1918 and is now more than 100 years old.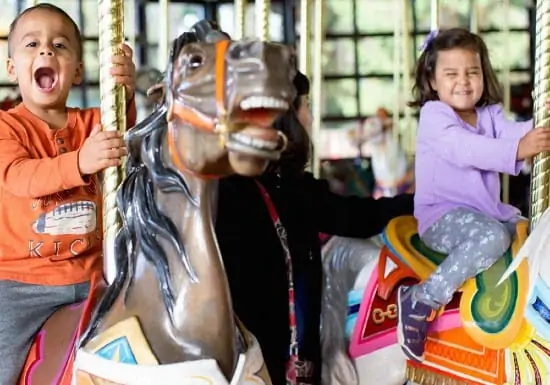 Before the carousel got installed in the Seattle zoo in 2006, it operated at the Cincinnati Zoo and the Great America Theme Park in Santa Clara, California.
The carousel features hand-carved horses and two chariots.
Image: Zoo.org
The colorful merry-go-round is popular with both adults and kids and completes an average of 100,000 rides per year.
---
---
Rose Garden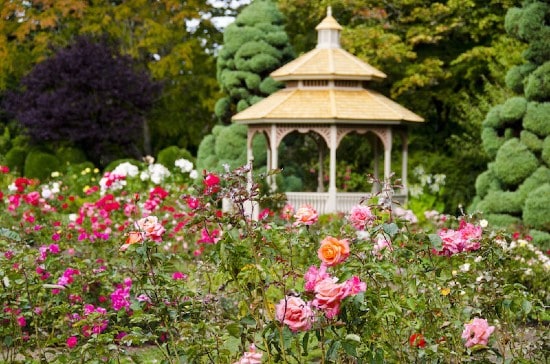 Woodland Park's Rose Garden is 2.5 acres of landscaped area with almost 3000 roses representing over 200 different varieties.
It is open from 7.30 am until dusk every day of the year, and there are no tickets to enter.
Image: Zoo.org
Woodland Park's Rose Garden is an excellent place for flower lovers, and the locals frequent it.
---
---
Map of Woodland Park Zoo
With more than 1100 animals on 92 acres to be explored, carrying a Woodland Park Zoo Seattle map is highly recommended if you are visiting with kids.
With a map handy, you won't waste time finding your favorite animal enclosures, and in the process, get exhausted.
Besides helping in navigating the habitats, having the Woodland Park Zoo's layout, also helps identify visitor services such as restaurants, restrooms, kids parks, souvenir shops, etc.
You can either download the map or bookmark this page for later.
During the Super Snack Time program, Woodland Park Zoo live streams exciting moments from the lives of its unique animals.
---
---
Food at Woodland Park Zoo
Woodland Park Zoo has three major restaurants serving good quality food and drinks.
1899 Grove is on the main loop path across from Zoomazium, formerly known as Rain Forest Food Pavilion.
It has indoor and outdoor seating, and if you prefer, they pack it to go as well.
Gather & Graze Cafe is seasonal and is across from the Wildlife Theater. It opens only during the peak summer seasons and closes for winter.
The Wild Cup coffee cart is near the Education Center and across from the African Savanna.
There are many other food and drink kiosks available throughout the Woodland Park Zoo during regular hours.
Sources
# Zoo.org
# Wikipedia.org
# Tripadvisor.com
# Holidify.com

The travel specialists at TheBetterVacation.com use only high-quality sources while researching & writing their articles. We make every attempt to keep our content current, reliable and trustworthy.