Nashville is a vibe, an experience that every couple will enjoy being a part of. The thriving music scene of Nashville makes it a top holiday destination for couples looking to have a good time.
If you're an avid country music listener, Nashville is the best place to explore and experience live music, explicitly speaking of the bluegrass genre. 
The food scene is not anywhere behind. There is a long-lasting culture amongst romantic couples who visit Nashville; it's none other than trying out the hot chicken.
Every restaurant has its unique recipe for hot chicken. You will also find a delicious meal called Meat & Three, a favorite of visiting romantic couples. 
Iconic places like Grand Ole Opry are a must-visit, given the music culture it shares. Hank Williams and Loretta Lynn made their significant recordings here. 
This article shares 15 fun couple things to do in Nashville.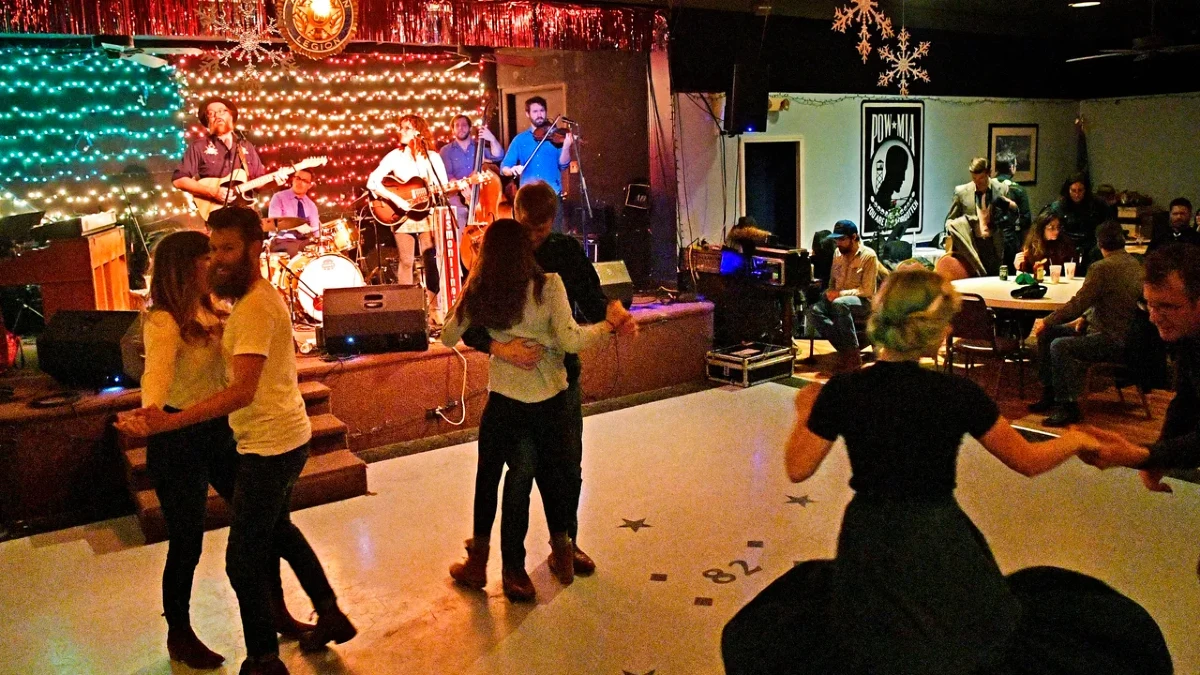 Book a Grand Ole Opry Show Ticket
One of the top couple things in Nashville is visiting Grand Ole Opry. The iconic music theatre is the heart of the Music City. 
This place is home to many iconic country legends and will keep you in the best spirits. 
You can witness a live performance featuring your favorite country and bluegrass songs from the comfort of your theatre seat.
The major highlight of this show is that it includes various music genres to incorporate music lovers of all genres. There will be a smooth transition from the country blues to the steel rock sessions.
---
---
Explore the Country Music Hall of Fame
The Country Music Hall of Fame and Museum is the real deal when exploring the roots of American music. There is a wide variety of music-related displays which will catch your attention.
Visiting this iconic museum is one of the top couple things to do in Nashville as you learn more about country music's history and roots. 
The entrance hall, known as the ornate Hall of Fame rotunda, stands out in aesthetics. It's decorated with black and white notations of music.
The museum's core exhibition, Sing Me Back Home: A Journey Through Country Music, takes you back to when the sounds and musical concepts first evolved.
---
---
Have a memorable Pontoon Party Cruise
Being romantic love birds, one of the best things for couples in Nashville is going for a Pontoon Party Cruise with a Captain. 
The Captain will guide you as you cruise down the Cumberland River. The tour lasts about 2 hours, and you will have had a great time together by the end of it.  
The bar-style atmosphere of this place, coupled with the option of bringing your drinks and beverages, makes your Pontoon cruise memorable.
When the Honky Tonka on the water takes you for the ride, the music and games will elevate your holiday spirits. You can booze off a little. After all, it's a party.
---
---
Go for a Downtown Segway Tour
Segways are great transportation systems that allow romantic couples to spend a lovely time with their loved ones while capturing the stunning sights of Nashville.
Your 2-hour Downtown Segway Tour will start with a 30-minute training on how to ride the segway. 
As you take the tour, you can see various landmarks, such as Bridgestone Arena, Fort Nashborough, Bicentennial Mall, Farmer's Market, and the Tennessee State Capitol. 
You will be given an earpiece to communicate with your guide easily. As you keep touring, you will always see the rich music scene that keeps this place alive.
---
---
Go on a Hop-on Hop-off Trolley Tour
Do you love traveling by bus to catch the exquisite sights of Nashville? If yes, this Hop-on Hop-off Trolley Tour is the best option.
The local guide will narrate all the exciting history, culture, and places of interest so that you and your sweetheart enjoy the whole tour while learning about its iconic attractions.
Glancing through the roads, you can see the Grand Ole Opry, Ryman Auditorium, and the Blue Bird Café, the top centers for country music.  
You can capture other exciting sights from the bus: the Country Music Hall of Fame and Museum, the Parthenon, and the Bicentennial Capitol Mall.
---
---
Get on the General Jackson Showboat Dinner Cruise
You've probably heard of Tenessee whiskey.
The drink is that addictive; Chris Stapleton composed a beautiful song out of it. Music sinks deep within your heart when you take a dinner cruise down the Cumberland River, Tennessee. 
You also get to view the beautiful skyline of Nashville as the sun sets and the night comes to life.
General Jackson's Showboat Dinner Cruise offers you the luxury of a dinner cruise matched with quality food, music, and entertainment.
The tour lasts for 4 hours. As you see through the beautiful landscapes of Nashville, you can also feast on a grand dinner in the beautiful Victorian Dinner Theater.
---
---
Get drunk at The Ville All-Inclusive Pub Crawl
Drinking through Nashville is a great way to explore and have fun. The Ville All-Inclusive Pub Crawl offers just that.
The drinking tour starts in the historic Printers Alley at a bar, namely Alley Taps. You can try out a custom Nashville Craft Beer here, famous for its unique essence. 
Your local guide will then take you to Broadway, the hub for all cocktail and music lovers. You can have some magical moments with your sweetheart by going to a cocktail drinking competition.
You will receive a fanny pack souvenir upon finishing the tour.
---
---
Travel back in time at the Ryman Auditorium
All the magic of Nashville begins with the iconic Ryman Auditorium self-guided tour. You're in for a ride if you're a bluegrass fan, as the genre was born here a few centuries back. 
Visiting the Ryman Auditorium is one of the top things for couples in Nashville. 
Learn about the history of your famous bluegrass players, such as Johnny Cash, who was among the first to introduce the genre. 
The 'Soul of Nashville' is a multimedia experience for a great lesson in Ryman Auditorium history. The event features stars like Vince Gill, Sheryl Crow, and Darius Rucker.
---
---
Give yourself shivers at The Haunted Ghost Tour
Do you want to make your romantic vacation spooky? The Haunted Ghost tour will ensure you get some shivers from the stories and tales of the forgotten past of Nashville. 
Local guides who have been in Nashville for quite a while know all the hither and tether of the place and the daunting historical landmarks.
You have to visit Broadway to experience the ultimate nightlife of the place. Don't be afraid when your local guide tells you about a ghost found in the name of Hank Williams.
Also, listen to the fabulous stories of the ever-iconic Ryman Auditorium, home of the Grand Ole Opry radio show. 
---
---
Take a heli tour of Downtown and Music City
A helicopter tour of Downtown and Music City is for couples who want to explore the entirety of Nashville within 30 minutes. 
As you ride through the sky, take breathtaking views of the Cheekwood Mansion and the rolling hills of Tennessee.
The helicopter offers climate-controlled leather seats to keep you in the best conditions. Click snaps of the iconic skyline and unique attractions in Nashville to have some memorable moments.
Sites such as Ryman Auditorium, Bridgestone Arena, Music Row, the Parthenon, etc., are great places to explore from the aerial view. 
---
---
Gain insights at Museum of African American Music
The National Museum of African American Music will give you many insights into how African American Music took place in Nashville.
The featured exhibits will tell you about your favorite artists' history and cultural impacts. The museum has artifacts comprising 50 music genres and styles.  
Blues, jazz, gospel, R&B, you name it, and the museum has all the popular genres' details.
Every gallery presented here has a unique story to tell. Famous speakers such as Robert F. Smith also impart special educational lessons to passionate music lovers.
---
---
Treat yourself on a Donut Tour
Downtown Nashville is full of tasty eateries and beverage shops. That's precisely why a donut-tasting session is one of the top things for couples to do in Nashville. 
You can treat your loved one to different varieties of donuts, such as glazed and cream-filled. A local guide will take you to the best donut outlets in town, where you can do all the tastings. 
Learn how the donut tradition was passed on from generation to generation. Parlor Doughnuts, Rise Donuts & Biscuits, and Donut Distillery are some of the favorite donut outlets here. 
---
---
Relax with Jack Daniel's Hometown Experience
Having a cup of Tennessee Whisky is one of the fun couple things to do in Nashville. That's why you need to drive through the whisky outlets of Lynchburg.
The town instantly strikes a chord with you, given its friendly treatment of romantic couples. Do nothing during the day but relax at local Whisky shops for memorable times with your sweetheart. 
Lynchburg offers you top-quality whiskey and showcases beautiful scenery amongst the Tennessee hills. 
Jack Daniel's Distillery Tour and Hometown Experience are one of a kind, promising many adventures to those who love drinking whiskey. 
---
---
Go for a hike at Forest Hills
Every romantic vacation becomes complete with a hiking tour. Forest Hills is a great place for hikers who wish to explore Nashville's parks.
The Radnor Lake that runs along the mainstream of Forest Hills features more than ten hiking trails. Each trail has difficulty, and you must be in your best game to hike through. 
You might be lucky enough to spot a white-tailed deer or a beaver amongst the diverging lands of Forest Hills.
You can also spot some wildlife at Warner Parks, famous for its trails and picnic spots. A bikeway extends 1.5 miles from Percy Priest Elementary to Radnor Lake.
---
---
Sample wine at Belle Meade Plantation
The Belle Meade Plantation is a trademark visiting place for romantic couples in NashvilleIt is a 30-acre historic site, museum, restaurant, and Winery in Nashville, Tennessee.
The plantation has some interesting items, such as the original 1790s Dunham's Station, an 1826 smokehouse, an 1870s children's playhouse, an 1884 dairy house, and an 1892 carriage and stable house.
It was not until 2009 that the first Winery was opened in Nashville. Now the place is soaring with top-quality wines that make people return here now and then. 
You can explore the beautiful grounds of the Civil War embraced bullet holes in the mansion's columns, giving you a fascinating feel of the place.
Best romantic destinations for couples