New Orleans is all about living the ultimate experience. Couples who would love to party hard, ease on cocktails and listen to some of the finest jazz are on for a ride in New Orleans.
The air around New Orleans has a distinctive scent, owing to local delicacies' sweet and smoky spices. The mouth-watering delicacies of the local foods are meant to savor your taste buds like any other.
Frenchman street in New Orleans is a famous party spot for couples who would like to taste and experience indigenous cocktails such as the rum-infused Hurricane cocktail.
Jazz music lovers would love how the musicians in this arena play incredibly soft and chill jazz tunes that make the atmosphere vibrant.
All of New Orleans is crowded with the nation's lovers, some dancing on their feet, others enjoying the nightlife scene, and the rest who want to explore the city.
In this article, we'll cover 15 fun things that couples in New Orleans would love to do.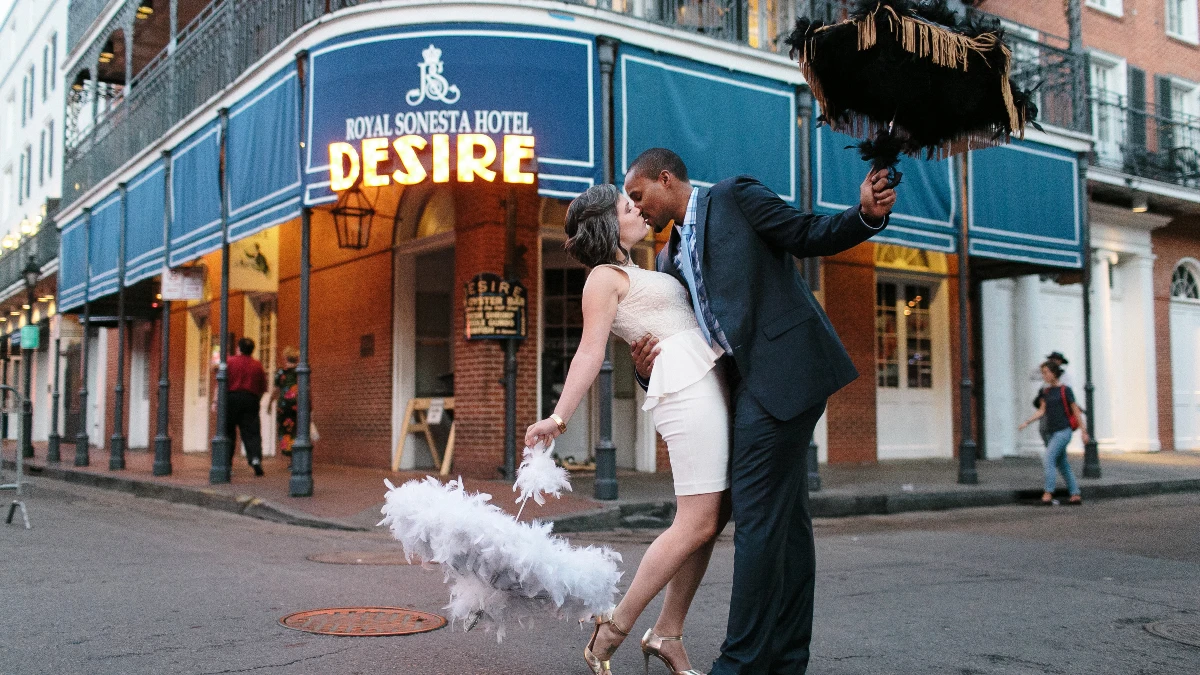 Visit French Quarter
French Quarters is one of those places you'd never wish to leave, thanks to the incredible aura it carries along. Locals of New Orleans seem to have made it an entertainment hub for centuries together.
It was founded in 1718, and ever since, this place has become a tourist attraction. Many historic buildings, gardens, and wine shops will capture your attention.
Jackson Square has become one of the finest party spots, with jazz musicians, street performers, and other artists creating a vibe in this place.
Some of the city's oldest structures can be seen besides Jackson Square. The Louis Cathedral is a famous spot and archaeological site distinguished for its unique Rococo-style altar and stained glass windows.
The French Quarter is ever renowned for its local foods and dining facilities. Cafe du Monde is a grand cafe near Jackson Square specializing in café au lait and beignets.
---
---
Explore the music scene at Bourbon Street
Bourbon Street captures the heart of all those who set their foot there. It is a lively place for romantics couples who would love to explore mainstream New Orleans.
The music scene is rich here, with some of the world's finest artists showcasing their musical skills. Jazz, blues, RnB, you name it, and the musicians are everywhere.
The Fritzel's European Jazz Club is a luxury club on Bourbon Street where you can listen to your favorite music tunes played live.
Galatoire's Restaurant, founded in 1905, is a trending restaurant site where the French Creole cuisine can be tried out. The glimmer and glamour of the place are seen during nighttime when the lights come up.
---
---
Relax at New Orleans' City Park
New Orleans' City Park is a famous destination for couples who want to relax and stroll down the park with their loved one.
The park is much larger than that of New York's Central Park. Throughout the park are shades of green, live oaks, and wildflowers, creating a fantastic spectacle for couples.
The park houses many other attractions such as the New Orleans Museum of Art, Carousel Gardens Amusement Park, a Botanical garden, and a golf complex.
After enjoying the park's beautiful scenery, you can take your loved one to the Carousel Gardens Amusement Park, where both of you can have a splendid time taking on 18 thrilling rides.
---
---
Spend quality time at New Orleans' Botanical garden
Once you and your loved one have spent some quality time at the City Park, it is time to feast your eyes on the fabulous flora all over the Botanical garden within City Park.
There are about 2000 varieties of plants in the Botanical Garden, surrounded by mature live oaks. Upon further wandering around the garden, you will encounter a newly established conservatory.
The conservatory is famous for the hanging vines and descending waterfalls, creating a memorable experience for your loved one. It is a great place to learn more about the indigenous flora and fauna.
Another famous attraction is the New Orleans Historic Train Garden. This is where the music comes alive and takes everybody to a serene and peaceful state of mind.
---
---
Dive into the country's past at The National WWII Museum
It is great to know the history of the country to appreciate the freedom that modern Americans experience truly.
The museum features stories of the leaders and soldiers who fought during the great battle of WWII and how they were able to emerge as a superpower succeeding the war.
Ranging from exhibits and artifacts to oral communication, you can choose from various ways to learn about the country's history.
Once you get to know the country's history, you and your partner will truly understand the value of freedom.
---
---
Hover arounds the streets of Bayou Saint John
Discovering the streets of Bayou Saint John is one of the best couple things to do in New Orleans as you hover around the shops and restaurants in the area.
Once you have explored the place, you can take your sweetheart for a kayaking experience down the Canoe on Bayou Saint John.
Now coming to the food and beverages section, you and your partner can enjoy a tasty breakfast meal at Lamara Coffee & Kitchen for homemade organic food, coffee, tea, or smoothies.
There are many historical sites in this area, including the 1799 Pilot House, the Edgar Degas House, and Le Musée de f.p.c.
When the sun goes down, you will be able to glance at a beautiful view, creating the perfect contrast for a romantic vacation.
---
---
Book a show at The New Movement
Here at the New Movement, you and your loved one can have some light times, listening to the jokes of renowned comedians. The Show is all about making you laugh to your belly.
The Show gets maximum participation during weekends with prolific comedians nailing a joke every 30 seconds.
Tickets just cost about $10, and you have a comfortable seat to become fully active during the Show.
A patio bar serves snacks and cocktails to give you the best experience when watching the Show. You can also learn how to do standup comedy by signing up for the improv workshops.
---
---
Go wild at Blaine Kern's Mardi Gras World
Dressing up in your favorite Disney character's costume and going wild at Mardi Gras World is one of the fun couple things to do in New Orleans.
You can choose from various extravagant costumes and props during the festive season, giving you all the freedom to express the childlikeness within you.
A single tour lasts for about an hour. This also includes a 15-minute presentation video. You can then munch on some snacks and the famous New Orleans coffee to become fully energized.
Mardi Gras World is also famous for making floats. Renowned artists become busy making stylish floats and sculptures of your favorite Disney characters during the festival.
---
---
Go for a Steamboat Natchez boat ride
How grand would it be to take your sweetheart for a cruise down the Mississippi river? The Steamboat Natchez ride is just the ride that both of you will need to explore this gigantic river.
The Steamboat NATCHEZ is a one-of-a-kind, authentic boat that offers luxurious amenities. Many claim that this steamboat is the best for a ride on the Mississippi River.
Daytime, as well as nighttime cruises, are the best times to board the boat. You can enjoy live music, delicacies, and indigenous drinks as you ride across the river.
You can book weddings and private parties by contacting the people who run the boat. Let it be a toast outside in the river.
---
---
Spot your favorite animal at Audubon Zoo
Audobon Zoo is home to many animals, keeping them safe and in total health. The Zoo came to life in 1884 and was subsequently transformed into a habitat for predators of all kinds.
The park spans 58 acres, ensuring that the animals have the freedom to go from one place to another.
The most featured animals in this park include elephants, the Komodo dragon, and a white tiger from California.
The Zoo always surprises visitors with various animals turning out at varied timings. One day, you might spot an orangutan, but you might see a bear the next time you visit.
Monkey hill is a landmark that attracts couples to look at the highest topological point in New Orleans.
---
---
Kayak through the Manchac Swamp
A kayak tour across the Manchac Swamp in New Orleans is one of the fun couple things to do in New Orleans. The swamp makes it a challenge to kayak through the waters.
However, you will be assisted with local kayaks if you need help. Both you and your loved one can witness the dense cypress forests and expansive wetlands home to many creatures.
The duration of a single kayak is 2 hrs. You have quality time to have fun with your loved one by occasionally pointing out animals, birds, reptiles, and other landmarks.
You will be transported from the French Quarter for just $20 and subsequently wait for some time before the real fun begins.
---
---
Relax with a couples' massage
After having explored a few places, your body and mind need rest. New Orleans has one of the best Spa treatments in America.
NOLA Bliss Massage is an ideal place where you and your sweetheart will get a full body massage.
The experts here know everything about Spa treatment, and they will make sure you're composed and relaxed. You can choose from various massages such as deep tissue massage and Swedish massage.
Other massaging centers such as Belladonna and Earthsavers offer professional services ranging from skincare and body treatment to facial.
Once the full body massage is over, you will feel as fresh as you were never before. That's what the Spa treatment in New Orleans is all about.
---
---
Go for a coffee date at Café du Monde
Take your sweetheart for a coffee date, and you'd have won her heart. With Cafe du Monde's iconic coffee, there is no way she is going to disapprove of it.
Dark roasted Coffee and Chicory, White, and Chocolate milk are the primary servings.
The year 1988 saw the introduction of the iconic Iced Coffee which is another form of cold coffee. Soft drinks have also become a part of the menu ever since.
A special item called the beignets, square-shaped doughnuts sprinkled with powdered sugar, is a natural hit among those who drink their coffee here.
This shop has been running in New Orleans ever since the year 1862 and until today it has been serving delicious snacks and coffee for romantic couples.
---
---
Sail Lake Pontchartrain at Sunset
Sunsets are often the occasion for romantic couples to get together. At Lake Pontchartrain, the sunset is vivid and clear, making it one of the fun couple things to do in New Orleans.
The levee that encamps around the south shore of Lake Pontchartrain is a famous spot for couples who'd like to see the sunset from a good viewpoint.
All it takes is a couple of minutes to reach this spot from mainstream New Orleans. You can also take your loved one to the shell beach and do some fishing.
While some like to see the sunset from the levee, you can see the sunset by sitting on the grass or maybe even walking across the city.
---
---
Visit Marigny Neighborhood
Marigny neighborhood is just a couple of minutes away from the French Quarter. You can see the other side of New Orleans at this place.
You will see the houses of many artists and musicians lined up across the streets of Marigny. Go down the lane to ST Roach market to grab a bite with your life partner.
Along the streets of Marigny, you will find a musical hub where artists are jamming on a live session. Known as the Music Box Village, you can enjoy the orchestral shows.
Black box theatre at NOCA is another famous attraction for theatrical plays and drama. The place is just a mile ahead from the French Quarter.
Best romantic destinations for couples