Communist Cuba is one of the most popular Caribbean holiday destinations for travellers from both developed and developing countries. In fact, popular hoteliers whom tourists the world over love for their hospitality – Riu, Iberostar, Melia – have built five-star, luxury holiday resorts in Cuba.
Cuba already hosts more than 2 million holidaying tourists every year – just that none of these is an American citizen. Thankfully, citizens of US won't be subjected to this bias anymore because the Obama administration has gone easy on the 50-year-old embargo. As a result any American citizen or person staying in USA can visit Cuba.
There are two things that will still apply to aspiring American citizen travellers who want to go to Cuba:
Restriction 1: A US Citizen can only travel to Cuba with a Cuba travel Agency that has an official license from the US State Department. For example agencies like Insight Cuba or Central Holidays
Restriction 2: Your holiday (or travel) to Cuba can only be limited to activities which bring the people of the two countries together. That is, as an American citizen you can travel to Cuba and see museums, historic sites, architectures etc but you can't visit the beaches or places where you can just idle around.
If you are an American citizen and want to visit Cuba for an unrestricted holiday even today the only way out is the illegal Cuba tourism, which has been going around for some time now.
How illegal travel to Cuba works
If you have the travel bug, you do know that many US citizens do travel to Cuba illegally. Many Americans fly to a third nearby country such as Mexico or Canada and use the Cuban tourist card, which is available at all airports in these countries to enter Cuba. With this approach, the only restriction a US citizen needs to keep in mind is that he/she shouldn't overstay beyond the 30 day period. Interested? Google for a company called CubaLinda, and ask them to book your flight tickets to Cuba.
Problems of traveling to Cuba illegally
There are numerous problems a US citizen can face if he/she travels to Cuba illegally. We have listed the most important ones below:
1) If the US Customs catches you travelling to Cuba illegally, clearing U.S. customs could become a big issue for you.
2) U.S. debit and credit cards won't work in Cuba and as a result you will have to carry cash, which is risky.
3) Since you are carrying cash, you will have to convert your dollars into "special" Cuban pesos and then convert these "special" Cuban pesos into the normal Cuban pesos. Thus, making you lose a lot during the conversion.
4) There is no U.S. embassy in Cuba and this means that if you get into trouble the US Government can't help you.
Security advice for American citizens traveling to Cuba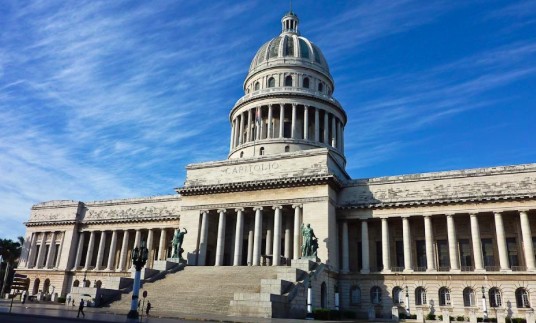 The environment in Cuba is much better than what it used to be – it is now stable and secure enough for Obama to lift the 50-year-old travel restrictions on Cuba. A lot of this stability is possible because of the huge presence of military and police on the Cuban roads – so expect to see them when you enter Cuba. In the past there used to be demonstrations against United States, so we recommend keeping a low profile during your travels within Cuba. Though the local demonstrations against the government have come down, the trick is to avoid them in case you come across any.
We also recommend you don't do anything in Cuba which you wouldn't attempt to do in USA. Cuba is known to detain U.S. citizens (this applies to people from any country) on suspicions of engaging in activities, which were aimed at undermining Cuba's security. In 2011, one such US citizen was captured and given a long sentence after just two days of trial – so be very careful about what you say and do when in Cuba. We strongly recommend that before travelling to Cuba every American citizen gets the latest security update from the toll free number: 1-888-407-4747.
What American citizens need to make a legal entry into Cuba
So what does a US citizen need to travel to Cuba? Just the below mentioned:
Passport: Your passport must be valid at the time of entry into Cuba.
Blank pages: Your passport must have at least two blank pages for entry and exit stamps while you travel to Cuba.
Vaccinations: You don't need any specific vaccinations when travelling to Cuba.
Spending Limits: There are spending limits, which you need to observe when in Canada. Visit the US Department of Treasury's website for more details.
Currency you can keep while exiting Cuba: Cuban convertible pesos can't be taken out of the country, whatever be the amount. This is not specific to American citizens alone but applies to people from all countries. However, travellers to Cuba may get $5000 out of the country without any problem.