Enter a world of perplexing optical illusions, mind-boggling riddles, and reality-defying experiences at Vienna's fascinating Museum.
At the Museum der Illusionen, discover more than 70 exhibits that give you new perspectives.
The Illusions Museum in Vienna is one of Austria's top 15 tourist attractions.
This article shares everything you should know before you book Museum of Illusions tickets.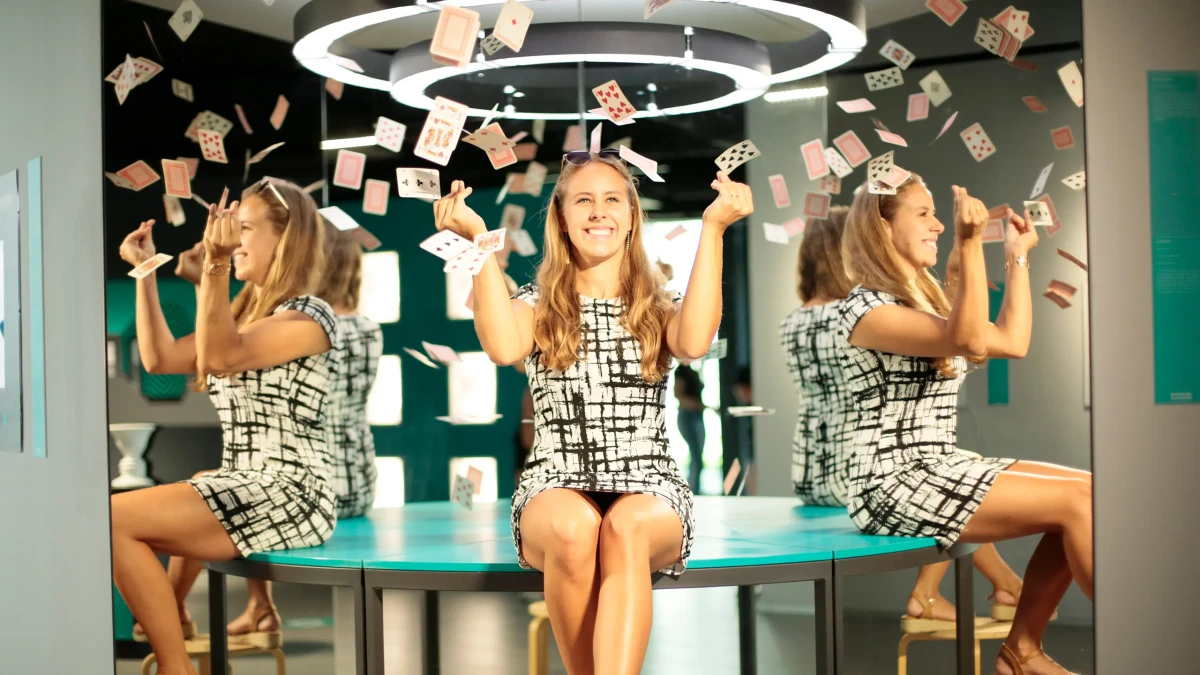 What to expect
Step into the swirling cylinder of the Vortex tunnel in the Vienna Museum of Illusions, which will give you the sensation of spinning, even if you are standing on a perfectly solid surface.
Take images of seemingly impossible postures in the Upside Down Room, and deceive your friends with a picture of the legendary Head on the Platter illusion.
In addition, the Museum includes a plethora of illusions, games, and puzzles that will entertain and trick your mind.
Immerse yourself in the world of illusions at the Museum of Illusions Vienna.
---
---
Museum of Illusions ticket
Where to buy Museum of Illusions tickets
You can buy Vienna's Museum of Illusions tickets at the attraction or online.
However, we suggest you book your tickets online as it offers you a few benefits like:
– You get a discount on booking tickets online, which means you can save money.
– You don't have to travel to the attraction to buy tickets and sweat yourself standing in long queues.
– You can book your tickets in advance and plan your tour accordingly.
– Sometimes, the tickets get sold out quickly. However, if you purchase tickets online, you can avoid last-minute disappointments.
How online ticket works
Go to the Museum of Illusions ticket website, select a preferred date and number of tickets, and book the tickets immediately.
After booking, the tickets will be emailed to you.
On the day of your visit, go directly to the entrance and scan the barcode of your smartphone ticket at the cash desk.
You need not carry any ticket printouts as the museum accepts smartphone tickets.
Ticket price
Adult ticket (19+ years): € 14
Child ticket (5 to 18 years): € 10
Seniors ticket (with valid ID): € 12
Student ticket (with valid ID): € 12
Guests with special needs ticket (with valid ID): € 12
You can use the ticket any other day if the queue is too long.
---
---
How to reach the Museum of Illusions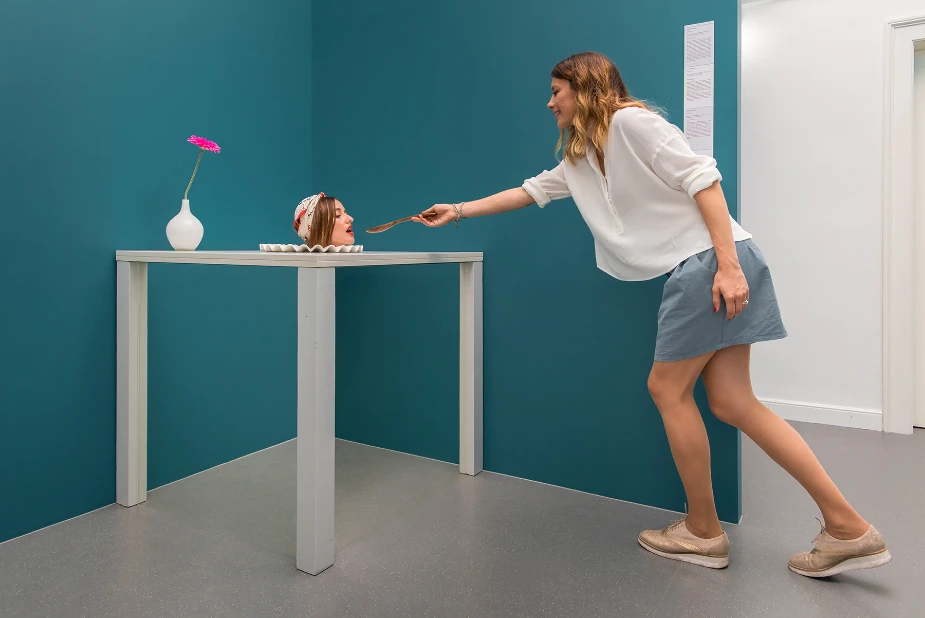 Address: Wallnerstraße 4, 1010 Wien, Austria. Get Directions
The Museum of Illusions in Vienna is accessible by both public and private transportation.
By Subway
You can take the U3 line to Herrengasse subway station, located just 3 minutes walk away from Museum der Illusionen.
You can also take the U1 and U3 lines to Stephansplatz subway station, a 5-minutes walk from the Museum of Illusions.
By Tram
The tram network in Vienna is one of the biggest in the world, so it's better to use it to arrive at the Museum of Illusions in Vienna.
You can take tram lines 1, 71, D, and U2Z to Rathausplatz, Burgtheater, a 9-minutes walk from the Vienna Museum of Illusions.
By Bus
If you are traveling from Graben, Petersplatz, which is 260 meters from the Vienna Museum of Illusions, you can board 1A and 2A buses.
If you are near the Habsburgergasse bus stop, you can easily access bus 1A.
You can also take bus 1A or 2A from the Herrengasse U bus stop, just 150 meters away from the Museum.
You can board the same buses from the Michaelerplatz bus stop, a 3-minutes walk from Illusions Museum.
If you are near Teinfaltstraße, you can easily take the 1A bus to the Museum der Illusionen.
At a distance of 650 meters from the Museum, there is another bus stop Rathausplatz, Burgtheater, from where you can take N25, N38, N60, and N66 buses.
By Car
If you are driving to the Museum by car, then Google Maps can help you with easy navigation.
Car Parking
There are multiple parking places near the Museum of Illusions in Vienna.
These are open throughout the day and charges per hour are nominal.
---
---
Museum of Illusions timings
Vienna's Museum of Illusion is open every day.
The museum operates from 10 am to 6 pm during the weekdays and 10 am to 7 pm on weekends.
The last entry is one hour before the closing.
How long does the Museum of Illusions take
The Museum der Illusionen tour typically lasts about 1 hour.
However, you can explore the Museum for however long you like.
Best time to visit the Museum of Illusions
The Vienna's Museum of Illusions is at its best when it initially opens at 10 am.
If you can't make it in the morning, the next best time is 3 pm.
You can escape the crowds and still have three hours to explore before it closes at 6 pm.
What to see at Museum of Illusions
If you want to enjoy something unique apart from Vortex Tunnel, Head on the Platter illusion, and Upside Down Room, then Museum der Illusionen is worth visiting.
Here are the must-see exhibits and rooms at the Museum of Illusions, Vienna.
Photo Illusions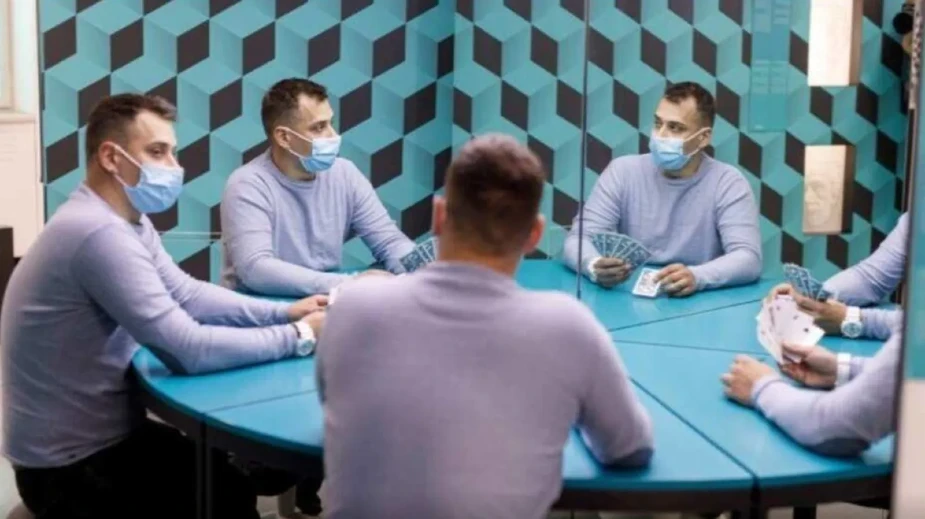 At Photo Illusions, you get face-to-face with captivating images that will blow your mind.
The photos will play a trick with your eyes – the image looks different with both eyes and just one eye closed.
Holograms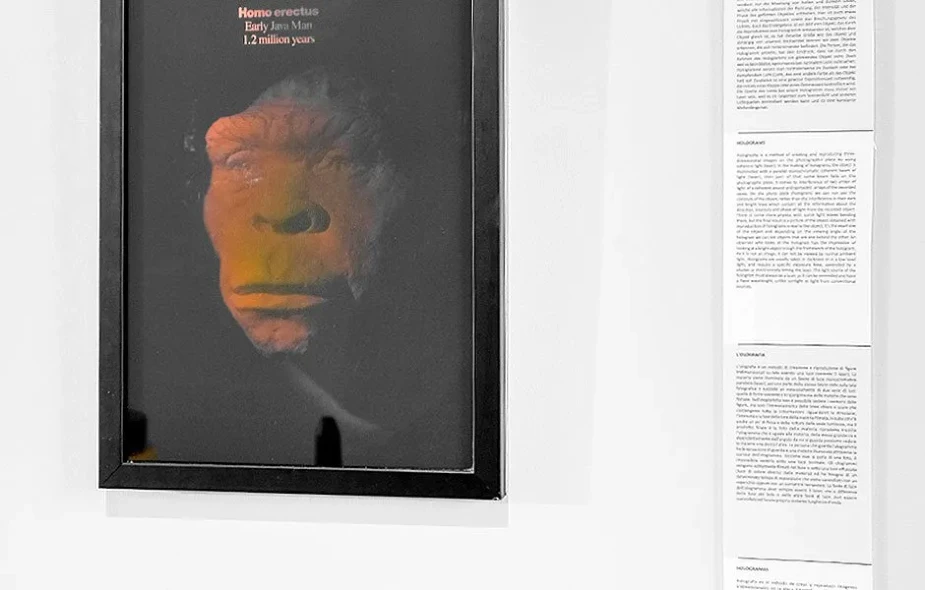 Holograms are incredible visuals that generate 3D illusions.
They are already there in our daily lives in simpler versions, on bank notes and credit cards, but at the Museum of Illusions, you get to see a new version.
You will find the story of evolution told through some of the best holograms in the world in Vienna's Museum of Illusion's collection of holograms.
Optical Illusions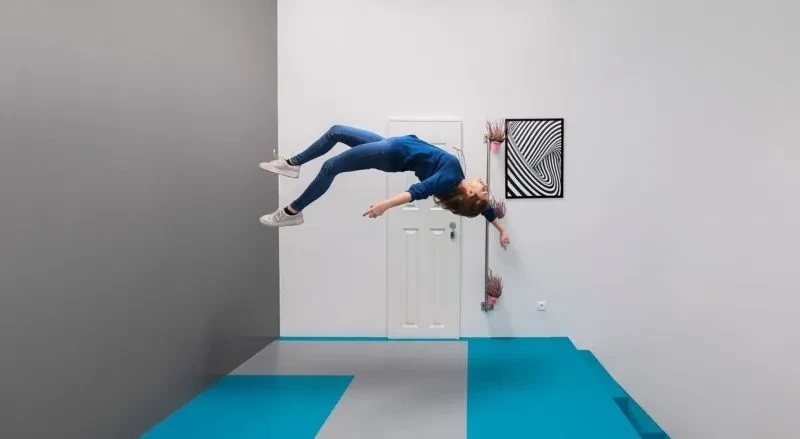 Optical Illusions are images that play mind games with your eyes and brain!
At the Museum of Illusions, optical illusions serve as a reminder that our senses are imperfect and our perceptions of the world are frequently distorted.
---
---
Chair Illusions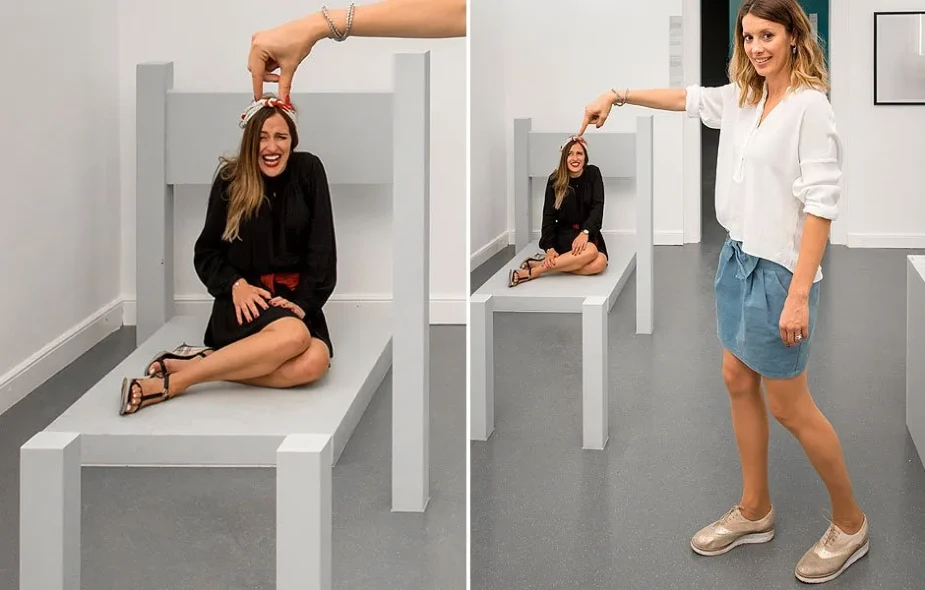 Apart from optical illusions, you can also enjoy Chair Illusions at the Museum of Illusions, Vienna.
It's incredible how a person's perceived size changes depending on the context created by the surrounding objects.
Sitting in the Beuchat chair allows you to experiment with perceptual laws and role and size ratios.
True Mirror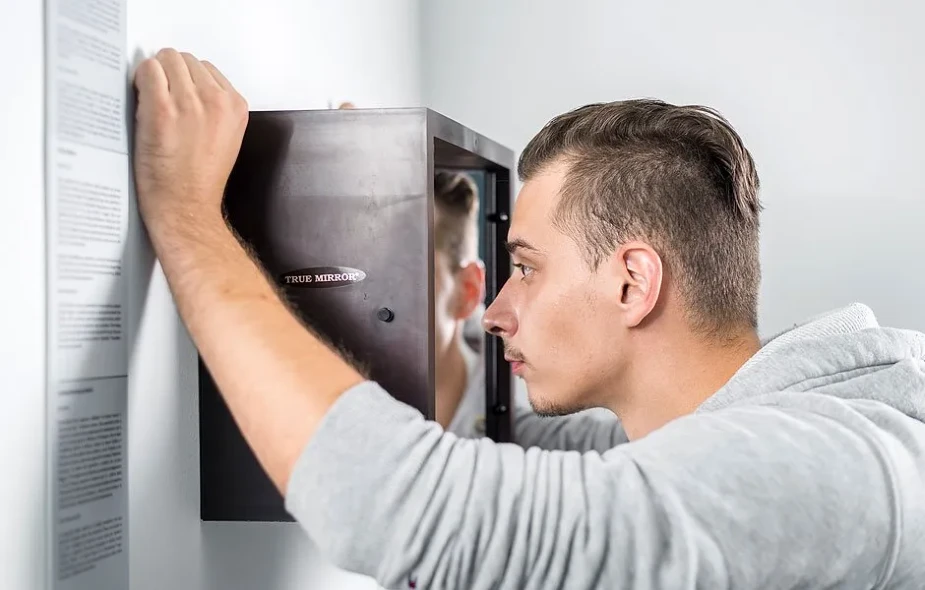 Mirrors deceive, and you'll realize this when you see the True Mirror at the Illusions Museum in Vienna.
Here, you will realize that your image reflected in the mirror is different from how others view it.
So it's time to see how you truly look.
Rubin's Vase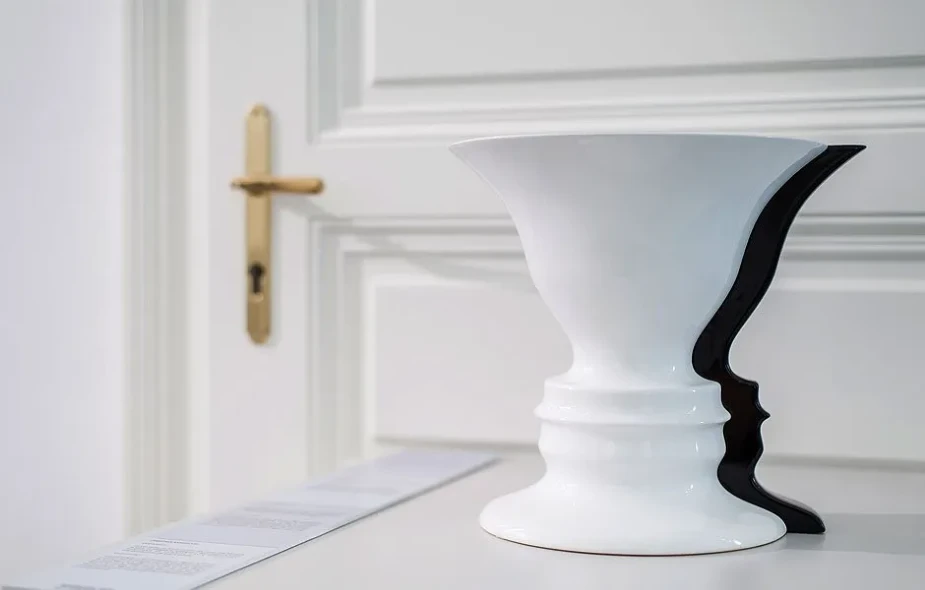 Check out Rubin's Vase, which is totally different from the vase at your home.
You'll realize the true capacity of this vase only when you come to Vienna's Museum of Illusions.
Tilted Room
The implicit assumptions that your brain and eyes make about whether you are standing on a flat or sloping surface will amaze researchers in Tilted Room.
You will be pleased with the results.
Infinity Room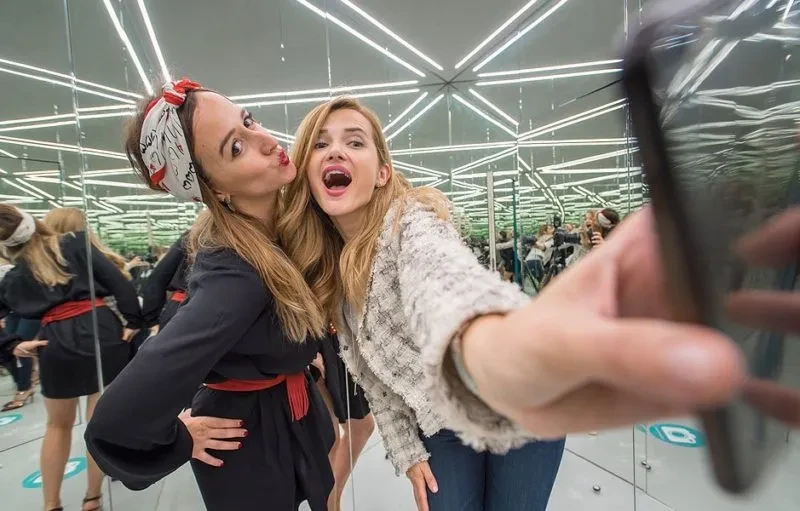 Do you know a place where amazement and happiness never fade?
The mirror chamber is inside the infinity room.
Full-height mirrors are deliberately positioned throughout the area to give the appearance that it is limitless.
Ames Room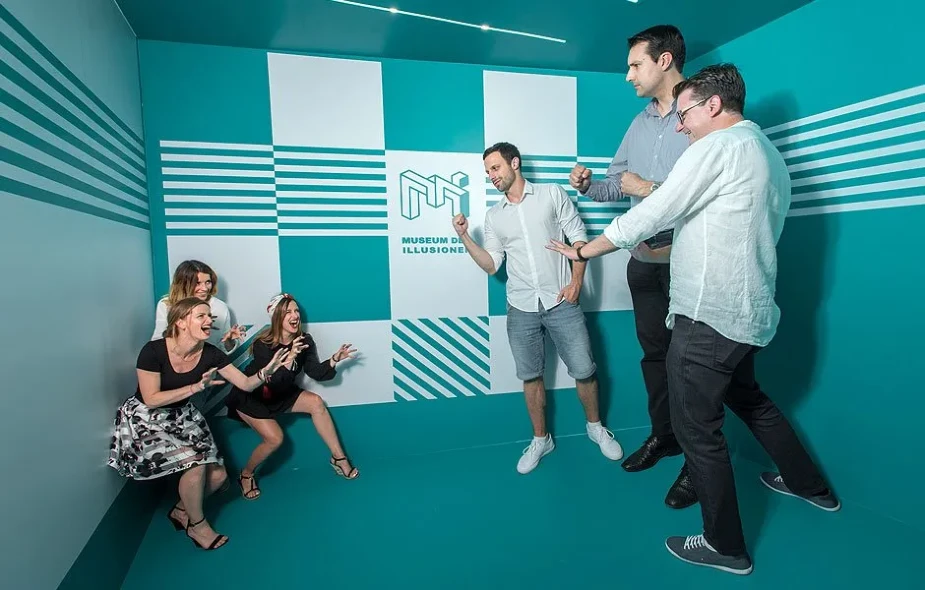 There is a giant and a dwarf on opposing corners of the Ames Room.
In this magnificent room of illusions, observe how a figure pacing back and forth increases or contracts right before your eyes.
The spectator sees what appears to be a typical environment but is actually one that has been expertly delayed, creating a stunning optical illusion.
---
---
Stereogram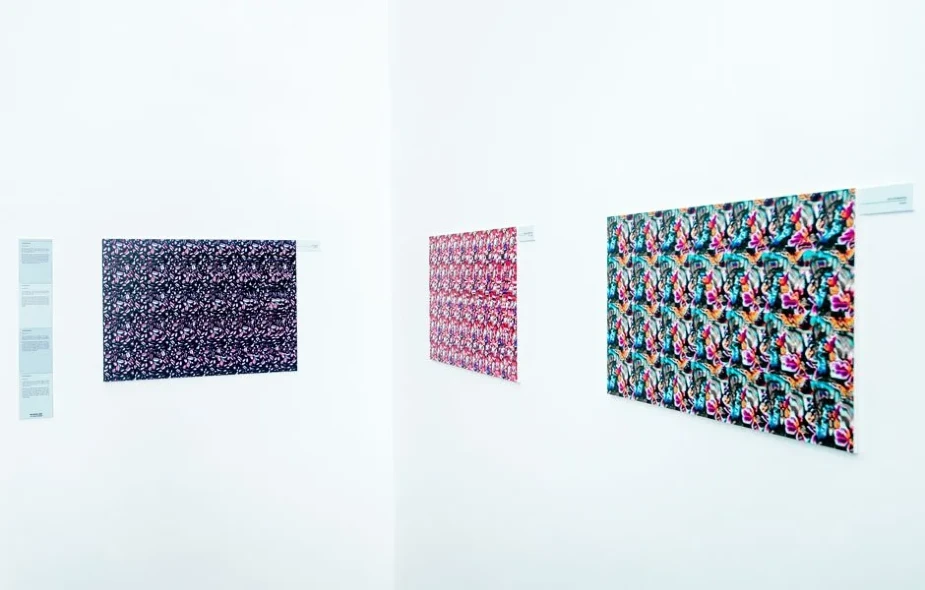 A stereogram is an image inside an image and if you haven't seen it yet, book your tickets to the Vienna Museum of Illusions.
In a stereogram, each image has a concealed object that appears in three dimensions when seen properly.
When you bring a stereogram picture very close to your eyes, your eyes are unable to focus on it and instead stare beyond it until you contact it with your nose.
You can see the hidden image by slowly pulling the image away from you while trying to keep your eyes off of it.
Sources

# Museumderillusionen.at
# Visitingvienna.com
# Tripadvisor.com
# Wien.info

The travel specialists at TheBetterVacation.com use only high-quality sources while researching & writing their articles. We make every attempt to keep our content current, reliable and trustworthy.
Popular attractions in Vienna

# Belvedere Palace
# Schonbrunn Palace
# Vienna Zoo
# Spanish Riding School
# St Stephens Cathedral
# Kunsthistorisches Museum