La Sagrada Familia is a must-see tourist attraction in Barcelona, Spain. Once its construction is complete, it will be the tallest religious structure in the whole of Europe. Did you know this fact about Sagarada Familia?
How about this fact: Construction of this UNESCO Heritage site started in 1882, and is expected to finish by 2026 – that's a whopping 144 years!
Unfortunately, not everybody seems to be impressed by architect Antoni Gaudi's masterpiece. George Orwell is known to have looked at the Basilica and said, "It is one of the hideous buildings in the world."
Check out some of the most amazing facts about La Sagrada Familia –
Fact 1. Sagrada Familia gets 3 million visitors every year
Yes, that's right. Sagrada Familia attracts more than 3 million tourists in a year. This means, on an average two tourists enter the gates of Sagrada Familia every second. No wonder it is so crowded. To skip the line at Sagrada Familia buy online tickets!
Fact 2. Antoni Gaudi wasn't the first choice for building Sagrada Familia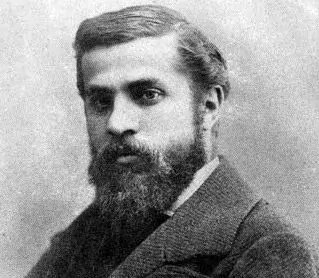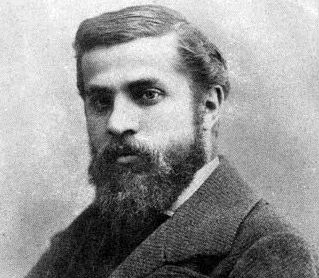 The project to build this massive church (back then it was supposed to be a church) was first assigned to Francisco Del Vilar. He was a Spanish architect designing a lot of churches in and around Spain, back then. He had only finished building the crypt when disagreements with the organizing committee cropped up. Once he left, the responsibility for the construction of Sagrada Familia was passed on to Antoni Gaudi.
Fact 3. Sagrada Familia will take longer to build than the Pyramid and Taj Mahal put together
The construction of the Great Pyramid of Giza in Egypt started in 2,580 BC and ended in 2,560 BC. That's a long 20 years. After that it took the best engineers of those days ten years to build a stone causeway that connected it to a temple in the valley below.
Meanwhile, it took twenty thousand workers 20 years to build the Taj Mahal.
In sharp contrast, when construction of Sagrada Familia finally winds to a halt in 2026, it would have been under construction for 144 years.
Fact 4. Gaudi used faces of actual people for his sculptures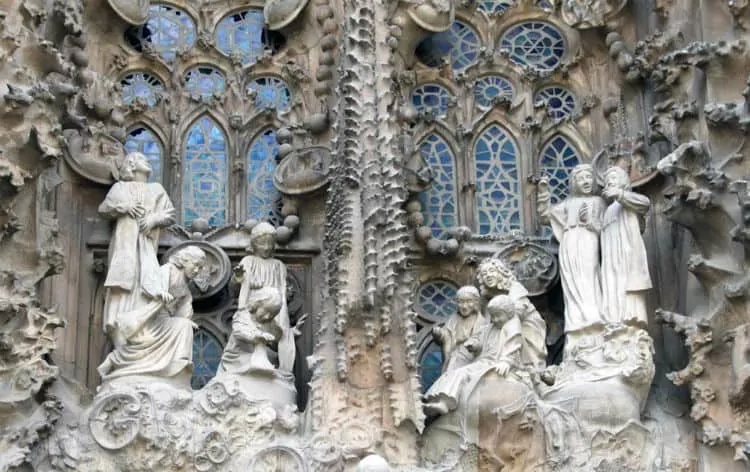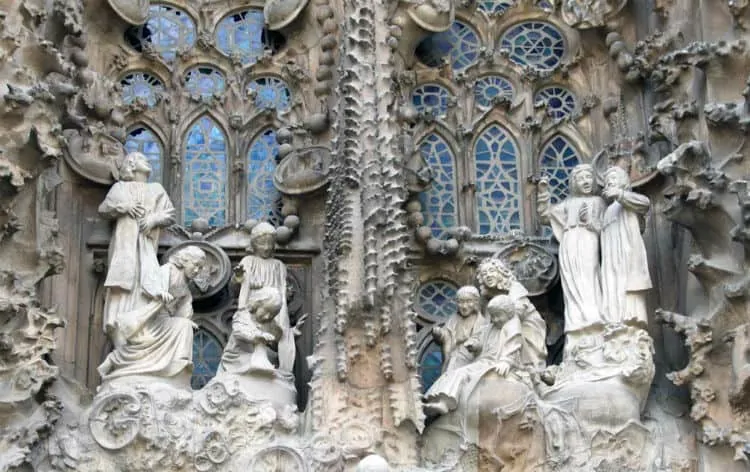 The Nativity facade, which celebrates the birth of Jesus Christ, was built under Gaudi's supervision. This facade has three parts – The Portal of Hope, The Portal of Mercy, and The Portal of Faith. While sculpting the Portal of Mercy, Gaudi used the death masks of diseased Barcelona citizens, as well as builders of Sagrada Familia to shape his sculptures' faces. It was Gaudi's way of paying tribute to the people who contributed.
Fact 5. Sagrada Familia's design is highly influenced by Gaudi's dislike for straight lines
Gaudi had always disliked straight lines and angles. He said, "In nature, nothing is straight." Once you step into this Spanish Basilica you will realize that everything here – patterns, pillars, sculptures etc are free-hand or curvy.
Recommended Reading: View from Nativity facade tower at Sagrada Familia?
Fact 6. There is a reason for Sagrada Familia's height of 170 meters
Gaudi believed that manmade structures should be shorter than God's structures. Since Montjuïc hill, the highest point in Barcelona was 171 meters tall Gaudi decided that his church's height should be one meter less – that is 170 meters (560 feet).
Fact 7. In 1936, almost all of Gaudi's plans for the church were lost
In the year 1936, the Spanish Civil War was on. A group of anarchists and revolutionaries set fire to the crypt and destroyed the workshop which contained all of Gaudi's plans and models. Thankfully, some of them were saved in time. After the war came to a halt, construction started with whatever limited blueprints were available.
Fact 8. Sagrada Familia is full of symbolism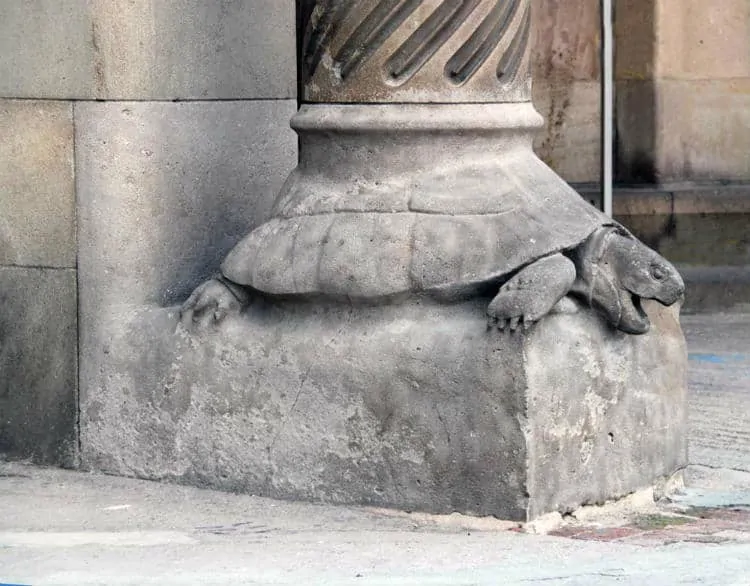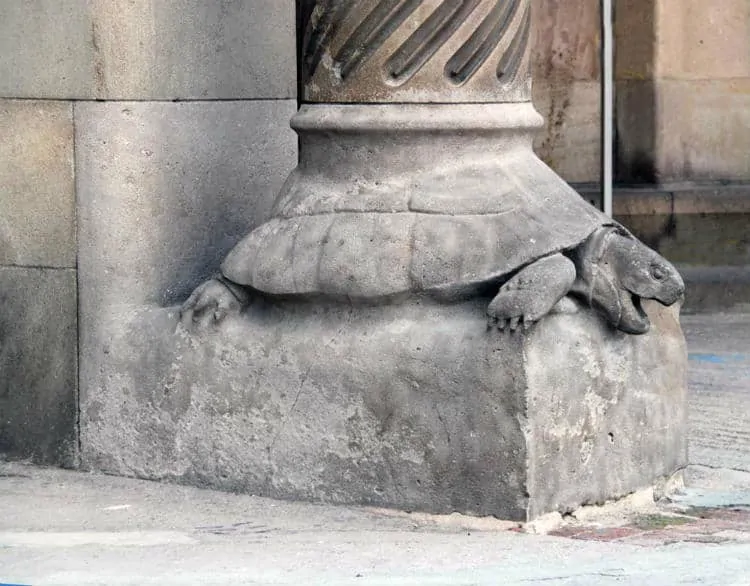 Symbolism has been part of Christianity forever. For instance, the Good Shepherd with a sheep over his shoulder symbolizing the story of a lost sheep, or the white dove, which represents the Holy Spirit etc. Gaudi has used this and extended it to natural symbolism. Take the large pillars inside which support the entire structure – they look like massive trees. One of these pillars has a turtle at its base, and another has a tortoise symbolizing the balance between land and sea.
Fact 9. Gaudi wanted Sagrada Familia to guide sailors in the ocean
Gaudi didn't just want his church to be seen from every part of Barcelona. He wanted it to be seen from far into the ocean – as guiding light for the sailors out there. To ensure it was useful for seafarers, he had glass mosaics embedded at its highest points. These glass mosaics reflect both the sun and moonlight and act as beacons.
Fact 10. Once there was a school at the construction site of Sagrada Familia
Antoni Gaudi was quite a thoughtful man. In 1909, Gaudi built a school called "Sagrada Familia Schools building" at the construction site of the church. He said this would help the fathers focus on building a magnificent church, and not worry about their children.
The school building contained three classrooms, a hall, and chapel. The school existed on the site till 2002 but when space was needed for construction of the church, it had to be relocated nearby.
Recommended Reading: View from Passion facade tower at Sagrada Familia?
Fact 11. Interior ceiling of Sagrada Familia mimics trees
Gaudi was always known to take inspiration from nature and for his masterpiece, he did just that. While the whole of Sagrada Familia is filled with symbols of nature, the best example is the ceiling of the Basilica. Even though these ceilings are 200 feet high (61 meters) they are held together by columns which look like trees branching out. As the columns branch out and hold the ceiling, the give the appearance of a thick forest.
Gaudi's use of the geometric branching structures almost 125 years back enthralls architects even today.
Fact 12. Sagrada Familia is a UNESCO Heritage site
UNESCO seems to love Antoni Gaudi, for seven of his buildings have been labeled as UNESCO World heritage sites. The best among them is Sagrada Familia which was designated as a UNESCO World Heritage Site in 1984. This Spanish structure was recognized for its innovative and artistic design and construction techniques.
Fact 13. Sagrada Familia started off as a church but is now a Basilica
When the construction began on Sagrada Familia, it was supposed to be a Roman Catholic church. As its magnificence got known to the public its priority in the eyes of the religious leaders grew. After a few decades of its construction, Sagrada Familia was designated as a cathedral. And in 2010, Pope Benedict XVI declared it a Basilica. Find out the difference between a chuch, cathedral and a Basilica.
Fact 14. All the 18 towers of the Basilica represent someone
It is a fact that all the 18 towers of Sagarda Familia represent someone. 12 of these 18 towers represent the apostles and four represent the evangelists. The tower with a star on the top is designated for Virgin Mary, and the tallest tower of them all is for Jesus Christ.
As of today, only eight of the 18 towers are completed. Out of these eight towers, four belong to the Nativity facade and four to the Passion facade. Check out views from Nativity facade and views from Passion facade.
Fact 15. Antoni Gaudi is buried in La Sagrada Familia
Antoni Gaudi died on 10 June, 1926 – a few days after being hit by a tram. Since he wasn't carrying his papers, he couldn't be identified. He was believed to be a beggar and hence wasn't given proper treatment.
Gaudi's tomb is in the underground level of the building and is in the chapel dedicated to the El Carmen Virgin. Tourists can visit his tomb and pay their respects.
Recommended Reading: Is buying tickets for Sagrada Familia towers worth it?
Fact 16. If it were not for computers, it would have taken longer
Gaudi didn't have computers. Neither did the architects who followed him after his untimely death. During this period, they relied on the paper sketches to draw up their plan and execute. However, everything changed with the onset of computers. Now the speed of construction is many times faster. If it were not for the computers, we would still be at least 100 years away from completion of this massive Basilica.
Fact 17. The idea to build Sagrada Familia was conceived by a book seller
Josep Maria Bocabella was a bookseller who first planted the seeds of Sagrada Familia in the minds of people of Barcelona. He owned a religious printing press and bookstore and his business had taken him to the Vatican. At the holy city, he visited numerous churches and got inspired to build something similar in Barcelona.
Once back, he started sharing his idea with others in the community. It took him ten years to get enough funds to start the construction of the church in 1882. Besides Gaudi, Josep Maria Bocabella is the only another person to be buried in Sagrada Familia.
Fact 18. Passion facade of Sagrada Familia is embroiled in controversy
Of the three facades at Sagrada Familia, and the Nativity Facade was completed by Gaudi himself. After the Passion facade was also completed, Spanish sculptor Josep Maria Subirachs was requested to join the team.
He was to sculpt the figures which would adorn the Passion facade. His angular, sad, and expressive sculptures were very different from Gaudi's sculptures on the Nativity facade – and some didn't like them. Some even wanted these sculptures to be shot down by machine guns.
Fact 19. Towers of Sagrada Familia have lifts
If other building has lifts, it is normal. But remember the designs for these towers were created 100+ years back. Besides these towers are thin and to build a lift in it which carries six people at a time is marvelous. These lifts allow people to go up the towers in Nativity facade and Passion facade and look at the towers, sculptures and the city of Barcelona from up close. Not sure which Tower tickets to buy? Read about which is better – Nativity facade or Passion facade.
Fact 20. Contributions from tourists keeps the construction of La Sagrada Familia going
Here is a financial fact for you: The annual cost of continuing the construction of Sagrada Familia Basilica is 25 Million Euros. This money comes from donors and from the sale of tickets to visiting tourists. In short, if you visit this Barcelona you would have contributed to the building of this World wonder. Contribute today, Buy Skip the Line Sagarada Familia tickets now!
Fact 21. Gaudi changed the plans for this church after he took over
Francisco Paula del Villar, the first architect of this church, wanted to build a standard Gothic revival church. However, when he resigned due to creative differences with the sponsors and Gaudi took over, the plans changed. What you see rising from the center of Barcelona was envisaged by Gaudi.
Fact 22. Gaudi didn't worry about how long it would take to construct the church
Gaudi just wasn't concerned if he would be able to complete the construction in his lifetime or not. His objective was to create a masterpiece. In fact, he is known to have said, "My client is not in a hurry."
Since he knew he had to ensure continuity after he was gone, he encouraged fluidity in the plans. He was known to make changes on the fly to his plans while visiting the construction site.
Recommended Reading: Best time to visit Sagrada Familia
Fact 23. Technology is speeding up construction at the Basilica
When Gaudi had died in 1926 only 25% of the construction was over. When a second estimate was done in 2010, it was found out that only 50% of the construction was over. But advances in technology will ensure the Basilica will be complete by 2026. That is, the second half of the construction of Sagrada Familia will take only 16 years.
This is primarily due to the advances in stone cutting technology and the 3D modeling using computers. In 2015, the Basilica's chief architect Jordi Coll implemented 3D printing technology into the construction process.
He said, "If Gaudi was alive today, he would have brought 3D technology to its maximum exponent since much of his work was already conceived tri-dimensionally."