If you have reached here it means you are looking for cheap holiday destinations in USA. Well, you are at the right place – check out our top five recommendations to have a not-so-costly vacation either with family and kids or with your spouse.
Cheap Destination #1: YellowStone
If you love outdoors, you will love the cheapest holiday destination in United States of America (USA) – YellowStone. There are high peaks and low lakes to enthral you. At YellowStone you can also witness multicoloured pools swirl around hot springs, forests and meadows – in short it is also a nature lover's paradise. Since it is all outdoors, there are no entry fees and you will end up having a cheap holiday.
When to visit YellowStone
March to May is the best time but if you miss this period we recommend you try the next best holiday season – September to November. We don't recommend a holiday at YellowStone during the peak months of July & August because of the crowd.
Free things to do in YellowStone
Grand Canyon of the Yellowstone, Old Faithful, Yellowstone Lake, Grand Prismatic Spring, Hayden Valley
Cheap Hotels in YellowStone
Ameritel Inn Idaho Falls, Best Western Plus CottonTree Inn, Hampton Inn Idaho Falls, Hilton Garden Inn Idaho Falls, Holiday Inn Express Hotel & Suites IDAHO FALLS
Cheap Destination #2: Yosemite
Yosemite National Park is 1,200 square miles of nature – perhaps the best place for nature lovers in US. There are high waterfalls, really old Sequoia trees (so big that at some places even Trucks can pass through), deep valleys, vast wilderness and dangerous looking cliffs – all making for a traveller's delight. The seven-day entrance passes into Yosemite is pretty cheap at between $25-30 for private vehicles.
When to visit Yosemite
Spring time (March to May) – the time when the leaves are out, the flowers have blossomed, the animals are out of hibernation – is the best time to visit Yosemite National park. It is during this time that the waterfalls are also full because the snow has melted at the top of the mountain.
Free things to do in Yosemite
Glacier Point, Half Dome, Tuolumne Meadows, Mariposa Grove, Mist Trail and Vernal Falls, Yosemite Village
Cheap Hotels in Yosemite
Americas Best Value Inn, Americas Best Value Inn, Mammoth Creek Inn, Quality Inn near Mammoth Mountain Ski Resort, Yosemite Southgate Hotel & Suites, Comfort Inn Yosemite Valley Gateway
Cheap Destination #3: Charleston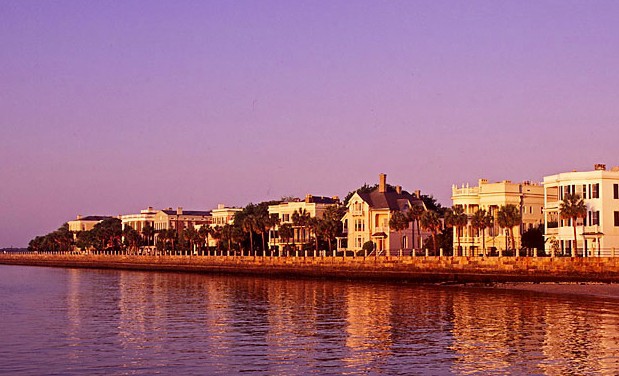 If you like a story-like setting, something out of a history book Charleston is the place you should go for your holiday. This is the third cheapest holiday you can plan with family. There are mansions more than centuries old, there are cemeteries you will be scared to walk into, there are cobblestone walks so romantic that they can revive relationships…in a word, this can be a classic holiday for your family and kids. If you are interested in art, Charleston also has contemporary art galleries.
When to visit Charleston
The best time to visit Charleston is from March to May or from September to November. To keep your holiday within US cheap, visit Charleston in late fall or early winter.
Free things to do in Charleston
The Battery, Sullivan's Island, Folly Beach, Isle of Palms County Park (cheap entry), The Aiken-Rhett House Museum (cheap entry), Drayton Hall (cheap entry)
Cheap Hotels in Charleston
Comfort Suites West of the Ashley, Fairfield Inn & Suites, Hampton Inn & Suites Charleston, Hampton Inn & Suites North Charleston-University Blvd, Ramada Charleston SC, Comfort Suites North Charleston
Cheap Destination #4: Savannah
Savannah has cobblestone streets, parks, and beautiful historic buildings to offer to the family looking for a cheap holiday. Like Charleston, Savannah also hosts a few creepy crematories, which you may like visiting. Savannah is just right for a cheap family holiday and you can spend a lot of time going through the city's architecture, history, and reputation for Southern charm, not to mention the food on offer.
When to visit Savannah
Though the best time to visit Savannah is from March to July, we don't recommend because the hotel prices aren't cheap during this period. We recommend coming here in January and February, which is colder but has cheaper hotel rates.
Free things to do in Savannah
Cathedral of St. John the Baptist, River Street, City Market, Forsyth Park, Bonaventure Cemetery
Cheap Hotels in Savannah
Hampton Inn & Suites Savannah/Midtown, Hampton Inn and Suites Savannah-Airport, Baymont Inn and Suites Savannah South, Comfort Suites Gateway, Comfort Suites Historic District
Cheap Destination #5: Washington DC
Washington DC isn't just for politicians. Starting from the Air & Space Museum to espionage for kids at the International Spy Museum, Washington DC has something for every family member. It isn't the stuff government city that it has a reputation of – and it definitely is the fifth cheapest holiday destination in USA.
When to visit Washington DC
You have two slots to choose from for your cheap vacation in Washington DC – September to November or March to May. Try and not book your all inclusive package during the summer because the weather is sticky and not suitable for vacations.
Free things to do in Washington DC
Lincoln Memorial, Vietnam Veterans and Korean War Veterans Memorials, The Tidal Basin, Washington National Cathedral, National Gallery of Art, National Air and Space Museum, John F. Kennedy Center for the Performing Arts (cheap entry)
Cheap Hotels in Washington DC
Hampton Inn Columbia, Comfort Inn Downtown DC/Convention Center, Comfort Inn Georgia Ave/DC Gateway, Econo Lodge Metro, Georgetown Suites