Thanks to the unique, exotic and luxurious wedding experience India can provide, in recent years the country is emerging as a top wedding destination.
Initially India only had to offer two destinations to wedding planners – Goa and Udaipur. But in recent years three more top destinations have been added to the list. Till some time back it was only couples from United States, Europe etc who would want to have a destination wedding in India but nowadays Indians themselves are opting for a destination wedding in one of the locations. You may be an Indian or a foreigner but we strongly recommend you take the services of a local wedding planner and don't try to manage it yourself. Getting a wedding planner helps you focus on the happy moments of getting married and not spend a year running around getting the wedding organized.
Presenting the best places for destination weddings in India –
Wedding Destination # 1: Goa, India

Destination weddings in Goa, India always have a casual beach setting.[/caption]Couples who have holidayed in Goa earlier generally end up choosing it as their spot for their destination wedding and a honeymoon thereafter. Having said that, there are first time couples who visit Goa just for their destination wedding in India. If you want your destination wedding to be in a beach and want to extend it to a honeymoon on the beach, Goa is your best option. The best beach destination wedding experience in Goa is offered by two of the finest luxury hotels – The Leela (on the Morbor beach) and Taj Exotica (on the Varca beach). If you want a twist in your destination wedding you can always opt to go with Trulia Villa & Spa in South Goa, which offers a garden wedding.
Wedding Destination # 2: Udaipur, India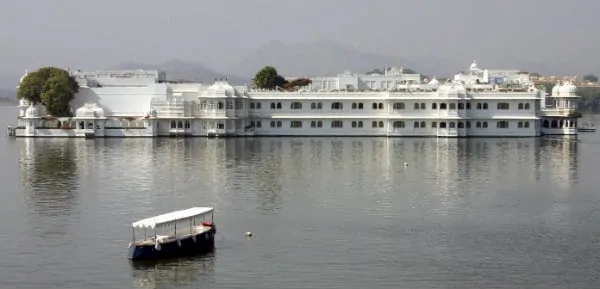 Udaipur is known as the city of lakes and palaces so no wonder couples in love find it romantic. Udaipur also has a rich and royal feel about it – what with the possibility of living like a King and Queen while on your holiday. It makes the couples feel as if they are in a fairy tale, and to top it all Udaipur offers the hospitality that no other place in India offers. This is why Udaipur is one of the best destination wedding places in India. One has to give credit to Lakshyaraj Singh Mewar who has re-developed Jagmandir Island Palace and converted it into one of the world's most exclusive wedding destinations. If you don't want a rich, royal wedding and are searching for a more contemporary destination look no further than the Devi Gargh Palace, a 200 year old palace which has been refurbished to taste.
Wedding Destination # 3: Jaipur, India
Jaipur is known as the Pink City because of the pink stones used to make the major Palaces and monuments, which stand testimony to the architecture loving Kings of the region. Jaipur earns its stars as one of the best destination wedding places because of the range of options it provides. Jaipur is also a top destination because here you can extend your destination marriage to an elongated holiday by having your honeymoon also in the same region. If you want an authentic, detailed, old-world charm wedding the best destinations will be the Raj Palace, the Jai Mahal Palace and the Rambagh Palace. Do note that the above-mentioned places for weddings don't come cheap. If you are looking for a something cheaper try the Alsisar Haveli, Mandawa Haveli or the Samode Palace which is a little out of Jaipur.
Wedding Destination # 4: Jodhpur, India

Jodhpur a became a popular place for destination weddings thanks to the extraordinary success of Umaid Bhawan as a wedding destination. Couples loved the hilltop location and the view of Jodhpur from this Palace hotel and chose this over various wedding destinations. Umaid Bhawan is perhaps the last palace to be built in India – it was completed in 1944 so is modern and yet historical and exotic making for a great wedding destination for foreigners. There do exist cheaper versions of destination weddings in Jodhpur – Ajit Bhawan and Ranbanka Palace.
Wedding Destination # 5: Kerala, India
While Kerala has been a tourist destination for long, its place in the list of top wedding destinations of India is just getting established. If you are looking for a quite, exotic wedding on the banks of a lake or backwaters even as the palm/coconut trees sway to the breeze, Kerala may be your place. If you are choosing Kerala for your destination wedding, you also have the option of an Elephant themed wedding. In Kerala it isn't about palaces, it is about luxury resorts, which organize your wedding and then your honeymoon. There are a number of resorts that cater to such luxury weddings – for example Zuri in Kumarakom. After your destination wedding you can shift gears and hit a houseboat for your honeymoon on Kerala backwaters. Kerala has beach weddings too – and if you are interested look no further than luxury resorts such as The Leela Hotel on Kovalam Beach.