If you live in London, occasionally you may want to go on weekend getaways with your family.
It is alright to want to leave the city behind and get some fresh air.
Weekend getaways are always fun – especially if embarked upon with your family or with your partner.
Since nobody wants to spend a major part of the weekend trip in the car or train, the closer the destination the better.
We present ten places near London where you and your family can breathe the country air.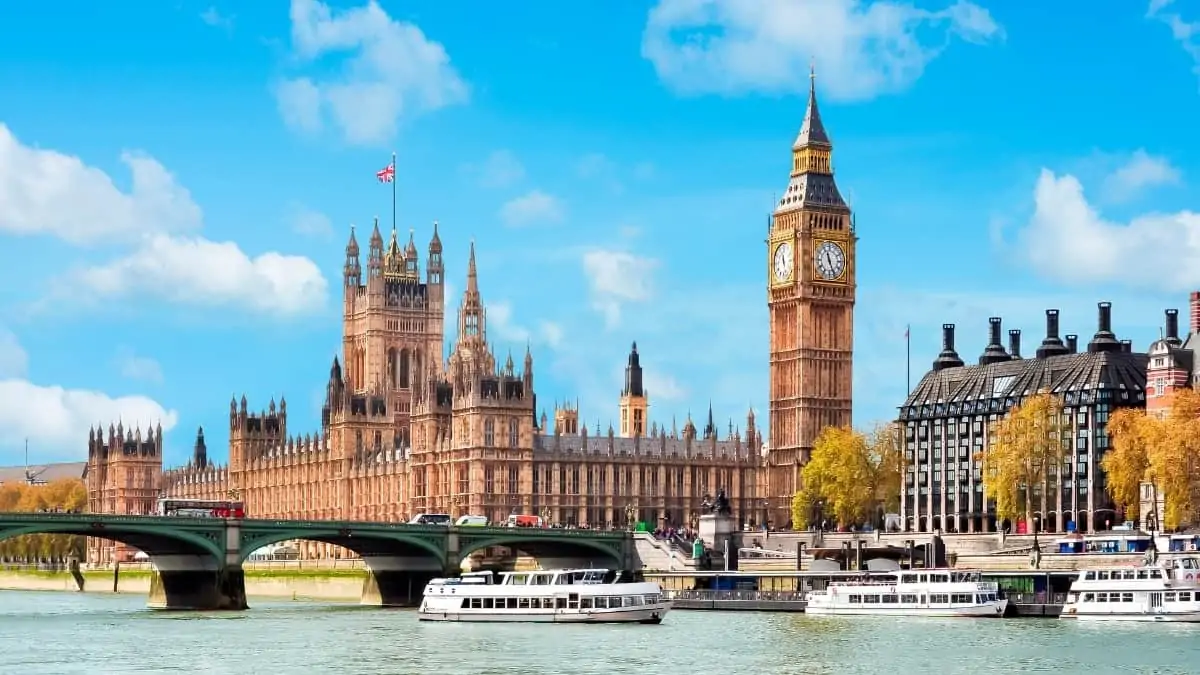 Best family weekend getaways from London
Living in London can be stressful for the best of us, that's why we all need that 'occasional' weekend break.
No, wait…make it 'frequent' weekend breaks.
Here is our recommended list of the best family weekend getaways from London. A few of these are day trips and a few require more than a day – you choose.
All our recommended getaway destinations are reachable by train, bus or by car.
Do note that these family weekend getaways also make a lot of sense to people visiting London – in case you want to see the real England.
After all, London isn't the real England and if you go back after seeing just London, you haven't seen England in its totality. Things to do in Edinburgh
Paris, France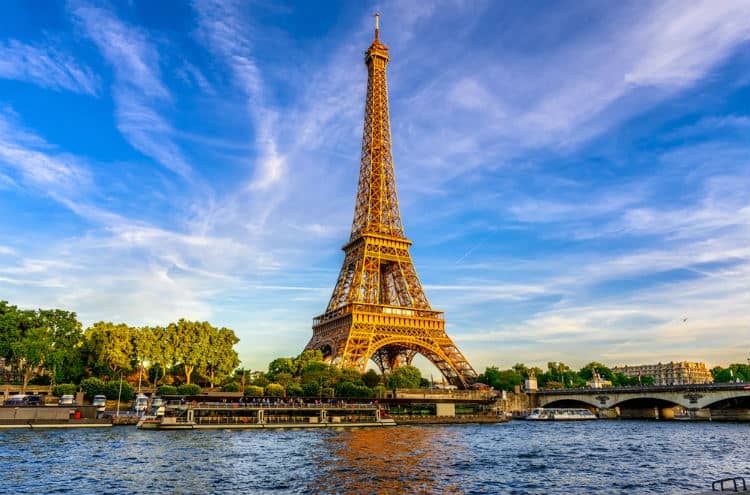 So what if the French kept on invading Britain, it is your turn now.
Thanks to the London-Paris train, you can now reach Paris easily and plan a weekend getaway with family. There is a high demand for tickets, so plan early.
If you take a train from London, in less than 2 hours and 30 minutes you can be in Paris. If you leave Friday afternoon you can squeeze in an extra night on your weekend break.
In fact, Paris is such a big city that you may have to make four or five trips to see the whole of it – but who is complaining if you get to have one of the best weekend getaways with family.
Once you are in the city, you can check out the ten most popular tourist attractions in Paris.
Distance from London: The travel time to Paris is just a little over 2 hours – take a train from London St Pancras and sit back and relax.
---
---
Windsor, Berkshire
The Queen of England lives at the Windsor Castle.
Heard of change of Guard at Buckingham palace?
There is a similar change of guard at the Windsor Castle, which you must not miss.
After you, your family and kids have roamed around the castle and taken selfies you can check out the most famous private school of Britain – Eton.
All aristocrats and rich of Britain study at Eton, so it is in your best interest to check it out.
Distance from London: If you start from London Paddington station, you can reach Windsor in around 30 minutes.
---
---
Brighton, Sussex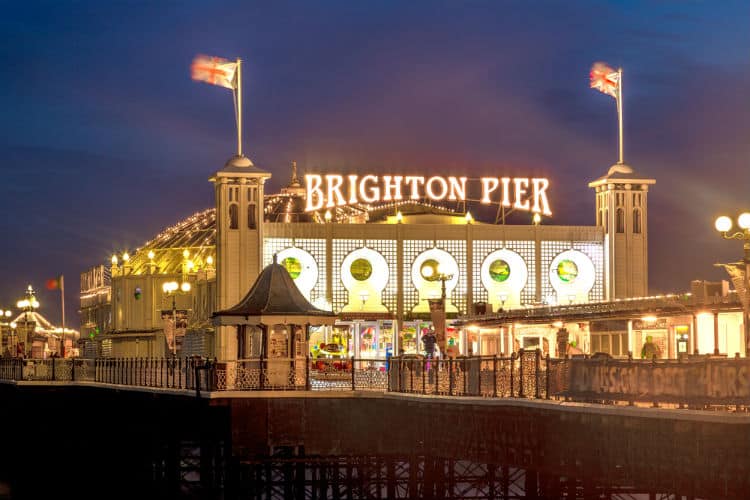 Brighton is the most child-friendly and student-friendly place near London. It is also a gay-friendly destination.
Brighton ends up being a great weekend destination for families living in England because it is by the sea- a perfect ruse for the kids in the family.
Once in Brighton, you should try the Victorian Pier, and have fish and chips by the beach. There is also a lot of shopping you can indulge in.
If your family has the heart and energy for it, do try out the legendary Brighton nightlife.
Distance from London: 1 hour drive from London city
---
---
Oxford, Oxfordshire
Oxford is the oldest university in England.
The university is so cool that tourists can visit and take in the awesomeness of the university – in fact, it can even be a weekend getaway for families.
The beautiful stone architecture will be loved by all family members, after which you can check out the libraries, and the excellent museums within the university premises.
If it is summer, we also recommend a bit of punting on River Cherwell.
There are a lot of bookstores in Oxford and browsing and buying books can help you and your family kill a lot of weekend hours.
After shopping for books, you can head out to the covered market on the High Street – the oldest market in Britain.
If you still have time, you can top up your family weekend break with a visit to the beautiful Masters Garden in Christ Church College.
Distance from London: It is an hour of travel by train, which you can get from London Paddington station.
---
---
Cambridge, Cambridgeshire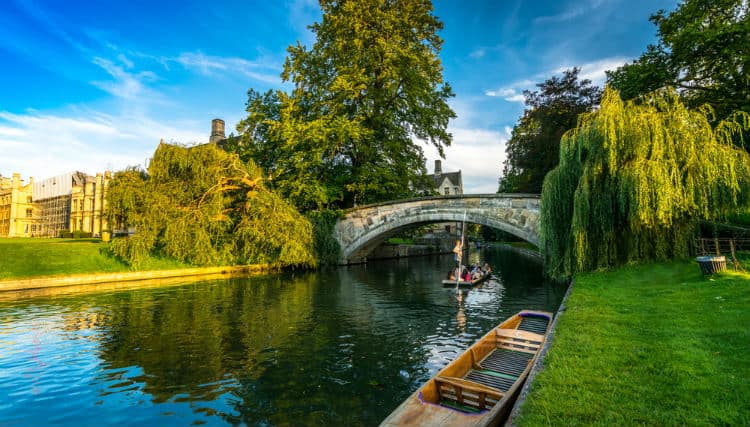 One of the best weekend getaways from London is the ancient university town of Cambridge.
There are many exciting museums and galleries which will keep your family and kids hooked. Besides, you can visit the lovely colleges and take in their ancient architecture and landscaping.
You can walk along the streets of Cambridge and listen to interesting anecdotes from locals.
Like in Oxford, here also there are a lot of bookstores where you can spend time browsing.
Distance from London: If you start from Kings Cross station in London, you will reach Cambridge in less than an hour.
---
---
York, North Yorkshire
York is very different from London, and that's why it makes for a stress-busting weekend getaway with family.
There are plenty of attractions on York, which your kids and family members will like – such as, the York Minster Cathedral, the National Railway Museum, the Jorvik Viking Center etc.
York has a long city wall around which you can walk on. Keep it for an off day when your family doesn't want to do much.
Once you are done with all the sightseeing, head out to explore York's ghoulish history on a vintage London bus. Your family will love it for sure.
Distance from London: York is two hours by train from London King's Cross station, London. It is the same travel time by car as well.
---
---
Bath, Somerset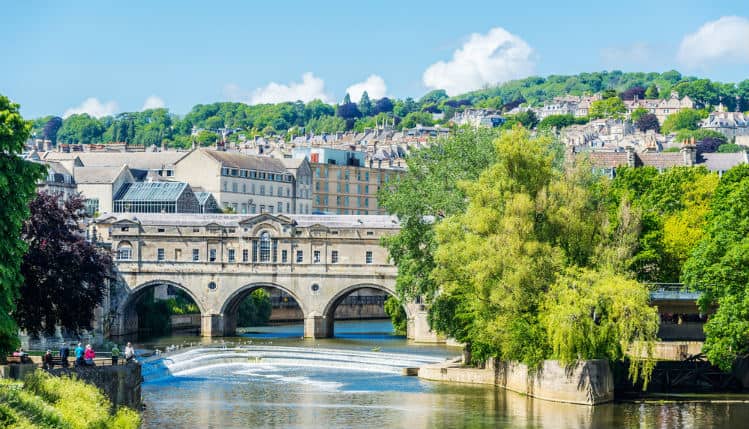 Bath is a laid-back town. With Britain's only natural hot springs, Bath becomes one of the best weekend getaways from London for family and kids.
If your family loves history, that's one more reason to visit Bath.
After all, it was here that the Roman spas were set up many thousands of years ago. The ruins are still there so be ready for some amazing family memories.
This is the ideal place to learn all about ancient Roman Britain.
Thanks to the classic Georgian architecture, the town is exceedingly beautiful.
Distance from London: If you start from London Paddington station, you can reach bath in less than 90 minutes.
---
---
Dover, Kent
If your family loves history, Dover can be a good weekend getaway from the capital city London.
Whenever Britain was invaded, they attacked Dover resulting in a lot of military heritage.
As a tourist two things will stand out for you to try – the beautiful White Chalk Cliffs and the Dover Castle, which is considered to be the most beautiful castle around London.
Distance from London: You can take a train to Dover from any of these London train stations – Victoria, St Pancras and London Bridge. It shouldn't take you more than 90 minutes to reach Dover.
---
---
Canterbury, Kent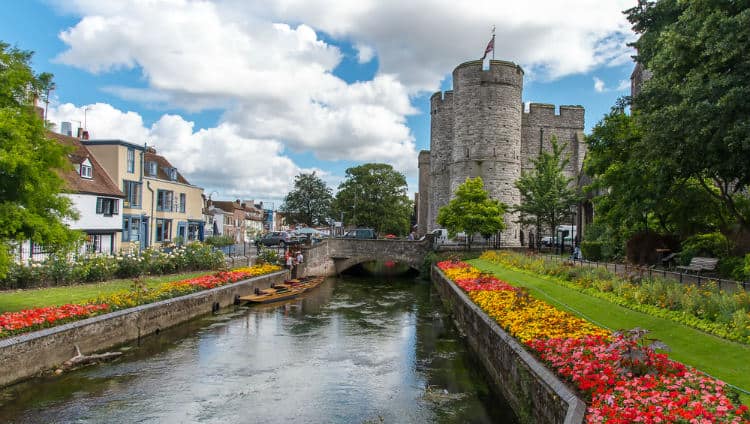 Canterbury is the base of the Church of England with the Archbishop of Canterbury at its head.
No wonder then that this city is home to a high number of magnificent cathedrals.
If you are religious, this weekend getaway with your family can be a pilgrimage. As a visit to Canterbury has been for millions of visitors before you.
Besides taking the historic river tour, you can visit churches, museums, art galleries and do a whole lot of shopping.
Distance from London: If you catch a train to Canterbury from London Victoria you can reach in less than 90 minutes.
---
---
Stratford-upon-Avon, Warwickshire
If you have any interest in literature, you must visit Stratford-upon-Avon. After all this was the home of William Shakespeare.
Three things are a must when you are on a weekend getaway to Stratford-upon-Avon with your family.
A boat ride on the Avon river, a play at the Royal Shakespeare Company and a visit to his birthplace, Anne Hathaway's cottage.
If you have time also try out the beautiful markets.
Distance from London: It is two hours of travel time both by train and car. If you want to have fun with the family, we recommend a car trip so you can enjoy the stops midway.
Honorable Mentions: Other best weekend getaways with family, which we would have liked to include in our list are: Hampton Court Palace (Henry VIII's palace), The New Forest (for a complete break from the city), the Roald Dahl Museum (your kids will love it) and the Highclere Castle (remember, Downton Abbey?)
Recommended Reading
Golf holidays in United Kingdom
Fishing holidays in Netherlands
Source
# Tripadvisor.in
# Mumsnet.com
# Timeout.com

The travel specialists at TheBetterVacation.com use only high-quality sources while researching & writing their articles. We make every attempt to keep our content current, reliable and trustworthy.
Popular attractions in London