We get asked a lot "what are the best family holiday destinations in the World", so we thought we might as well list them out for you. But before we look at the family destinations, we wanted to explore the advantages of taking a family holiday. Why should families pack their bags and head out at regular intervals?
Human beings are all tribes – we love to stick to our people. We believe in relationships. We love maintaining relationships with our elders, our siblings, and our kids – and holidays help us in doing just that. Here are five reasons why at least once a year, the kids, the adults and the elders in the family should pack their bags and head out to a nice place for a break.
1) Pre-and post-holiday happiness you create for yourself and the family by discussing the vacation
2) Spending quality time together during the break
3) Nurturing family relationships during the holidays
4) Creating memories together through photographs and stories
5) Learning about each other during a relaxed period
Now that you know why we all should escape with our families, from our daily grinds, lets look at the ten best family holiday destinations in the World. While arriving at this list, we looked at various factors such as traveler feedback, amenities, activities for small kids, activities of teenagers, quality of accommodation, service philosophy, and cost of the family holiday. Basis these factors we have listed below the top ten destinations in the World which we think are best for family holidays.
#10: Bahamas, Caribbean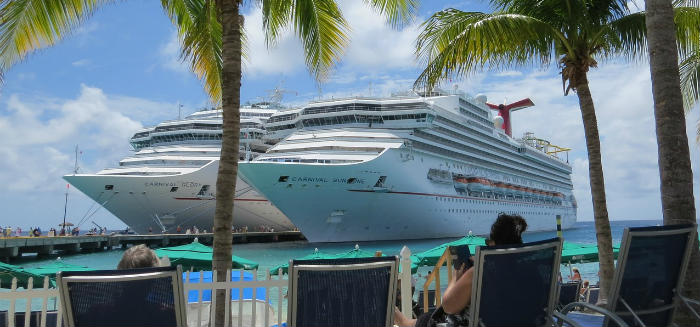 If you prefer luxurious holidays, Bahamas is your best bet for your family holidays. The Bahamian islands will give you and your family the opportunity of experiencing white sand beaches, sea swimming, fishing, scuba diving, and their duty-free shops. Don't just spend whole of you vacation with your kids inside your luxurious hotel also try out the various outdoors activities. If you are a bargain hunter looking for cheap deals, the market places offer the best of duty-free deals. Bahamas is a set of 700 islands and we strongly recommend for the best holiday for your family your first destination should be New Providence Island's Nassau.
Tips for families in Bahamas: If you are traveling in the months of December to February, do get your jackets. Besides the chill, most restaurants also expect you to wear a jacket in the evening. While beach clothes are great in the beaches, people don't expect you to roam around the whole vacation spot in them.
Top rated family restaurants: Cafe Matisse, Senor Frog's Freeport, The Rainbow Inn Seafood & Steak House
Top rated family attractions: Nassau, Freeport, Eleuthera, Great Exuma, Harbour Island, Paradise Island
#9: Barcelona, Spain
Barcelona is a cosmopolitan city with Roman remains. It is more of a cultural city, which means as a holiday destination it offers the traveler museums, exhibitions, open-air sculptures, plays, concerts, and dances. Don't miss the festivities in the neighborhoods of Gracia, Poblenou and Sants for this is how you can know the city's more festive side – this can also be the cheaper but more fun part of the vacation. If you have decided to visit Barcelona, do spare some part of your holiday for the city's gastronomic culture, which is world renowned. Barcelona has amazing architectural works by Gaudi. La Sagrada Familia which is considered Gaudi's masterpiece is still under construction and you should definitely see it.
Tips for families in Barcelona: If you know how to drive a scooter or ride a bicycle we strongly recommend it for it is cheap and low-cost travel option. Remember that the metro runs until midnight every day except for Friday (until 2am) and on Saturday it runs the whole of 24 hours. Mandatory tipping of 10% is expected in every Barcelona restaurant.
Top rated family restaurants: Tast-Ller, Petit Pau Restaurant, Can Dende
Top rated family attractions: Passeig de Gracia, Casa Batllo, Basilica of the Sagrada Familia, Camp Nou, Mercat de Sant Josep de la Boqueria, Montjuic Castle, Magic Fountain (Font Magica)
#8: Cancun, Mexico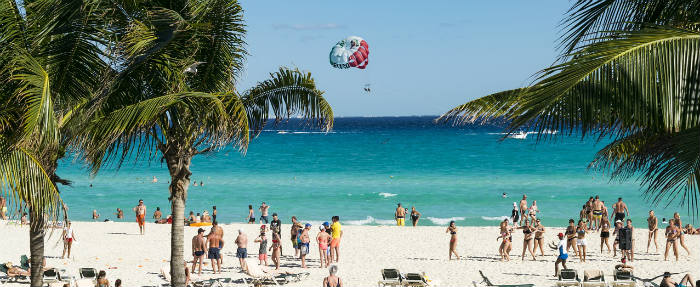 If you want to just sit back and relax with your family, there is no better holiday destination than the 14 miles of pristine white beaches that Cancun offers. It is a great holiday destination to put your leg up and on sunny days and sultry nights and sip that proverbial soul drink. This premier coastal holiday destination has one of the finest infrastructures, modern amenities and hospitality philosophy, which makes it a great break for, kids, teenagers, and adults alike. If you get bored with the beaches you can always plan a trip to the ruins of Tulum and Chichen Itza, which works out pretty cheap in case it isn't already part of your deal already.
Tips for families in Cancun: Not everywhere is the water purified, so drink only bottled water. The sun can be a little harsh if you are coming from a colder region so use sunscreen and other protection. Do note that while renting a car there is a mandatory Mexican Insurance, which adds to about $10/day but is not included in the quoted price – it isn't a scam, just go for it. If you see a red flag on the beach stay away it means the waters are choppy and swimming can be dangerous.
Top rated family restaurants: Peter's Restaurante, La Dolce Vita Centro, Du Mexique
Top rated family attractions: Cancun underwater museum, Chichen Itza, Coba, Isla Contoy, Belize Barrier Reef
#7: Rome, Italy
Rome, also known as the eternal city, can be a perfect family holiday destination if you are willing to invest time and energy to understand what all the city offers. After visiting Rome once you will understand why "Rome wasn't built in a day" makes sense. This city has existed for the last 2500 years and you can see traces of this history throughout the city that is bound to make it an exhilarating holiday. Due to the charms of its culture and tradition, Rome is today a unique holiday destination, which appeals to whole family. After London and Paris, Rome is the third most visited destination. Do note that nothing in Rome comes cheap or low priced. Be willing to out of your budget if required.
Tips for families in Rome: Since you can't see whole of Rome in your one vacation, focus on one area or theme. Wear comfortable shoes because there will be a lot of walking involved. You can't flag down taxis so if you know you are going to be tired then head towards the taxi stands. The eating can be a bit cheap and low cost because you don't need to leave that 15-20% tip that is mandatory in every European city restaurant. Bar means a coffee bar in Rome and not a drinks bar.
Top rated family restaurants: Bar Due Fontane, I Vicini Bistrot, Nanu
Top rated family attractions: Palantine Hill, Colosseum, Musei Capitolini, Piazza Navona, Church of San Luigi dei Francesi, Pantheon, Castel Sant'Angelo, Vatican Museums, St. Peter's Basilica, Circus Maximus (Circo Massimo), Pyramid of Cestius
#6: London, United Kingdom

London is the most visited city by international passengers. It is a perfect family vacation spot, if only you can afford the huge cost of vacationing in London. There is so much to see in London starting from its culture trapped in the museums to the shells that didn't go off in the war museums. London has a bit for every member of the family – starting from the five-year-old kid to the 80-year-old grandfather who fought World War 2. When in London, do try out their amazing restaurants. There definitely is a way to have a cheap holiday in London, but then you will have to explore the deep & low parts of London.
Tips for families in London: Wear layers of clothing for the climate in London can change suddenly – not a bad idea to carry an umbrella as well. Londoners are very polite, so always start with any request with "Can you please" or "May I please" and it will help you every time in getting the thing done. As for the London Eye, our recommendation is that you do it in the evening so you can see the city light up in front of your eyes.
Top rated family restaurants: Keen, The Five Fields, Casereccio
Top rated family attractions: British Museum, The London Eye, Buckingham Palace, Westminster Abbey, Shakespeare's Globe Theatre, St. Paul's Cathedral, Tower Bridge
#5: Chicago, United States
Every year visitors to Chicago – both domestic and international – contribute more than USD 15 billion to Chicago's economy. This is how big a holiday destination Chicago is. If you are a foodie, Chicago is the place for you – the best of street food (low cost) and fine dining in a single place. If your family loves history, then this is the holidays destination you were always meant to visit. For example, the Museum of Science and Industry is the biggest science museum in the Western Hemisphere and attracts crowd by hordes. Since a Chicago gets a lot of visitors throughout the year, the volumes allow you to bargain for cheap deals from the travel agents.
Tips for families in Chicago: A cab is the best mode of transport in this holiday destination and the expected tip is around 15% in the travel industry. If you are on a low budget you can always opt for the public transport. If you are traveling cheap or on deals, try and avoid the fine dining experiences – they may take a piece of your wallet. Considering fine dining is costly and considering the weather is good, a family picnic with a packed lunch isn't that bad an idea.
Top rated family restaurants: Bavette's Bar and Boeuf, Alinea, The Clark Street Dog
Top rated family attractions: Millennium Park, Chicago Riverwalk, Art Institute of Chicago, Water Tower Place, 360 Chicago, Second City comedy clubs, Shedd Aquarium, The Magnificent Mile
#4: Playa del Carmen, Mexico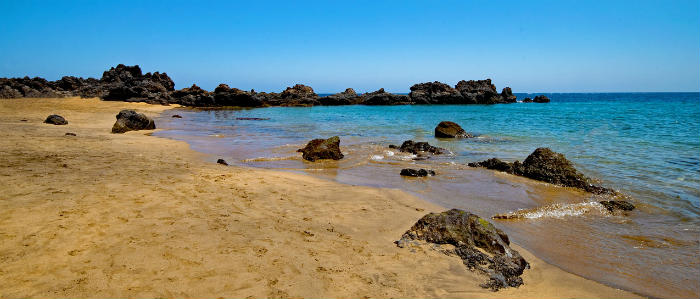 Playa del Carmen is the area's best destination for shopping, mingling, dining, and nightlife – basically, everything that's associated with a great holiday. It is situated right in the middle of Riviera Maya. Your family on holiday can enjoy the stylish beach clubs during the day. These beaches have excellent food and beverage, full-service spa treatments and various kinds of water sports – just the right mix to keep the whole family entertained. In the evening, you can hit the various street food centers if you are looking for deals or cheap food or you can try out the five-star restaurants. If you still have energy left, this vacation place offers loads of shopping opportunities as well.
Tips for families in Playa del Carmen: The best time to go on a family holiday here is February to May when the weather is at its most pleasant. There is a bit of sewage problem in this family holidays destination, which is known to affect drinking water. Stick to bottled water during your holiday. We recommend you avoid wearing jewelry or carrying anything that will make you a potential burglary target.
Top rated family restaurants: Oh Lala!, Passion by Martin Berasategui, Falafel Nessya
Top rated family attractions: Rancho Baaxal, Xcaret Eco Theme Park, Coba Mayan Village, Cenote Chaak Tun, Quinta Avenida, Cavernas Chaaktun
#3: Paris, France
Paris is a great destination for family holidays – if you love fashion or you don't love fashion. One needs at least seven days to take in everything that Paris has to offer – The Louvre, Notre Dame, The Eiffel Tower, Moulin Rouge etc. We strongly recommend that after the usual sight seeing try exploring the not so popular destinations such as city's amazing boulevards and try out the food in the various cafes. You will get a lot of cheap but high-quality food here. If you end up planning a vacation to Paris, do remember to keep two days aside for shopping. Since you can walk your way or can use public transport, large families shouldn't have any problem at this destination.
Tips for families in Paris: Do remember that when the Metro closes for the night, the night buses start off. This means you can continue to use public transport even if you go out in the night and keep your travel costs low. You can keep your travel costs low by opting to cycle in Paris – just insert your card to take a cycle whenever you want. If you are looking to cut costs, remember that most tourist destinations in Paris allow free entry for EU citizens on the first Sunday of the month.
Top rated family restaurants: Epicure, Pur' – Jean-Francois, Seb'on
Top rated family attractions: Sacred Heart Basilica of Montmartre (Sacre-Coeur), Moulin Rouge, Champs-Elysees, Pantheon, Notre Dame Cathedral, Eiffel Tower, Jardin des Tuileries, Arc de Triomphe
#2: New York, United States

New York is the aspirational city for many us. I don't know anybody who wouldn't want to visit New York City. Do you? So if this is going to be your next family holiday destination, congratulations you have made the right choice. New York has two sides – the first side is the one you see as a tourist (all tourist destinations mentioned below), and the other side is what you see when you are no longer a tourist. We strongly recommend that you visit New York at least twice to get in the real character of this city. This city is a bit costly to live in as a tourist, so plan in advance on how you can reduce cost, get all inclusive deals etc.
Tips for families in New York: If you will be traveling quite a bit in New York, please buy the Metro Card – it works out cheap. New York is a walking city (and walking costs nothing) so always check how far your destination is before you call in a cab or get into the metro. It is normal to tip 20% in this second most popular holiday destination.
Top rated family restaurants: Chalk Point Kitchen, Levain, Juni
Top rated family attractions: Manhattan Skyline, The Metropolitan Museum, Central Park, Queens Museum of Arts, Rockefeller Center, Grand Central Terminus, Empire State Building, Brooklyn Bridge, Wall Street, China Town, Broadway, Statue of Liberty
#1: Orlando, United States
If you have kids of any age, this can be the perfect family holiday destination. If you stay in US this destination also ends up being cheap and affordable. The kids will love the theme parks Orlando has to offer as well as the various interesting costumed characters from their TV, movies or books whom they will meet. For the little more adventurous holiday planner there is sky diving, parasailing, and even hot-air balloon. The outdoor attractions, the theme parks, and the characters will ensure the kids in your family love this destination for holidays.
Tips for families in Orlando: There is a lot to be seen and experienced in Orlando, but still don't push yourself and your kids. You may end up hating the holiday. Be patient and give your kids and yourself time to rest. Always have these four items with you during your holiday – hats, rain ponchos, sunscreen and drinking water. While visiting the parks, make an early lunch reservation at one of the many sit down restaurants – it will give you a break and you will get ahead of the crowds a bit.
Top rated family restaurants: Victoria & Albert's, Hot Krust Panini Kitchen, and Chatham's Place
Top rated family attractions: Wishes Fireworks, Discovery Cove, Fantasmic, Walt Disney World, Magic Kingdom, Universal Studios, SeaWorld Orlando.