Wherever you go, you will find welcoming and generous people who make traveling more fun for solo travelers. Asia is no exception. Traveling alone or solo is not a taboo anymore. Some of the best places to travel in the World are in Asia. Southeast Asia in particular. Don't shy away. Don't wait for company, start traveling solo if need be. There are lots and lots of women solo travelers, as well as men solo travelers exploring the Asian countries. Gone are the days when a female solo traveler felt alone. Asia now is much more open to female travelers – now all the Asian countries are safe places for solo travelers.
A few places in Asia are more suited for solo travel than others and that's what we have tried to capture in this list of the best places in Asia for solo travelers. These Asian countries are also the perfect budget travel options for solo travelers who want a peaceful holiday. They are cheap, hygienic and exotic – the perfect combination a solo traveler seeks. In short, it is safe to say that like Europe and other western countries Asia also now accepts solo travelers with open arms and a warm smile.
The list is no order, so just pick out the Asian country which suits your taste and be on your vacation.

#1 Taiwan – Nature on a budget
Located on the northern end of Taiwan, Taipei is a city where you can go solo and yet have lots of fun. Taipei, the capital city of Taiwan is a modern metropolis with natural beauty in abundance. It is safe, vibrant, welcoming, beautiful and everything else you except on an ideal solo traveler's holiday destination. While you are in Taipei, do not miss its amazingly beautiful night markets, which are one of the top attractions of Taipei. This place is light on pocket so you can spend quite a lot of time here exploring food, culture, and fashion on a pretty decent budget. For a solo traveler, this is also the place to meet other solo travelers. This low budget solo traveling destination also helps you extend your vacation further.
#2 Bangkok – beauty at no cost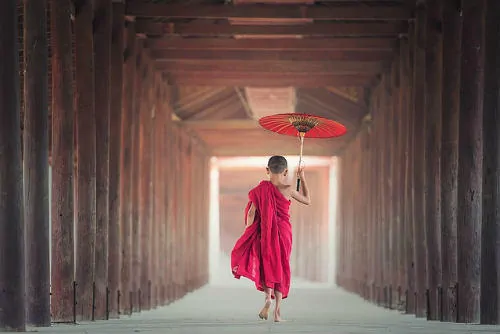 Also known as Venice of the east, Bangkok is beautiful, welcoming, and safe. Whether you are traveling in a group of solo travelers or you are traveling alone you will love Bangkok. Bangkok is full of fun and charm you can't expect in any other Asian destination. Experience the Buddhist culture by spending time in the temples of Bangkok. Bangkok is comparatively cheap and it is an ideal place for long vacation. Explore the waterways, witness the architecture, savor the mouth-watering local cuisine, and wind up your days by relaxing in Bangkok. Since it is one of the best destinations in Asia, Bangkok gets a lot of female solo travelers on long holiday breaks.
#3 Thailand – budget food & accommodation
Thailand is a hot tourist destination of Southeast Asia for all kinds of travelers. Tourism is one of the main industries here and they are doing a pretty good job. Thailand is cheap, convenient and safe- perfect recipe of an ideal solo traveler's destination. Its beaches and islands are the traditional destinations for backpackers and solo travelers for decades now. Wherever you go in Thailand, you find young crowd chilling out and chatting over chilled beer and music. In fact, solo travelers to Thailand are known to find friends and the moment they are not alone, they are known to extend their holiday. If you are lucky enough you may also find a good companion for the trip or for a lifetime on your solo trip to this destination. It is perhaps one of the best destinations to chill out in the whole of SouthEast Asia.
There are good budget destinations for solo travel outside of Asia too. Check out the best budget destinations for solo travelers in the World
#4 Japan – inner peace on a budget
Japan is one of the most peaceful and safest places of Asia. People believe there are various reasons for why Japan is such a safe country. People are usually happy and have a unique balance in life, which is hard to find anywhere else in the world. This is the reason Japan attracts millions of travelers every year. Solo or with a company, you will love Japan nevertheless. Japan is an awesome destination if you are seeking inner peace and calm. In fact, it is the best destination for spiritual holidays. There are a lot of temples and monasteries where you can spend a day or two with monks. After exploring its mega cities, move towards Kyoto, a Asian destination with 17 UNESCO World Heritage Sites. Japan also features in the top ten safest countries in the World.
#5 Malaysia – festivities on a budget
Malaysia is one of the best places in SouthEast Asia if you are traveling alone. It is safe and welcoming, that's the reason it is always jam-packed with so many tourists from across the globe. Malaysia is an affordable destination with a festive air and plenty of things to offer and explore. Begin your journey from the main city of Kuala Lumpur, explore as much as you can. Don't miss the local food- delicious and cheap. East Malaysia is a great escape for travelers who are looking for adventure and wildlife scene. If you are interested in beaches and water sports, head towards Pulau Perhentian. It is an awesome place for diving and snorkeling in crystal clear water.
If you are a lady, you must definitely check out 10 safe countries for solo woman traveler holidaying alone
#6 Laos – hospitality on a budget
Situated to East of Thailand, Laos is one of the best places in SouthEast Asia for solo travelers who are traveling for peace and confinement. Laos is yet to be discovered by many and yet to be commercialized like usual tourist places. It's breath-taking scenic beauty and mesmerizing waterfalls will leave you awestruck for sure. Leave all your worries and tension back at your home and visit Laos. Laos' soothing air, atmosphere, and generous hospitality will any solo traveler yearning for more. We won't be surprised if your plan to travel solo gets extended by a few months after your visit to Laos. It's an inexpensive place so you can plan a more than 15 days solo trip for Laos and it will be worth it.
#3 Vietnam – Culture on a budget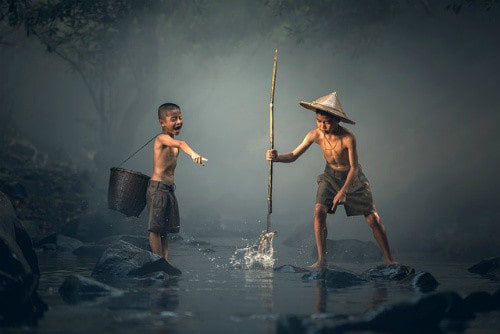 Vietnam is a small country in SouthEast Asia with some of the happiest people on the earth. Colorful and safe street life, warm and welcoming locals, and exotic food make it one of the best places in the world for solo travelers. While you are in Vietnam, do not miss Hanoi's massive Dong Xuan Market in order to have a close look of Vietnamese culture. Vietnam is very inexpensive, affordable and within budget for many a solo traveler. If you want, you can spend months here and you won't get bored. Rapidly emerging as a hot tourist destination for backpackers, Vietnam has many calm and tranquil places where you can go for peace and relaxation. In short, it's a paradise for men and women traveling alone. Male and female solo travelers who love experimenting with food will love Vietnam for its varied and yet within budget food options. Travel & Leisure also slots Vietnam as a safe country for solo travel.
Dangers of traveling to Asia (esp Southeast Asia)
Tourists and travelers from the Western world do get worried about their and their property's safety while traveling in Southeast Asia. Especially when unfortunate incidents such as this holiday accident in Vietnam get covered in the newspapers painting the whole of Asia as unsafe. Let me assure you that as long as you are a smart traveler who keeps his or her wits about them, there is no danger of traveling in Southeast Asia. You can be a female solo traveler or a male solo traveler but you just need to avoid the dangers of scammers, tourist exploitation, traveler traps, and be aware of the local culture to have an amazing holiday alone. If you adhere to this simple rule, there is no danger to traveling solo in any Southeast Asian country.