Florida has a lot of nudeness to be proud of because some of the best clothing optional resorts in USA are in Florida. Florida's moderate temperatures contribute in no less measure to make one of its counties – the Pasco county – the nudist capital of the world. No coincidence that the sunshine state ended up being the favorite of folks who love the sun so much.
Florida's laws may be a bit uneven in the way they treat nudists, but that hasn't stopped this state from becoming one of the hot spots for those who want to let go of their clothes. Hence, you should always check for the local laws before removing your clothes and be ready to cover up if requested to.
Best clothing optional beaches in Florida
1. Haulover Beach Park
At the Haulover beach park you can bare all legally and nobody can question you. This is not just the best clothing optional beach in Florida, but maybe the whole World.
2. Playalinda Beach
Though it is not legal to go without your clothes to this beach, since this is far away this remote stretch of beach has become a popular nudist hangout. This clothing optional beach is relatively unknown except by nudists.
3. Hobe Sound
This beach is in the wildlife area and has lots of big houses around which is why the wealthy throng this clothing optional beach. Location: 13640 Southeast Federal Highway
4. Apollo Beach
This nude-friendly beach is on the northern side of Canaveral National Seashore. It is not legal to be without clothes at this beach, but the locals are tolerant as long as one doesn't create havoc.
5. St. Lucia Inlet State Preserve
This is an island near Hobe Sound and is accessible only by boat. Maybe this is the reason why this preserve has become a popular hang out place for nudists.
6. Lummus Park on South Beach
This clothing optional beach is located on the iconic South Beach. And bang in the middle of classy hotels and pubs of Miami. Topless sunbathing by both men and women is acceptable. Going bottomless is frowned upon in this clothing optional beach.
Recommended Reading: Tourism in Florida
Best clothing optional resorts in Florida
Nudists resorts come in all varieties, so be sure to check what kind of a nudist resort it is before driving down. There are around 35 nudist resorts in the state of Florida of which some are generic, and some target a unique set of nudists. For instance, Mark's List is a clothing optional gay men's resort.
1. Cypress Cove Nudist Resort

Cypress Cove Nudist Resort in Kissimmee, Florida is all about relaxation. Take a nice massage, soak in the pool while talking to your other nudist friends, or enjoy the breathtaking views all around, it is completely your call. This finest nudist resort in Florida plays great music in the night. The first-class amenities at Cypress Cove include free Wi-Fi, free parking, outdoor pool, kitchen in all rooms etc. Cypress Cove Nudist Resort
Address: 4425 Pleasant Hill Rd, Kissimmee, Florida 34746, USA
Phone: +1 407-933-5870
2. Paradise Lakes Resort
Paradise Lakes Resort is a clothing optional hotel in nudist friendly Pasco County, just north of Tampa, Florida. The good thing about this clothing optional resort is that they have a "take off as much as you are comfortable with" which encourages first-time nudists to visit this hotel. This resort has 60 rooms, which makes it one of the biggest clothing optional resort in the Florida region. Their Key West Bar is poolside and is the best place to hangout with your friends or strangers. The top notch facilities at this nudist resort include free Wi-Fi, free parking, accessibility for all, outdoors pool, and a business center in case you need to put on your clothes for meetings. Paradise Lakes Resort
Address: 2001 Paradise Lakes Blvd, Lutz, FL 33558, USA
Phone: +1 866-794-6683
3. The Woods RV Resort-Clothing Optional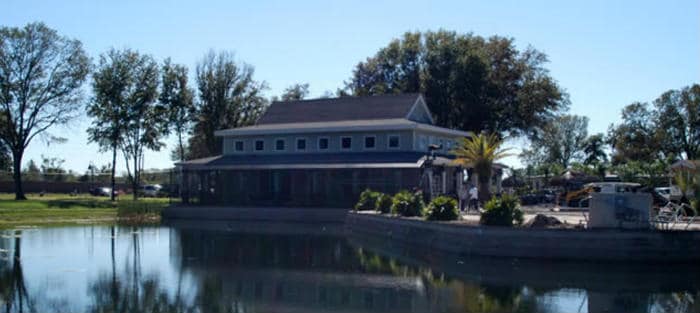 The Woods RV and Park Model Resort is an upscale clothing-optional resort near the Land O Lakes, Florida region. In this resort, you can buy or rent large customized RV Lots and Park models. The good thing is, there is no membership or grounds fees for owners or renters. If you are a lover of the clothing-optional way of life, The Woods is just perfect resort for you. The facilities at this clothing optional resort include free Wi-Fi, free parking, outdoor pool, indoors restaurants, and hot tubs. The Woods RV Resort-Clothing Optional
Address: 6944 Amanda Vista Cir, Land O Lakes, Florida 34637, USA
Phone: +1 813-446-6312
4. Sunny Sands Nudist Resort & Mobile Home Park
Sunny Sands is one of the finest family-oriented, clothing optional resort in Florida. Sunny Sands is within driving distance from Orlando, Jacksonville, Ocala and Daytona Beach. There are all kinds of mobile homes, rental units, full RVs, tent camping sites etc to ensure every natural gets his or her way at the Sunny Sands resort. This resort also has a golf course, which you can explore and follow it up with a dip in the big pool. Sunny Sands Nudist Resort
Address: 499 Alpha Pkwy, Pierson, FL 32180, USA
Phone: +1 386-749-2233
5. Eden RV Resort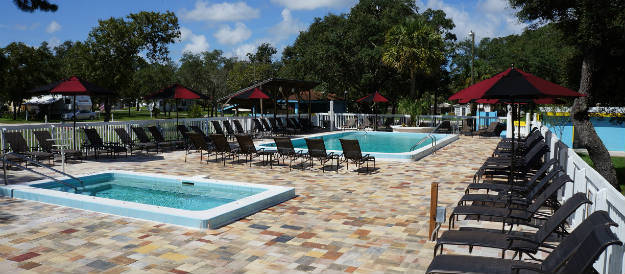 Eden RV Resort is a top-notch clothing optional, family friendly resort in Florida. They cater to short one-day stays as well as season long stays – the choice is completely yours. There are tent accommodations, RV rentals, single rooms for rent, trailer rentals, and park model rentals to cater to the needs of all kinds of nudist fun lovers. The eleven acres resort is nestled away from the hustle and bustle of everyday life, so your privacy and safety is guaranteed at this clothing optional resort. Eden RV Resort
Address: 13220 Houston Ave, Hudson, FL 34667, USA
Phone: +1 727-857-5914
6. Rooftop Resort
Rooftop resort is the only completely clothing optional (nudist) hotel in South Florida. In their whole resort, they have no restrictions on nudity. If you enjoy breath-taking blue ocean views then look no further than this clothing optional resort. This is located in the white sandy beach community of Hollywood, Florida. If you inform them in advance, at this resort you can also celebrate your special birthday, anniversary or wild bachelor(ette) party. This resort is smoke-free as well. The facilities include free Wi-Fi, free parking, outdoor pool etc. Rooftop Resort
Address: 1215 North Ocean Drive, Hollywood, FL 33019, United States
Phone: +1 954-925-0301
7. Lake Como Co-Op Inc – Nudist Park


Lake Como Family Nudist Resort and Community in Florida's Tampa Bay area is a 200 acre area which offers clothes-free recreation for naturals. Like most other clothing optional facilities, Lake Como is also a gated facility with its own security staff. It is also a family-friendly community which also encourages and welcomes pets on leases. At regular intervals, they conduct music festivals and volleyball tournaments as well.
Address: 20500 Cot Rd, Lutz, FL 33558, USA
Phone: +1 877-879-5253
8. Suwannee Valley Resort LLC
Suwannee Valley Resort is on the banks of the Suwannee River, amongst beautiful cypress and live oak trees in the historic North Florida area. This clothing optional resort only allows 21+ year olds and boasts of a 40 by 22-foot swimming pool, hot tub, and Petanque. Visitors can either rent out cabin accommodations or park model RVs or tents. Weekly bon fires help encourage mingling with rest of the crowd. In this clothing-free resort all uniformed service person from Military (Active or Retired), Reserves, Police, EMS and Firemen get a 10% discount. Suwannee Valley Resort LLC
Address: 786 N W Stephen Foster Dr, White Springs, FL 32096, USA
Phone: +1 386-487-4996
9. Alcazar Resort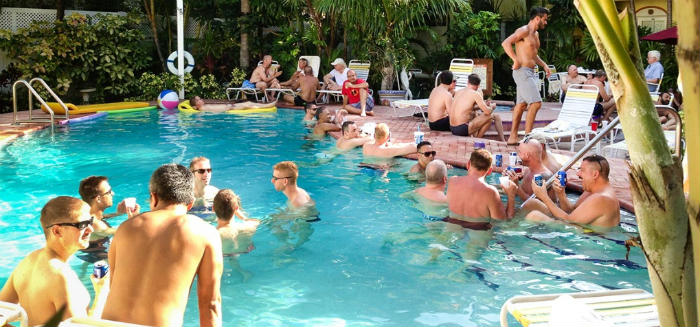 The Alcazar resort is perhaps the oldest clothing optional resort, having been built in 1959. It offers a beautiful old-world charm difficult to find elsewhere but full credit to the team at Alcazar resort, all the rooms have been updated and comfortably furnished. The resort is Centrally located to all gay Fort Lauderdale nightlife, dining and shopping. Do note that this clothing optional resort is targeted primarily at the gay patrons. This clothes free resort is just a few steps from the shores of the Atlantic Ocean and only a 5-minute walk to local Fort Lauderdale Gay Beach at Sebastian Street. Alcazar Resort
Address: 555 N Birch Rd, Fort Lauderdale, FL 33304, USA
Phone: +1 954-567-2525
1. Island House resort
Like Alcazar resort, the Island House resort in Key West is also a clothing optional gay resort catering only to the men. In case you were in doubt this out to settle it – did you know that Island House was named 'The best gay men's resort in the world' by BOYZ and OUT Traveler Magazines? Did you also know that this clothes optional resort has also received Tripadvisors Certificate of Excellence every year since 2010? That is seven years in a row. Island House resort
Address: 1129 Fleming St, Key West, FL 33040, USA
Phone: +1 305-294-6284
Aware of a clothing optional beaches and resorts in Florida, USA we have missed? If yes, leave us a comment.