The summer is here in its full glory and what better way to show off that hot summer body than sunbathing at some of the World's best nude beaches? If you are looking for best nude beaches in the world, you have come to the right place. For those who like to keep it minimal and are tired of casinos, dance bars and strip clubs, nude beaches are the latest fad where you can be the naturist beach bum that you want to be and chill out. Naturist destinations where clothing is optional are becoming popular destinations. In fact, there are various all-inclusive naturist resorts which have sprung up on these nude beaches which makes it a perfect beach holiday. If you are in USA, you may want to check out the best clothing optional beaches and resorts in Florida
Well, if you want to feel the sand in every part of your body, grab that bottle of sunblock for we are going to list out the best nude beaches in the World where clothing is optional. This list of the best nude beaches in the World considers the experience of the naturists visiting these beaches, the optional clothing policies of the beaches, the all-inclusive nude resorts available nearby and a whole lot more.
Recommended Reading: Best Beach Holidays in the World
If you want us to add a clothing optional beach to this list of best nude beaches in the World, feel free to leave a comment below.
Best nude beaches in the World
Nude beach #1. Es trenc Majorca, Spain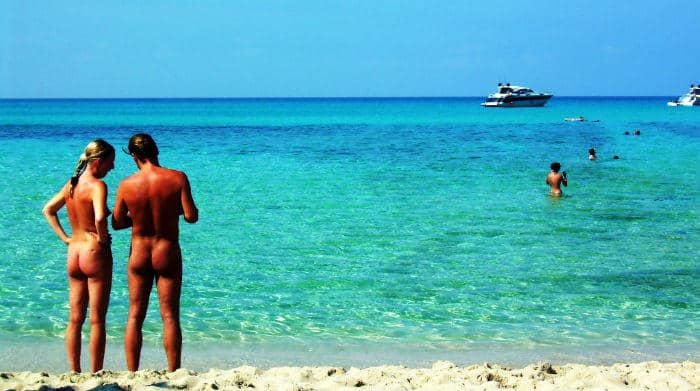 The mystery's out on this one, and even amidst the peak summer months you're likely to discover crowds of nude beach guests along the white sandy shores of Es Trenc. Luckily, the focal zone of the shoreline (the bare section) has a tendency to be less stifled than the rest, so you can appreciate the magnificence of the spot in relative privacy. Good thing is motorized vehicles aren't permitted on the shoreline, so you won't be disturbed by Spanish brothers revving their 4x4s. This clothing optional beach can be costly on your pocket because the prices are quite steep.
Holiday Tip: Get there early else it can be a long walk. You may have to may 3-5 Euros for parking. In the bars and pubs at this nude beach, ask if they refund the car parking bill if you make a purchase there. Depending on the time you go, you may find some rocks and seaweed.
Nude beach #2. Plage de Tahiti, St. Tropez, France
Extremely popular among the celebs, the beaches of St. Tropez are famous for pioneering the topless sunbathing craze of the '60s, and Plage de Tahiti's no exception. Stars frequent this favorite hotspot and enjoy the beautiful sands. Who knows, you may spot someone famous skinny-dipping here. If you are a naturist who prefers to go clothing optional only amongst classy crowds this is the best nude beach for your taste.
Holiday Tip: There is a "chic" club house, whose facilities youc an use at this naturist beach. It can be a bit costly on your pockets for nudist beach lovers are known to have paid upwards of 40 Euros for watermelons or upwards of 20 Euros for ice creams. Though costly this beach has no crowds, clean stretches of beach, and lovely food.
Recommended Reading: Best Beach Holidays in Mexico
Nude Beach #3. Grande Saline, St. Bart's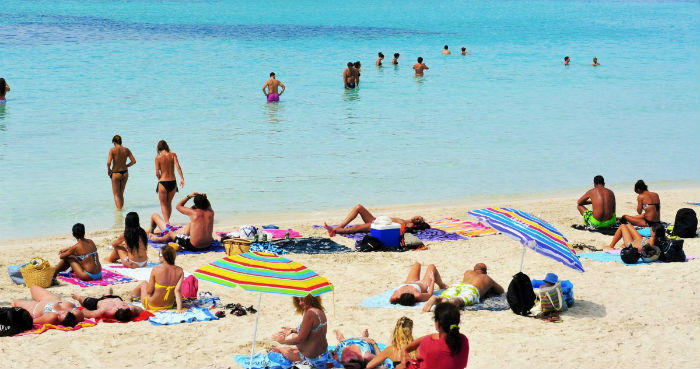 Since the shoreline is super long, you can blend with the group or be a nude recluse who needs his or her privacy. It is completely your decision on this fine nude beach. In fact, if you are just an aspiring nudist you can mingle freely here because you can keep your swimming outfit on here. Topless-ness and full-frontal bareness are progressively the standard for travelers at this beach. The left and right sides of one of the finest beaches in the World is ear-marked for straight and gay guests so it's better to know which side is which before settling in. Like we said earlier if we you have just decided to go clothing optional, this is your starting point.
Holiday Tip: It is bit of a long walk from your car to the beach so be ready for it. There is little natural shade for you to lie down in, after going clothing optional…so do rent out an umbrella. When it is crowded, finding privacy could take some time.
Nude beach #4. Praia do Pinho, Brazil
The hosts of the 2016 Olympics have some seriously breathtaking topless and clothing optional beaches and women. After all it's the land of party. Located about 50 miles north of Florianopolis, Praia do Pinho is widely considered to be the first naturist beach in Brazil. Nudity is mandatory for you'll have to strip down if you partake in the fun. Also, a female partner is mandatory for entry here at one of the best nude beaches around the world.
Holiday Tip: This clothing optional or clothes free beach is very clean, calm and silent. Highly recommended for couples. There is a camping facility but watch out because in the summer it is usually crowded. If you are an unaccompanied male nudist, you need to be current member of the International Naturist Federation and should be able to display your Naturist passport.
Nude beach #5. Red beach, Matala, Crete, Greece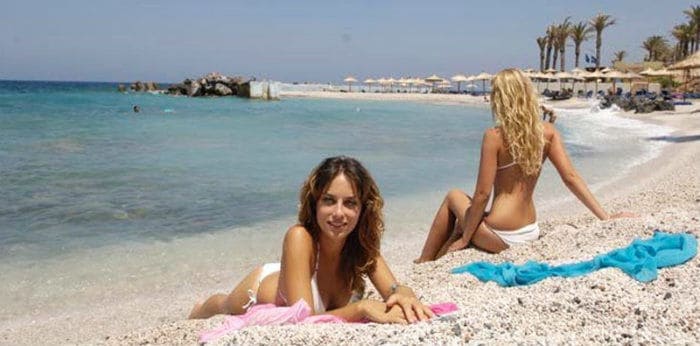 With its cobalt-blue waters, sun-dyed bungalows, old remnants and red sandstone cliffs, Crete's Red Beach is surprisingly pleasant. Made popular in 1968 when hippies from all over Europe rushed to its shores, the resort at Red Beach has remained a naturist most loved destination due to its rural appeal and its resistance. Nudity is permitted all around except for the lounge area. Guests to Red Beach will discover the range's antiquated caverns intriguing, and additionally submerged bits of history from ship wrecks that wash shore wards occasionally. While Red Beach gets its name from the rusty color of the sand, here's a better fun fact: A naked Frenchman camped out here for five years in the '90s — carving animals and faces into the limestone — until the locals expelled him for being a bit too creepy.
Holiday Tip: There is a bit of the trek to this nude beach so be ready for it. During summers, you may want to take some water with you. Swimming here can be dangerous due to the sudden rip tides.
Nude beach #6. Samurai beach, Port Stephens, Australia
Along with the nearby One Mile Beach, Samurai's located next to Tomaree National Park and is well-maintained year round. Unlike the family-friendly One Mile, however, Samurai is entirely clothing-optional. Making friends while playing naked beach volleyball is a distinct possibility. There are lots of resorts and lodges to make your stay comfortable and pleasant at one of the best nude beaches around the world.
Holiday Tip: Most of the naturalist couples stay in the Northern end of the beach while single males head for the Southern side. Choose your side of the beach wisely. There are caravan parks service stations as well next to this beach. The access to this clothing optional beach is by a 15-minute trek or a 4-wheel drive.
Recommended Reading: Do you know where is the best beach in the World?
Nude beach #7. Spiaggia di Guvano, Italy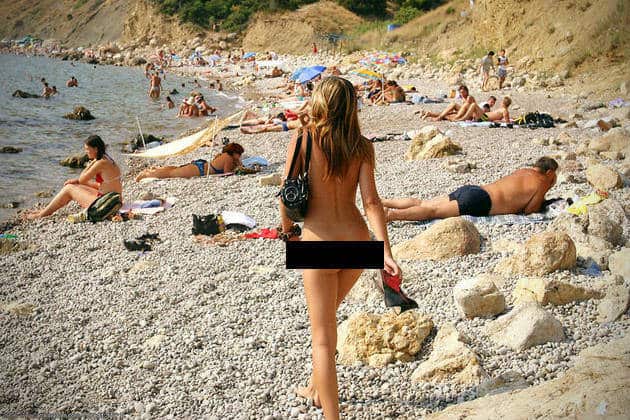 Since it's technically part of an award-winning naturist campsite, Valalta's almost two-mile beach has something most others lack: adequate shade to keep your body from roasting. There's also a pool with an aqua-bar AND a water slide. The place has an onsite brewery, too. It indeed is one of the best nude beaches around the world. Though, if you're lodging here, you're likely to see more of the same faces and nude bodies than you care to.
Holiday Tip: Since Valalta Naturist Camp, walking around the camp itself will keep you in good health. Most nude beach lovers who come here prefer to take long vacations.
Nude beach #8. Wreck beach, Vancouver, Canada
Located on the western end of Vancouver, Wreck's the oldest and largest clothing-optional beach in Canada. This beach was also nominated to be one of the Canada's seven natural wonders. It doesn't get too packed thanks to no road access, but there are vendors who roam the shore selling everything from booze to T-shirts. The vendors, like everyone else, are semi-to-fully nude always. Though the climate isn't exactly tropical; it's Canada, after all but it surely deserves a place in the list of best nude beaches around the world.
Holiday Tip: Walk to this beach is through a forest trail, so you are going to enjoy your walk to this clothing optional beach. You will also have to climb down 400 plus steps to reach this beach, so better be in good shape. The shore is a bit rocky so be careful while walking.