If you live in Karachi, you perhaps know that this coastal city of Pakistan has a lot for tourists. If you are visiting Karachi on a holiday, make sure you have seen everything that Karachi has to offer before heading out for a weekend getaway with your family and friends. If you are a tourist in Karachi, we strongly recommend you explore the below given list of attractions in Karachi:
Karachi's most popular beaches: Seaview Beach, Manora Island Beach, Sandspit Beach, Hawke's Bay Beach, Paradise Point Beach, and the French Beach.
Karachi's most popular Museums: National Museum of Pakistan, Pakistan Air Force Museum and Pakistan Maritime Museum.
Other popular attractions in Karachi: Bagh Ibne Qasim, Clifton Fish Aquarium, Dolmen Mall Clifton, Empress Market, Hill Park, Jehangir Kothari Parade, Karachi Safari Park, and Karachi Zoo.
Once you have seen all of the above-mentioned family attractions within Karachi, you can embark on our recommendation.
Best family weekend getaways from Karachi
Weekend Getaway near Karachi #1 – Bhambore
Named after Bamboo Raja from 10th century, Bhambore is more than 2100 years old city. This city in the Sindh Province has great historical significance and is also an archaeological site. It is situated just 64 kms east of Karachi and takes nearly one and half hour to reach. If you are planning a family weekend getaway from Karachi, you must consider Bhambore as your spot. If you have kids, it is even better because at this getaway they will also be explosed to the rich cultural heritage of Pakistan. Don't miss out on seeing the Bhambore Museum, which holds many specimens of the age-old civilization and other artifacts.
Weekend Getaway near Karachi #2 – Haleji Lake
Once a small lake and now the Asia's largest bird sanctuary, Haleji Lake is situated about 70 KMs from Karachi. This place is heaven for bird lovers as one can see numerous species of birds from November to February. Once you are done with the Haleji Lake, you can add some aquatic fun to your weekend getaway with family by visiting the water park – situated just a few minutes drive from the lake. Do note that there is no option to stay overnight, so it can only be a one day trip from Karachi.
Weekend Getaway near Karachi #3 – Ranikot Fort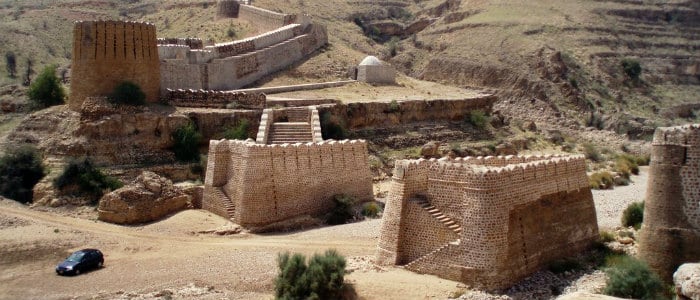 Ranikot Fort is the World's largest fort and can make a good family Weekend Getaway.[/caption]Also known as 'The Great Wall of Sindh', Ranikot Fort is the World's largest fort and the purpose of building this huge fort is still a mystery. Ranikot Fort is 259 KMs from Karachi and takes about it takes about four hours to reach. If you are going with your family, I would suggest you to go there for picnic and fun but don't go with the plan of overnight stay. In case you do want to stay, it is better to stay at Hyderabad for the night. If your trip to Ranikot is with friends, we recommend staying nearby itself for then you can camp with music, cooking and all.
Weekend Getaway near Karachi #4 – Keenjhar Lake
Situated 122 kms from Karachi, Keenjhar Lake is Pakistan's largest man made fresh water lake which is about 24 km long and 6 km wide. It could be an amazing destination for family weekend getaway from Karachi, Thatta and Hyderabad. Keenjhar Lake is a very beautiful place for picnic and bird watching as you can see thousands of birds in winter. You can go for swimming, and boating or decide to just relax. If you want to spend more time with your family, stay overnight at the Keenjhar Lake Resort or in Desert Hawks Resort.
Weekend Getaway near Karachi #5 – Hyderabad
Hyderabad is sixth largest city of Pakistan and is it's just 164 kms away from Karachi. It is quite a popular weekend getaway destination among Karachi folks. Hyderabad has lot of attractions to see, many activities to do and various type of foods to go for! Hyderabad Fort (Packo Quila) is must see for visitors, Rani Bagh, the most famous park of Hyderabad, Sindh Museum, Badshahi Bungalow, Indus River, are few things that you must not miss. Resham Ghiti and Shahi Bazaar are great places for shopping. You can get a huge variety of bangles, jewelry, electronic items and much more in these shopping hubs. If you are a foodie you must visit The Bombay Bakery in Hyderabad.
Weekend Getaway near Karachi #6 – Thatta
Situated 98 KMs east of Karachi, Thatta is the ancient city of Pakistan. Famous for its centuries old monuments and archeological sites, Thatta is heaven if you are a history buff. Main attractions of Thatta are Makli Hills and Shah Jahan Mosque. Makli Hills is one of the largest necropolises in the world with more than 125,000 tombs of Sufi saints. Other main attraction of Thatta is Shah Jahan Mosque which was built by Shah Jahan some 350 years ago. This beautiful mosque still holds its charm with grace. There are many bazaars where you can go shopping with your family. Though the distance between Karachi and Thatta is just 100Kms, there is a marked difference in the cuisine…so don't miss to try.
Weekend Getaway near Karachi #7 – Kirthar National Park
Kirthar National Park is home to two wildlife sanctuaries – Hub Dam Wildlife Sanctuary and Mahal Kohistan Wildlife Sanctuary. It is only 48 KMs away from Karachi and you can reach there in one hour or so. If you choose this place for your weekend getaway, you would get to see lot of wildlife animals, and numerous varieties of flora and fauna. Best time to visit Kirthar National Park is during winters because the summers are too hot.