Though Jakarta itself is an awesome tourist destination for the people around the world but what about those who live in Jakarta? Those who want a weekend break from their daily routine? or those who have seen the whole of Jakarta and now want to explore places just out or nearby Jakarta? Presenting below some of the best Best Family Weekend Getaways from Jakarta. You can decide to go with your family or with your romantic better half, one thing we can guarantee is a weekend full of fun. If you prefer you can convert this quick and short weekend getaway into a longer holiday because all these destinations can keep you engaged for weeks on end. However, if you want to go beyond Jakarta, check out some of the cheapest and yet best family holidays in Asia.
Some of the below places are short escapes from Jakarta and double up as quick weekend getaways from the city. Some are just day trips out of Jakarta. Some of the trips listed below are best for longer excursions, so do read our review of the best family weekend getaways from Jakarta and decide carefully.

Best weekend getaways from Jakarta
Jakarta has many amazing weekend holiday destinations nearby and in here we will detail out the best seven holiday spots around the Indonesian city.
Weekend Getaway #1 Tangerang
Tangerang is just 25 kms from Jakarta and needless to say it can be one hell of a destination for a weekend getaway with family. Tangerang has a lot of things to explore. It is best for one day trip even though you can decide to stay overnight if you prefer. You will get mouthwatering, delicious food everywhere in the city. Nasi Uduk Encim Sukaria which is located in Sholeh Ali Street No.9 is my personal favorite. If you have brought kids on the weekend break, one must-do is the trip to Cisadane River for bike rides and awesome selfies. The Benteng Heritage Museum and A Thousand Doors Mosque are the main attractions of the city.
Weekend Getaway #2 Bogor
Bogor is a beautiful city on the island of Java and it's only 60 kms away from Jakarta. Known as the 'City of Rain' among the locals, Bogor is the rainiest city on Java. There are many beautiful canals, rivers, mosques, beautiful red-roofed houses and natural beauty in abundance and it could be a wise choice to spend some time away from the noise of the capital city Jakarta. When in Bogor don't miss Bogor Botanical Garden as it is one of the main attractions of Bogor and there are many amazing picnic spots where you can have fun with your kids. If you are a foodie and a shopaholic, Bogor will not disappoint you because there are a number of good restaurants and a local market is a great place for shopping.
Weekend Getaway #3 Lembang
Lembang, undoubtedly is a great place to spend your weekend with family. Awesome and cheap food, floating market, and a lot of places to chill out with kids make Lembang a super cool destination for weekend getaways. Lembang is just two-three hours drive from Jakarta and traffic on the way is usually smooth. Once in Lembang don't forget to go to Lembang Floating Market and Dusun Bambu – the key attractions of Lembang and are perfect for taking photos. Of course, it would be criminal to miss out on camping in Eagle Camping Ground, one of the finest experiences this city can offer. Booking in advance is advised.
When it comes to family holidays, luxury is everything! Check out the Best Luxury Hotels of the World
Weekend Getaway #4 Macan Island
Nothing can be better than spending a weekend, with family or with your romantic spouse, on the Macan Island. It is part of thousand islands and just 1-3 hours away from Jakarta. Managed by Tiger Island Village & Eco Resort, Macan Island attracts a lot of tourists because of its underwater scenic beauty and various water sports which you can enjoy. Your kids and family elders will love it too. Once all the activities are done, you can decide to get a massage and watch the sunset while sipping beer. Addictive…isn't it? Once you visit Macan Island, you are likely to spend every weekend there.
Weekend Getaway #5 Cirebon
Cirebon is a port city of Java island and it's just three hours train ride away from Jakarta. Cirebon is famous for its food, fabrics, and palaces of two sultanates. You will get a lot of places to explore, amazingly well-cooked rice of different types and many more delicious dishes, very fine fabrics like batik. Don't miss out on the palaces of two sultanates named Kasepuhan and Kanoman. You can also go swimming in mountain cold water with thousands of beautiful fish, wash all your stress and tension in a local spa where the hot water comes directly from the nearby mountain. WhatsNewJakarta.com also has some good weekend trip ideas for Jakarta.
For more weekend holiday ideas from Jakarta
Weekend Getaway #6 Tasikmalaya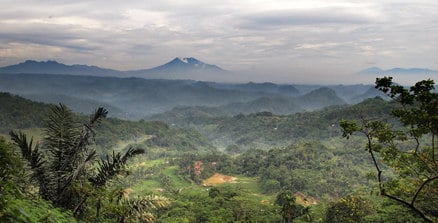 Surrounded by nature and greenery Tasikmalaya is a very nice destination if you are looking for a weekend holiday from your daily routine life. Quite easy to reach, this place is not so far away from Jakarta. Main attractions of Tasikmalaya are- Situ Gede, a small natural lake, Kampung Naga, a traditional village, Makam Pamijahan, a religious tourist spot and much more. You can also go for camping, fishing, and for shopping. Tasikmalya is famous for its wooden craft and there is well-known wooden craft tourism district located at northern part of Tasikmalaya which you must visit to buy some gifts for your friends and relatives. After you are done with all the shopping and roaming around, I would suggest you to go to Gunung Galunggung which is only 17 kms away from Tasikmalaya City center. Go, camp and cherish nature.
Islands make for great family holidays. Check out the ten most beautiful islands in the World
Weekend Getaway #7 Baduy
Baduy is a very small village outside of Jakarta. Best thing about this village is it has no electricity, no Internet, and no television. People of this village are still living with very limited means, and are naturally proud of it. Baduy is just three-four drive away from Jakarta and you can take public transport as well if you prefer. If you want to cut off from the rest of the world and spend quality time with your family, kids and spouse, I would highly recommend you plan a getaway to Baduy this weekend itself.
Know of any more quick getaways which should be added to our list of the best family weekend getaways from Jakarta? If yes, please leave a comment!