Traveling is the essence of living life the way it was meant to be lived and towards that end we present the list of best budget destinations for solo travelers. Of course, you can take your whole family too to these destinations, but if you travelling solo…these countries work the best.
Pleasure, serenity and calmness – everything that you need as a solo traveller is available in abundance in these budget destinations.
The world is a book and those who do not travel, read only a page
Best budget destinations for solo travelers
Budget destination #1 FIJI
Fiji or Fiji Islands is a small country in South Pacific Ocean. Fiji includes 332 islands of which 110 islands are inhabited. Fiji's white sand beaches, crystal-clear water, and charming outdoors offer a perfect vacation for families, newlyweds and backpackers and adventure seekers. Even though you will find families vacationing in this budget destination, it works out as a great solo travellers paradise. If you are a solo traveller with a penchant for adventure rest assured that you will love its rugged landscape, palm-lined shores, mountain climbing, surfing, zip lining and soft-Coral diving. Fiji is one of the best budget destinations for solo travelers and not to be missed. Unlike its expensive island neighbors, Fiji is actually relatively cheap.
Budget destination #2 CAMBODIA
Thinking about Southeast Asia? Well, what could be more beautiful, affordable and hospitable than Cambodia. You can get a private, air-conditioned room for $20 USD, street food for $2, and transportation across the country for as less as $20. Isn't it cheap? Isn't it amazing? Of course that's why it is one of the best budget destinations for solo travelers. Cambodia's still unexploited nature is a bliss, which is hard to get anywhere else. Cambodia's charismatic capital Phnom Penh is a lavish city with gorgeous locations, sizzling nightlife and world-class winning-dining scene. You can spend a lifetime here and yet come out thinking you hit a bargain.
Budget destination #3 URUGUAY
Uruguay, officially the Oriental Republic of Uruguay or the Republic East of the Uruguay River is the smallest country of South America and underrated too. But the truth is Uruguay is not at all dull place as it believed to be. Same sex marriages and marijuana is legal in Uruguay, do I still need to tell you how cool this country is? Uruguay is quite affordable and cost of living is lesser than many more countries. 1 US $ is equal to 30 Uruguayan pesos which means it is one of the best budget destinations for solo travelers. Food, accommodation and travel is very cheap and thus leaves you with a lot of disposable income during your holiday to buy gifts for family members back home.
Budget destination #4 THAILAND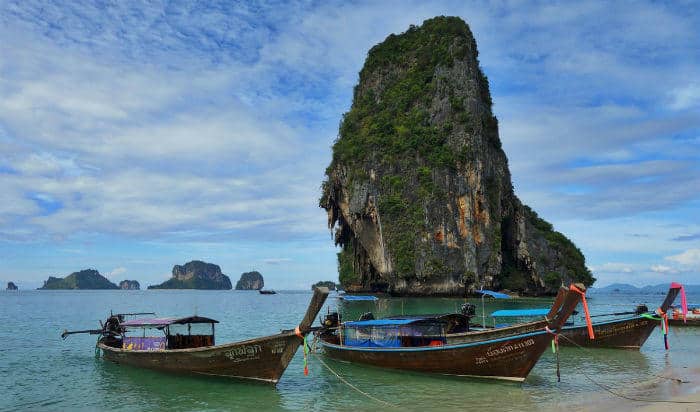 It has always been the dream destination for every solo traveler. Thailand is the heart of backpacking in Southeast Asia, and you can get by on between $25-30 a day thanks to cheap guesthouses, street stalls, local buses, and attractions. Thailand is one of the best budget destinations for solo travelers. Tourism is one of the main industries here and they are doing a pretty good job. Thailand is cheap, convenient and safe- perfect recipe of an ideal solo traveler's destination. Its beaches and islands are the traditional destinations for back packers and solo travelers for decades now. Wherever you go in Thailand, you find young crowd chilling out and chatting over chilled beer and music. If you are lucky enough you may also find a good companion for the trip or for lifetime on your solo trip to Thailand.
Budget destination #5 DUBLIN
Dublin is famous for showcasing Irish warmth and hospitality at its best. Dublin is an amazing destination in Europe whether you are going solo or with company. It is as safe as any European city but don't forget the usual safety measures. Lose yourself in one of Dublin's many leafy spaces, like Phoenix Park and its herds of beautiful wild deer. For the traveling bookworm, there's city tours that pass through the tiny cobbled pathways, ancient bell towers and Georgian town houses where heavyweights like Oscar Wilde, James Joyce and Bram Stoker once resided. Amongst the European destinations, Dublin is one of the cheap options for solo travel. Don't miss out on the excitement this budget travel destination provides.
Budget destination #6 RAJASTHAN, INDIA
Rajasthan is a wonderful place to know India and its rich culture. If you are traveling alone, Rajasthan ends up becoming one of the finest budget destinations for solo travellers. Land of kings and kingdoms, Rajasthan is filled with forts, palaces, and many more attractions. It's quite easy and convenient to travel in Rajasthan from one city to another. Jaipur, Udaipur, Azmer, and Pushkar are few places you can explore to get a glimpse of Indian culture and lifestyle. Pushkar is one of the coolest and chilled out places in India where you can find so many solo travelers and backpackers from across the world all within a reasonable budget.
Budget destination #7 VIETNAM
Vietnam is a small country with some of the happiest people on the earth. Colorful and safe street life, warm and welcoming locals, and exotic food make it one of the best destinations for solo travelers. The beauty is that the whole of Vietnam is cheap. While you are in Vietnam, do not miss to explore Hanoi's massive Dong Xuan Market in order to have a close look of Vietnamese culture. You can spend months in this inexpensive and affordable country and you won't get bored and run out of money.