If you love holidaying in virgin territories before mass tourism arrives, Sierra Leone is just the right place for you. Sierra Leone has white sand beaches till where your eyes can reach, immersive wildlife (more than 600 species of birds and numerous primates), and an amazing culture carried by generations of Africans. Sierra Leone is untouched Africa at its best.
All inclusive resorts in Sierra Leone may not mean as much as they mean in other countries because tourism is just taking off after the infamous Sierra Leone Civil War ended in 2002. Having said that, there indeed is an all inclusive resort which you should explore – Dalton's Banana Guest House, the best all inclusive resort in Sierra Leone – but more about that later.
Best attractions to see in Sierra Leone
Sierra Leone is a treasure trove waiting to be discovered. Any trip to this country should begin with the capital city Freetown. Needless to say, the first stop should be at Sierra Leone's National Museum, located under the branches of the city's famous Cotton Tree. The Museum displays Sierra Leonean artifacts and artworks for the tourists. The next best attraction in Sierra Leone is Cotton tree, which can be your next stop. Just in case you are wondering, not so long ago slaves used to be sold in the shade of this Cotton tree – standing under it is quite a humbling experience.
Your next stop should be the numerous beaches Sierra Leone boasts of. So much so, camera crews come from the World over to shoot their advertisements or movies in these beaches. Some of the best beaches of Sierra Leone are: River Number Two beach, the Lumley beach, the Aberdeen beach and the John Obey beach – all these beaches are in Freetown.
Freetown also boasts some of the best places to see in Sierra Leone. So once you are done with the beaches of Sierra Leone, we recommend you visit Tacaguma Chimpanzee Sanctuary. Your foray into the rainforest reserves will make you want to visit this amazing African country again. If you loved this brush with wildlife, you should next try Tiwai Island Reserve, Sierra Leone's only community conservation project. Once you have tried Tiwai island reserve, the next in line for you should be Tingi hills forest reserve, located in a mountain range in the east of Sierra Leone. If you liked what you saw – next up should be Outamba-Kilimi national park, which boasts of wildlife you have never seen before.
If you are the kind that loves history, you will enjoy the National Railway Museum at Freetown. Other things not to be missed in Sierra Leone are – St. George's cathedral, King's gate, Sierra Leone's peace museum, Gola Forest national reserve in Kenema, the Makeni central mosque in Makeni, and the Freetown central mosque.
If you have the heart for it, we also suggest a visit to the Bunce Island Slave Fort, from where thousands of slaves from Sierra Leone were sold off to the highest bidders.
Best all inclusive resorts in Sierra Leone
There are not many all inclusive resorts in Sierra Leone. In fact, there is only one all-inclusive resort in this country, and hence that doubles up as the best all inclusive resort in Sierra Leone. Dalton's Banana Island Guesthouse is a high-end property catering to all needs of a modern day traveller. Be it a business traveler, a solo traveller, a family travelling together or a romantic couple expecting some privacy… you just can't go wrong with Dalton's Banana Island Guesthouse. Besides Dalton's Banana Island Guesthouse, there are three more hotels / resorts in Sierra Leone good enough to provide you an "almost all inclusive" holiday experience.
All inclusive resort – Dalton's Banana Island Guesthouse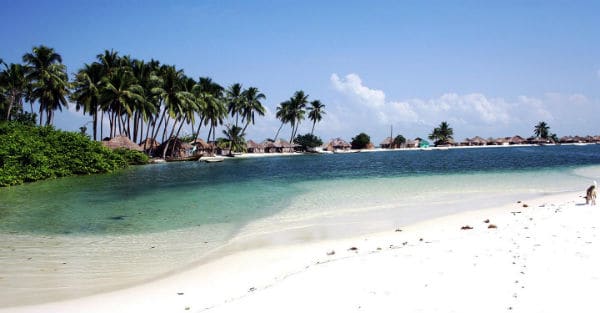 Situated at Dublin in Banana Island, Dalton's Banana Island Guesthouse is everything that a modern day traveler aspires in an all inclusive resort. This resort offers four categories of rooms and has a restaurant, a bar and a scuba diving center near the resort itself. Various activities such as scuba diving, snorkeling, angling, watersports, and boat excursions are part of the all inclusive package. Please note, that the all inclusive tag for a Sierra Leone resort is different from the way it is in other mature tourist destinations – the emphasis is more on all inclusive recreational activities.
Best 'Almost' all inclusive resorts in Sierra Leone
While these are some of the best resorts in Sierra Leone, these are four resorts are not all inclusive – they are what we call "Almost All Inclusive" resorts.
Banana Island GuestHouse: This is a community owned and run resort situated at the southern most tip of Peninsula Beach. Banana Island Guesthouse is only accessible by boat from Kent Beach on the mainland. When we last checked this popular guesthouse had six rooms, which means you need to book early.
The Place Resort: This 15-acre resort is located 10 Kms from the center of Freetown. The Place Resort is popular amongst locals for hosting weddings, private parties or conferences. Their fine dining restaurants dish out French cuisine, Mediterranean flavours or African flair – the choice is yours.
Tokeh Sands Beach Resort: Needless to say this beach is on the Tokeh beach, one of the finest in the country. If you just want to relax, this is the almost all inclusive resort for you. Tokeh Sands beach resort calls itself a 'Slice of Paradise' which can't be far from the truth because as long as you are at the Tokeh Sands you are guaranteed lush forests, a stunning beach and an enchanting sky. This all inclusive resort boasts of sea side suites, beach side bungalows and villas at palms so be ready to be wowed!
Top three regular hotels in Sierra Leone
If you are not looking for all inclusive resorts in Sierra Leone, but are looking for the best luxury hotels in Sierra Leone, where you want to stay for your business or with family our top three recommendations are:
– Radisson Blu Mammy Yoko Hotel, Freetown
– The Hub Hotel, Freetown
– New Brookfields Hotel, Freetown
Note: It ok to be worried about safety in Sierra Leone, after all till recently the country was at war with itself. Besides, the Ebola Virus has everybody scared about the safety of their lives. Not many travelers are lining up to experience the amazing country that Sierra Leone is. As of now, U.S. Centers for Disease Control and Prevention (CDC) has a Level 3 warning against travelling to Sierra Leone – this means, travellers to Sierra Leone are advised against non-essential travel, they are advised to follow high levels of precaution and they are expected to come back into US of A through one of the airports doing enhanced screening. Do check on the latest advise before traveling to Sierra Leone.