All inclusive holidays in Cancun, Mexico
Cancun is beautiful. Cancun is hectic. If you are planning a holiday in Cancun, you are in for a lot of fun. There are breathtaking white-sand beaches, overwhelming Mayan ruins, great bars and clubs for high-energy nights, and huge shopping malls to spend all the money you can. After all the 4 million tourists holidaying in Cancun every year can't be wrong. Check out options for both cheap and all inclusive holidays in Cancun, Mexico.
All inclusive holidays in Cancun – the best spring break destination
Cancun wasn't always a holiday destination for the World. Before Cancun became the go-to holiday destination for both all inclusive luxury holidays and cheap holidays it was just a fishing town waiting to burst open. After the 1970s, its location – on the northeast coast of Mexico's Yucatan Peninsula – and its pristine beaches couldn't stay hidden from the World. As of today, Cancun is one of the best beach holiday destinations in the world. The city of Cancun is divided into two parts – the downtown area and the Hotel Zone. The Downtown area consists of the markets and cantinas (in Spanish cantinas mean canteens) and the Hotel zone has restaurants, night clubs, and shopping malls. Not to mention the long white-sand beach, which runs for 22 kilometers.
Once you are done with all the excitement of the city of Cancun, you can take the 90-minute drive to Tulum, one of the best-preserved Mayan coastal sites. This pre-Columbian Mayan walled city has ruins of a once thriving civilization on top of 39-feet high cliffs. Some of the must watch items on your list should be – pyramid-shaped El Castillo, Temple of Descending God and the Temple of Frescoes.
Weather in Cancun
Out of 365 days in a year, Cancun, Mexico receives sunshine on 250 days approximately. In short, it is a year-round vacation spot. However, certain times of the year are better for a holiday in Cancun than others. For instance, during the summer months, the weather is humid and the temperature ranges around 95ºF (35ºC) mark. Between June and mid-October hurricanes hit the coastal city, and hence the tourism takes a bit of a hit. Once the hurricane season ends, the rainy season begins – between September beginning and middle of November. Weather in Cancun during different months of the year.
Tips to have cheap holidays in Cancun
All vacations in Cancun do not cost the same. If you are on a budget you can still have a cheap holiday in Cancun if you follow our tips.
Step 1: Book in Advance
As is with any holiday spot, with Cancun as well there are only so many resort rooms and airline tickets which are available at a low price. When these rooms and airplane seats are booked, their cost goes up. The best thing you can do while planning a budget holiday to Cancun is booking it in advance.
Step 2: Holiday in the off-Season
There are three off-seasons which you can exploit for a cheap holiday in Cancun. December through February (barring the Christmas and New Year times) is the first off season in Cancun and planning a holiday during these three months can bring down you travel expenditure drastically. The second off season for tourists in Cancun is immediately after Easter in April. With the summer months bringing humid, and hotter temperatures (in the 35ºC / 95ºF range) many resorts drop their prices to continue to attract vacationers. The third off-season is between a little after Labor Day in the US (first week of Sept) until mid-November when folks start their Thanksgiving holidays.
Step 3: Use a travel agent
Travel agents are still popular for a reason. These agents know how the industry works and a good one will be aware of Cancun holiday deals which may not be out in public yet. They may also help you get more bang for the buck from the resort – a buffet dinner perhaps, or a massage at their spa thrown in at the same package cost.
Step 4: Go for bids
Websites such as Sky Auction offer opportunities for tourists on a budget to try out their luck and bid for Cancun vacation packages. Various packages are on display and mostly include both the flight tickets and the hotel accommodation. Do keep a close watch on the auction details.
Step 5: Cancun Tips Book
Once you land in Cancun, you will be handed out the free Cancun Tips Book. Don't ignore it and instead keep a copy. This booklet has some great coupons which can help you get good discounts during your holiday.
Note: While researching for tips on how you can have the cheapest holiday possible in Cancun, you must have come across the $15 discount card. Most tourists didn't find it useful.
Honeymoon in Cancun, Mexico
Not many places in the World offer honeymooners the traditional and modern mix that Cancun is capable of offering. From idyllic beaches to historic ruins, to modern hotels with the best of service – this beach town has it all for newlyweds.
You can opt for an all inclusive honeymoon package at Cancun or opt to plan it as it feels comfortable. While choosing your resort, you can also choose for adults only resorts. Some of the popular adult only resorts in Cancun are Dreams Playa Mujeres, Secrets The Vine, Le Blanc Cancun, Secrets Playa Mujeres, Excellence Playa Mujeres, The Beloved Hotel etc.
The 14-mile long beach offers numerous romantic opportunities – both free and paid. Cancun is one of the few places where your honeymoon can be the right mix of indoors and outdoor activities. Once you are done with the white sand beaches, you can head out to the magnificent Mayan ruins, and when you are tired from all the sight-seeing head out for some golf, jet ski, parasail or snorkeling.
Honeymooners who prefer silent and cheaper honeymoon holidays opt for Isla Mujeres, an island off the coast of Cancun. The main Cancun town becomes a side act and you can visit it once or twice while you stay at Isla Mujeres.  Two of the finest hotels for honeymooners in the island of Isla Mujeres are Isla Mujeres Palace (couples only) and Zoetry Villa Rolandi.
What to pack for beach holiday in Cancun
Packing and getting ready for a vacation in Cancun, Mexico is not as easy as throwing in a couple of bathing suits inside your suitcase and catching an airplane. It requires a little more thinking and planning.
Cancun is a tropical beach holiday destination with a lot of cheap beer, attractive youngsters, and scintillating beaches and you don't want to be found wanting in any department. All our suggestions will help you put your best foot forward during your Cancun holiday.
All inclusive holidays in Cancun, Mexico
Cancun in Mexico, one of the finest beach holiday destinations in the world, offers a lot of choices when it comes to all inclusive, luxury vacations. Check out our compilation of the five best all inclusive resorts and luxury hotels.
If you are a family with no kids, or a family with kids or you are just a romantic couple looking for a beach vacation there is no better place than Cancun. At this town in Mexico, the white sandy beaches below your feet are ably complemented by the warm weather, blue skies and clear blue Caribbean waters. Cancun has 22km of beautiful beaches and each beach is different which means you have a choice of beach territory, too.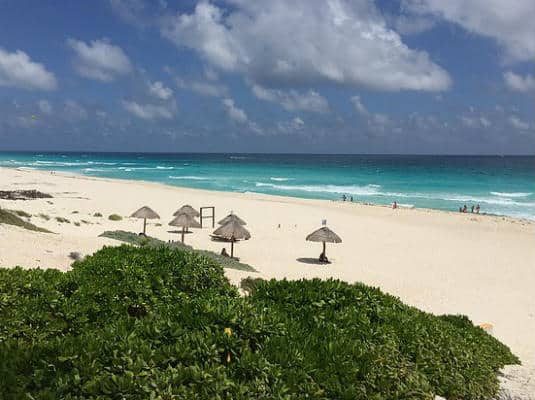 Playa Delfines
Playa Delfines is one of the largest in Cancun. Since this is a beach at the end of the boulevard, it does not attract a lot of crowds. This beach boasts of good sea view as well as Mayan ruins nearby. There are various water sports activities which you can indulge in. However, if you like your beach sand to be soft on your feet, you should head for Northerly beaches where the sand is not as coarser and darker.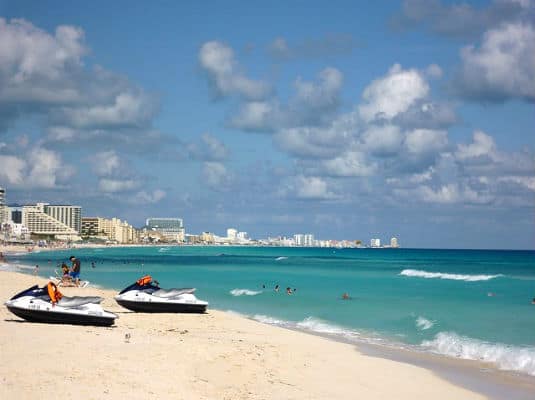 Playa Forum
If you prefer to hang around on a beach with lots of bars and restaurants the Forum beach is best for you. This beach is in the Punta Cancun area and is the city's most popular public access beach.  During the weekends this becomes a hub of social activity, so during your beach holiday in Cancun do visit it once during a weekend. This beach is also known as Playa Gaviota Azul.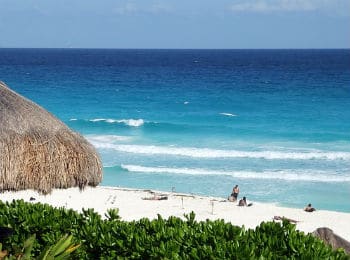 Playa Norte
Playa Norte is just right for families and kids because it's a quiet beach with shallow waters – absolutely no rocks and no waves. It is situated outside Cancun's hotel zone, on the northern end of the Isla Mujeres island. Most people visit the North beach for the excellent sunset over the ocean.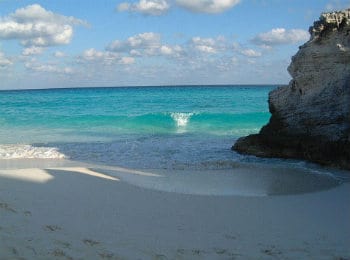 Playa Chac Mool
This beach is situated right next to Forum beach but is not so crowded. Lack of crowd doesn't mean it is any less of a beach – it has a central location, amazing white sands, and pristine blue water. If you want some quiet time in Cancun, look no further.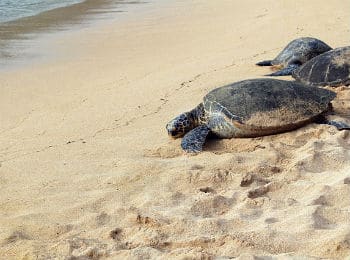 Playa Tortugas
Since this beach has no waves, families with kids and the locals prefer Playa Tortugas. You can double up this beach visit with a lunch or dinner outing, thanks to the oceanfront restaurant jutting out. Our advice: Don't have your lunch before you indulge in bungee jumping.
Adventure Holidays in Cancun
Cancun is one of the finest destinations in the Caribbean for adventure seekers. The cheapest and easiest adventure you can have in Cancun is swimming or surfing in the ocean. However, if you are traveling to Cancun in April stay away from the waters between the 2nd and the 4th weeks for that's when the thimble jelly-fish are mating near the shore – and they cause allergic reactions in most. However, there are various other adventure tours you can include in your Cancun holiday package.
Jungle Tour of Nichupté Lagoon
If you are an adventure seeker, you will love Nichupté Lagoon, the jungle. You can drive your own two-seater speed boat or go with a guide through Cancun Bay to enter Nichupté Lagoon. While on your speed boat you navigate through channels lined with mangrove forests. After a 45 minutes' drive over the water you reach the 2nd largest Coral Reef in the world. Yes, that's right, Punta Nizuc comes right after the largest coral reef ever – The Great Barrier Reef. You swim, you snorkel or just drive around in your speedboat taking in the views.
Cenote Tours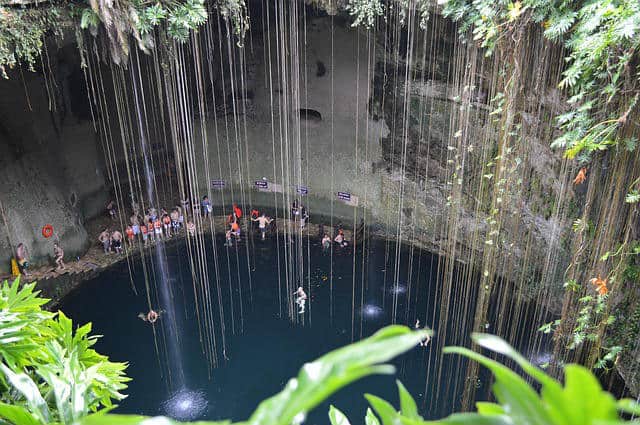 Mexico's Yucatan Peninsula is full of cenotes (pronunciation: say-NO-tay). These are underground rivers and streams flowing over fossilized coral beds and ocean floor made of limestones. While visiting these underground caves and caverns, you can't miss the beautiful formations of stalactites and stalagmites formed over millions of years.
Swim with Whale Sharks
If swimming is your thing and watching whale sharks swim past you gives you an adrenalin rush, try this during your Cancun adventure holiday. Swimming with whale sharks happens off the coast of Cancun and you also get to see dolphins, manta rays and turtles as a bonus.
Sian Kaan Biosphere Reserve
Sian Ka'an is Mayan for "Where the sky is born." Sian Kaan Biosphere is a UNESCO World Heritage site and will be worth your visit. This 1.3 million-acre biosphere reserve has lots to offer. You can watch Admire turtles, dolphins and crocodiles swimming in their natural environment. If you have the patience you can indulge in bird watching as well. Once you are done with all the watching, you can head out for some activity such as snorkeling or swimming in many of the natural pools.
ATV and Zipline Tours of Cancun
Adventure lovers in Cancun also head out for ATV or Zipline tours being offered by various tour operators. There are half day tours and full day tours depending on the site you will be visiting. During these tours, you are taken to different locations for planned adventure activities such as zipping past multi-course zipline canopies or off-roading on a Polaris Trail Boss 330 ATV.
Cultural holidays in Cancun
Cancun is a great place to experience the traditional Mexican culture as well as the culture of the earlier civilizations. While planning a cultural holiday in Cancun, please plan it around the festivals. Various festivals conducted in Cancun and surrounding areas provide a glimpse of the local traditions and then there are the various Mayan ruins nearby to take you back in time.
Festivals in Cancun
Viva México en Cancun
This Cancun festival is held all through September and is peppered with lots of cultural events. Starting from art exhibitions of Mexican artists, folk music demonstrations, dancing, jazz music groups in action, choirs from Mexico and the Caribbean singing all day long, street entertainment, street parties, fireworks etc. Towards the end of the Viva México en Cancun festival an art and craft event is held at the Cancun Convention Centre.
Day of the Dead festival
Despite the name, Day of the Dead is a festival all about the celebration of life. Held in early November, on this day the ancestors are remembered by people gathering at cemeteries. Bands play loud music and the whole of Cancun goes crazy with colors.
Revolution Day
November 20 is celebrated as Cancun's Revolution Day and is one of the best time for a high-energy cultural holiday in Mexico. The celebrations start with a grand parade which also includes gymnastics and acrobatic acts. During the parade, both locals and tourists line up the streets to watch, eat and celebrate the best of Cancun.
Dia de la Raza
Dia de la Raza festival is held in the city center and involves bullfights, small parades, floats, group dancing, live music, etc. It is Mexico's Columbus Day or Native American Day. A holiday planned in Cancun during this period can give you a lot of opportunities to mingle with the locals and enjoy their culture.
History in Cancun
Tulum Ruins Tours
If you have a thing for adventure and history, the Tulum ruins make for a perfect break. Tulum ruins are located 130 km south of Cancun. This is one of the best Mayan ruins sites around Cancun. The Tulum ruins stand on a raised land, looking out into the Caribbean ocean making it a great view.
Tour of Chichen Itza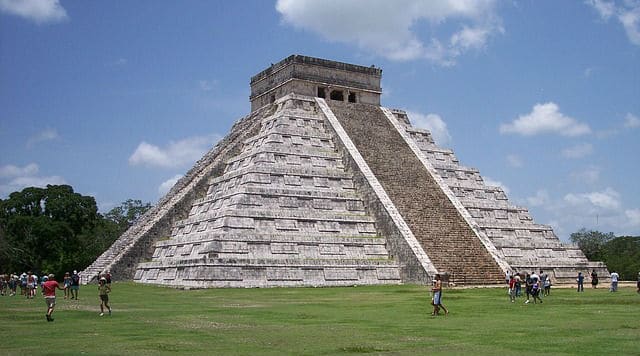 If you have come all the way to Cancun, you can't afford to miss Chichen Itza—one of the seven wonders of the world. It is a landmark achievement of the Maya people and the ceremonial center of Yucatan. Chichén Itzá is a UNESCO World Heritage site and the three monuments you must see on this visit are – El Castillo, the Temple of Warriors, and the Great Ball Court.
Trip to El Rey Ruins
These ruins are inside the Hotel zone in Cancun and are also known as the ruins of the king. Archeologists consider it an ancient astronomy tower and a royal burial ground. It is believed that this city was abandoned after being in the center of activity till the 1500s.
Trip to Scorpion's Temple
Also known as Templo del Alacran, this temple is located on the highest point in Cancun. It is called Scorpion Temple due to the remains of Scorpion sculpture which still stands strong at the site. Interestingly, this glorious testimony of the Mayan civilization is surrounded by high-rise hotels which give it a unique aura among all other ruins.
Easter Holidays in Cancun
Easter is a great time for a holiday in Cancun with your family and kids. During Easter both tourists from outside of Mexico and the people of Mexico make a beeline for Cancun beaches so it gets a bit crowded. But considering the festivities, the crowd is a nice compromise. In fact, Easter time is the 2nd busiest week of the year in Cancun next to New Year's week.
Since Mexico is mostly Catholic, Easter is big for the locals in Cancun. They move from street to street visiting churches, praying and singing. While you are on your holiday in Cancun during Easter, you are sure to see many reenactments of Christ's crucifixion as well. Good thing is, despite it being a holiday the restaurants and bars aren't closed thus your vacation doesn't get interrupted.
Christmas Holidays in Cancun
Cancun is a great place for a Christmas holiday with family and friends. During this time the weather tends to be sunny, with temperatures hovering around 85ºF (30ºC) during the day and to about 65ºF (18ºC) at night.
If you plan to book your Christmas holiday package deal for Cancun you must know that on the evening of 24 December, all hotels plan a massive dinner and drinks party. At every turn, you will notice Santa Claus – on jet Skis, in helicopters, on parasail etc. Instead of Christmas with white snow a holiday in Cancun means Christmas with white sand! Many of the Mayan ruins like Tulum are open on Christmas Day except for Chichen Itza which is usually closed. From 20 Dec to 31 Dec at 6:00 pm there are performances in Kukulkan Plaza, which is free to all. Also, don't miss on local drink which is popular during Christmas season – Ponche con Piquete, a hot alcoholic beverage made out of seasonal fruits and cinnamon sticks.
However, keep in mind that this will be a costly vacation because everybody wants to travel during the peak holiday season. Xmas and New Year's week are two of the best seasons for hotels in Cancun.
New Year's Eve Holidays in Cancun
Like mentioned above, this time of the year is great for a holiday in Cancun, but it is also very crowded with prices sky-rocketing. The hotels and beaches come up with various activities for a great New Year's eve party but all of that will cost you. If you are planning to book an all inclusive package at a hotel in Cancun, make sure you negotiate and include their New Year's Eve party as well in your deal. If you are staying elsewhere and end up buying entry to such parties at the last minute, it could cost you upwards of $250/person. These party tickets usually get you seven course meals including desserts, drinks, party favors and night full of live music. There may be some free New Year's Eve parties on the beaches, but then you must pay for food and drinks.
Like mentioned above, this time of the year is great for a holiday in Cancun, but it is also very crowded with prices sky-rocketing. The hotels and beaches come up with various activities for a great New Year's eve party but all of that will cost you. If you are planning to book an all inclusive package at a hotel in Cancun, make sure you negotiate and include their New Year's Eve party as well in your deal. If you are staying elsewhere and end up buying entry to such parties at the last minute, it could cost you upwards of $250/person. These party tickets usually get you seven course meals including desserts, drinks, party favors and night full of live music. There may be some free New Year's Eve parties on the beaches, but then you must pay for food and drinks.
If you can afford it, we also suggest bringing in your New Year at Coco Bongo in Cancun. Travelers to this holiday destination have consistently rated Coco Bongo as one of the best nightclubs, which besides being a club also has an entertainment show.
Things to know before booking flight tickets to Cancun
Cancun international airport is one of the busiest airport in the region and is located in the northeast of Yucatan Peninsula, at the Cancun-Chetumal highway. The airport is 20 Kms (12 Miles) from the hotel zone and cars can travel this distance in 20 minutes. The Cancun International airport is just 40 minutes away from Playa del Carmen and 120 minutes from Tulum – the other two most popular tourist spots. Everything about Cancun airport
Cheap flights to Cancun
All major airlines have non-stop and multi-stop flights to Cancun, Mexico. A majority of these flights to Cancun are from the United States and Canada and other European countries England, Scotland, Ireland, Spain, France, Germany and Italy. Cheap flight tickets to Cancun
Nightlife in Cancun, Mexico
During the day Cancun is all about long white sand beaches, the aqua blue Caribbean Sea and the gentle waves, but in the night it gets a makeover. In the night Cancun becomes what it is best known for – an outrageous nightlife loving city. It is one long party after the other, every night.
This partying culture started around 25 years back when college students invaded this tropical paradise in hordes and turned it into one of the World's best spring break destinations. Cancun nightlife has never looked back.
In fact, this legendary nightlife of Cancun has ensured long lines outside the pubs every night. There are more than 25 amazing night clubs in Cancun and yet these lines don't seem to disappear. To get inside, you may have to opt between what is known as the 'Open Bar' ticket or the 'Bottle Service'.
Open Bar
If you go for an 'Open Bar', you pay once and get free drinks till you are out (or 3.30 am, whichever is earlier). Open bars are mostly on domestic alcohol (rum, vodka, tequila, gin, and whiskey), beer and any cocktails which can be made with these. Under this package you don't get premium alcohol or energy drinks. However, some night clubs have an upgraded version of Open Bar packages, where the Cancun tourist can get premium alcohol such as Herradura Blanco y reposado (Tequila), Ketle One (Vodka), Johnny Walker Red Label and Black label (Whiskey/Scotch), Jack Daniels (Whiskey/Bourbon) etc. These special Open Bar packages are costlier – almost double the price. For instance, the regular Open Bar ticket in Coco Bongo cost approximately $80 while the Gold Member's VIP Open Bar ticket costs $150.
Bottle Service
Bigger groups tend to opt for 'Bottle Service' where one books a VIP table and then buys bottles of liquor as and when needed. Do note that 'Bottle Service' ends up being expensive than 'Open Bar' tickets.
A word of advice – do plan and arrange for your trip back to your hotel before you start on your nightlife in Cancun.
Note: Nightclubs in Cancun only allow patrons older than 18+ years
Best night clubs in Cancun
1. Cocobongo
Cocobongo is situated bang in the middle of Cancun's Hotel Zone and is one of the most popular places to visit after sun down. Known for its spectacular, wild shows this is a must visit destination amongst youngsters holidaying in Cancun. The shows include golden oldies from the 70s and 80s mixed by the DJs, acrobatic displays, circus acts performed on stage etc. The music played here is mostly disco.
Check out this video for an idea of what to expect at Cocobongo, every night.
Capacity: 1500
Dress Code:  Very Casual
Recommended Nights:  Any night
Open Bar:  Yes $65/145 USD
2. Dady 'O
Popular Cancun club Dady'O was inaugurated more than 25 years back and still continues to be the favorite haunt of those who love to party hard. Most of its nights include bikini contests, open bar promos, theme parties, best DJs from the world. Music played is mostly electro, dance, techno and pop. Thanks to events such as wet T-shirt contests, bikini contests, or search for the best male body this nightlife destination is most popular amongst the youngsters.
Capacity:  1000
Dress Code:  Casual Dressing
Recommended Nights:  Thur -Fri – Sat
Open Bar:  Yes $60 USD
3. Mandala Disco
Mandala Disco is inspired by India, and it is reflected in all its décor. One of Cancun's hottest nightclubs, this party destination is situated bang in the middle of the Club Zone. The fact that the front of the club can be seen from the street makes its magnetic pull all the more powerful. It is unique, it is captivating and it is cosmopolitan – just the right combination for an experimental Cancun tourist who doesn't want the mainstream. When it comes to music, this club prefers House over everything else.
Capacity:  900
Dress Code:  Casual Dressing
Recommended Nights:  Mon & Thur
Open Bar:  Yes $60 USD
4. The City Nightclub
This nightclub defines Cancun nightlife in its truest sense. Every night around 5000 party goers congregate under the roof of this biggest nightclub in the whole of Cancun. Despite its huge size, every weekend it is packed to its full capacity. Some of the international performers who are regulars at The City Nightclub are Snoop Dog, Akon, Flo Rida, 50 Cent etc. Preferred music is mostly Top 40 and Electro.
Capacity:  5000
Dress Code:  Casual Dressing
Recommended Nights:  Fridays
Open Bar:  Yes $65 USD
5. Palazzo Nightclub
Before it became Palazzo, this night club was called Bulldog and before that it was called Christine. Since the name change, it has had a huge makeover and has come on par with the rest of the top nightclubs in Cancun. The biggest attraction at this night party destination is the stripper poles and stripper pole contests which are run from time to time. The music of choice here is Electro/Top 40.
Capacity:  900
Dress Code:  Casual Dressing
Recommended Nights:  Wed & Sat
Open Bar:  Yes $60 USD
6. Mandala beach
If regular nightclubs are not your first choice, you should try Mandala beach for its amazing pool parties. This beach club hosts the best pool parties in the whole of Cancun and it doesn't always have to be in the night. Since the quality of the pool parties have to be maintained this club is open only once or twice in a week. The Caribbean Sea, the bikinis, the tropical drinks, the swaying music – all of this will etch your Cancun holiday in your memory forever. At this club, the whole week you will hear House music.
Capacity:  1500
Dress Code:  Beach wear
Recommended Nights:  Tuesdays
Open Bar:  Yes $65 USD
Useful Spanish words and phrases
Most of the people in Cancun (and Mexico) speak Spanish and the language is used by the government at various places such as notices, sign boards etc. We suggest you carry a handbook with key Spanish words translated for your own convenience. Here are a few useful words / sentences in Spanish, which can help you during your vacation in Cancun.
Hello > Hola
Goodbye > Adios
Good Morning > Buenos Dias
Please > Por Favor
Thanks > Gracias
How are you? > Comos Estas?
Sorry > Lo Siento
I don't understand > No Lo Entiendo
Currency in Cancun
Mexican Peso is the National currency in Cancun. However, US dollars are widely accepted in most businesses throughout the holiday destination. Do note that foreign travelers cannot exchange more than $1,500 USD (cash) per person per month into Mexican pesos. Mexican travelers are also subjected to the same limit. The good thing is that credit cards, traveler's checks, and non-American foreign currencies don't fall under this limit.
Mexican Peso is the National currency in Cancun. However, US dollars are widely accepted in most businesses throughout the holiday destination. Do note that foreign travelers cannot exchange more than $1,500 USD (cash) per person per month into Mexican pesos. Mexican travelers are also subjected to the same limit. The good thing is that credit cards, traveler's checks, and non-American foreign currencies don't fall under this limit.
National and Public Holidays
Here is the list of public holidays in Cancun. You need to be aware of the local holidays so that you can negotiate your all-inclusive vacation deals or hotel bookings. Some holidays may hike up the price as well, so tread carefully.
# New Years Day – 1st Jan
# Constitution Day – 6 Feb
# Birthday of Benito Juarez – 20 March
# Maundy Thursday – 13 April
# Good Friday – (Good Friday is the Friday before Easter)
# Labour Day – 1 May
# Anniversary of the Battle of Puebla – 5 May
# Independence Day – 16 September
# Dia de la Raza – 12 October
# Dia de los Muertos (Day of the Dead) – 2 November
# Revolution Day – 20 November
# Day of our Lady of Guadalupe – 12 December
# Christmas Day – 25 December
Pub crawling in Cancun – Some call it Cuncrawl
For some of us one nightclub in one night is not enough. More so when you are a group of youngsters on a holiday in Cancun trying to make the most of your nights. This is why there are numerous pub crawl tours available in Cancun. These pub crawl tours, take groups of friends, couples, bachelors, bachelorettes, or convention groups to three to four nightclubs in one night and help them have a memorable party night.
The nightclub crawl guides assigned by the tour company from where you have bought your package ensure you don't have to stand in line, and get VIP entry into the nightclubs. They also ensure you get the best service inside the pub (which includes the open bar for as much as you can drink) and once you are done they transport you back to your hotel room. Sometimes the drop back at the hotel is charged extra by these pub crawl tour operators of Cancun.
If you want to see most of Cancun nightlife in one night, Cuncrawl Tours is your best option. Cuncrawl has been the #1 Tripadvisor.com nightlife attraction in Cancun for 5 years in a row, which is the best compliment for any tour company. They have been offering all inclusive all you can drink pub crawl tours in Cancun for more than ten years now. Most of the time the group that CunCrawl takes around is 100 strong, so do book in advance or be left behind.
Cuncrawl's schedule of night pubs
Monday: Congo Bar, La Vaquita, Mandala Disco.
Tuesday: Congo Bar, Mandala Disco, Mandala Beach pool party
Wednesday: La Vaquita, Sr. Frogs foam party, Palazzo Nightclub
Thursday: La Vaquita, Mandala Disco, Dady'o bikini contest
Friday: La Vaquita, Dady'o, The City Nightclub
Saturday: Congo Bar, Mandala Disco, Palazzo Nightclub
Sunday: Congo Bar, Sr. Frogs Glow party, Mandala Disco
Besides Cuncrawl there are numerous others tour operators who offer pub crawling packages. Some of the best being Party Rockers Cancun, After Dark Events and Entertainment, The Madness Tour, and Cancun Vibes.